"Everything should be made as simple as possible, but not simpler." –  Albert Einstein
Forever Starts Now
Every piece of jewelry tells a story. Our story transforms raw concepts and vague ideas into flawless creations far exceeding anything you can find elsewhere in quality, style, and precision. We are bespoke jewelry designers and manufacturers. Our time-proven workflow process of putting together a custom piece from raw concept to spectacular finish has your best interests in mind.
The stress and anxiety of diamond shopping should not test your will for a committed relationship. So we offer an opportunity to collaborate directly with Leon Mege, a master jeweler, bespoke designer, and the direct supplier of every venerable diamond house in the world.
"What is not started today is never finished tomorrow."  Johann Wolfgang von Goethe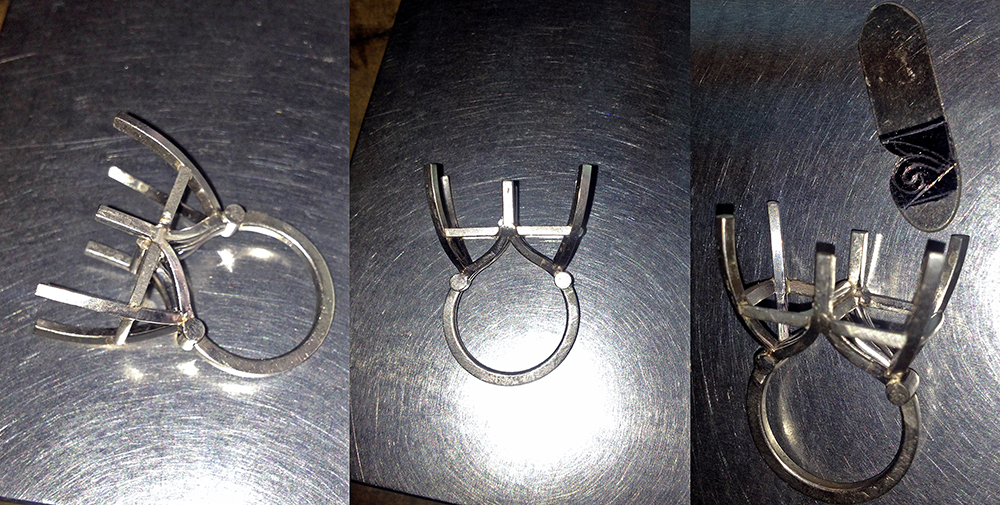 No competition
We have no competitors capable of the same level of craftsmanship and artistry—those colleagues who can match our quality work strictly for the trade and do not accept private commissions.  The so-called "Private jewelers" or "Jewelry designers" claiming to do what we do, use contractors and cover the lack of knowledge and experience with overwhelming salesmanship.
The perfect diamond
We want to make sure that the ring style and stone are a good match. We are a direct stone importer. As such, we guarantee the lowest price of any diamond, natural or lab-grown. There is no third party between us and the diamond you want. We source our stones directly from the diamond producers.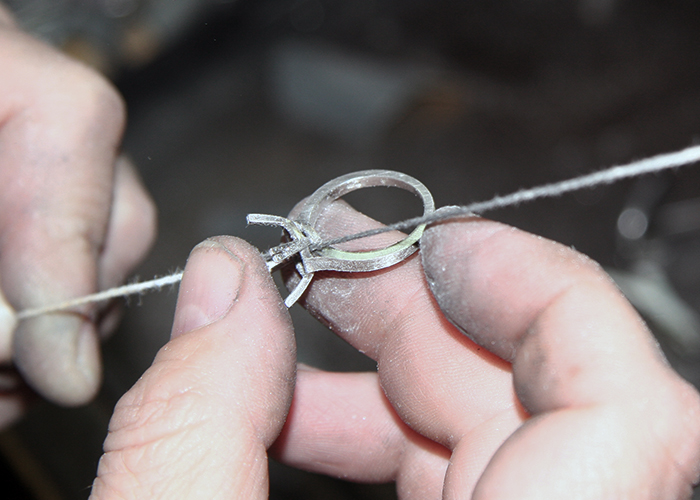 With our help, you will choose the best stone and rely on our experience to build the most exquisite setting around it. To start the process, we require a small retainer. The retainer is our assurance that our legwork and spent time will not be in vain. We have to secure stones, bring them in, check them, prepare the presentation or make professional videos. That's why we ask for a retainer. The retainer goes towards your purchase.
The majority of diamonds are owned by the banks that finance 150-some manufacturers and dealers worldwide. Practically all finished diamonds are listed in the worldwide database accessible to the members of the jewelry trade. Any jeweler has access to every listing. Online retailers like BlueNile and James Allen are sourcing their stones from the same database. So, in effect, any stone can be sourced by anyone – a dealer, a broker, or even a blogger-cum-private-jeweler.
The secret to finding the perfect stone is to be able to analyze the data in each listing. We are experts in analyzing the data and extracting the bits of information that escape others. Not only are we professional gemologists (Leon Mege earned a GIA graduate gemologist's diploma in 1991), but we also have a proprietary methodology allowing us to sift through hundreds of listings to find the one that stands out by its properties and value.
When we find a good stone, do not wait – buy it. The process of selecting diamonds is like deciding which exit to take on a highway. The next exit might not be as good as the one you just missed. Those who procrastinate or try to time the market usually come to regret missing on a great deal later on.
The perfect ring
The bespoke jewelry is all about showing stones and hiding the metalwork. Once the center stone is selected, we can move on to the next stage – the ring design. You can get inspired by sifting through our carefully curated portfolio, find design ideas in fashion magazines, Instagram posts, and visiting high-end retail stores such as Harry Winston or Tiffany.
We know that the ring marks the most important moment of your life, so we will take the time to listen to the stream of unhinged thoughts and wishes, trying to make sense, organize and describe the result in terms that can be easily understood. Then, finally, we will discuss the minute details of the ring construction that resonate closely with your vision and taste.
There are no sketches. A florist does not draw a picture of the bouquet. A master chef doesn't sketch a filet mignon. A sketch of an engagement ring is about as useful as a traffic map of a farm. There are plenty of photographs to illustrate every single point. Only in rare cases do we need to produce a sketch. Just like everyone's handwriting is unique, each jeweler has his own style that manifests in subtle differences. These barely noticeable differences are what distinguish a finely-crafted ring from a hack. Accent stones for pave and side-stones are supplied by us to be combined in one dynamic, elegant package.
We will select the appropriate side stones that compliment the center stone to the full extent, pending your approval. As far as the ring construction goes, you are advised to leave the small details to us, and we will not disappoint. An engagement ring, much like your love, should last forever. At Leon Mege, we know that you put a premium on quality, so your most perfectly made ring is backed by our Lifetime Warranty.
Quote request
We start by providing a preliminary price quote. There is no commitment on either side. The precision of our estimate depends on how detailed the client's input is. It gives a prospective client an understanding of our pricing structure and establishes a direct line of communication. The advantage of custom jewelry is the ability to meet your budget by choosing the diamond's size, color, and clarity.
Quote by budget: pricing the best stone for it or price: offering the lowest-priced stone in its category.
Do not hesitate to reveal your budget. It will not put you at a disadvantage. These worries are unfounded. There is a diamond for every budget. Diamond prices are openly published, and they are simple to compare. The price of a diamond is determined by the 4 C's: cut, color, clarity, and carat size. Some clients are unsure what color, clarity, cut, and even what carat size to choose. That's when we need to know the budget to narrow the search results to a manageable number of stones.
Within the same budget, you can get a larger stone with lower color and clarity or a smaller stone with higher color and clarity. Both can be compared to each other because they are priced similarly. No matter how wealthy and generous you are, having a set budget is essential, and sharing it with us will not put you at risk of getting a bad deal. All diamonds are sourced by us directly from diamond cutters, so there is no middleman. As a result, diamond prices are the same no matter who sells you the stone, just like the prices of shares of a stock on the stock market.
Initial consultation
The phone conversation is optional. We routinely work with long-distance clients without ever speaking directly. We recommend WhatsApp (or any other messaging service of your choice) over email, which often goes to spam. The phone conversation will give us a better chance to introduce ourselves, get insights, understand your vision, style, likes, and dislikes. Our guidance will be wasted unless you trust our knowledge and expertise.
We discuss the design in general terms – it is too early to go into specifics. The ring will be created for an actual stone that has not yet been selected.
The visit
We help people create and purchase custom-made, bespoke jewelry regardless of their physical location. Therefore, a personal visit is rarely a necessity. In fact, we meet only a few people face-to-face. We have removed all obstacles and risks by offering a choice of a contactless jewelry-buying experience. Whether you choose to visit us in person or work remotely, the process is easy, affordable, and fun! Our showroom offers complete privacy and has all the necessary equipment and visual materials to assist during the meeting. In addition, we have a few stock pieces to demonstrate the level of craftsmanship.
The pandemic just gave everyone another good reason to keep a distance. However, if necessary, we will set up an appointment to provide you with full, one-on-one attention. As your jeweler, our goal is to make your experience more personal.
How it's made
The stone is purchased, the ring style is selected, and the fine details of the design are formalized. Now we can proceed to make the ring. We do not customize a prefabricated model. Instead, we produce a custom piece that fits like a glove to the stone it holds. To achieve that, we need the actual stone because measurements alone do not reflect the stone's unique geometry.
We will carefully decide which means of production are the most appropriate for the particular design. Regardless of the actual technology we use in production, the quality of craftsmanship is never compromised. Unlike casting, which starts as a wax pattern, our work is done by hand-forging the metal. We cut, bend, pound, file, polish, and otherwise transform raw metal into a finished ring without resorting to casting. Every small part is shaped and pre-finished before it is incorporated into the final assembly.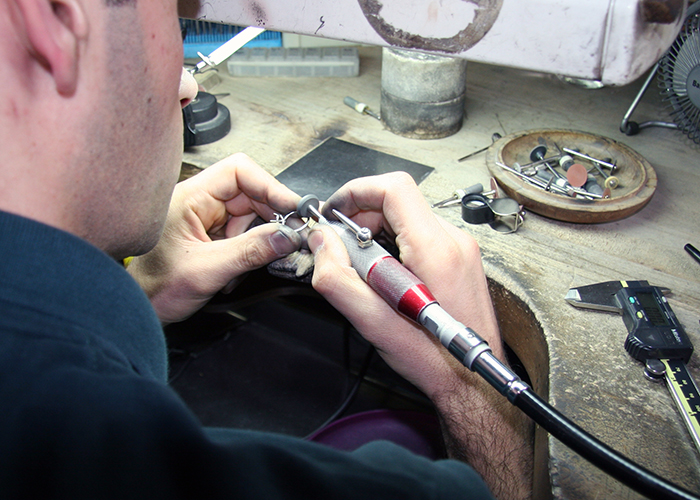 Working with raw metal is very similar to shaping the dough. First, we flatten the metal into a plate using a rolling mill, a machine very similar to a dough roller. It is just like using a rolling pin to make sheets of lasagna. To make wire, the metal is pulled through a successive set of dies, gradually reducing its diameter, just like pushing the dough through a plate with round holes when making spaghetti.
Cold forging is done using specialized hammers and anvils. Filing is done with various files, starting from coarse American Bastard cut, a common type of file familiar to every machinist, to the finest Swiss-pattern needle files used by watchmakers. Soldering is done with a hand torch.
The hand saw, a tool most often associated with jewelry work, is used for cutting and piercing. You can see our collection of antique jeweler's tools, including rare old saw- frames, when visiting our showroom.
Every piece is pre-polished before gemstones are set. All nooks and crannies that a polishing brush cannot reach are thrummed. Thrumming is an ancient but very efficient way of smoothing surfaces using a thread. Our highly skilled and experienced setters set all diamonds and gemstones.
Our European-trained setters work with microscopes to ensure absolute precision and avoid damaging the stone during the stressful process. Our setters are the best in the trade with decades of hands-on expertise and experience. Once the ring is set, the final polishing is done by hand until a perfect, meticulous finish is achieved. Texturing, engraving, and all other types of surface treatments are patiently applied at the very end.
Each piece is made under the direct supervision of Leon Mege, who is a master jeweler. A partial or complete work that does not fit Leon Mege standards of quality and precision gets re-melted and re-built once again. We do not entrust your custom design to faceless contractors or factories located overseas, we do all work. We are the best in the jewelry trade, and we are grateful for your business and patronage.
The commission
Every project begins with a conversation. From the very start, we give you a direct line to your own personal jeweler. We look over your shoulder, watching and advising your every step – from stone selection to ring design. We are not making a sale, we are empowering you to make informed decisions. We exercise discretion in accepting commissions. For example, we will respectfully decline projects better suited for low-end jewelers and do not require a skilled artisan.
The regret of getting a lemon lingers long after the jubilation over low price is gone. We do not work with those who prefer bargain to quality. We are not contractors; we are bespoke jewelers making jewelry from start to finish using stones supplied by us. There are certain requirements for accepting an heirloom stone for commission. You will enjoy our uninterrupted attention to every detail, as well as direct and unlimited access to our expertise, artistry, and experience. You can count on our professional assistance at every step, from selecting a center stone to the designing phase and ultimately production and delivery.
How long does the whole process usually take? It can take a week, or it can take a few months, depending on the project. The more time you need for the gestation of ideas and working out all sorts of kinks and details, the longer it's going to be.
Free insured shipping
By default, we get in touch with you before shipping a package. If we cannot get in touch with you to confirm the address, delivery day, and time we will not ship.  A package will not show up on your doorsteps without warning.  We ship overnight by FedEx or UPS for the next day's delivery. Packages cannot be shipped for Saturday, Sunday, or Monday delivery. Each package is fully insured by a third party. All deliveries require an adult signature upon receipt.
For security reasons, we ship only to a physical location. PO boxes are not allowed. Armored car deliveries are available only to a business address. The shipping method depends on the value of the item and the recipient's location. We are happy to accommodate your schedule – your convenience is our ultimate goal.
Complete privacy
As a buyer of a luxury item, and in particular an engagement ring, you have the right to complete discretion. At Leon Mege, we are extremely conscious of it and are willing to provide the extra layer of confidentiality. After the proposal, you can share with others as much, or as little, about your engagement ring as you want. We will not break the seal of silence without your explicit permission, no matter whether you are a celebrity or a private person.
Jewelry created by a craftsman using only traditional tools is called bench-made. Raw metal stock such as plate or wire is the starting point. We cut, saw, bend, forge, hammer, grind, file, and solder the shapeless clump of metal into an intricate symphony of intersecting galleries, prongs, and joints.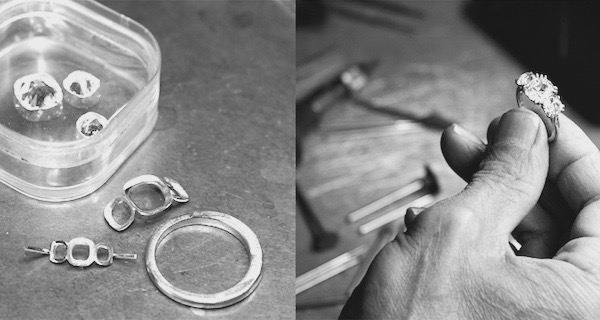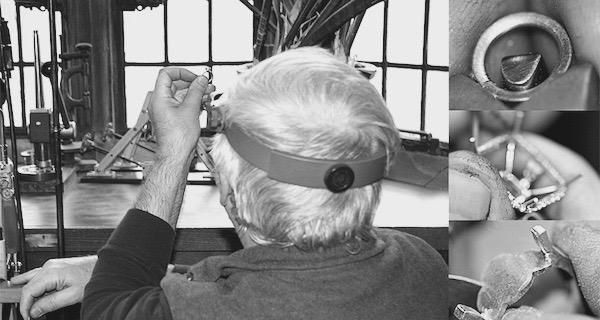 Whether a piece of jewelry is a work of art or not depends on the way it's designed and made. Every piece the Leon Mege workshop produces is conceived with the client's unique taste in mind. To achieve this goal, we rely on an old-fashioned and time-tested traditional way of making every piece by hand.
The term "handmade" is no longer a reliable indicator of the craftsmanship and the processes used in production. By definition, the handmade jewelry must be made by hand, from start to finish, without casting or computer modeling. However, the term "handmade" is widely used in advertising and completely lost its meaning.
The term "bench-made" took its place to separate jewelry made from scratch from cast pieces.
"Bench-made" describes high-end bespoke jewelry made without molds, casting, stamping, or CAD/CAM modeling. In other words, anything that takes the artistry out of the jewelry-making process is not allowed. Bench-made jewelry:
Formed from a metal plate or wire
Hand-forged from platinum or 18K gold
Is NOT cast, stamped, or molded by computer
Assembled from many separate parts
Set under a microscope
Each bench-made piece is painstakingly made by skilled craftsmen using nothing more than the traditional tools of a jeweler: hand saw, pliers, files, tweezers, torch, etc. The only two pieces of machinery you can find in a shop specializing in bench-made jewelry are rolling mills and a wire-drawing bench.
Each bench-made piece is a product of successful collaboration and interaction between the jeweler and the client.
"A diamond costs less than a shrink." Pierre Megé
There are many reasons to enlist us as your diamond source:
Pay the lowest price for any diamond, guaranteed.
We can sell the same exact stone at a lower price. So shop anywhere, buy from us! The diamond prices are easily compared online. Each diamond can be traced by its unique GIA certificate, guaranteeing its authenticity and quality. We can locate the stone by its certificate number and sell it at a significant discount or suggest a better stone.
We offer a seamless, consumer-friendly workflow that combines world-class craftsmanship with a diamond of uncompromising quality and ensures that the diamond is fully compatible with the ring style and vice versa.
We can find a way for you to save on the setting's cost, which can be lowered by as much as twenty percent.
Enjoy exclusive perks such as free shipping, expedited completion, and unlimited consultations. The safety of a diamond supplied by us while it is being set is our responsibility. Our Jewelers Block insurance policy covers the diamond against the minuscule chance of accidental damage during the setting.
We sell only GIA-certified stones because GIA is an internationally recognized gold standard in diamond grading.
We buy diamonds only from vetted, well-established suppliers that sell ethically sourced diamonds and strictly adhere to Kimberly guidelines.
We use exclusively premium (F-G/VS+) ideal-cut natural diamonds with no fluorescence in our pave.
All diamonds under 2.0 mm in diameter, called a melee, are carefully selected to be:
Ideal cuts
Uniform in proportion
Color F-G or higher
Clarity VS or higher
Fluorescence-free
Our price estimates are based on a premium grade of ideal-cut 57-facet natural diamonds. The smallest size of melee available, although rarely used, is 0.4 mm in diameter – smaller than a grain of the finest sand.
The diamonds you see online are listings pulled from the international exchange accessible to trade members. No matter which website you browse, you look at the same stones.
Most diamonds are not owned by the companies that sell them. Large corporations like BlueNile or James Allen are resellers and do not own diamonds. These stones are "virtual" diamonds sourced by jewelers from diamond cutters.
Most jewelers make it no secret that the stone does not belong to them. They call these diamonds "virtual" instead of diamonds they own, which, in turn, can be sourced by other jewelers. Jewelers hesitate to admit that the diamond is sourced elsewhere.
Claiming they own the stone discourages consumers from asking another jeweler for the same stone. Most jewelers are willing to match the lowest advertised price, except for fake prices offered by bait-and-switch bottom feeders. Please email us the list of these shameful companies.
A jeweler's worst nightmare is a predatory consumer taking advantage of the efforts of finding the perfect stone but buying from a competitor. To protect a sale, jewelers often ask a supplier to de-list the stone from the market.
Once a diamond is on hold, it temporarily becomes unavailable to other jewelers. 
Jewelers and diamond resellers use different techniques to throw off comparison shopping: corporations such as Tiffany's throw away GIA certificates and issue a proprietary version. This practice makes it harder for a jeweler to locate the stone using the 4 Cs instead of a certificate number.
Large online retailers have the leverage to bully producers into obscuring the diamond's information. Certificate numbers, stone measurements, or listing prices are modified to throw off the competition.
Sometimes GIA certificates are substituted with inferior AGS certificates to give the stone an aura of exclusivity.
The AGS grade is routinely higher than the original GIA grade, so the stone is difficult to locate. Avoid any dealer offering AGS- or EGL- certified stones.
As a consumer, you want to avoid calling multiple jewelers about the same diamond. Doing so might reduce your chances of getting a better deal. The cutter knows that someone is interested in the stone when several jewelers inquire about the same stone and are less inclined to lower the price. The first jeweler who gets the call will try to get the stone off the market before other jewelers can inquire about it.
We use exclusively 5% Ruthenium Platinum and
18K Gold
We work with all colors of gold as long as it is 18 karats or European 750. The 18K white, yellow, and rose gold is the only alloy suitable for fine jewelry production. The majority of our work is done in platinum – the only real precious white metal. We can use palladium, sterling silver, or non-precious metals on occasion.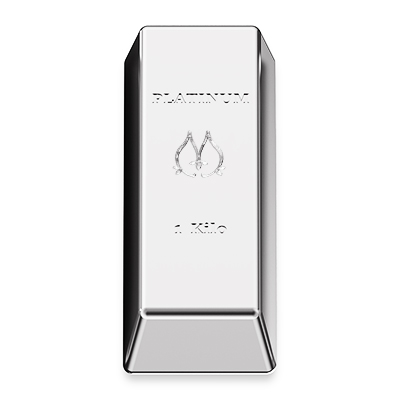 Platinum
One of the most desirable noble metals globally, platinum is the best choice for bespoke jewelry, especially engagement rings. Platinum has earned high marks from the Royal Society of Chemists for its unmatched properties, such as its strength, resilience, rarity, and value.
Platinum's naturally white color, which does not corrode or darken, is responsible for its elevated status among jewelers and consumers. Platinum's cool white sheen is perfect for accentuating the sparkle of diamonds. Platinum doesn't cause any color reflections in the stone.
Platinum weight is not a factor for hand-forged earrings, necklaces, pendants, and bracelets. Skilled jewelers use thinner metal, smaller gauge wire, and various techniques like adjourning to turn platinum pieces that are light and airy. On the other hand, platinum's high density is detrimental for pieces made by casting. CAD/CAM jewelry is chunky and heavy because casting very thin parts is not practical.
At Leon Mege, we only use platinum consisting of 95.5 parts pure platinum and 4.5 parts ruthenium. A tiny amount of ruthenium cures pure platinum and improves its hardness and density.
Ruthenium is a platinum group metal. Ruthenium platinum is the only alloy suitable for hand forging. We do NOT use 10% iridium alloy, which is inferior to ruthenium and is mainly used for mass fabrication by casting.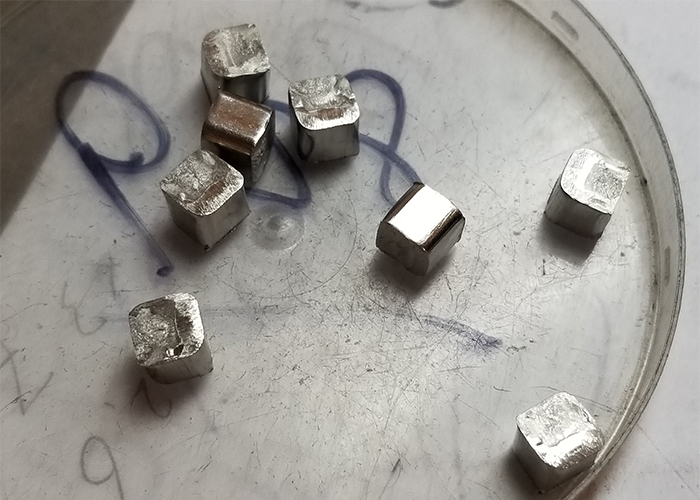 All of our platinum jewelry is stamped with Pt950 hallmark according to FTC guidelines. For gold purity, Leon Mege jewelry is stamped 750, Au750, or 18K. Platinum is the original precious white metal.
Platinum jewelry has a solid feel that is impossible to achieve with white gold. White gold was developed as a platinum substitute during WWII. It is a poor woman's platinum.

Yellow gold
Fine jewelry is exclusively made of 18K gold. There are many shades of gold – yellow, green, pink (rose), and white. 
Every gold alloy we use is proprietary, field-tested, and guaranteed to satisfy any strict quality requirements, as well as FTC standards for jewelry metals. All Leon Mege gold alloys are guaranteed to pass the European Nickel Release test, which means that they will not cause skin allergies. 
Gold, in its natural color, has long been the traditional metal of choice for jewelry because it doesn't rust, tarnish or corrode. At Leon Mege, we exclusively use 3N*yellow gold alloy manufactured in Italy. The alloy produces rich, vivid-yellow gold color.
White gold
White gold requires periodic plating to maintain its look; it is only 75% pure compared to platinum's 95%. Unlike platinum, which is self-burnishing, white gold is continuously shedding its top layer. And unlike some white gold alloys, platinum never contains nickel.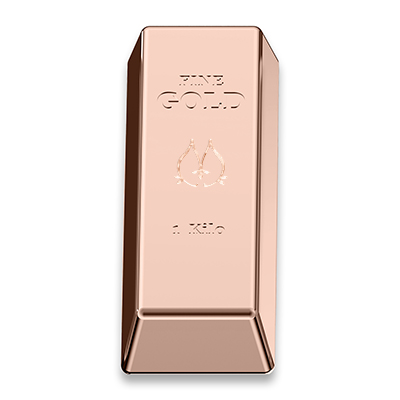 Rose gold
Rose or Pink Gold fairly recently surged in popularity as more and more people embrace its charming look with a hint of vintage grace. Traditionally, in some countries, such as Russia, pink rather than yellow, it is viewed as a natural gold color.
Gold and platinum prices flipped almost a decade ago, and gold remains significantly more expensive than platinum. Currently, the same amount of money buys twice as much platinum as gold. Platinum's low price is a fantastic buying opportunity considering that platinum is 30 times more scarce than gold.
Here are the ten reasons why platinum is better than white gold. Platinum is easier to work with than gold. The cost of labor, which is the main part of the fabrication cost, is lower, making hand-forged platinum jewelry surprisingly affordable.