The most expensive alphabet in the world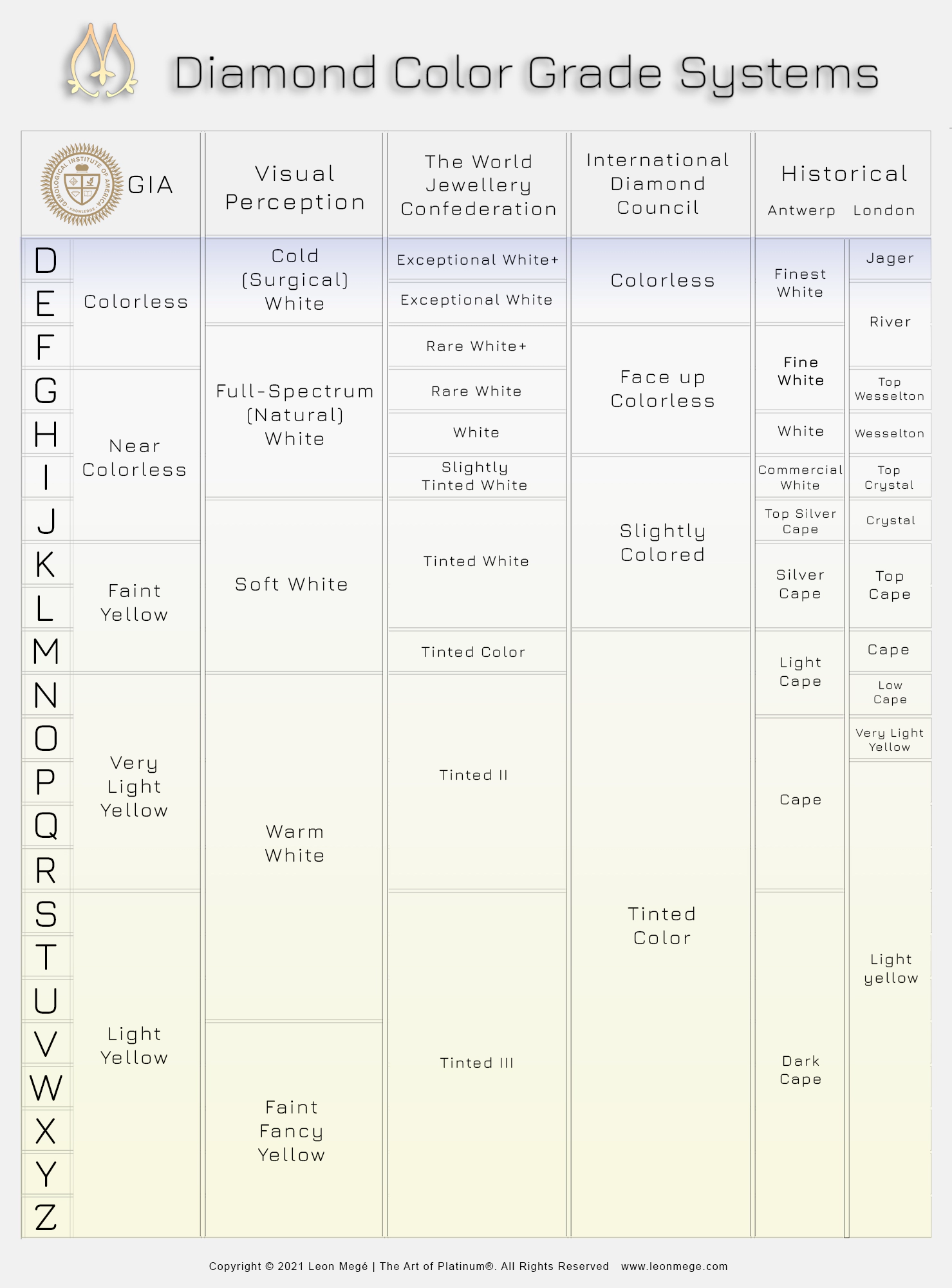 Diamonds range from colorless to yellow. Each diamond color grade is assigned a letter starting from D, which is the top grade. The lowest grade is Z.
GIA is an absolute authority on diamond grading, so their grades are solid. Other labs, including AGS, EGL, IGI, GRS, are inconsistent and even purposefully padded.
Color is the least noticeable diamond attribute, yet it has the most dramatic impact on its price.
Diamonds within the D to I color range do not have a yellow color component. The difference is brightness on the grayscale.
Even professionals (with rare exceptions) cannot eyeball the difference between adjacent color grades.
Color perception is highly subjective. It varies from person to person. Lighting conditions, the angle at which the stone is viewed, and cut variations affect the stone's appearance.
Most consumers cannot distinguish within 1-2 color grades even when diamonds are next to each other. Telling the difference when the stone is worn in the ring on a finger is impossible, especially when the ring is not regularly cleaned.
D is the top color grade, but it's not practical and too expensive for most people.
We agree with Tiffany's (de-facto bridal authority) that all diamonds I- and better are perfectly white and do not have a yellow tint. The only difference is how bright they are.
D-E colors are "vanity" grade. They are used mainly in high-end jewelry, which demands the finest material without concern of the cost.
F-G colors are "premium" and widely used in fine jewelry.
H-I is a "practical" choice for a reasonable price without sacrificing diamond quality.
It is worth repeating: the difference between F-G and H-I grades is only in brightness. These stones are perfectly white and do not have a yellow tint.
A little "suntan" is beneficial for antique diamonds such as Asschers or antique cushions.  It improves their sharpness and depth perception and gives the stone a rich, natural look.
Starting from J-color, diamonds' "warmth" becomes prominent, escalating into a noticeable yellow cast with every grade below J. For an Asscher or an antique cushion, the J to M color range is reasonable to consider.