• A wedding band is a symbol of unity, signaling to the opposite sex that you are no longer available.
• Women tend to wear thin diamond-set wedding bands.
• Men gravitate toward masculine solid metal bands.
• To avoid damage, we recommend wearing engagement and wedding bands on separate hands.
A classic wedding band is by far the most popular wedding ring style. It's a traditional solid metal band featuring a gently curved outer surface and a flat inner surface with chamfered edges. Classic wedding bands vary in depth, weight, and thicknesses. There are low, medium, and high dome bands. Alternatively, they might be referred to as medium-weight, heavyweight, or extra-heavyweight bands.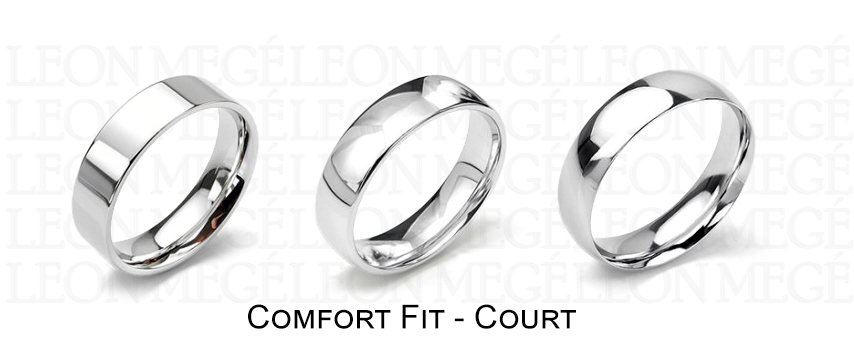 Wedding bands come in two varieties: Standard-fit and Comfort-fit. The Comfort-fit band's inner surface is puffed up for easy sliding and a comfy feel. Americans call this feature a "Comfort-Fit," while British call it "Court." In contrast, the standard "pipe-cut" bands are flat inside, lightweight, and cheap.
A Comfort Fit band benefits those who take off the band frequently, such as medical professionals. Comfort-Fit bands, less than 3.0 mm in width, are too narrow to cause discomfort and do not require Comfort-fit. A Light Comfort-fit is slightly less rounded, while a "heavy Comfort-fit" has a bumpier curve. There is no uniform Comfort-fit profile; each manufacturer has a different template.
Bespoke bands like Leon Megé's classic wedding bands do not require a Comfort-Fit because they already have a smooth finish and soft chamfered edges for maximum comfort. They slip on effortlessly and stay tight on the finger.
Hinged – Articulated – Flexible bands
Are you aware that ring avulsions, also called degloving, are injuries to soft tissue like a ligament, tendon, or muscle when a wedding ring is suddenly pulled off or pressed hard against a finger causing bone, blood vessel, ligament, or nerve damage? There is also a possibility of sudden death from venous thromboembolism, a blood clot from poor blood circulation.
The hinged band's flexibility offers a solution to this daunting problem. It has hinges that allow its sections to pivot when pressure is applied. The force gets redistributed, so there is less chance for an injury. Each band consists of several links, usually between 3 and 8.
 Articulated bands are extremely comfortable for anyone who routinely lift weights, be it dumbells or groceries, and those who find traditional rigid rings uncomfortable. 
The pins can eventually wear off but can be easily refurbished.