• A wedding band is a symbol of unity, signaling to the opposite sex that you are no longer available.
• Women tend to wear thin diamond-set wedding bands.
• Men gravitate toward masculine solid metal bands.
• To avoid damage, we recommend wearing engagement and wedding bands on separate hands.
A classic wedding band is by far the most popular wedding ring style. It's a traditional solid metal band featuring a gently curved outer surface and a flat inner surface with chamfered edges. Classic wedding bands vary in depth, weight, and thicknesses. There are low, medium, and high dome bands. Alternatively, they might be referred to as medium-weight, heavyweight, or extra-heavyweight bands.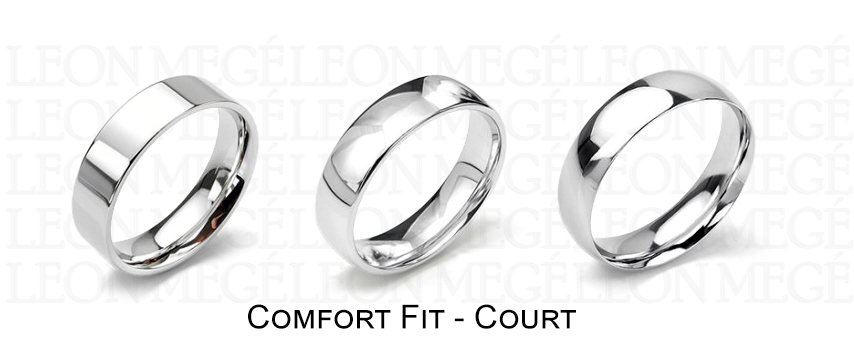 Wedding bands come in two varieties: Standard-fit and Comfort-fit. The Comfort-fit band's inner surface is puffed up for easy sliding and a comfy feel. Americans call this feature a "Comfort-Fit," while British call it "Court." In contrast, the standard "pipe-cut" bands are flat inside, lightweight, and cheap.
A Comfort Fit band benefits those who take off the band frequently, such as medical professionals. Comfort-Fit bands, less than 3.0 mm in width, are too narrow to cause discomfort and do not require Comfort-fit. A Light Comfort-fit is slightly less rounded, while a "heavy Comfort-fit" has a bumpier curve. There is no uniform Comfort-fit profile; each manufacturer has a different template.
Bespoke bands like Leon Megé's classic wedding bands do not require a Comfort-Fit because they already have a smooth finish and soft chamfered edges for maximum comfort. They slip on effortlessly and stay tight on the finger.
In addition to depth, weight, and thickness, a wedding band varies in shape. The shape of its cross-section defines a band's style and is called a "profile."
In theory, a wedding band's profile can have any shape, but the most popular profile is the Dome shape or D-shape. A band's width is easy to decide simply by trying it on one's finger. The choice of the profile is a bit trickier.
A High Dome D-shape band's maximum possible width is approximately 4.0 mm. Medium Domes are possible up to 6.0 mm in width, and a Low Dome can be made in any width.
The British Court profile is oval with a soft chamfered inner surface and truncated sides, which we call Comfort Fit.
Other British Court varieties include A Square (Flat) Court with a flat outer face,  Slight Court, Flat-sided Court, Traditional Court, and Edge Court. The only one missing from this list is a Tennis Court.
A Cushion profile is similar to a Medium Edge Slight Court band. An example of that would be Tiffany's Lucida band.
Flat or Rectangular bands range from 1.0 mm to 2.0 mm in thickness. They can be of any width. Their similarity to machine parts gives flat bands a more masculine look, often completed with a brushed finish.
Round or Halo profiles range from 1.0 mm to 3.0 mm in diameter and are essentially round wire twisted around a finger. Despite their simple look, Round bands are quite elegant.
Oval bands have a Low to Medium dome profile rounded to match the band's curvature.
Concave bands are very European and have the shape of kidney beans.
Knife Edge bands are typically used as "spacers" and may feature millgrain on top.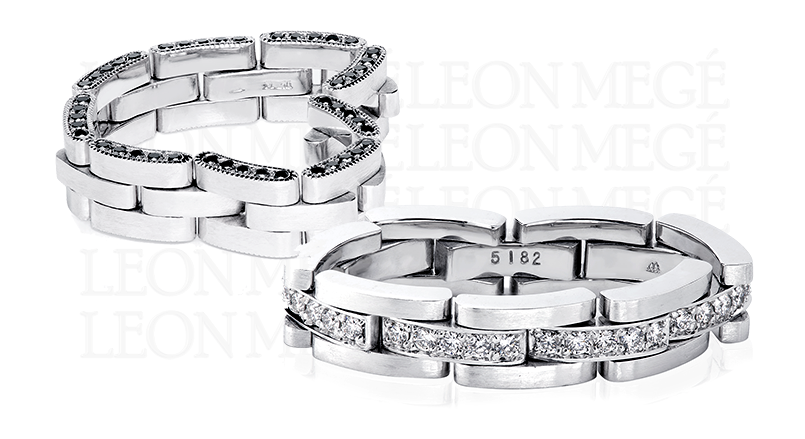 Hinged - Articulated - Flexible bands
Are you aware that ring avulsions, also called degloving, are injuries to soft tissue like a ligament, tendon, or muscle when a wedding ring is suddenly pulled off or pressed hard against a finger causing bone, blood vessel, ligament, or nerve damage? There is also a possibility of sudden death from venous thromboembolism, a blood clot from poor blood circulation.
The hinged band's flexibility offers a solution to this daunting problem. It has hinges that allow its sections to pivot when pressure is applied. The force gets redistributed, so there is less chance of injury. Each band consists of several links, usually between 3 and 8.
 Articulated bands are extremely comfortable for anyone who routinely lift weights, be it dumbells or groceries, and those who find traditional rigid rings uncomfortable. 
The pins can eventually wear off but can be easily refurbished.
There are two basic types of finishes – shiny and textured. The shiny surface is achieved by gradually reducing scratches, pits, and other blemishes until the metal is spotless and smooth. A texture can be added during or after the polishing is done. It's best described as "controlled scarring." When it comes to different finishes, there is no universal terminology. Don't be surprised if one jeweler's satin is another one's brush.
Properly made bands have a texture only on the outside and never on the inside.
The contrast between polished and textured surfaces dramatically clarifies that texturing is intentional and not resulting from poor craftsmanship.
Here's an extensive list of finishes available for your wedding band:
High polish is a crisp, bright polish with high-contrast reflections and without foggy spots. 1-2 micron precision is required for the perfect mirror-like finish (Source: "Kruger's Guide to Industrial Smoothing"). The polish's brightness depends on metal density and hardness. High luster is impossible on soft, unalloyed metal or a spongy, low-density casting. High polish is best at revealing the luxurious shine of hand-forged metal.
Bright polish is the most popular choice among most women and men. 99.5% of women and 92% of men choose a bright polish for their wedding bands.
Zaratsu or Black polishing can be done on flat surfaces of hard metals (for example, stainless steel) that are polished to a distortion-free, brilliant mirrored finish. It is done by firmly pressing the metal part against a spinning tin wheel primed with finer and finer abrasives. Typically used in the watch industry.
Matte is technically not a texture but a dull polish. Matte is the early stage of polishing a piece to a high-luster finish.
The Satin finish is very fine and smooth. It resembles a surface of silk. The satin finish comprises hundreds of microscopic lines that are invisible without magnification. The satin finish is often achieved by scorching a polished surface with steel wool glued to a handle.
The Iced finish resembles a surface of an ice-skating rink after a hockey match.
The Brushed finish is achieved by manually applying one-directional strokes or using a rotary wheel with abrasive sandpaper. The finish is made of uniform scratches, and their coarseness depends on the grade of sandpaper used.
Stone or Bark finish is a rough, dented surface with a random granular feel. Typically it's done by leaving the cast surface raw. This finish is popular with pretentious amateur jewelers unable to machine the casting to a clean, crisp finish.
Sabi finish, a Japanese word for "beautiful," is a coarse finish accomplished by making deep parallel scars with a knife-edge burr. The Sabi finish was named and popularized by the legendary jewelry designer Henry Dunay.
The Florentine finish is a pattern of etched lines crossing each other at a 90-degree angle. The technique makes the metal surface resemble fine fabric or course textiles, depending on how coarse the lines are. A special graver that cuts multiple parallel lines in one stroke can produce the finish. The Florentine finish features prominently in Buccellati jewelry, among many others. Florentine finish's popularity began fading away in the 1980s.
The Hammered finish has an appearance of a rough, crudely forged surface. The dents are machined with a cutting tool rather than by hammering.
The Acid finish is achieved by applying harsh chemicals that leave thousands of microscopic pits on the surface. It's a quick way of finishing jewelry on an industrial scale. Frost finish is an alternative name for the acid finish, albeit more poetic.
Sand or Sandblasted finish is a result of blasting the surface with a stream of an abrasive powder. The finished surface resembles a coarser version of the acid finish. Blasting is done under high pressure in a sealed enclosure to prevent inhaling since breathing pulverized sand can lead to a severe medical condition known as silicosis.
The Corrugated finish is a rough ridged surface with irregular trenches gouged at a 45-degree angle. This bizarre texture is found on low-end jewelry and never in fine jewelry.
Granulation is a recently revived ancient technique of assembling decorative patterns from tiny gold beads soldered to the surface.
The Honeycomb finish is a hexagonal relief etched on the surface.
The Knurling is a diamond-shaped (criss-cross) pattern imprinted on a surface to ensure a better grip. Occasionally it is confused with millgraining.
The Distressed finish is an artificially induced aged appearance achieved by rubbing or scorching the band. This is a natural finish that any plain wedding band eventually achieves during normal wear.
The Perlage consists of small, overlapping concentric circles produced by a rotating metal brush.
The Glashütte ribbing is produced by mechanical means. It emulates a gently rippled effect.
The Sunray finish is a spiral pattern typically covering large surfaces in watches.
Hand engraving is a form of artistic etching. Engraving can be replicated during casting, as is done in low-end jewelry. A pattern can be milled using a CNC machine or a laser, but the results are always mediocre. Only when done by a master artist does the ancient art of hang-engraving look terrific. Custom engraving is expensive as it takes a long time, but it's worth every penny.
Micro-pavé is a surface embedded with small diamonds or gemstones, each serving as a tiny tile. The combination of stones and metalwork is a composite material with a characteristic texture.