Maison Megé is an upscale atelier dedicated to bespoke jewelry artistry and custom designs.  Leon Megé's brand is defined by authenticity, creativity, personality, and tradition.
Helmed by renowned jewelry artist and master platinumsmith Leon Megé, the business focuses on the time-honored tradition of exceptional craftsmanship, offering a bespoke experience to every client. Leon Megé jewelry is made in-house and sold directly to our customers. 
Our vision of beautifully designed, handmade jewelry has inspired every piece we ever made. Leon Megé utilizes the same handcrafting principles and techniques traditionally attributed to European-trained jewelers. While retaining a private business's intimacy, the company holds itself to the highest business ethics standards. Maestro of Brilliance is personally working with each client and supervises the production throughout the whole process. From Shanghai to Milan and across the United States, the Leon Megé brand is a benchmark of precision and everlasting style.
Leon Mege Inc. was founded in 1996 and was incorporated in the State of New York in 2003 under the trade slogan is The Art of Platinum™. The company started as a go-to high-end workshop for selected trade clients and luxury jewelry retailers.
Leon Megé's showroom and work studio are located on the 9th floor of Leon Mege Tower at 151 West 46th Street,  near Times Square, and only steps away from Gemological Institute of America headquarters. Our boutique is designed to provide a discreet and secure meeting place for our clients and vendors. Enjoy our carefully curated collection of antique tools that illustrate the history of hand fabrication on your visit.
We are open for business every day except weekends and holidays from 9:00 am to 4.00 pm EST.

"Logic will get you from A to B. Imagination will take you everywhere."  Albert Einstein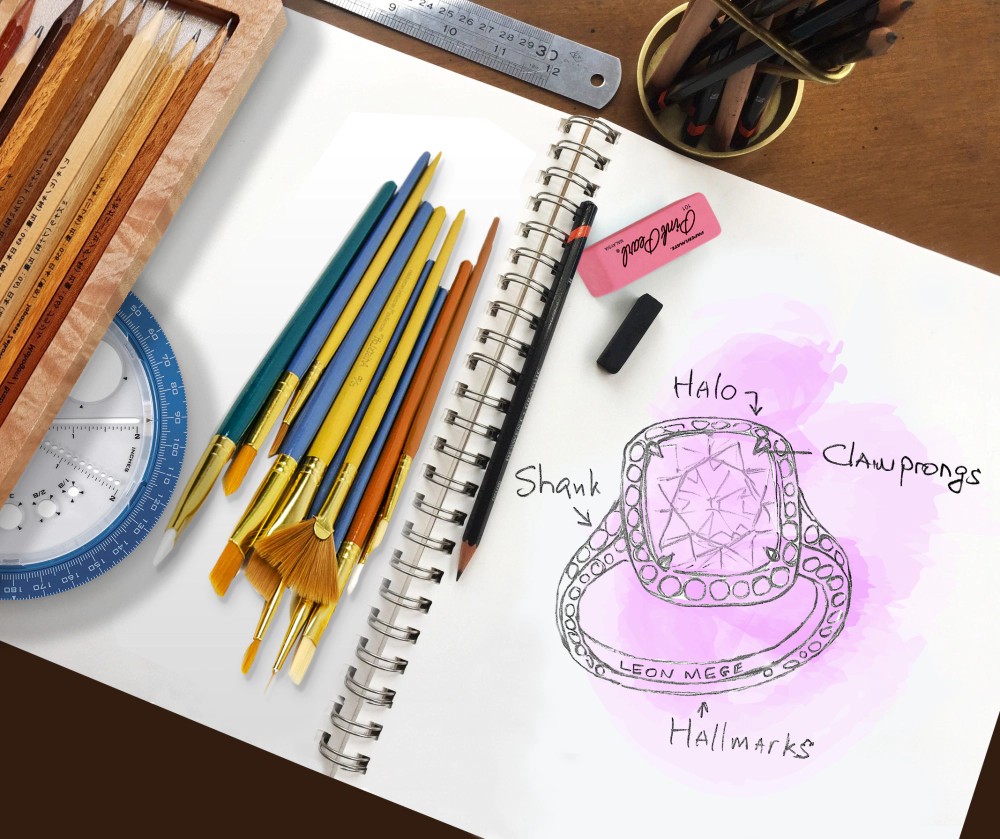 Leon Mege is a legend of the bespoke American jewelry design. The Diamond District darling, ever since his arrival in New York, Leon Mege developed an elegant, inventive, and exquisitely understated aesthetic in fine jewelry. Working out of a bustling studio in Midtown Manhattan, Maestro Mege is involved in the production of each piece, from conception to completion. He uses only the finest natural diamonds and gemstones in his hand-forged jewelry. While his European roots heavily influence his artistic style, Leon Mege jewelry has become an unmistakable part of the classic style in modern American jewelry.
Hand-forged difference
All of our bespoke jewelry is hand-forged from platinum or gold stock. We do not use casting in our bespoke production. Why? Because making jewelry by casting is inferior to hand-forging. Cold-forging is the highest level of jewelry craftsmanship. We forge our jewelry from raw platinum or gold stock; no CAD/CAM is involved. Every piece we create has many individual elements – each handmade, perfectly finished, and assembled.
Affordable Prices
You might be surprised at how competitive our prices are. We work directly with a client without the burden of paying commission to salespeople, consultants, or store managers. We enjoy having low overhead, and we do not have a costly inventory. This spells low prices for the consumer.
One of our specialties is curating and sourcing loose diamonds directly from cutters. When it comes to buying a diamond, we match or beat any price you see elsewhere. How can we do it? Very simple – we source diamonds directly from cutters without any middleman. We charge less commission than anyone else, including resellers such as BlueNile or JamesAllen.
We combine the low cost of the diamond with a bespoke mounting better than those you see at Harry Winston or Tiffany's. You will not find such a level of craftsmanship from any other jeweler. Yet, we do not charge an exorbitant "designer" price when it comes to sourcing a diamond. At Leon Mege, we guarantee the price you pay for any diamond is the absolute lowest.
Lifetime warranty
The Leon Megé brand and reputation is your best assurance of impeccable quality and aesthetic perfection. Each piece complies with the highest manufacturing standards and is guaranteed to be free from any manufacturing defects for life.
Concierge Service
Ordering a bespoke engagement ring from Leon Mege is straightforward and surprisingly affordable. The reward is an heirloom-quality piece flawlessly exhibiting your center stone with minimum metal distraction. Personalized service is at the core of Leon Mege. We treat our customers the way we would want to be treated. Our goal is to build lifelong customer relationships.
GIA diamonds only
Honest jewelers do not sell AGS or EGL stones. These (and some other) labs do not adhere to the strict standards set by the Gemological Institute of America.
AGS and EGL routinely assign inflated grades to diamonds they certify, so consumers are getting overcharged for an inferior product. With your interests in mind, Leon Mege sells only diamonds certified by the GIA.
CAD/CAM-free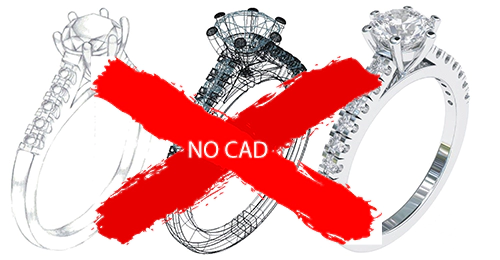 Jewelers who cannot forge jewelry by hand will tell you that CAD jewelry is equally good. Please do not believe them. CAD is simply a cheap way to make a mold for casting. You see a sleek picture on the screen, but the result is quite different. If you are a person who appreciates superior quality, craftsmanship, and style, a piece made by CAD will leave you greatly disappointed.
Unmatched Craftsmanship
Quality and craftsmanship are what sets Leon Mege apart from other jewelers. Maestro Mege has an excellent eye for every little detail, and he will stop at nothing short of pure perfection. Impeccable style, combined with a degree of precision that even Sheldon Lee Cooper Ph.D., Sc.D. can appreciate, is the essence of our service.
Your personal designer 
Leon Mege has created thousands of jewelry pieces during his career. The multitude of jewelry awards and a few patents are testaments to his skills and artistic abilities.
The chances are that you know great things about Maestro Mege by reading reviews online or talking to your friends who referred you to us. Leon Mege is a master jeweler and designer with decades of experience who will gladly share his artistic opinion on any subject related to jewelry. The thrill of buying jewelry at a retail store is long gone. A consumer needs space and time to contemplate the decision without a pushy salesperson hovering over their shoulder.
Worldwide service
We'll work with you closely whether you're in New York or elsewhere – to design your piece for that special occasion. No matter where you are physically located, we can comfortably work together without meeting face to face. We discretely meet with each client in the comfort of our New York showroom or collaborate through correspondence by email, text, or phone.
Resizing and alterations
All sizing and alterations are done promptly and without delay. Initial size adjustment of a newly made ring is complimentary (some restrictions apply based on the sizing and the ring style).
Free Cleaning
We offer cleaning and inspection free of charge for all our clients. The professional cleaning is done in-house, typically while you wait (appointment is needed).
Professional Jewelry Services
Whether you need an engagement ring, a wedding band, a pair of studs, a necklace, or any other type of jewelry to add to your collection, we have you covered. We strive to provide clients with a unique bespoke experience; we are your jewelers for life.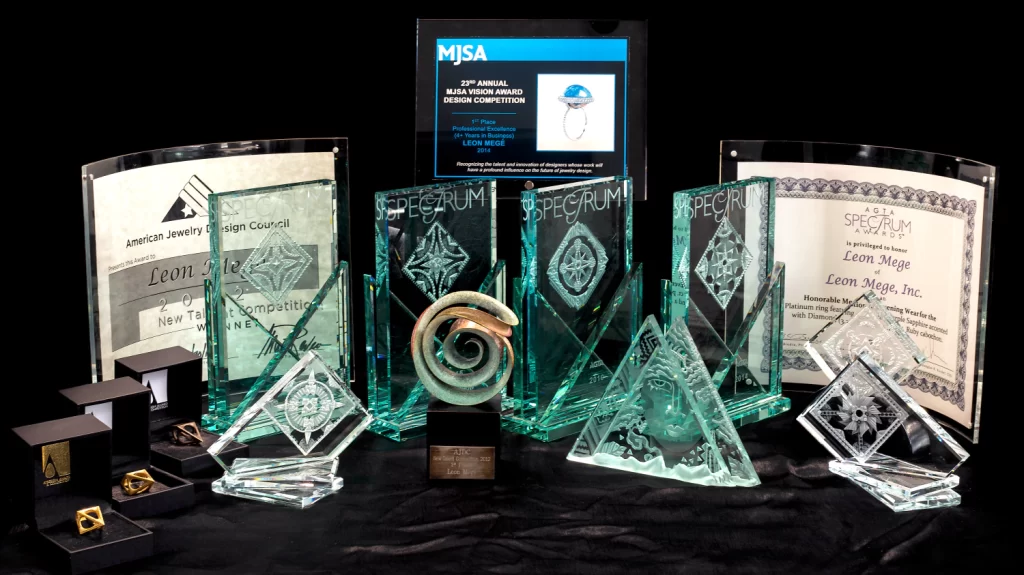 2021 In-store Design Award
Mothra bracelet - second place - Evening Wear category
2017 AGTA Spectrum Bridal Wear | Platinum Innovation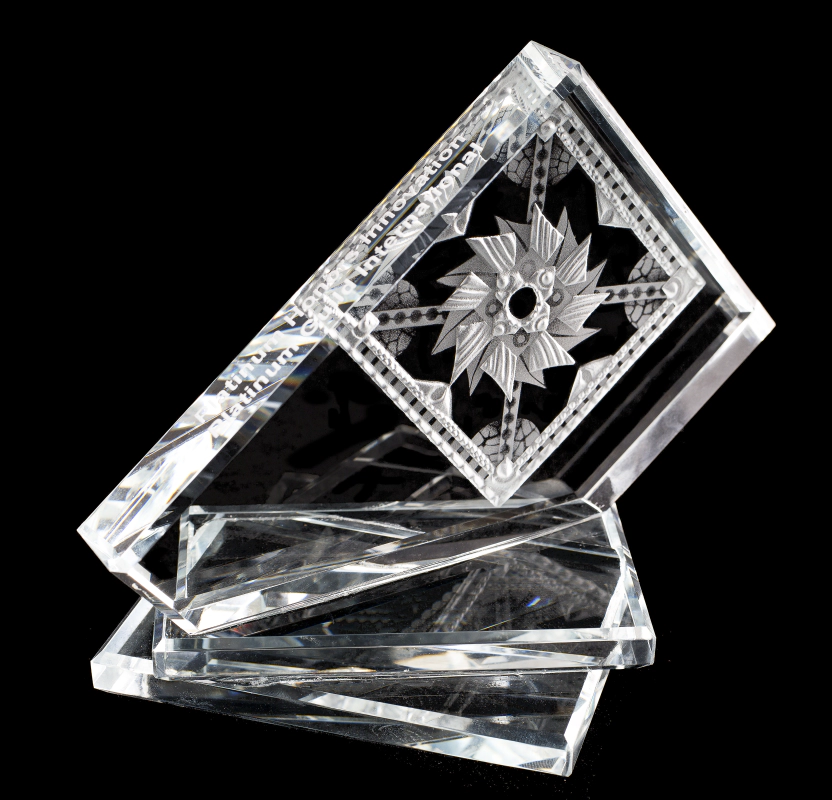 "Bellflower" ring featuring a 3.28-carat cabochon sapphire accented with diamonds and sapphire. Bespoke micro-pave, custom design in platinum.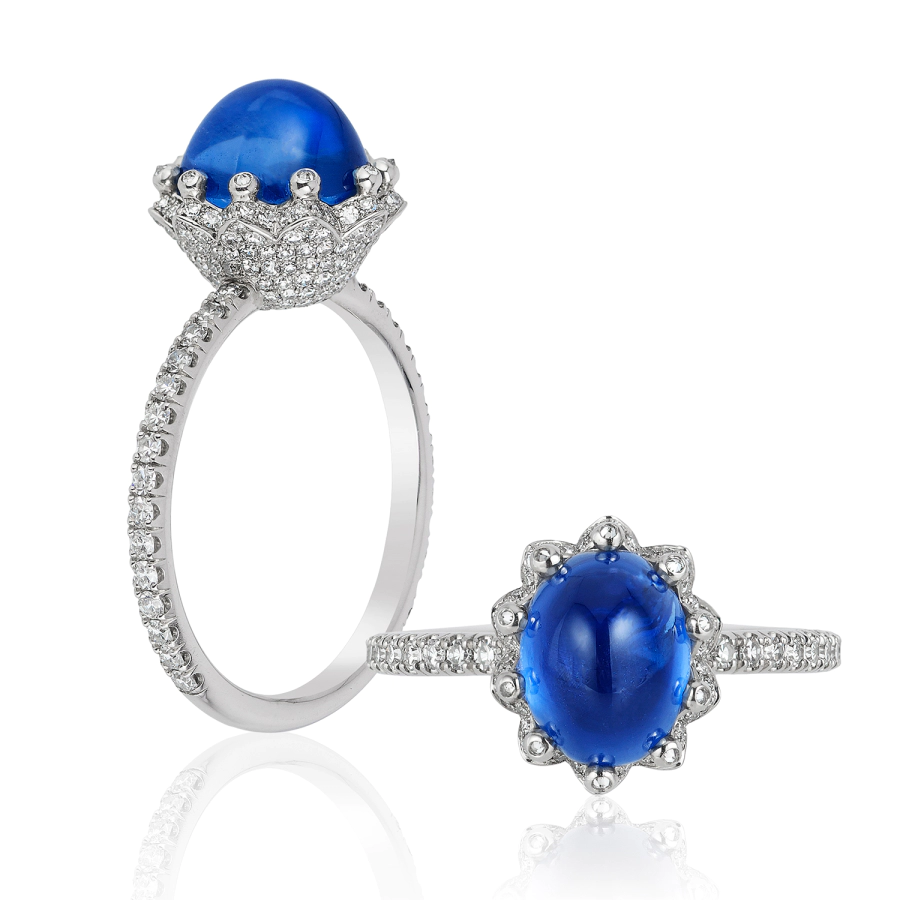 2017 AGTA Spectrum Business Day Wear

"La Petite" bracelet with nine miniature charms featuring Rubies, Aquamarines, Garnets, Amethysts, Sapphires, Tourmalines, and Spinels.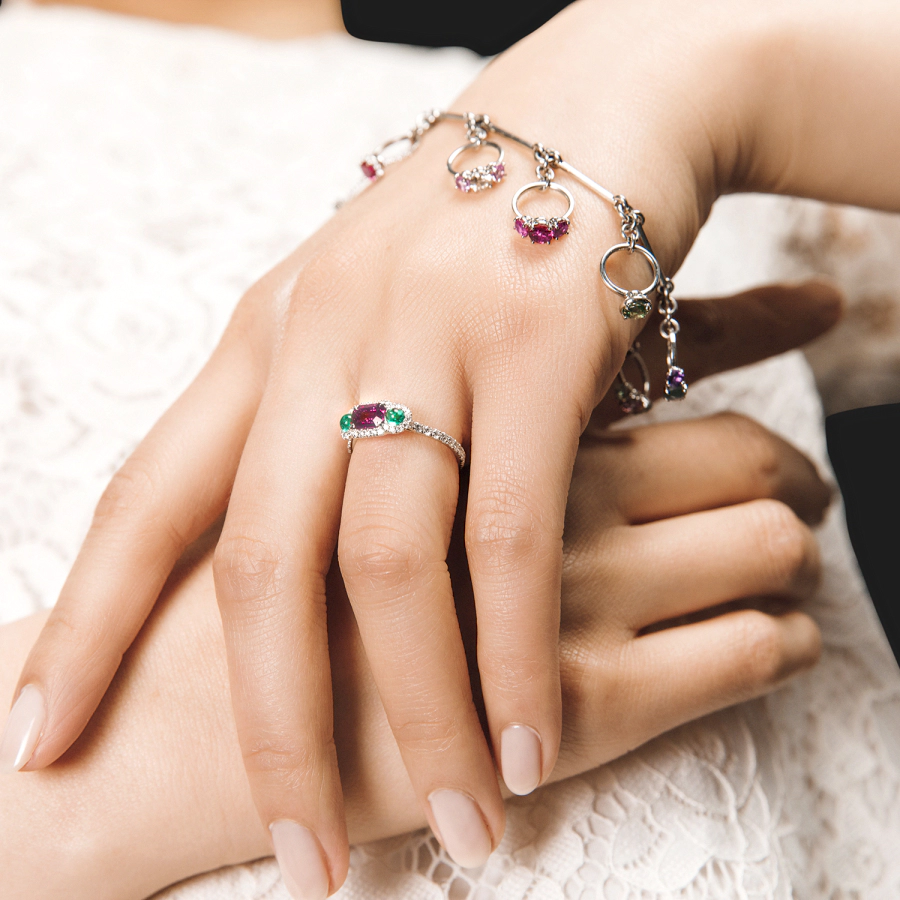 2015 AGTA Spectrum Top Honor | Best of the Show

The AGTA Spectrum Awards™ Best of the show is considered the jewelry industry Oscar. It is the most respected and prestigious creative award for the design industry, a benchmark for jewelry designers striving to gain recognition for their work. Winners set the standards of excellence for our entire industry.
Best of the Show Award in the 2015 Spectrum competition.
Captivating 4.71-carat Windex-blue Paraiba cabochon ring.
This remarkable Brazilian Paraiba is incredibly rare and cannot be sourced because all the mines have been exhausted.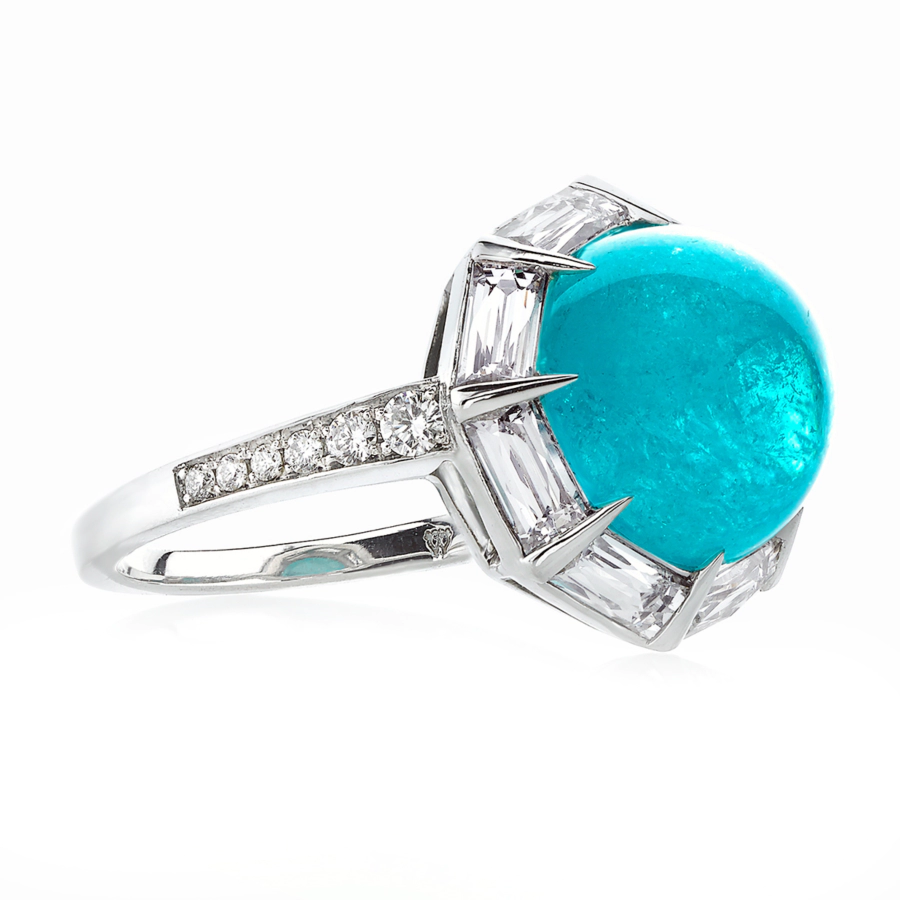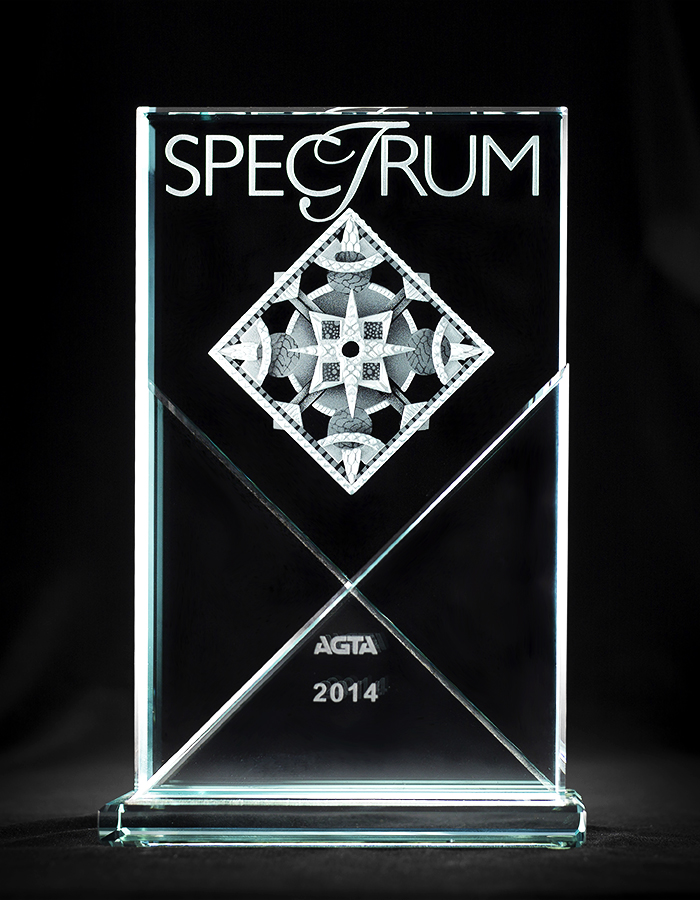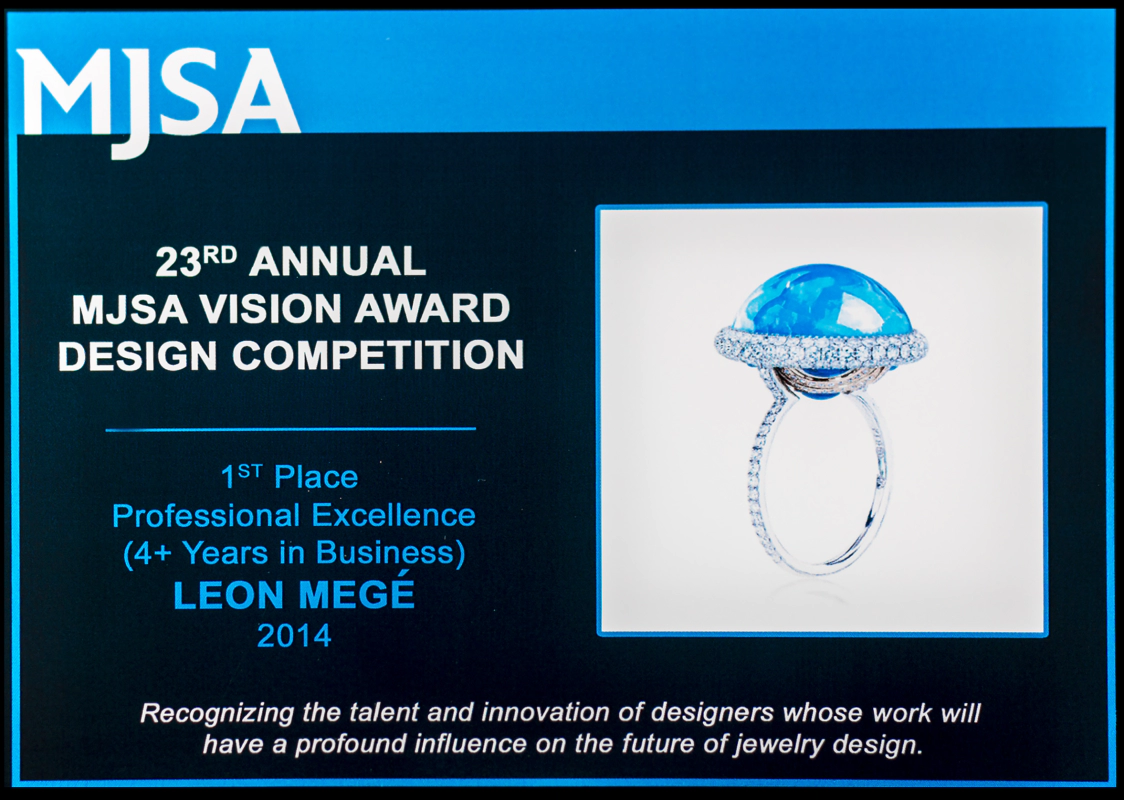 An extraordinary right-hand ring with a magnificent 14.65-carat moonstone
As told by MSJA, "The Professional Design Excellence Category celebrates work that exemplifies the best of contemporary jewelry design. The winners show a thorough grounding in the tradition of fine design, along with an eagerness for experimentation and innovation. By meeting the highest standards of craftsmanship and creativity, these designs truly deserve their award-winning status."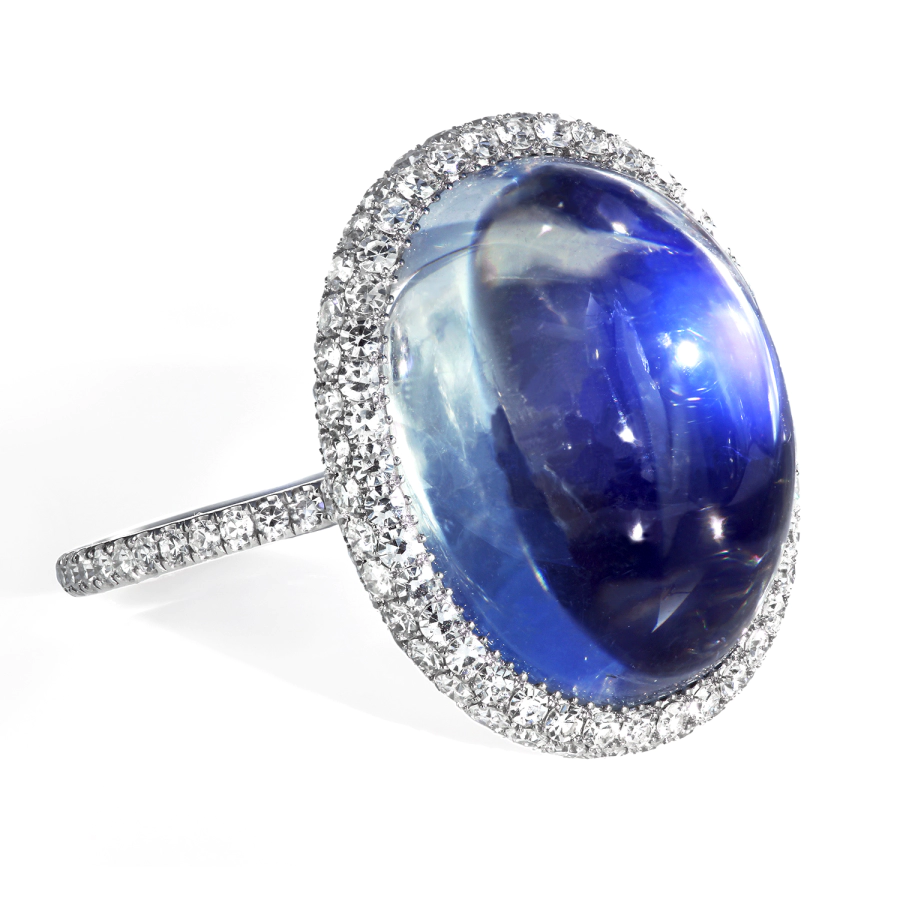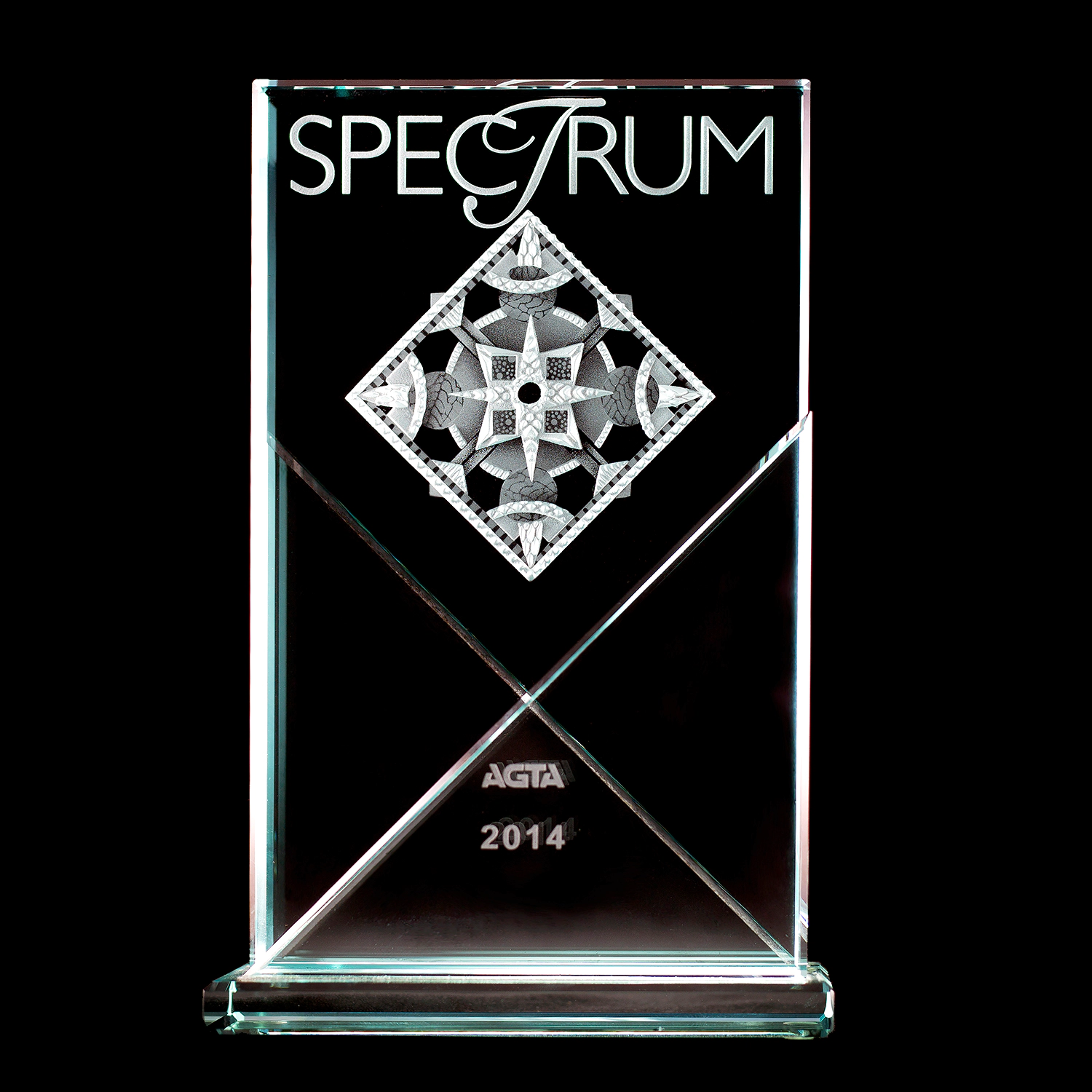 Custom-made right-hand ring, featuring magnificent blue moonstone set in an elaborate micro pave mounting. Three rows of rounded micro pave halo and three rows of pave on the shank. The stone is cradled in platinum and rose gold patterned cup encrusted with custom-cut sapphire cabochons.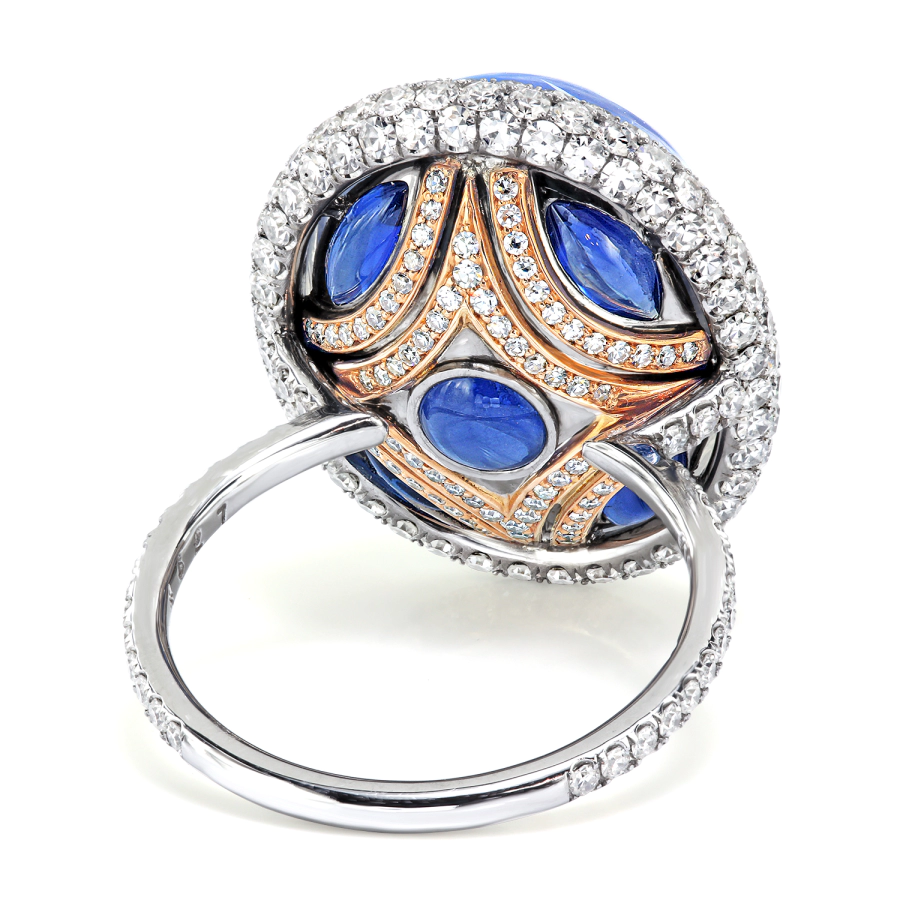 2014 AGTA Spectrum Objects of Art
Leon Megé's 18K gold and sterling silver "Maestro" ring featuring interchangeable records made of ebony wood and gemstones won 2nd place in the Objects of Art Division in the 2014 Spectrum Awards.
This Category is unique and showcases jewelry as artwork that can stand on its own and doesn't have to be worn to be appreciated.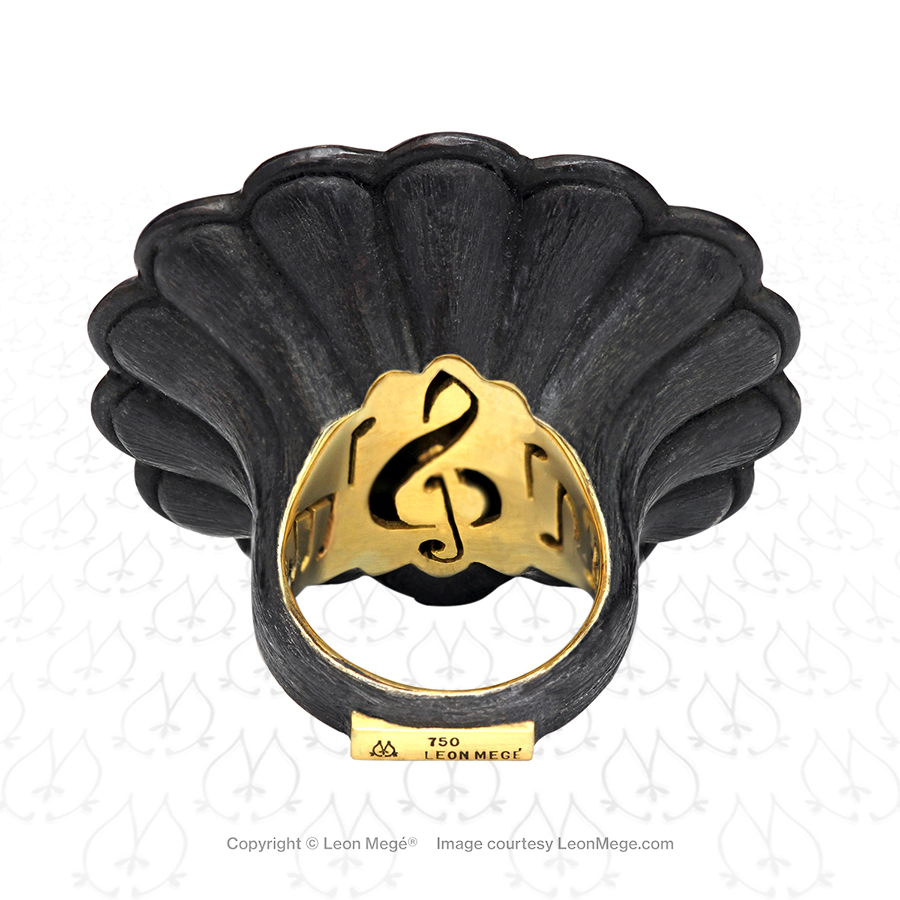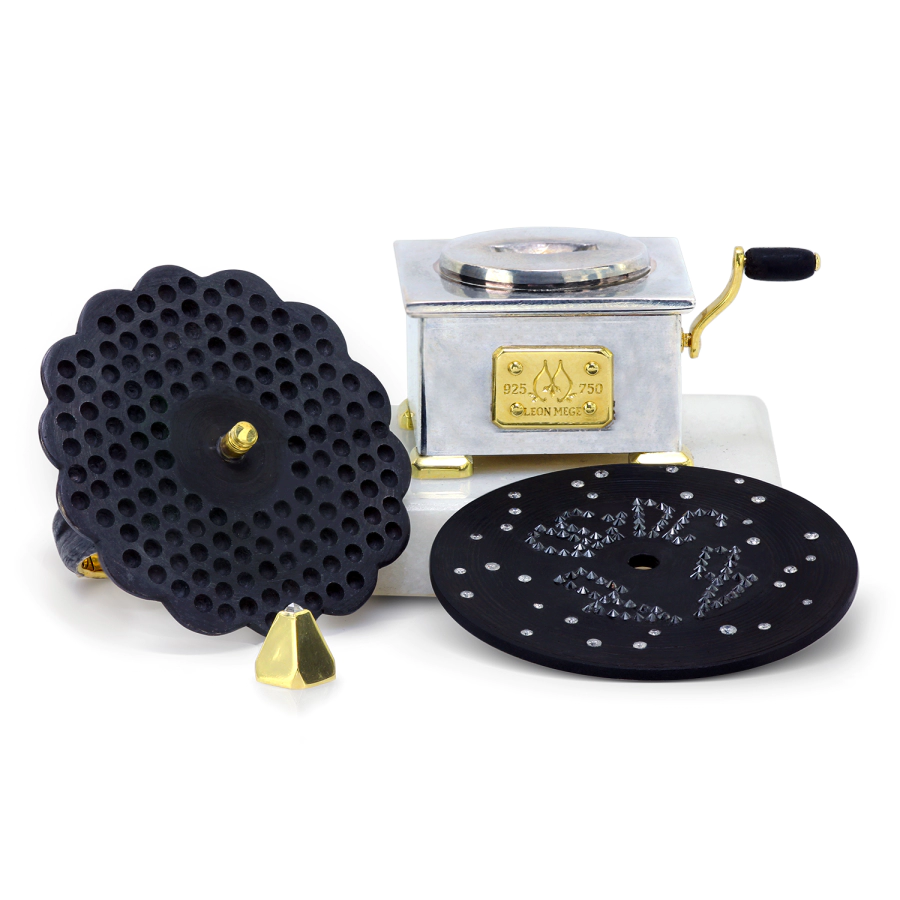 2014 AGTA Spectrum Evening Wear


"Blue Fin" right-hand ring featuring electric-blue 12.75 ct. Paraiba tourmaline cab accented with diamonds and small paraibas won 1st Place in the Evening Wear division at the 2014 Spectrum Awards. This design is the epitome of Evening Wear and the Red carpet look.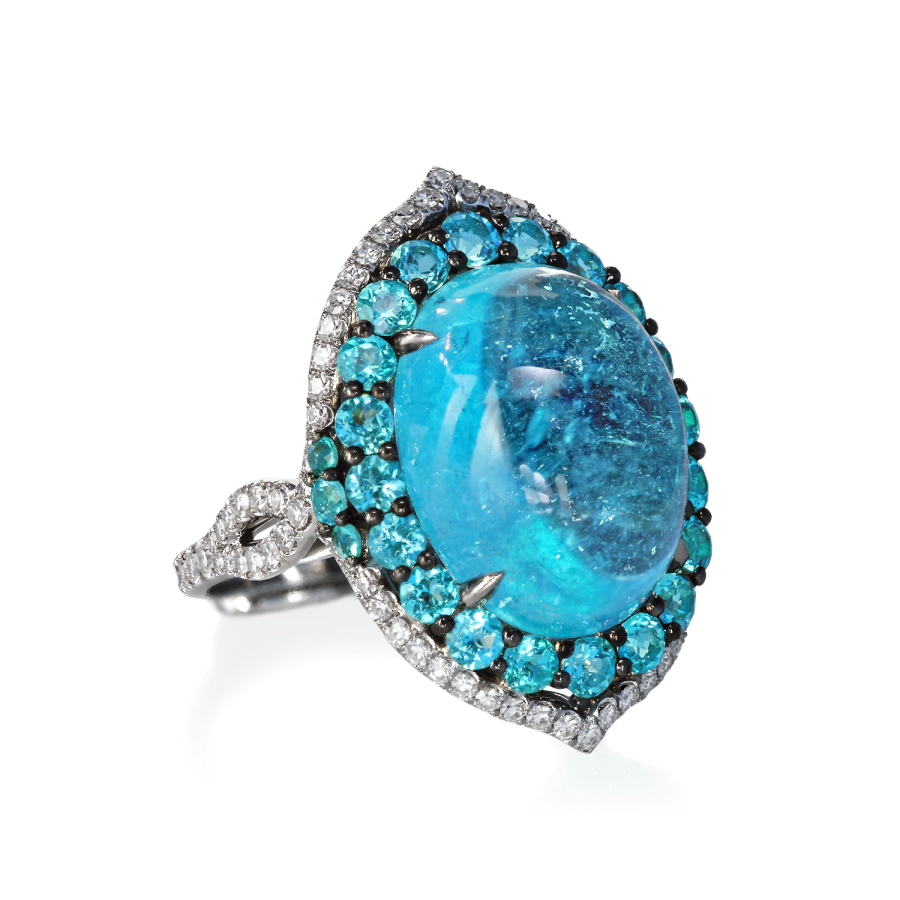 2013 AGTA Spectrum Evening Wear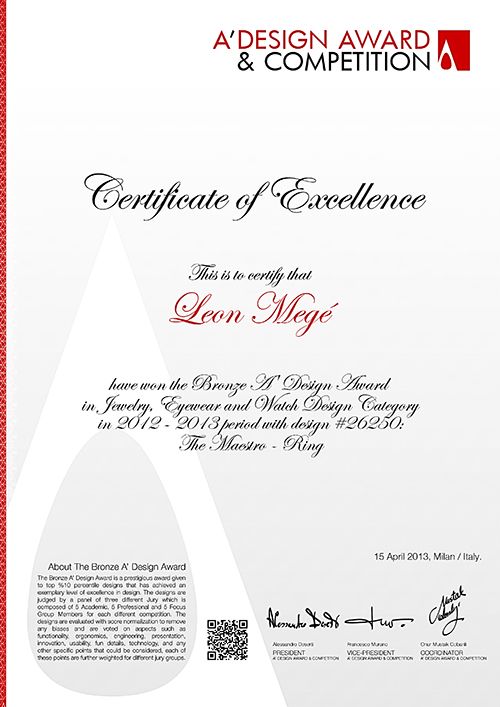 Leon Megé's "Maestro" ring is a musical experience translated into jewelry. Handcrafted in sterling silver, 18k gold, and black and white diamonds, the ring features interchangeable records made of black ebony wood and sits upon a base of white Carrera marble with a silver platform in the shape of an old-fashioned gramophone.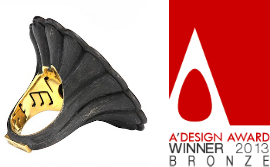 Taking Leon Megé approximately one year to complete, the "Maestro" ring offers a set of jewelry compiled into one piece. The miniature records that accompany the ring are custom-made with gemstones to fit a client's personal music taste.
2012 AGTA Spectrum Platinum Honor
2012 American Jewelry Design Council (AJDC) New Talent

The New Talent Design Competition seeks out to highlight the best new designers in fine jewelry. The American Jewelry Design Council is a non-profit educational corporation that recognizes and promotes original jewelry design as art. The award is given in recognition of the body of the designer's work.
The AJDC emphasizes the artistic qualities of jewelry design. Quote: "Essential to every culture, art is the vehicle for expressing emotions and ideas in a personal and creative manner." The AJDC is a group of more than 30 designers whose mission is to promote the art of jewelry.
In coordination with JA, the annual contest helps present a single outstanding designer to national and international jewelry buyers. Michael Good designed the beautifully made award in Anticlastic raising technique.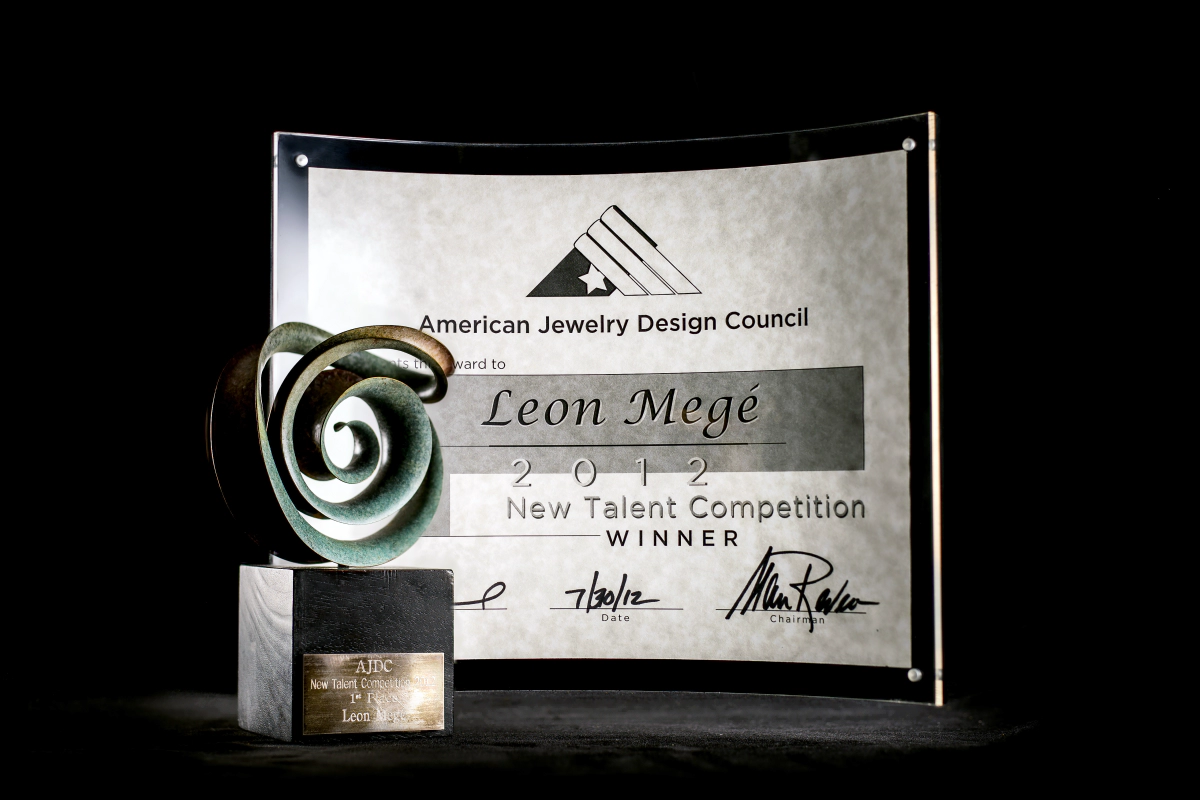 The legendary American designer, late Jose Hess, presented the Award. Hess was the first American president of the CIBJO, an international trade association that created standards for the jewelry industry throughout the world. He was a decorated designer and the winner of numerous design competitions.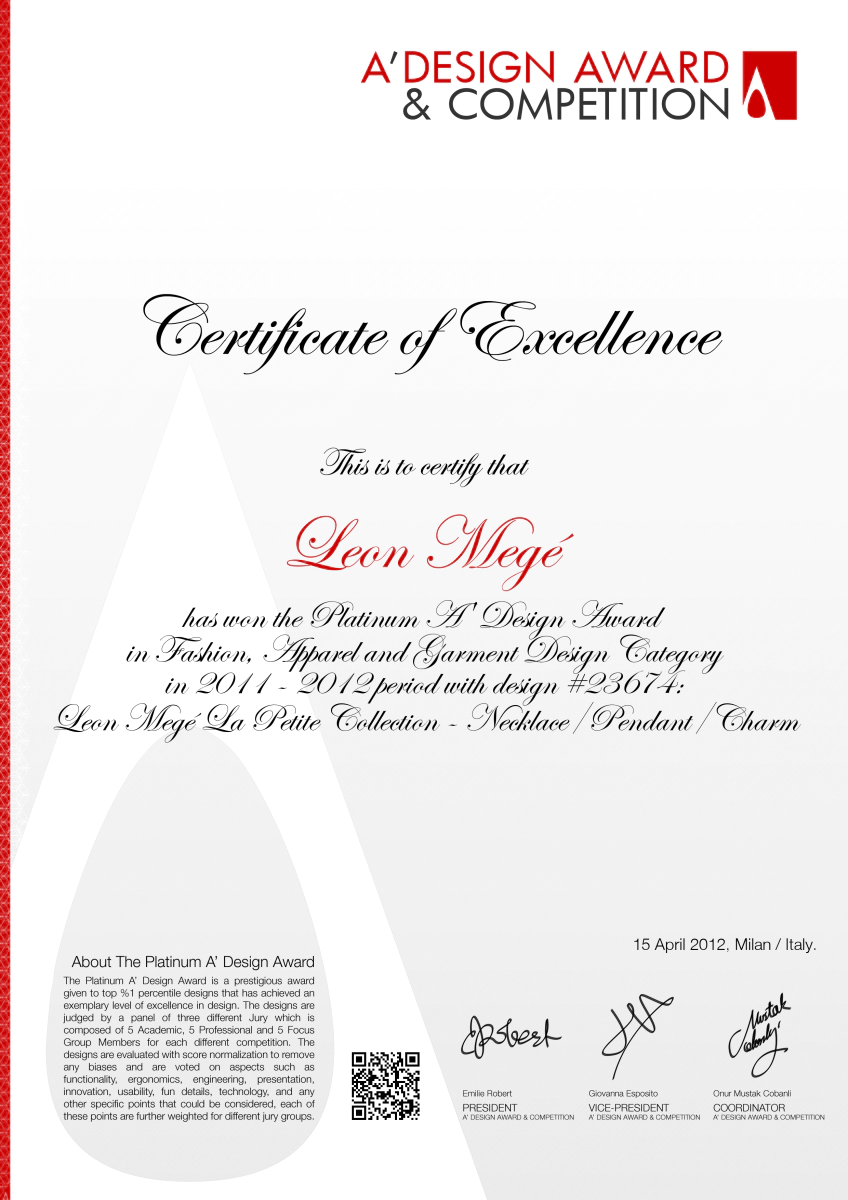 The A'Design Jewelry, Eyewear, and Watch Competition highlight the excellent qualifications of best designs, design concepts, and design-oriented products on an international level. The competition honors the best designers in the world.
The A'Design Award is a badge of excellence in design and solidly proven design quality. The Award ceremony in Como, Italy is a major event for artists and designers worldwide. Winners are showcased on the Design Magazine website that is legendary for launching new names in the world of design.
The Platinum A'Design Award was awarded for the Leon Mege La Petite collection of miniature ring-like pendants. 
2010 Spectrum Classical Wear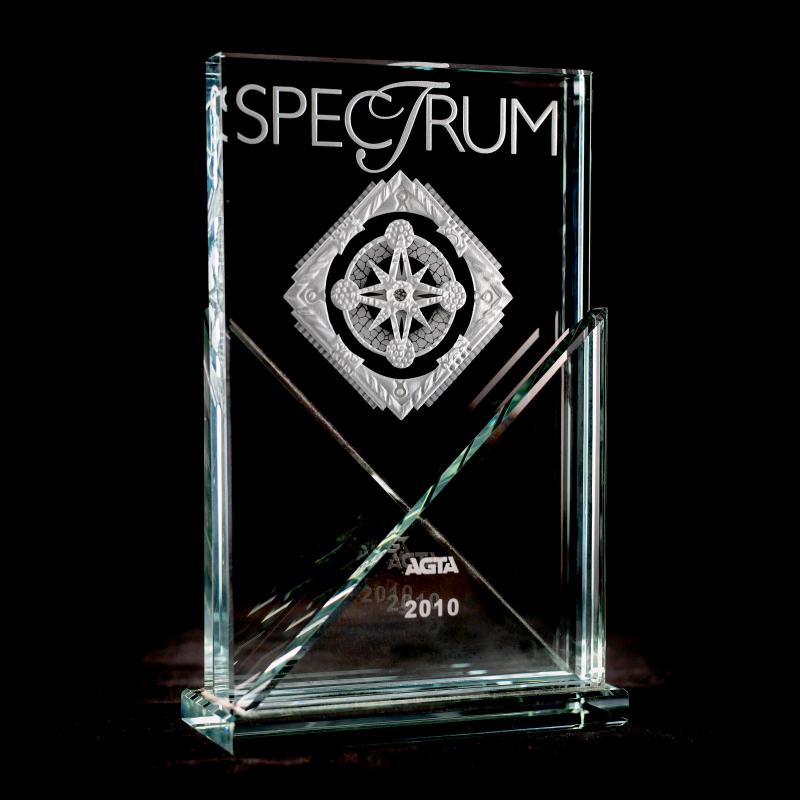 Leon Megé's platinum and silver ring featuring a 2.19 ct. Paraiba Tourmaline accented with Tourmalines and Diamonds won 2nd place in the Classical Division at the 2010 Spectrum Awards. The classical Category is defined by superior traditional and timeless designs with a fresh twist for modern-day beauty.