Maison Megé is an upscale atelier dedicated to bespoke jewelry artistry and custom designs. Leon Megé's brand is defined by authenticity, creativity, personality, and tradition.
Helmed by renowned jewelry artist and master platinumsmith Leon Megé, the Maestro of Brilliance, the business focuses on the time-honored tradition of exceptional craftsmanship, offering a bespoke experience to every client. Leon Megé jewelry is made in-house and sold directly to our customers. 
The company was founded in 1996 and was incorporated in the State of New York in 2003 under the trade slogan The Art of Platinum™. The company started as a go-to high-end workshop for selected trade clients and luxury jewelry retailers.
Our vision of beautifully designed, handmade jewelry has inspired every piece we have ever made utilizing handcrafting principles and techniques of European-trained jewelers. While retaining a family business's intimacy, the company holds itself to the highest ethical standards. Leon Megé works with each client and personally supervises the production throughout the process. The Leon Megé brand is a benchmark of precision and everlasting style.
Leon Megé's showroom and work studio are right next to Times Square, only steps away from the Gemological Institute of America headquarters. Our boutique is designed to provide a discreet and secure meeting place for our clients and vendors. While visiting, enjoy our carefully curated collection of antique tools that illustrate the history of hand fabrication.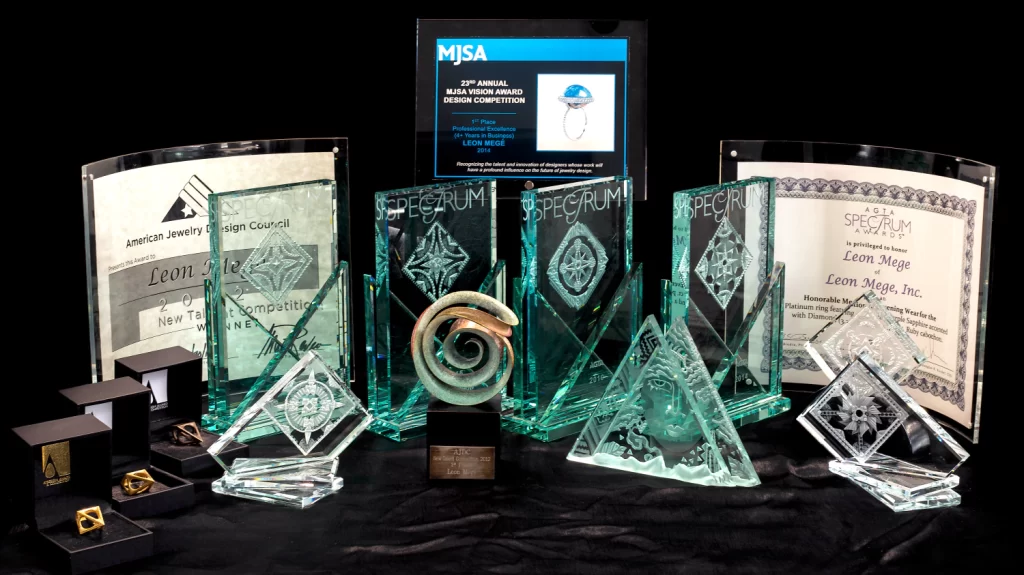 2021 In-store Design Award
Mothra bracelet - second place - Evening Wear category
2017 AGTA Spectrum Bridal Wear | Platinum Innovation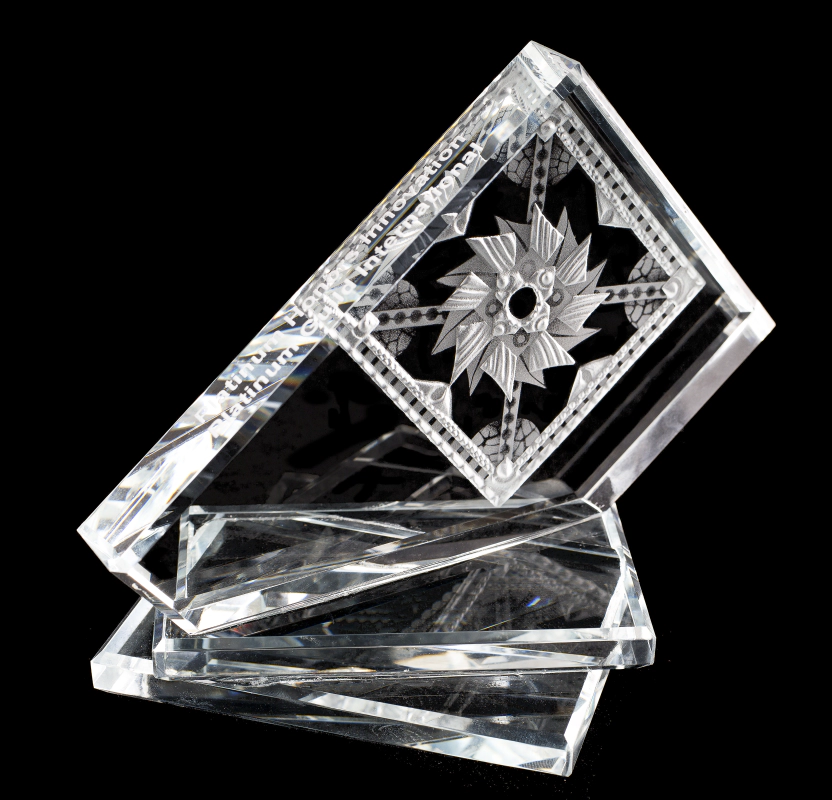 "Bellflower" ring featuring a 3.28-carat cabochon sapphire accented with diamonds and sapphire. Bespoke micro-pave, custom design in platinum.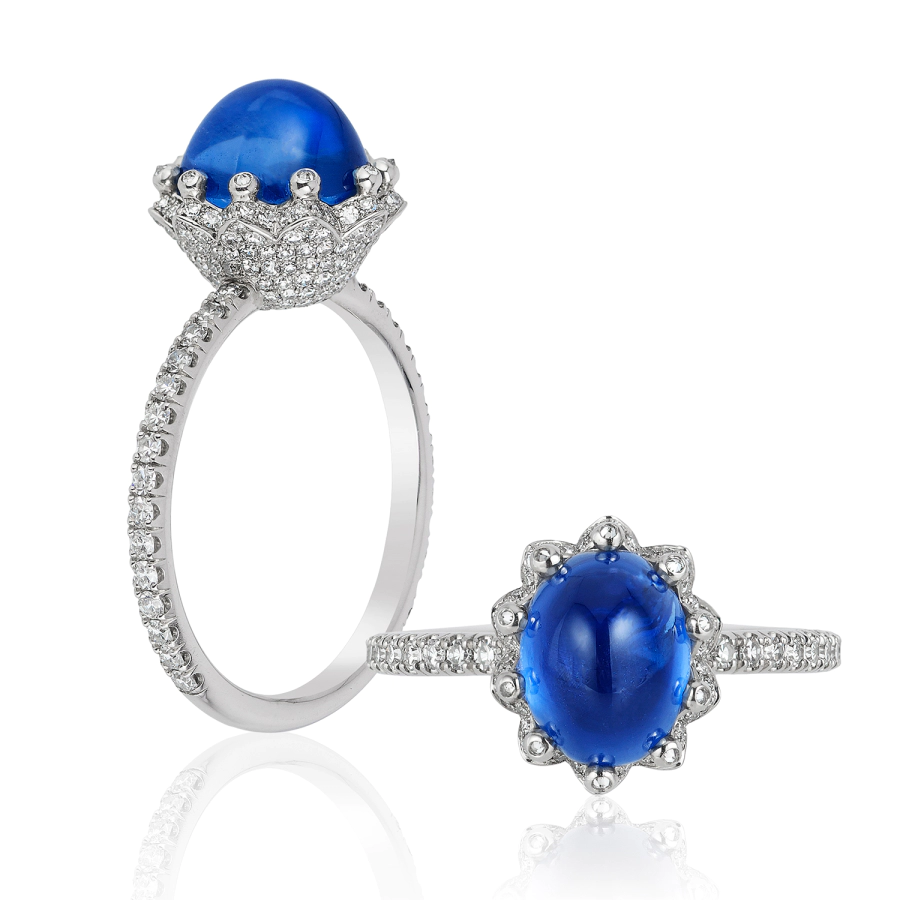 2017 AGTA Spectrum Business Day Wear

"La Petite" bracelet with nine miniature charms featuring Rubies, Aquamarines, Garnets, Amethysts, Sapphires, Tourmalines, and Spinels.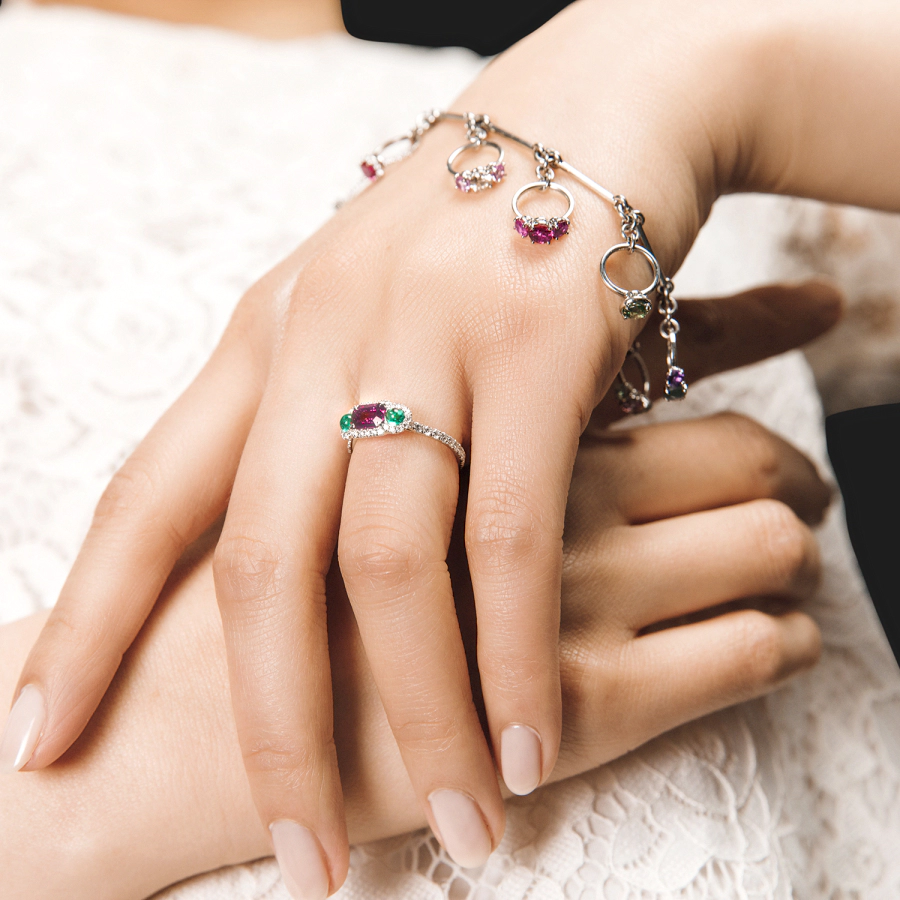 2015 AGTA Spectrum Top Honor | Best of the Show

The AGTA Spectrum Awards™ Best of the show is considered the jewelry industry Oscar. It is the most respected and prestigious creative award for the design industry, a benchmark for jewelry designers striving to gain recognition for their work. Winners set the standards of excellence for our entire industry.
Best of the Show Award in the 2015 Spectrum competition.
Captivating 4.71-carat Windex-blue Paraiba cabochon ring.
This remarkable Brazilian Paraiba is incredibly rare and cannot be sourced because all the mines have been exhausted.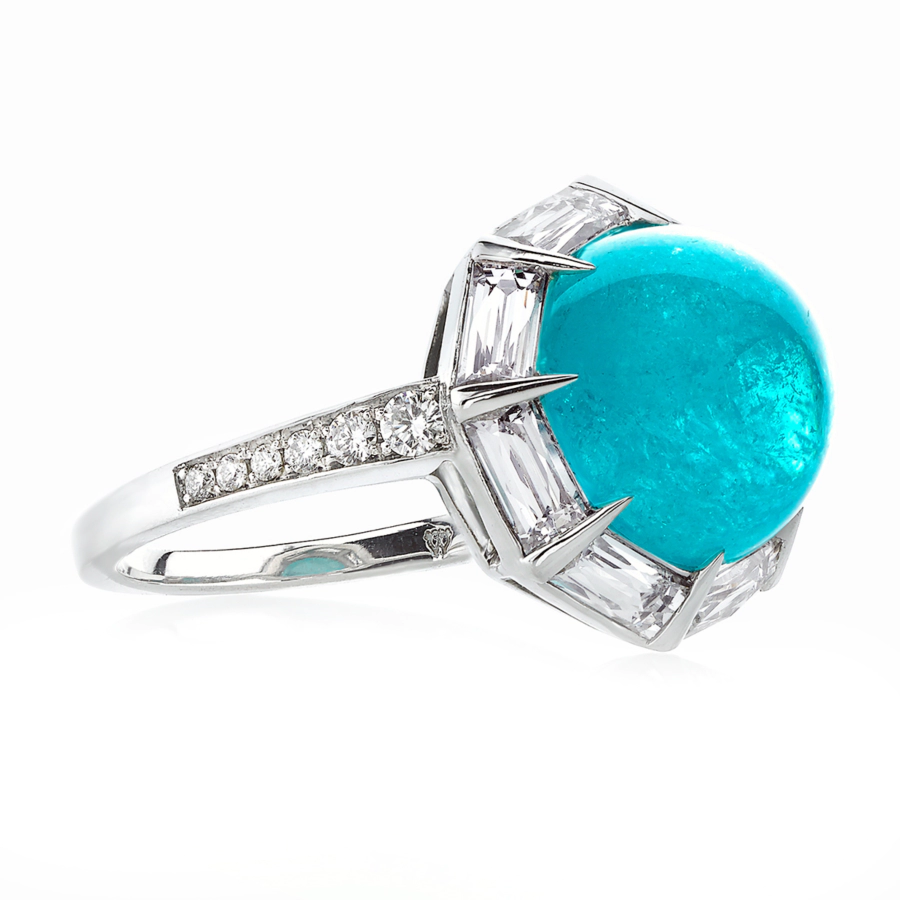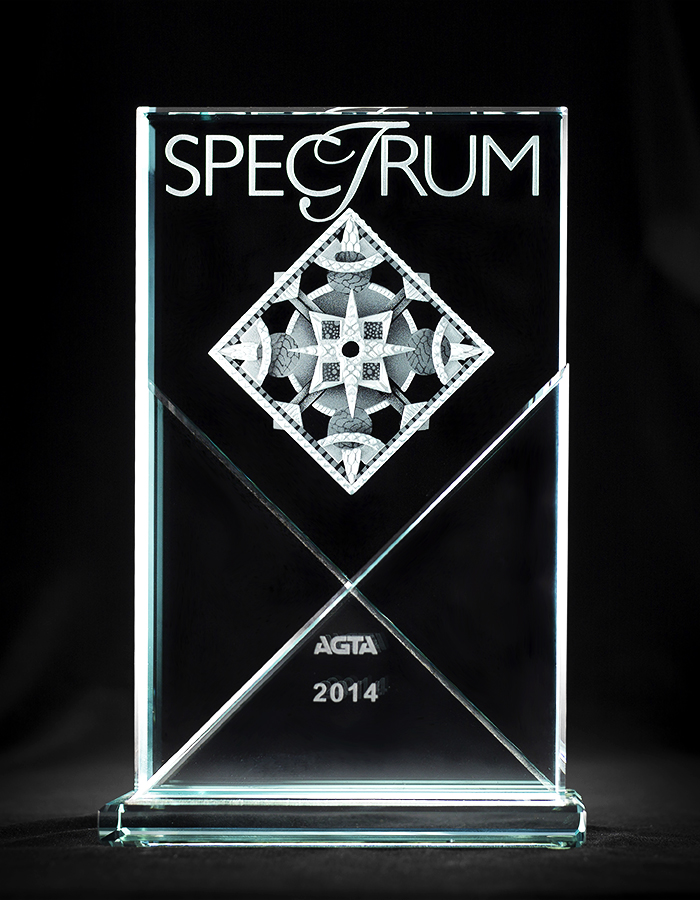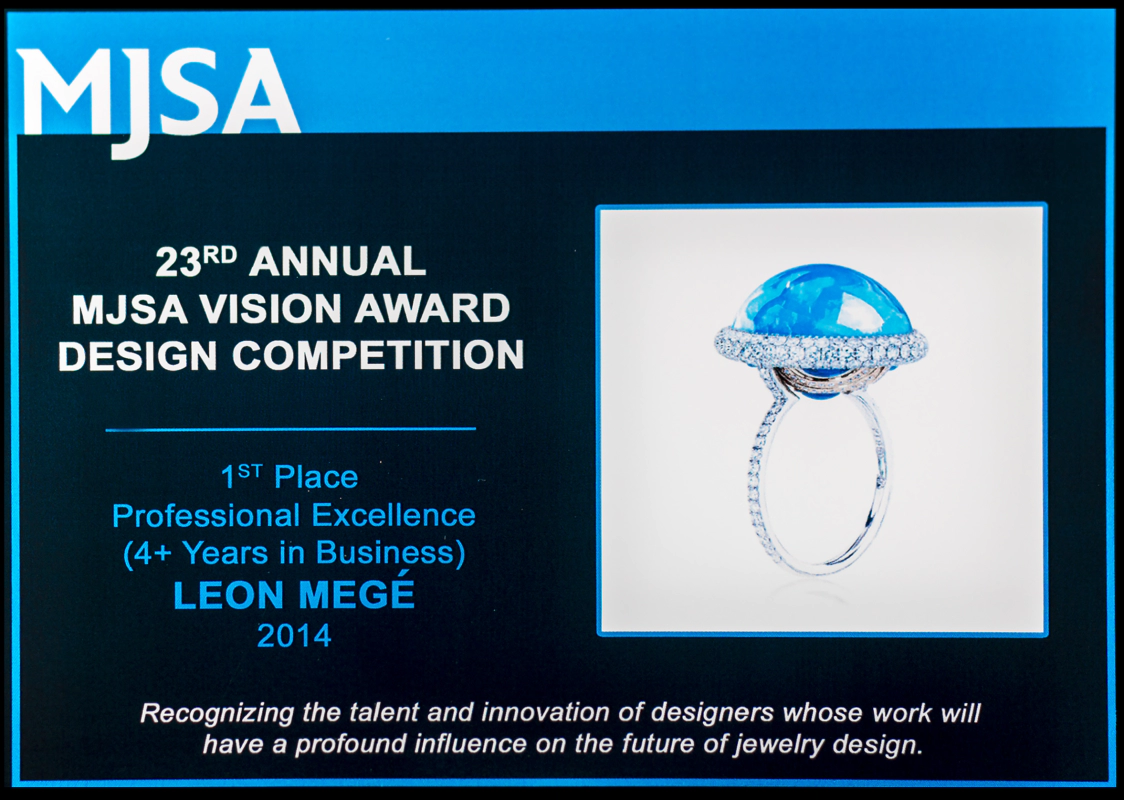 An extraordinary right-hand ring with a magnificent 14.65-carat moonstone
As told by MSJA, "The Professional Design Excellence Category celebrates work that exemplifies the best of contemporary jewelry design. The winners show a thorough grounding in the tradition of fine design, along with an eagerness for experimentation and innovation. By meeting the highest standards of craftsmanship and creativity, these designs truly deserve their award-winning status."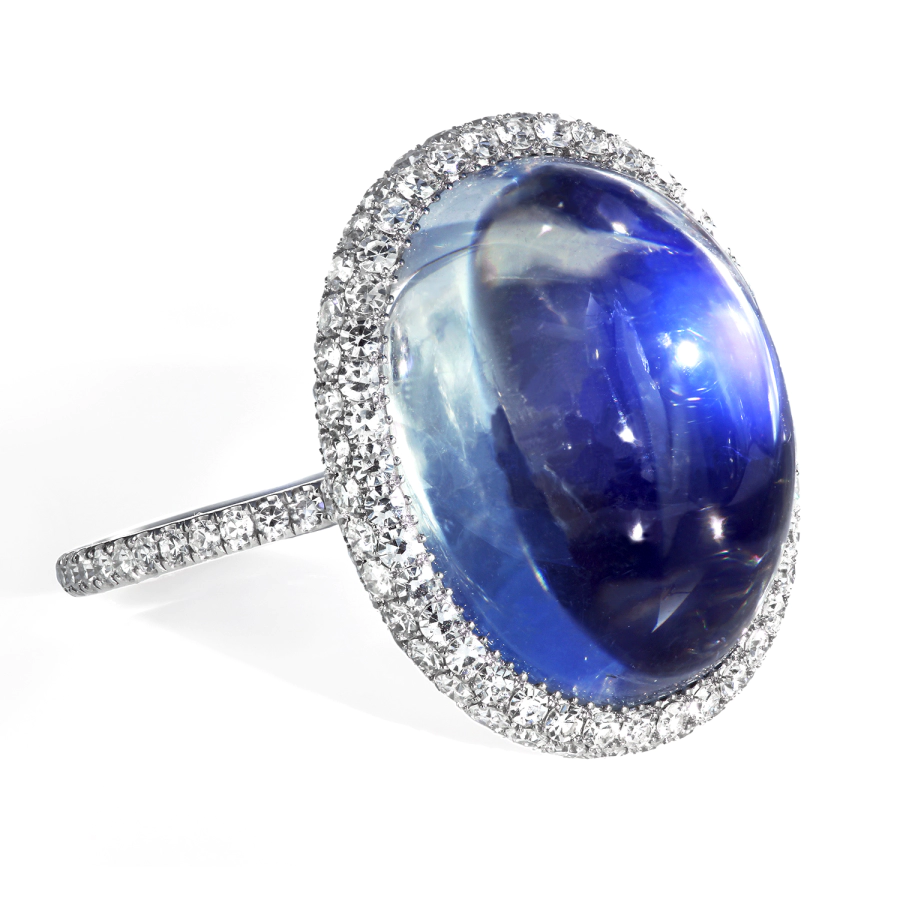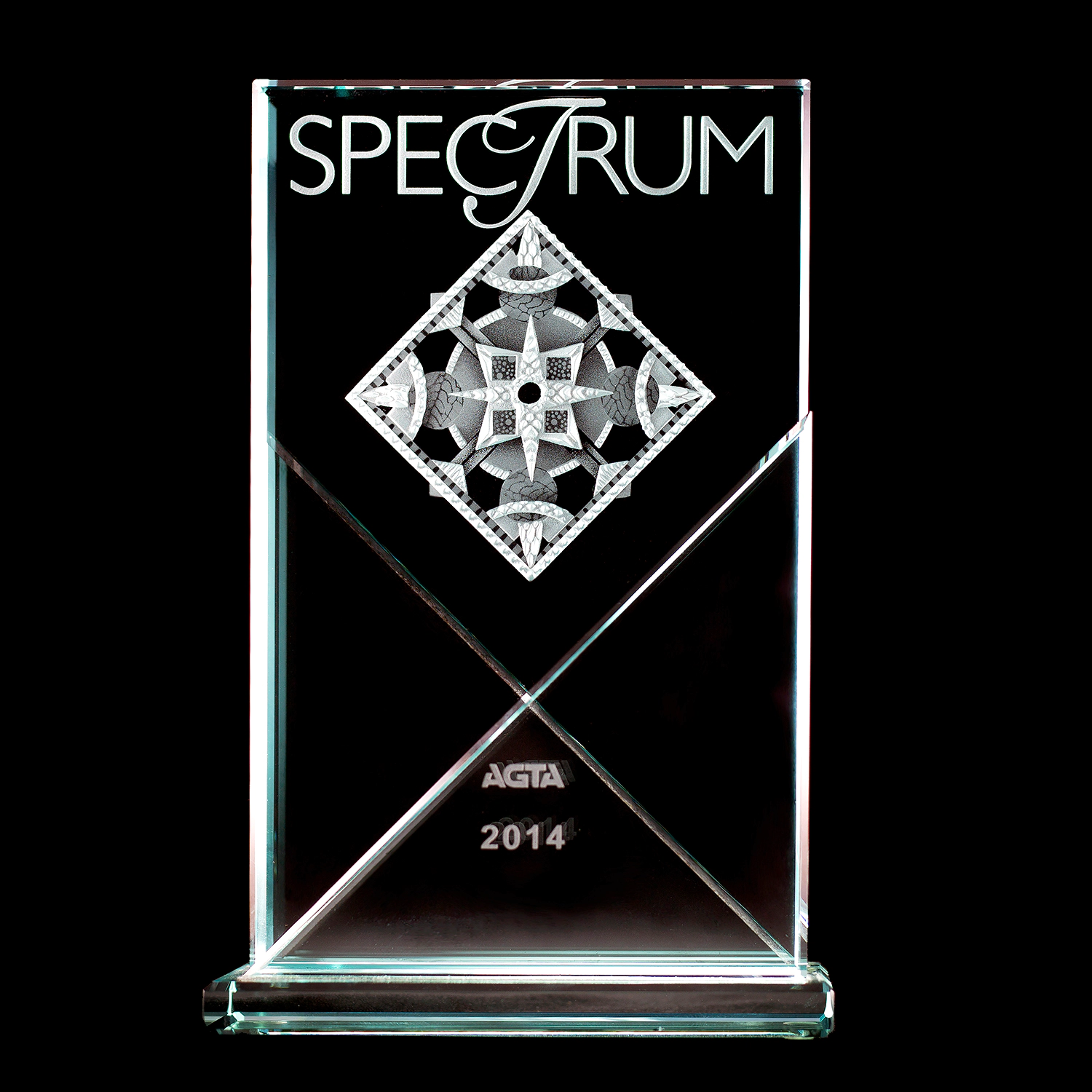 Custom-made right-hand ring, featuring magnificent blue moonstone set in an elaborate micro pave mounting. Three rows of rounded micro pave halo and three rows of pave on the shank. The stone is cradled in platinum and rose gold patterned cup encrusted with custom-cut sapphire cabochons.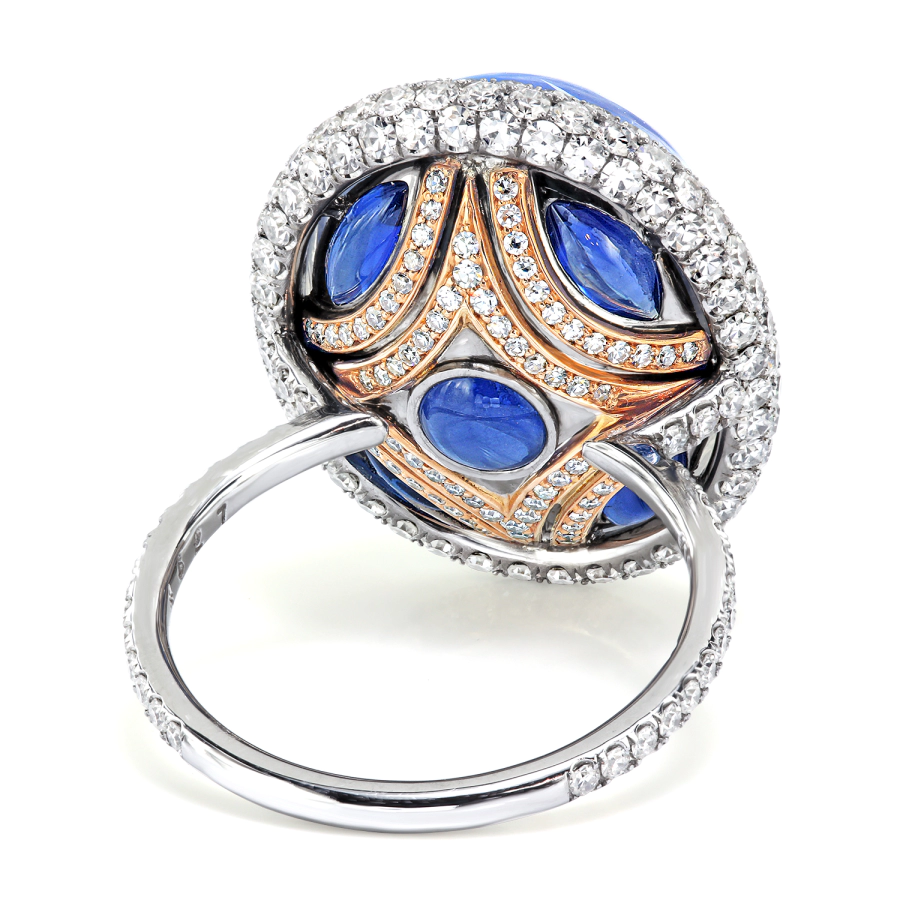 2014 AGTA Spectrum Objects of Art
Leon Megé's 18K gold and sterling silver "Maestro" ring featuring interchangeable records made of ebony wood and gemstones won 2nd place in the Objects of Art Division in the 2014 Spectrum Awards.
This Category is unique and showcases jewelry as artwork that can stand on its own and doesn't have to be worn to be appreciated.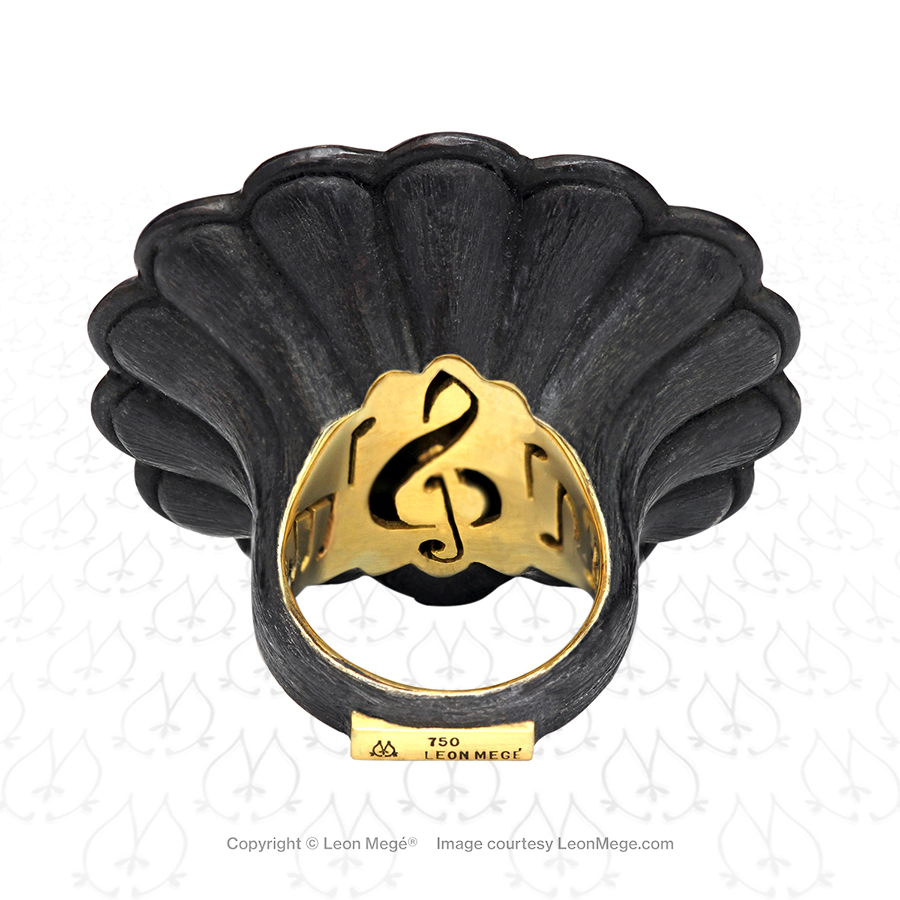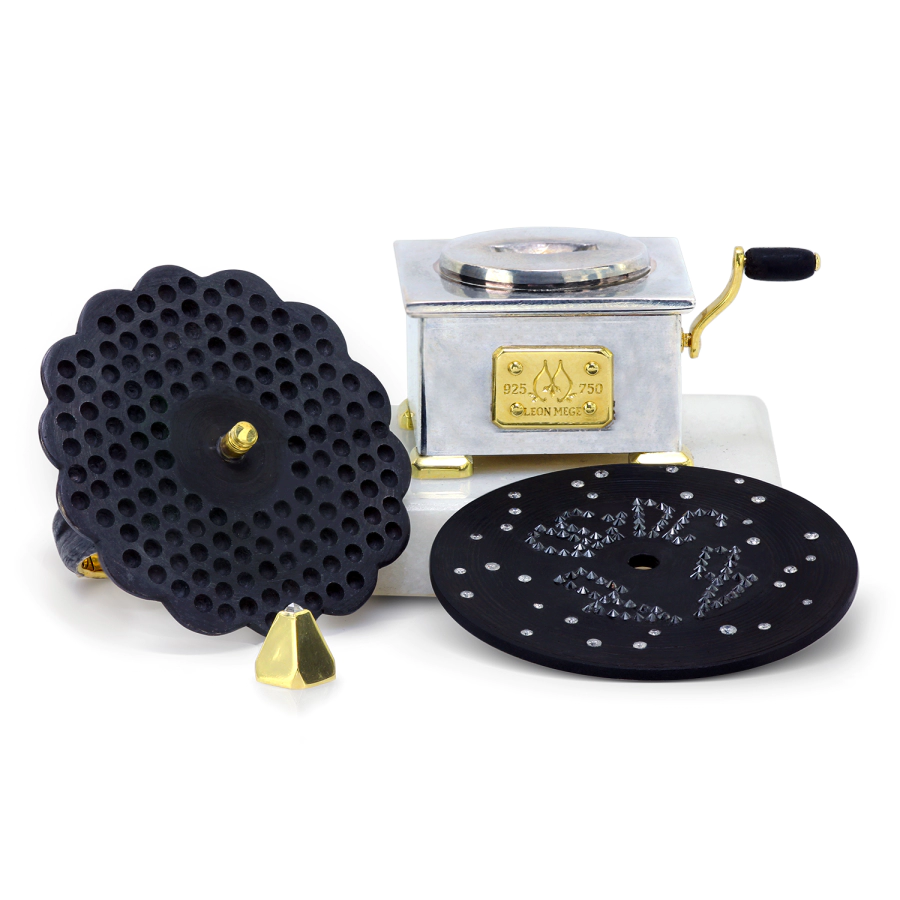 2014 AGTA Spectrum Evening Wear


"Blue Fin" right-hand ring featuring electric-blue 12.75 ct. Paraiba tourmaline cab accented with diamonds and small paraibas won 1st Place in the Evening Wear division at the 2014 Spectrum Awards. This design is the epitome of Evening Wear and the Red carpet look.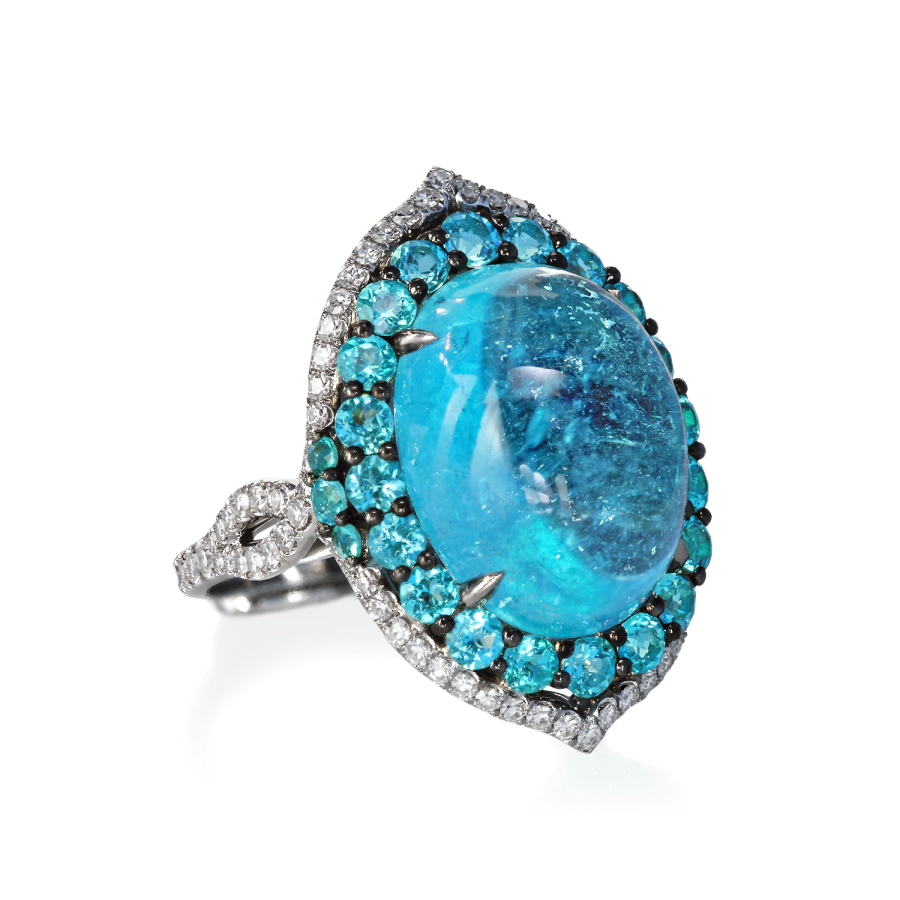 2013 AGTA Spectrum Evening Wear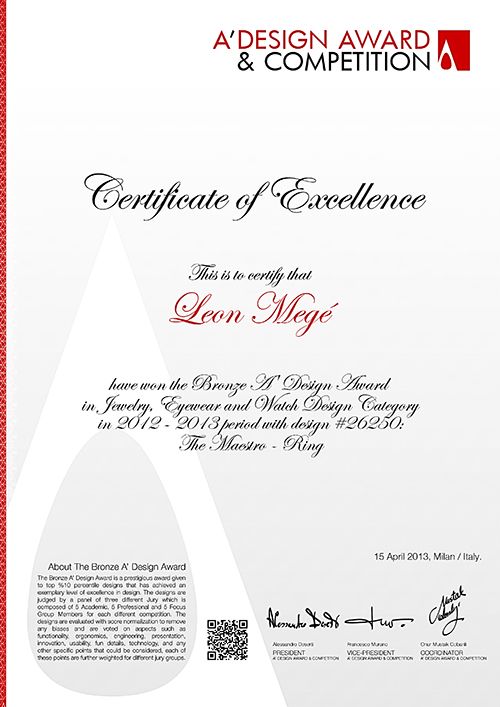 Leon Megé's "Maestro" ring is a musical experience translated into jewelry. Handcrafted in sterling silver, 18k gold, and black and white diamonds, the ring features interchangeable records made of black ebony wood and sits upon a base of white Carrera marble with a silver platform in the shape of an old-fashioned gramophone.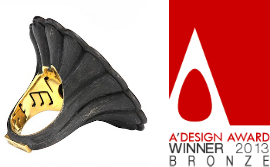 Taking Leon Megé approximately one year to complete, the "Maestro" ring offers a set of jewelry compiled into one piece. The miniature records that accompany the ring are custom-made with gemstones to fit a client's personal music taste.
2012 AGTA Spectrum Platinum Honor
2012 American Jewelry Design Council (AJDC) New Talent

The New Talent Design Competition seeks out to highlight the best new designers in fine jewelry. The American Jewelry Design Council is a non-profit educational corporation that recognizes and promotes original jewelry design as art. The award is given in recognition of the body of the designer's work.
The AJDC emphasizes the artistic qualities of jewelry design. Quote: "Essential to every culture, art is the vehicle for expressing emotions and ideas in a personal and creative manner." The AJDC is a group of more than 30 designers whose mission is to promote the art of jewelry.
In coordination with JA, the annual contest helps present a single outstanding designer to national and international jewelry buyers. Michael Good designed the beautifully made award in Anticlastic raising technique.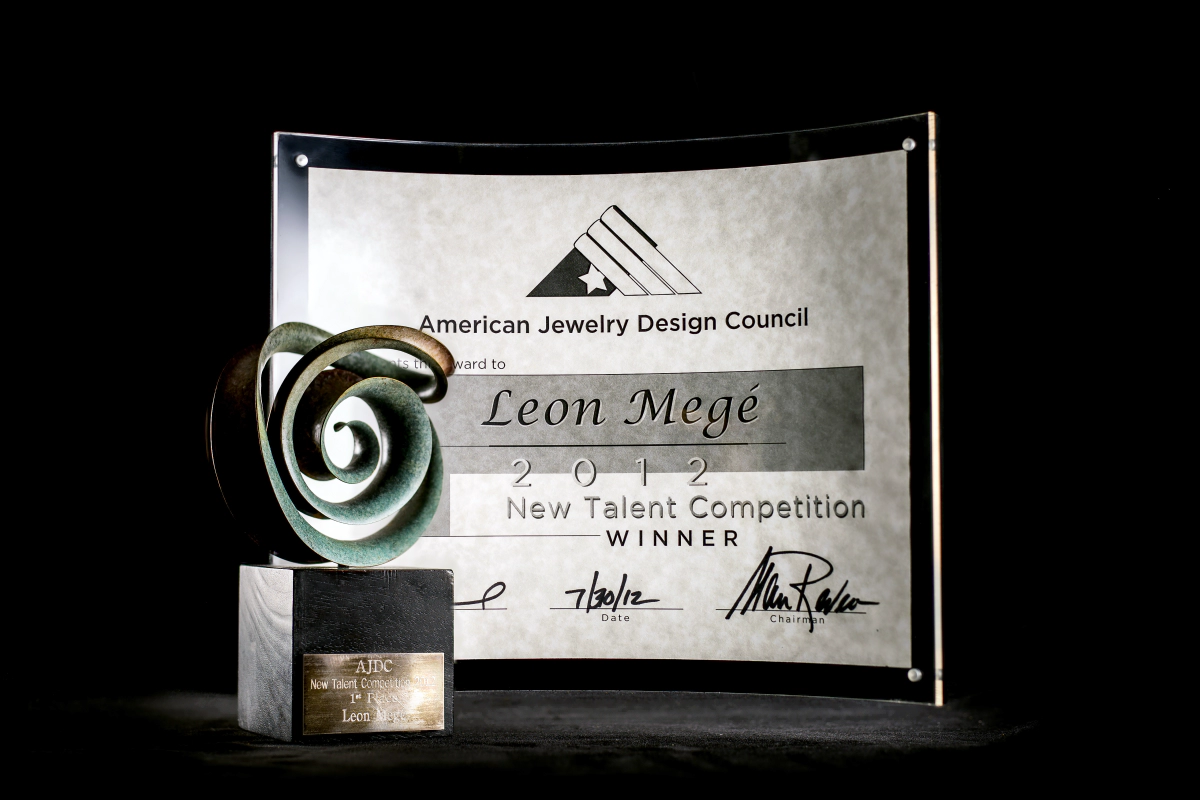 The legendary American designer, late Jose Hess, presented the Award. Hess was the first American president of the CIBJO, an international trade association that created standards for the jewelry industry throughout the world. He was a decorated designer and the winner of numerous design competitions.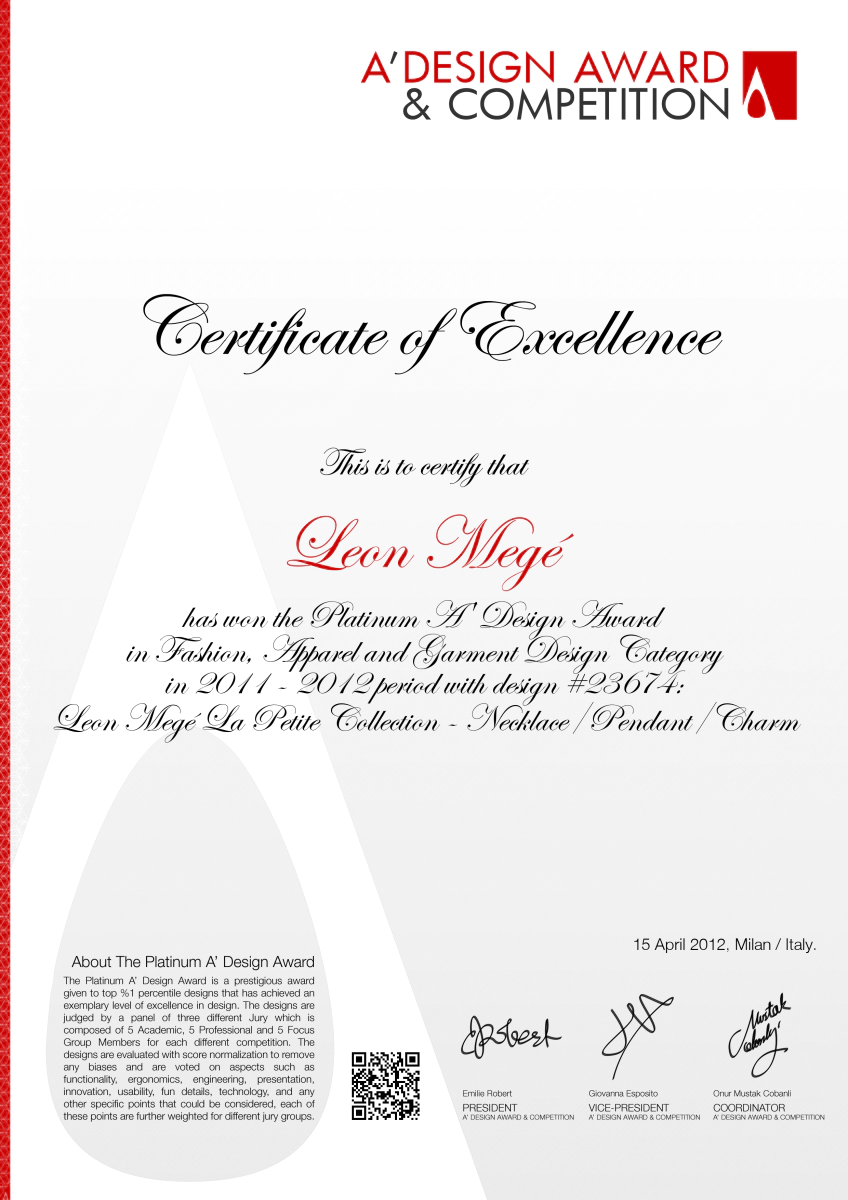 The A'Design Jewelry, Eyewear, and Watch Competition highlight the excellent qualifications of best designs, design concepts, and design-oriented products on an international level. The competition honors the best designers in the world.
The A'Design Award is a badge of excellence in design and solidly proven design quality. The Award ceremony in Como, Italy is a major event for artists and designers worldwide. Winners are showcased on the Design Magazine website that is legendary for launching new names in the world of design.
The Platinum A'Design Award was awarded for the Leon Mege La Petite collection of miniature ring-like pendants. 
2010 Spectrum Classical Wear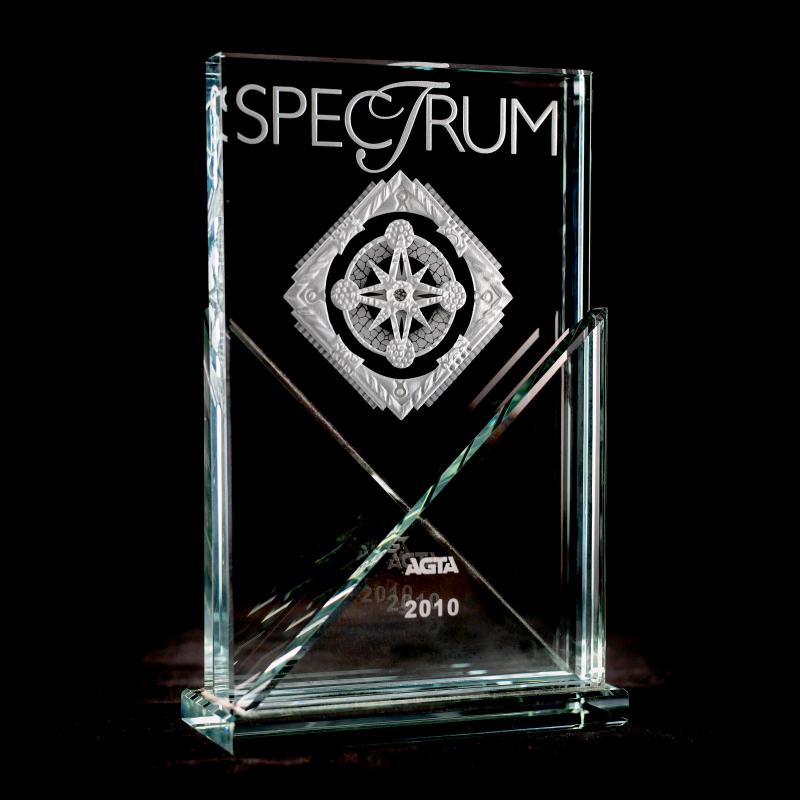 Leon Megé's platinum and silver ring featuring a 2.19 ct. Paraiba Tourmaline accented with Tourmalines and Diamonds won 2nd place in the Classical Division at the 2010 Spectrum Awards. The classical Category is defined by superior traditional and timeless designs with a fresh twist for modern-day beauty.