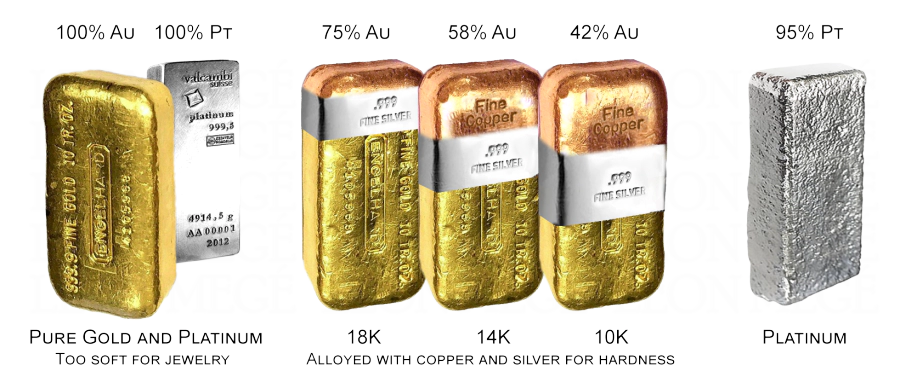 We exclusively use
5% Ruthenium Platinum or 18-karat Gold
alloys
Most of our work is in platinum – the original precious white metal. We also work with white, yellow, and rose gold. We do not use gold alloys lower than 18-karat (750 European).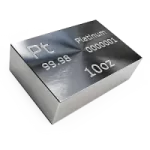 The most desirable noble metal globally, platinum is the best choice for bespoke jewelry, especially engagement rings. It has earned high marks from the Royal Society of Chemists for its strength, resilience, rarity, and value. Hand-forged platinum jewelry is surprisingly affordable.
Platinum jewelry has a solid feel that is impossible to achieve with white gold, developed as a platinum substitute during WWII. Platinum's cool white sheen will not corrode or tarnish, perfect for setting white diamonds without leaking unwanted colors. Platinum heft is not a detriment for hand-forged jewelry because skilled jewelers turn light and airy pieces using specialized techniques like three-dimensional truss construction or piercing.
Platinum is the most malleable of all metals in its pure form; that's why it needs to be cured with a tiny amount of ruthenium to improve its hardness and density. We use a platinum alloy of 95.5 parts pure Platinum and 4.5 parts Ruthenium, a platinum group metal. Ruthenium platinum is the best alloy for hand forging, unlike iridium alloy used mainly for casting. According to FTC guidelines, our platinum jewelry is marked with the PT950 or Platinum stamp.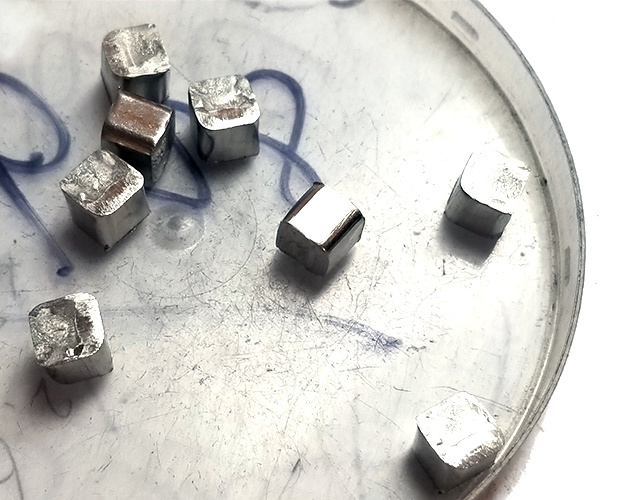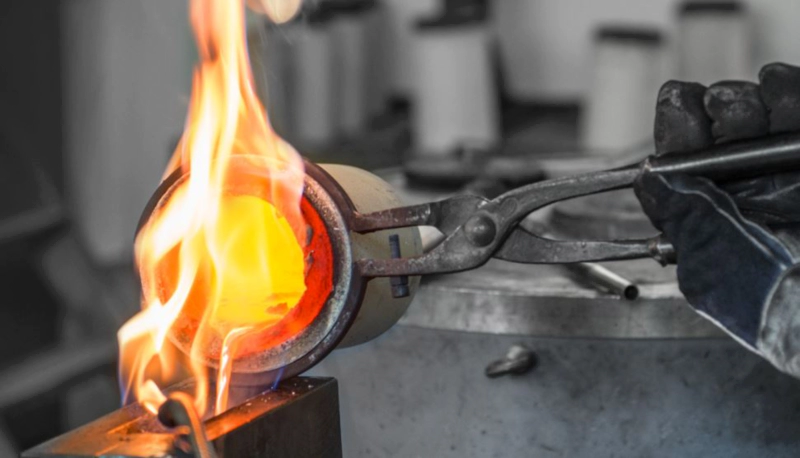 We have drawn upon our years of experience to ensure our procurement is done in the spirit of Fair Trade to benefit Human rights and protect ecology. Every time you buy from us, you contribute to the livelihoods of indigenous mining communities in a sustainable and economically just fashion.
Yellow gold has long been the traditional metal of choice for jewelry because it doesn't rust, tarnish or corrode. All 18-karat yellow gold in our jewelry is made with 3N* alloy imported from Italy, guaranteed to have rich, vivid-yellow color. The alloy is proprietary, field-tested, will not cause skin allergies, and is guaranteed to satisfy strict quality requirements of the European Nickel Release test and FTC standards for jewelry metals. Leon Mege jewelry is stamped 750, Au750, or 18K, indicating 75% gold purity.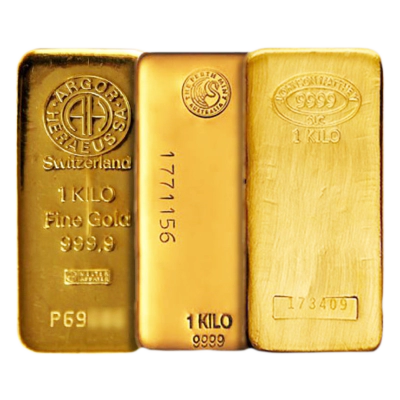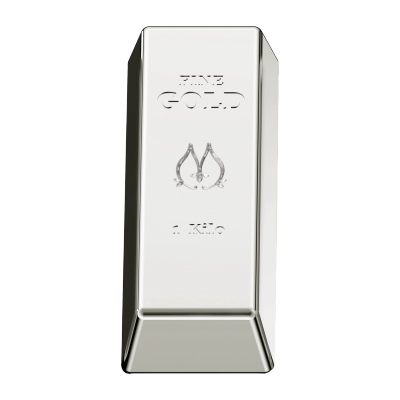 White gold requires periodic plating to maintain its look; it is only 75% pure compared to platinum's 95%. Unlike platinum, which is self-burnishing, white gold is continuously shedding its top layer. And unlike some white gold alloys, platinum never contains nickel.
Pink gold is a blend of pure gold and copper with a very small amount of silver to tame the rich reddish color into a milder rose tone. The 18-karat pink gold contains 75 percent pure gold to 25 percent copper. "Pink gold" or "rose gold" can be used interchangeably. Rose gold is harder and more durable than yellow gold, but unfortunately, due to its high copper content, it is prone to oxidation. Vintage pieces can be restored to their original look by repolishing. The oxidation and low ductility of the pink alloy make it harder to work with, but on the plus side, its superior hardness allows it to achieve higher gloss when polished. Pink gold is surging in popularity as more and more people embrace its charming hint of vintage grace. Traditionally, in some Eastern European countries, pink rather than yellow is considered a natural gold color.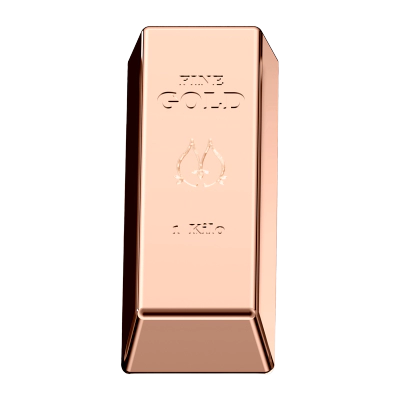 Traditionally quoted in troy ounces, the gold spot is the wholesale interbank price for a 400-ounce gold bar for delivery in two business days. It is the benchmark price on which all retail gold purchases are based.
Gold and platinum prices flipped over a decade ago, and gold remains significantly more expensive than platinum. The same amount of money currently buys twice as much platinum as gold. Platinum's low price is a fantastic buying opportunity considering that platinum is 30 times more scarce than gold.
The gold market is the largest market by value. It trades internationally 24 hours a day, Monday to Friday. Gold prices constantly change and reflect the equilibrium between supply and demand from central banks, the jewelry sector, industrial use, and investors. Most trading in gold is carried out in the futures markets on the futures exchanges. 
Gold is increasingly difficult to mine as all the easy-to-extract gold has already been mined. It is expensive and energy and labor-intensive to extract it from the earth. The political stability of gold-producing countries is also a major factor in the supply of gold to the market.
 Gold jewelry remains popular in the western world due to its beauty and status, but in many parts of the world, particularly in India and China, gold jewelry is bought as a store of wealth. Gold is a proven hedge against inflation and uncertainty; it acts as an insurance investment during times of increased risk in financial markets or political tensions.
The London gold OTC (over-the-counter) market is the most important gold market because over 87% of all trades around the world are cleared through London.
The London Fix is a single price for all gold orders used by bullion banks and institutions and determined by the market-making members of the London Bullion Market Association. 
The London Gold Market Fixing Ltd conducts the London Fix with participation from Barclays, the Bank of China, Bank of Communications, Goldman Sachs, HSBC Bank USA, JPMorgan Chase, Morgan Stanley, Société Générale, Standard Chartered, Scotia Mocatta (Scotiabank), The Toronto-Dominion Bank, and UBS.