Leon Megé was at the forefront of bringing the micro pavé technique to the US. Our European-trained setters are masters of embedding diamonds or gemstones using a technique called "pavé," from the French for "pavement." Pavé stones are held with "beads" – rounded, raised metal wedges.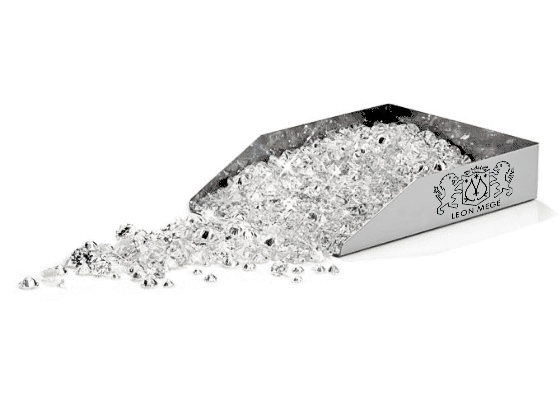 We use premium melee: F/VS ideal cut natural diamonds without fluorescence. It is an outstanding diamond grade that assures our pave looks bright, even, and brilliant.  All our melee diamonds feature ideal proportion, superior facet size, consistent geometry, and 360-degree alignment of hearts and arrows facets. They fall within the spectrum of GIA XXX-cut grade that guarantees a fantastic light return, the perfect balance of brilliance and dispersion.
Our melee standards are superior to what most jewelry houses, such as Winston, Graff, or Tiffany, use in their jewelry. We use only well-established, carefully vetted suppliers that guarantee all diamonds are natural and produced ethically and legally. Using low-grade, poorly proportioned stones will cost more because it takes longer to set and requires more tweaking to position them properly. For the same reason, setting pave with softer and prone to breaking colored stones is more expensive.
Single-cut diamonds are optional
Old single-cut diamonds were low-grade, poorly shaped stones considered inferior. Modern single-cut diamonds have perfect precision and symmetry because they are faceted by machines. The advantage of using single cuts is the exceptional brilliance and fire they add to the piece. However, they cost more and are used only in high-value jewelry or pieces with antique stones. We can use single-cut diamonds by a special request.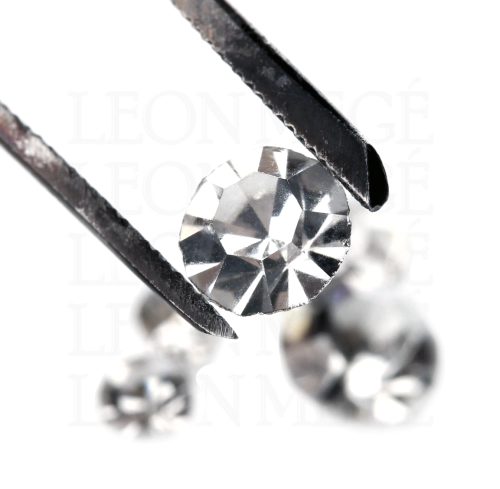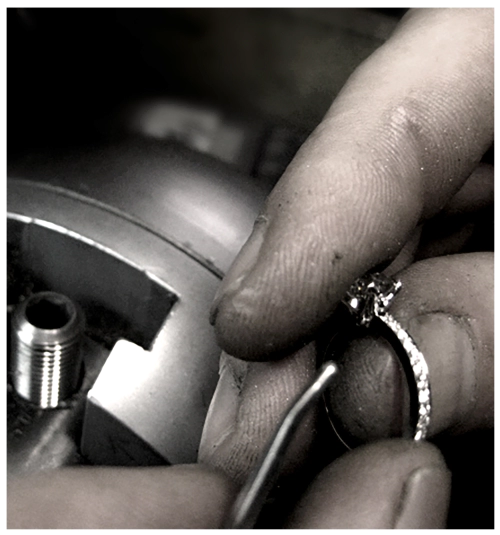 European setting tradition
Setting micro pavé is a meticulous process done by our highly skilled craftsmen. This level of precision is only possible by using high magnification and specialized tools. This tedious process results in sparkling micro pavé jewelry that will draw the eye of anyone who sees it. Maestro Mege has been learning his jewelry skills from European masters, acquiring the knowledge of how to set precise pave grid based on ancient French and Japanese center line layout systems. Over the years, Leon has shared those almost forgotten techniques with his setters.
A delicate ring worn daily is expected eventually lose a few stones. This is not a sign of poor craftsmanship, but a nature of delicate pave, where stones are held in place by the skin of their teeth. Every knock against a hard surface can damage or even rip off the beads holding the stones. The ring's owner hardly notices these bumps, eventually resulting in lost stones. This is not the end of the world; they can be easily replaced in most cases.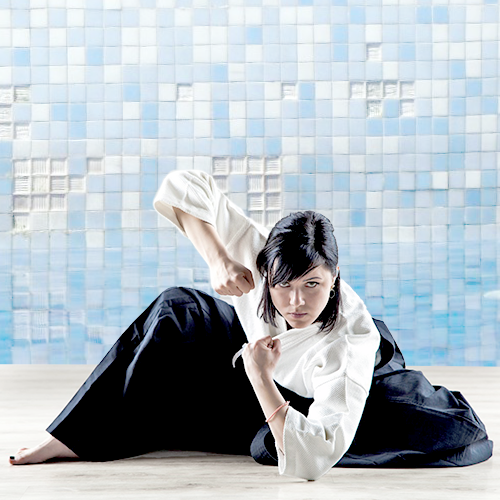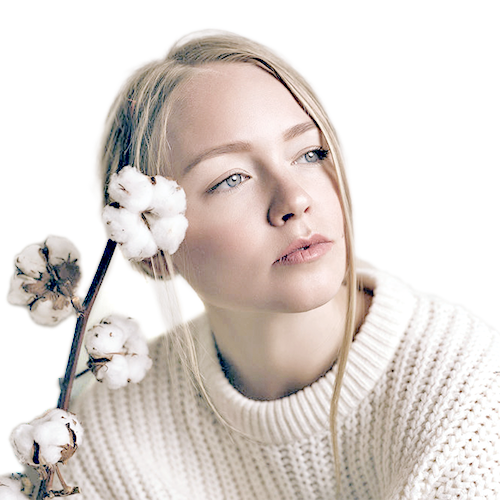 Replacing a missing stone is not complicated and rarely costs much. However, repairing missing or damaged beads holding the stones can be expensive. Most of the time, the stones are lost when the metal is twisted or warped. To extend the life of your precious jewel, you are advised to bring it in for a complimentary cleaning and check-up. Paying attention to your immediate surroundings to avoid hard knocks will slow the rate at which pave disintegrates.
Mixing natural and synthetic diamonds is done overseas by unscrupulous suppliers. It is estimated that as much as 30% of lab-grown diamonds can be found in any given lot. We work with a handful of carefully vetted producers who can guarantee that all their melee is of natural origin in writing.
Leon Mege goes far beyond government guidelines in adopting international standards and practices protecting the natural environment and contributing to the sustainable mining of diamonds. We adhere to the best practices developed and monitored by independent organizations such as the Responsible Jewelry Council and the United Nations Global Compact.