Jewelry created by a craftsman using only traditional tools is called bench-made. Raw metal stock such as plate or wire is the starting point. We cut, saw, bend, forge, hammer, grind, file, and solder the shapeless clump of metal into an intricate symphony of intersecting galleries, prongs, and joints.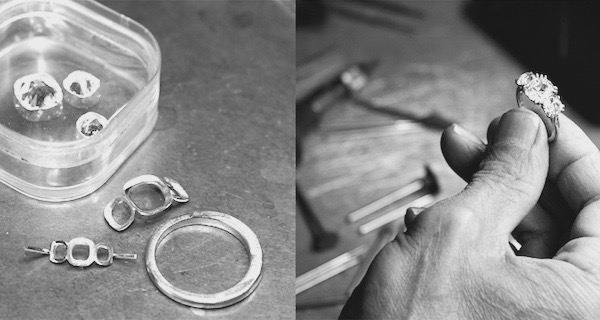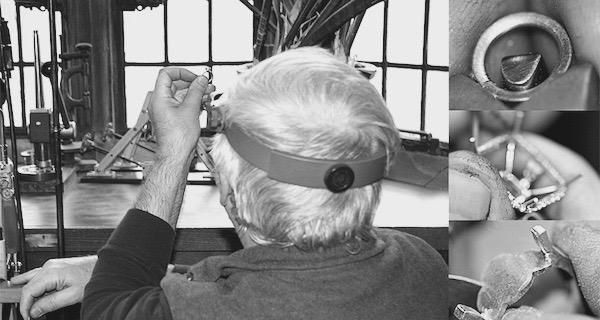 Whether a piece of jewelry is a work of art or not depends on the way it's designed and made. Every piece the Leon Mege workshop produces is conceived with the client's unique taste in mind. To achieve this goal, we rely on an old-fashioned and time-tested traditional way of making every piece by hand.
The term "handmade" is no longer a reliable indicator of the craftsmanship and the processes used in production. By definition, the handmade jewelry must be made by hand, from start to finish, without casting or computer modeling. However, the term "handmade" is widely used in advertising and completely lost its meaning.
The term "bench-made" took its place to separate jewelry made from scratch from cast pieces.
"Bench-made" describes high-end bespoke jewelry made without molds, casting, stamping, or CAD/CAM modeling. In other words, anything that takes the artistry out of the jewelry-making process is not allowed. Bench-made jewelry:
Formed from a metal plate or wire
Hand-forged from platinum or 18K gold
Is NOT cast, stamped, or molded by computer
Assembled from many separate parts
Set under a microscope
Each bench-made piece is painstakingly made by skilled craftsmen using nothing more than the traditional tools of a jeweler: hand saw, pliers, files, tweezers, torch, etc. The only two pieces of machinery you can find in a shop specializing in bench-made jewelry are rolling mills and a wire-drawing bench.
Each bench-made piece is a product of successful collaboration and interaction between the jeweler and the client.