We have over 40 years of experience in making the finest jewelry you will ever find and the knowledge and experience to guide you through the decision process.
We use bench tools to cut, bend, forge, and file the metal stock to create individual parts; each painstakingly formed using only hand tools. Diamonds and gemstones are set under a microscope for precision and safety. Any technology taking the artistry out of the jewelry-making process is banned from our workshop.
Each piece we make is a product of successful collaboration and interaction with a client. There is no competition capable of the same level of craftsmanship and artistry as Leon Mege, with very few exceptions.
From ethical mining to diamond cutting to hand forging, each Leon Mege piece is as important and special as the person wearing it. Our commitment to excellence and dedication to our clients guarantees they won't be undersold.
Our jewelry is different. Our jewelry is hand-forged, meaning many separate parts are polished to perfection before being assembled into a single finished piece. The crisp transitions between elements can be achieved only when a skilled jeweler puts all parts together. Precision-forged pieces may reveal slight asymmetry, microscopic tool marks, and occasional contrasting joints because they are made by humans. These nuances are intentional and add to the character and finish of the piece.
On the other hand, CAD jewelry has easily detected rough unfinished spots and forced geometry due to casting technology limitations. CAD production compromises the sharpness of the details and joints, introduces irregularities, and blurs the connection points to save time and reduce costs.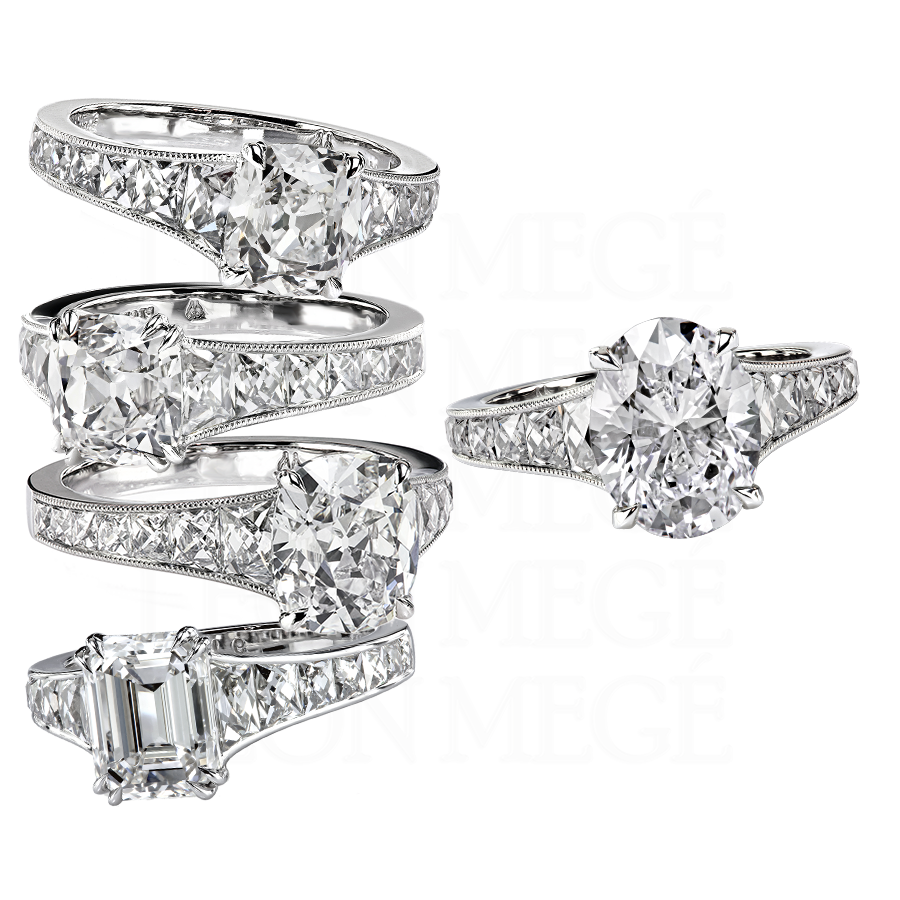 Better diamonds and gemstones
Leon Mege is a professional gemologist who earned a GIA graduate gemologist's diploma in 1991. The secret to finding the perfect diamond is analyzing the properties and extracting small bits of information that escaped others. Our proprietary methodology allows us to sift through hundreds of diamonds to find the one that stands out by its properties and value.
Hand-forging is the highest form of bespoke craftsmanship used by the finest workshops in the world. The jewelry is made without casting by shaping the raw metal using only hand tools. Each setting is designed around a particular stone to ensure maximum precision and perfect fit. At Leon Mege, we are responsible for the entire manufacturing process. We are a custom workshop where your ring is made-to-order, not plucked from a shelf of molded copies.
More than anything, we are known for our bespoke creations.  We are working closely to help clients realize a concept they dreamed up.  No projects are too big or small, from charming push gifts to important multi-million jewels for collectors.  Ultimately, you will have a finely crafted ring with a fine gemstone to treasure for generations.