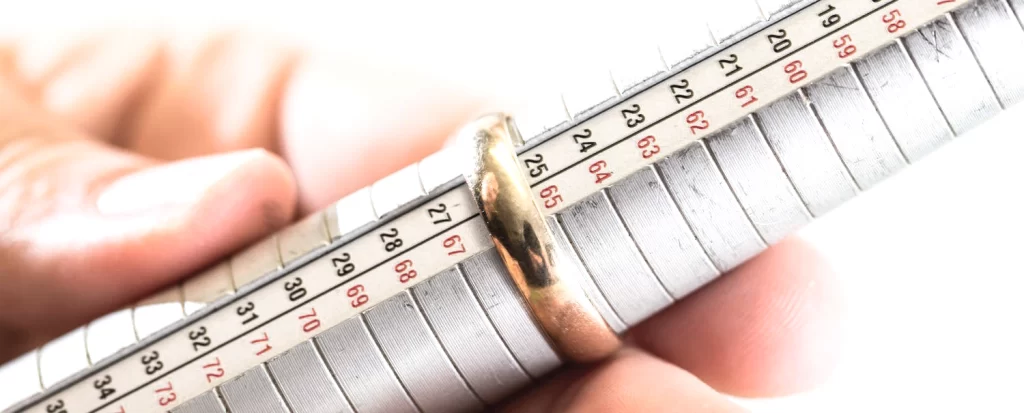 We will service Leon Mege pieces purchased directly from us. Please get in touch with the dealer where you purchased the item. We will not service pieces purchased secondhand, altered, or repaired by an unauthorized jeweler. Counterfeit pieces will be reported to authorities. 
We stand by the quality of our craftsmanship. All our jewelry is guaranteed to be free from defects. We will do our best to perform the necessary repairs promptly, without delay, and with a minimum waiting time. You are welcome to bring your Leon Mege jewelry for cleaning, repairs, sizing, or alterations. An appointment is required to drop off an item in person.
How long a typical repair takes?
We always attempt to complete the repair on the same day, regardless of the warranty status. However, to expedite the repair, we recommend an early morning appointment. 
If the repair cannot be completed while you wait, we will keep your piece and notify you when it's ready. Please do not assume that your repair is fast and straightforward. Sometimes a simple problem indicates an issue that needs to be addressed. We will investigate and try to find the real cause of the damage, and if discovered,  we will suggest a solution.
For example, a missing pave stone can be traced to an accidental bump. In such a case, a replacement is a simple, 10-15 minute job. The repair will take much longer when the piece is deformed, causing the metal to crack. There will be additional costs associated with the repair.
Please let us know the nature of the problem to be better prepared when you come in. Unfortunately, we cannot provide a precise timeframe until we examine the piece and assess the damage. Same-day repairs are unavailable on the last day before a weekend, vacation, or holiday.
What is the cost of a repair?
Any repair that costs over $100 requires the client's explicit consent. Less expensive repairs are done without confirmation. A client is fully responsible for the cost of the repair. All repairs come with a complimentary check-up and cleaning.
There is a minimal chance of a complication arising during the repair. However, the client bears full responsibility for any inadvertent loss or damage during the repair. We are not responsible for any monetary loss or moral trauma resulting from the repair.
As soon as the repair is completed and the item is cleaned and inspected by our quality control minions, we immediately notify you via email or phone. You can call us to schedule a pick-up, or we can ship it to you. The shipping cost is your responsibility. Please call us for additional information.
Removable parts replacement
We do not sell stud backs separately. However, in case of loss, we will accommodate requests for spare parts from clients who have previously purchased studs from us. Please get in touch with us for current pricing.
Alteration vs. Adjustment
An adjustment is a minor modification to improve fit. It is usually done free of charge. Alteration is a significant change beyond the scope of the original design. The cost of each modification is determined individually. Any unauthorized alteration or enhancement of a genuine Leon Mege article will void the warranty and its serial number removed from our register.
Complimentary ring sizing
The ways to adjust a ring size:
Cutting or adding a section to change the circumference
Rimming out the excess metal from the inside (increase only)
Stretching or compressing the band (only plain bands)
Adding fillers such as balls, shots, bullets, liners, springs, or other "speed bumps" to fill the extra space inside.
We offer a one-time complimentary sizing within three months from the purchase date, except for rings:
extremely large or very small finger sizes
set with gemstones other than diamonds
purchased during a clearance sale
channel-set rings
showing signs of excessive damage not consistent with normal wear-and-tear
with a prosthetic mechanism for opening and closing
Additional charges apply for sizing beads, bullets, balls, and shots. Minor sizing for large-size plain shanks is one size up or down. Smaller plain shanks can be sized half-size up or down without voiding the warranty. Minor sizing of diamond set shanks is typically a quarter of a  size.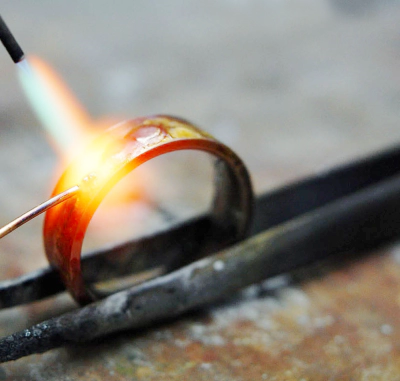 Typical sizing requires cutting through the shank and adding or removing a section. A laser welder is used for welding to form a seamless finish.
Welding the seam is not difficult, but reshaping the shank is often complicated and, in extreme cases, impossible. Bending the shank stresses all soldering joints and shifts metal around stones. That's why ring sizing can be compared to a small surgery. It should be avoided unless it's absolutely necessary. Wearing the ring in the home climate for a few seasons before sizing to make sure it is necessary is recommended.
Engagement rings without pave and plain wedding bands are relatively simple to size. The bands can occasionally be stretched or compressed without cutting. Pave- or channel-set wedding bands are difficult and too expensive to size. Buying a new one is a better option.
Shared-prong bands cannot be sized and have to be re-made. Eternity-style bands cannot be sized gradually; the diameter of a stone added or removed determines the adjacent sizes. Sometimes increasing the size by reaming out the excess metal inside the ring is possible. The gain is usually very small – about 1/8 of a size at best. The exact range depends on the amount of extra metal available for removal. 
Sizing up (increasing the size) is less complicated for rings with only one center stone. Enlarging rings with multiple stones is difficult and might lead to stones bumping against each other.
No matter what sizing you require, we will find a sensible solution.