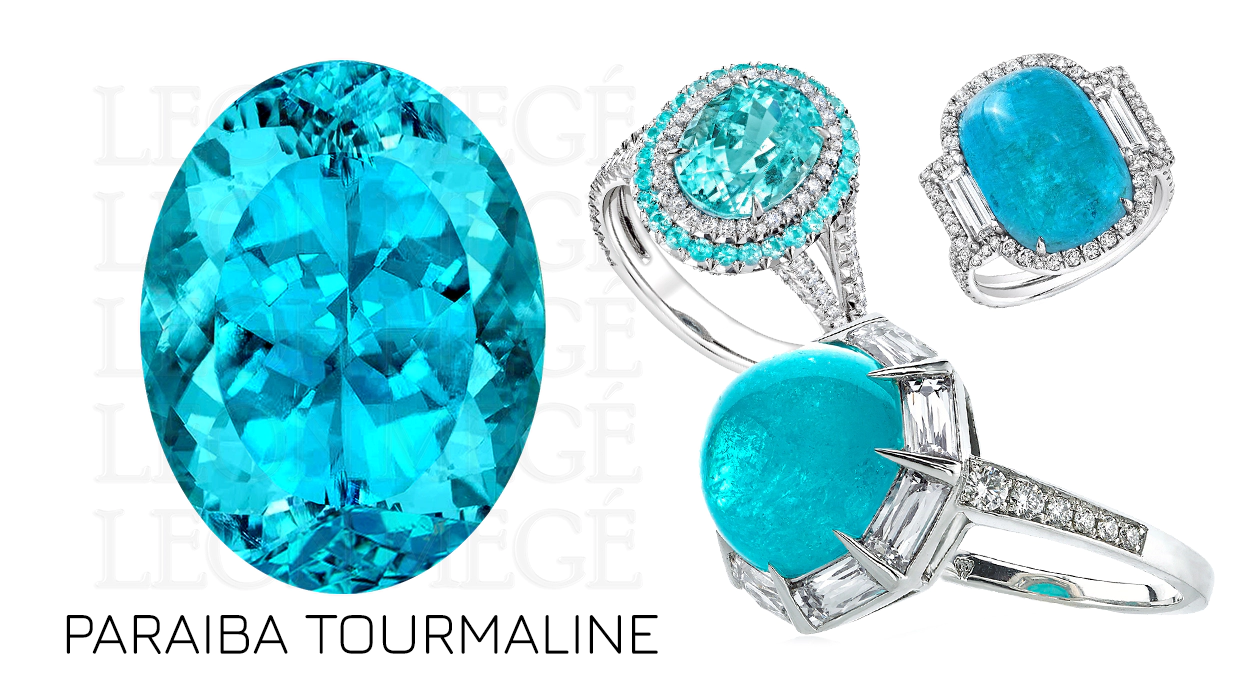 No jeweler or gemologist would dispute that a rare neon-blue Paraiba tourmaline displays a character and value that sets it apart in a world abundant in tourmalines. Over the years, the term Paraiba has come to signify the most desirable and expensive of all gemstones. The most sought-after Paraiba is Brazil's intensely saturated Windex-colored, neon-blue gems.
Paraiba gems first appeared on the market in the 1980s, creating a stir with their stunning electric-blue color and supercharged appearance. Paraiba immediately joined the exclusive club of high-octane rarified gemstones such as Burmese rubies, Colombian emeralds, and Kashmir sapphires.
The luminescent copper and manganese-colored gems were named after the Brazilian state of Paraiba, where they were discovered. Deposits of similar color tourmaline separated from Brazilian deposits by continental drift millennia ago were discovered in Nigeria and Mozambique. 
It is easy to find a diamond that suits your desire but looking for a particular Brazilian Paraiba is a waste of time because the exhausted mines have nothing coming out of the ground. Unlike diamonds, available in virtually any size and grade, Paraiba has always been in short supply, particularly in the finest qualities, no matter how much money is offered.
Because of its rarity, you can come across Paraiba jewelry only at high-end jewelry stores such as Graff or Winston or at the auctions such as Christie's or Sotheby's.
Leon Mege is the pioneer behind using this rarest and most sought-after gemstone in jewelry, and the House of Leon Mege is your best source to hunt down this magnificent gem. Please call us at (212) 768-3868, and we will work with you to source and set Paraiba into a one-of-a-kind custom-designed mounting.
Leon Mege is a purveyor of fine gemstones and has been in business for over four decades. Maestro Mege creates beautiful, contemporary jewelry featuring incredible gemstones from around the globe. We ethically source the finest and rarest gemstones from a small number of well-established wholesale gem dealers, personally vetted by Leon Mege.
All tourmaline varieties are relatively durable gemstones that can withstand daily wear. Paraiba variety is typically more included and should not be exposed to harsh chemicals, immersed in an ultrasonic cleaner, or steamed. Instead, use a mild soap and warm water to gently brush the piece with Paraiba and dry thoroughly with a lint-free cloth.
Each Paraiba piece should be stored individually in a separate box or a pouch because other jewelry can scratch Paraiba.
The Brazilian Paraiba, one of the most coveted gemstones, was discovered in the early eighties by a gem-hunter Heitor Dimas Barbosa, who found a deposit near the village of Sao Jose de Batalha in the northern part of Paraiba state of Brazil. A decade later, other mines were found in the north of Paraiba state and the south of Rio Grande de Norte, next to the Paraiba state. 
The blue-green Paraiba tourmalines were later discovered in Mozambique and Nigeria. Mozambique tourmalines have less copper and a lighter color than a typical Paraiba from Brazil. The Nigerian gemstones don't have the same vivid saturation as the Brazilian material.
There are so few Paraibas in the world that only a single Paraiba is found for every 10,000 diamonds, making Brazilian Paraibas so scarce that collectors and jewelry lovers have to hunt them down.
These gemstones are valued for their scarcity and unique neon color. The presence of copper in Paraiba tourmalines gives the gem its ethereal, radiant blue hue. To be called "Paraiba," a stone must have some copper content detected using a spectroscope. A general absorption starting at 600 nm identifies the stone as a cuprian elbaite tourmaline.
Another tourmaline species, the Cuprian-bearing liddicoatite found in Mozambique, has similar color and concentrations of copper and manganese as elbaite tourmaline.
It depends on the gem's color saturation, clarity, and origin. The finest Brazilian Paraiba can fetch up to 100K per carat. On the other hand, African translucent cabs or pale-blue faceted gems are often sold for a few hundred a carat.
Below are a few examples of the record-breaking Paraiba sales (all prices in USD):
June 16th, 2022 – a 10.31-carat Brazilian Paraiba was sold at $1,197,000 at Sotheby's New York.
---
May 29th, 2018 – a pair of 7.46-carat and 6.81-carat pear-shaped Brazilian Paraiba ear drops fetched $2,7 million or almost $200,000 per carat at Christie's Hong Kong.
---
June 22nd, 2022 – a brilliant-cut Brazilian Paraiba tourmaline weighing 5.09 carats is predicted to sell for up to $484,000 during the Bonhams Hong Kong Jewels and Jadeite auction.
---
May 25th, 2022 – 3.81 carats oval Brazilian Paraiba tourmaline to be sold for approximately $300,000 at Christie's Magnificent Jewels live auction.
---
The Ethereal Carolina Divine Paraiba, claimed to be the world's largest Paraiba gem, is a 191.87-carat pale-blue oval set in a horrible and tacky Paraiba Star of the Ocean Jewels necklace by the Canadian jeweler Kaufmann de Suisse. In 2014 the massive 36.44 by 33.75 mm gem was offered for sale at the Kaufmann de Suisse boutique in Montreal for $100 million. We estimate the gem's worth to be around $7 million loose, or $3 million in the necklace.
---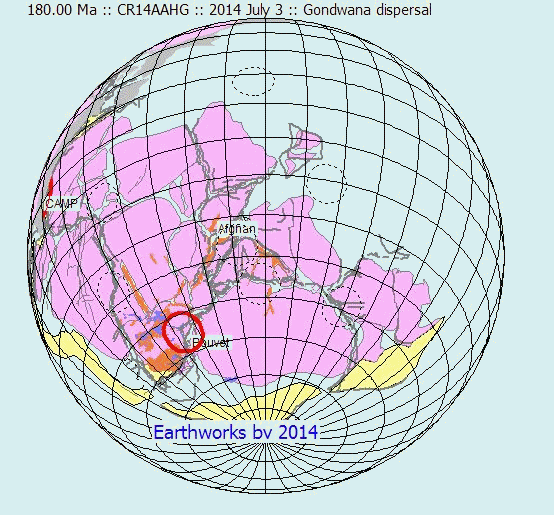 The name "Paraiba" became an issue in the early 2000s when the discovery of a copper-bearing tourmaline in Africa with a similar color and properties to Brazilian material was made. The legitimacy of using the "Paraiba" name for the newly found African material was hotly disputed. Still, political correctness prevailed, and now it is perfectly legal to call any blue-to-green copper-bearing tourmaline "Paraiba" regardless of its origin.
Some gem dealers still insist on calling African tourmaline "Paraíba-type" or "cuprian elbaite," but most refer to the material as Paraiba.
Today, almost all Paraíba tourmaline comes from Africa, making Brazilian gemstones rare, desirable, and extremely valuable. A Paraiba certified to have Brazilian origin by a reputable gem lab costs 10 to 100 times more than nearly identical stone mined in Africa.
The chemical differences between the tourmalines from Brazil, Nigeria, and Mozambique are small. Some Mozambique tourmalines are lighter because they have less copper, which gives Paraiba its unique color. Brazilian Paraiba colors are more intense, while Mozambique has the widest range of hues.