The extraordinary diamond ring with a French accent
Mon Cheri™ is a ring channel-set with graduated French-cut diamonds along the shank. Inspired by nature and refined over decades, Leon Mege Mon Cheri™ ring has been designed to capture and deliver the very essence of a diamond directly to your senses. Truly a one-of-a-kind ring that caresses and nurtures your soul equally well in the middle of the Champs-Élysées hustle and bustle or Place Vendôme upscale tranquility. 
Mon Cheri™ is available with a wide selection of center stones. Leon Mege True Antique cushion diamonds make this style particularly special, but the French cut side stones also complement Asscher, emerald, and oval cut centers.
The exclusive Mon Cheri™ ring requires a purchase of a center stone from Leon Megé. In addition, colored gemstones, lab-grown diamonds, and Leon Mege Blonde moissanite can also be used.
The French-cut diamonds give the style the perfect synthesis of tradition and chic are scarce and expensive to produce. It can take months to cut 14 graduated diamonds that comprise a single layout. Smaller sets with fewer stones are used for petite finger sizes.
Exclusive French cut diamonds flare toward the center in a brilliant explosion engulfing the center stone. The esthetically eye-pleasing curvature of the flare is a product of logarithmic calculations applied to the golden section and Euler's identity (e iπ + 1 = 0).
The diamonds are set in a seamless channel with a skinny, nearly invisible wall.
The Mon Cheri™ layouts largest stone is a trapezoid-shaped French cut diamond. The top stone is the main factor in the cost of the layout; as it gets bigger, the price increases exponentially.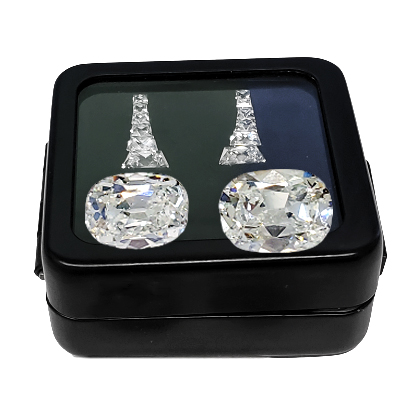 Each set of French-cut calibre is different and works best with the adequately sized center stone. Since diamond dimensions are not always reflected in carat weight, each center stone must be evaluated individually. Center stones as small as one carat can be used if they are reasonably elongated. For a smaller center, the top French cut diamond can be left out.
Our bespoke custom fabrication seamlessly integrates the ring head with the flared shank for an elegant fit and maximum grandeur. The center stone is usually secured with our legendary double or single eagle-claw prongs.
The stone can also be set with different prongs and set in a bezel or semi-bezel. Four or eight prongs are well-suited for the majority of center choices. The ultra-thin channel walls are usually left smooth, but they can be millgrained for extra vintage flair. Platinum is the white metal of choice for a Mon Cheri™ ring.