Antique Cushion cut diamond is a classic and timeless jewel. Its pillow-shaped outline, softly rounded corners, small table, high crown, and large open culet are easily distinguished from other diamond cuts. No other diamond cut can replicate the Antique Cushion's prized mix of checkered brilliance and extreme dispersion. 
Antique cushions are extremely rare. At any given moment, there are only a few antique cushions on the market for every thousand modern cushions. An antique cushion is the most desirable diamond cut used in high-end jewelry.
The fire of this precious prism of pure crystallized carbon is stunning during a candlelight dinner. The sparkle and scintillation in pure rays of sunlight leave other diamonds yellow with envy. On an overcast day, it will cradle your finger, permeating a soft glow and reminding you once again that you are loved by someone who knows that you are special.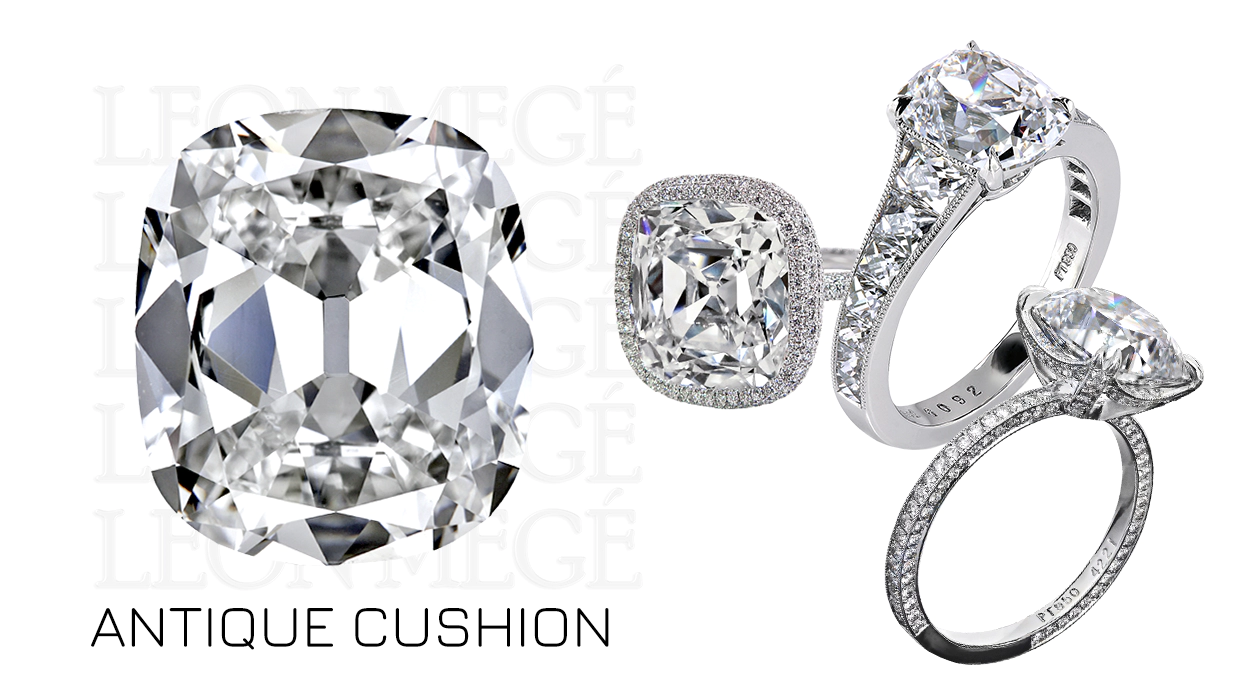 What are the special characteristics of an Antique cushion?
An antique cushion diamond always has an open culet. Most antique cushions have a high crown, a small table, and broad facets that are not as thin and stretched as modern ones. The traditional pillow-shaped outline conveys the appeal of a bygone era when diamonds were cut to burst alive with intense fire under the romantic glow of candlelight. In addition, antique cushions' high-contrast faceting mutes the color perception, expanding the number of stones perceived as white.
What ring style best compliments an Antique cushion?
Antique Cushion Diamonds' proportions seem to be a perfect match for a halo. The antique cushion's high crown braced by a micro pave skirt is stunningly beautiful.
Antique cushions are an excellent choice for solitaires or three-stone rings, especially those where the basket is set with pave. Unlike modern cushion cuts, Antique cushions do not have a bulging pavilion providing ample space for metal to be concealed underneath.
In addition, the shorter prongs block less of the stone's side view because the girdle they grip is lower.