A chain is a string of interconnected links of various patterns, shapes, and sizes. Cable chain is the most popular style.

A Cable chain is assembled from uniform oval links usually made of round wire. A very fine cable chain called Trace chain is used in bespoke jewelry.
Rolo features small circular barrel-shaped links.
The Belcher chain resembles Rolo, but its links can be oval or round with a low dome profile.
The Round link chain is similar to the cable chain, but the links are round, not oval.
The Curb chain has links twisted or "curbed," so the entire chain lies flat against the body. There are many types of curb chains; some have faceted sides, while others are completely rounded.
The Gourmette chain is a braided curb chain twisted links. This chain can vary in width from a few millimeters to a few centimeters. The Gourmette links are popular with men's jewelry.

 Anchor or Mariner has oval links reinforced with a crossbar. The House of Gucci incorporated this chain style into its corporate symbolism.

The Cuban link chain style is a favorite of hip-hop artists, delinquent thugs, and macho alphas (often the same person). Cuban link is a perfect accessory for a "wife-beater" undergarment and gold grilz.

The Franco link has two to four curb necklaces lying flat against each other connected by V-shaped links. This chain is sturdy and can support heavy pendants favored by the hip-hop crowd.
Figaro is named after the title character of "The Marriage of Figaro" opera. The chain alternates a longer link with several shorter ones. The Figarope or Milano is a twisted Figaro that gives it a woven appearance.
The Figarucci is a variation of a Figaro chain with an anchor chain-style crossbar in the middle of the long link.
Box or Briolette or Venetian link chain is made of cube-shaped links. It offers geometric simplicity but is bulky and unrefined.
The Rope is a durable braided chain suitable for heavy gaudy pendants favored by Bangles' quarterbacks. A rope chain has intertwined links forming two strands wrapped around each other.
Byzantine is an ancient style with a complex structure knitted from intricately folded links. The chain usually has a round profile but can be flat or square.
Singapore is a sparkling hybrid of curb and rope chains made of a series of twisted diamond-cut links.
Prince of Wales chain symbolizes the twisted nature of the British royalty. It is a rope-looking chain made of round links; each link is interconnected with four others.
Cardano or Boston link chain is a very stylish string of smooth, elongated links resembling a Cardan joint named after the Italian mathematician Gerolamo Cardano.
Wheat, or Spiga or Palm chain has a look of wheat stalk ends made of intertwined V-shaped links. Generally less flexible than other chains, it is extremely durable.
Ball/Bead/Pelline is the type of chain used to turn the light in a closet. It is made of round hollow beads connected with rods.
Bamboo chains are similar to Ball chain design but with hollow cylindrical links alternated with round beads.
The Parallel link is a curb chain with twinned links.
The Crisscross chain has a tight weave where several links are interconnected, similar to the Cartier rolling ring.
Book chains were popular during the Victorian era, often outfitted with locket pendants. Its links remind book bindings.
Popcorn or Coreana is a contemporary Italian invention of puffed links resembling exploded kernels.
Foxtail chain has layers of chevron-shaped loops connected at a 45-degree angle by a series of flat rings in the middle of the chain.
An Elongated link chain has long links for a light and open look.
Bismark or Cascade chain, a perennial Russian favorite, has two or more interconnected round link chains running parallel next to each other.
Figure Eight is a cable chain where the alternating links have an infinity shape.
Herringbone is a flat chain with V-shaped segments alternating in the direction they are running. It does resemble fish scales to justify the name, but it looks cheap, kinks a lot, and is mainly used in cheap commercial jewelry.
Snake or Brazilian chain has V-shape links joined together so tight that it resembles snakeskin. It is very dense, which robs it of flexibility typical for most other chain types. Snake chains often serve as lanyards to hang glasses, keys, or whistles.
The San Marco chain consists of hollow rounded links flat on the back placed side by side at a 45-degree angle. It looks like a necklace made out of macaroni pasta from the top.
The Nugget's collapsed S-shaped links soldered, hammered, and twisted a quarter of a turn to make them look like a string of nuggets.
The Panther is a flat chain of three or more rows of rectangular links offset by half a step to each other.
The Railroad chain has two parallel strings with crossbars, making it look like a train track.
Bar link chain consists of rods or bars connected via small jump rings. The bars can have any profile, usually round or square. They can be twisted or decorative with any finish imaginable.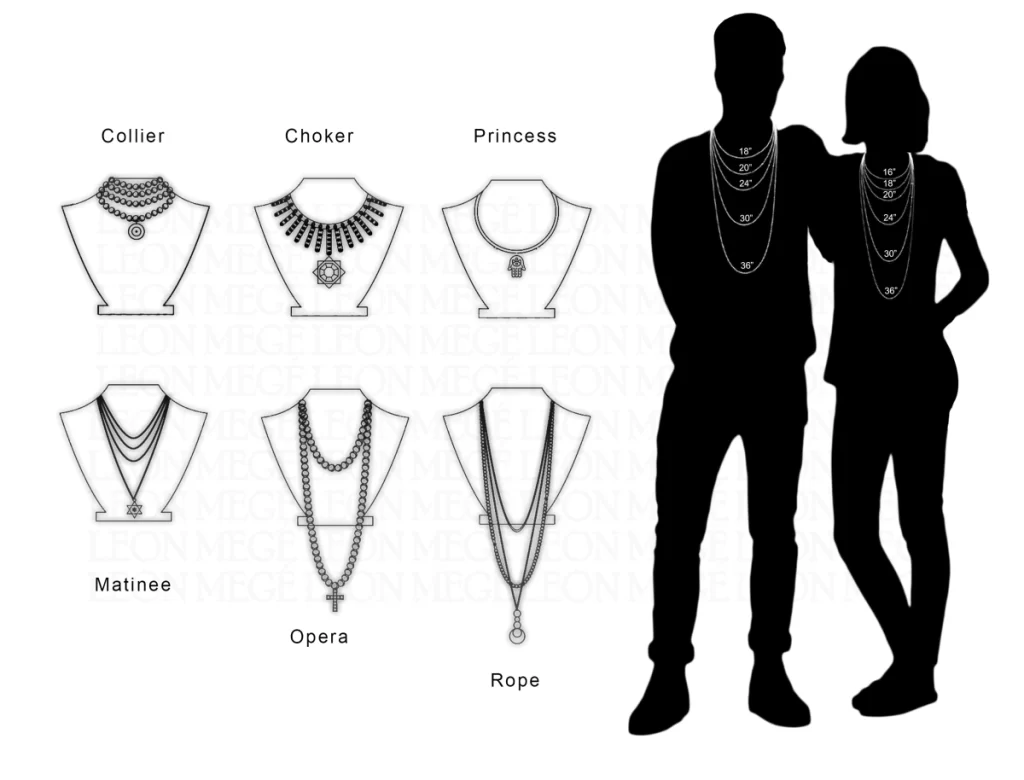 The Choker is 14-16" and sits snug around the neck.
Princess is 16-18" long, falling to the mid-chest. Princess length is the preferred length for a pendant.
Matinee extends to 20-22" in length.
Opera drapes dramatically at 24-28".
The Rope or Lariat extends over 30", covering the abdomen. As a double wrap, one turn is a choker, and the other is the Opera.
No, but they can be once Cuba is freed from Communists. Cuban chains are most likely are a product of the 1970s hip-hop scene that originated in Miami. Contrary to popular belief Cuban link chain is not named after Canadian Prime minister Trudo.