"Elegance is not dependent on money. The most important of all is care. Care in choosing your clothes. Care in wearing them. Care in keeping them."  Christian Dior
Please follow these simple rules:
Store all your jewelry pieces separate from one another to avoid any possibility of abrasion or damage. Ideally, place each piece in an individual compartment or a pouch.
Do not wear jewelry while exercising, swimming, gardening, mechanical bull riding, white-knuckle driving, etc. In other words, when it gets exposed, it to repeated knocking and scratching.
Any gemstone, including a diamond, can chip if you hit it hard, and at a certain angle.
Emeralds, opals, and other stones such as feldspar (moonstones) are particularly delicate and easily damaged.
Protect your jewelry from extreme temperatures. Protect opals from direct sunlight. They will dry out and crack.
Avoid exposing colored stones to harsh chemicals or abrasives, nail polish remover, perfumes, or hairspray.
The Basics
You start damaging a piece of jewelry the very day you slide it on your finger. How long it is going to last is literally in your hands.

To ensure that your jewelry stays as beautiful as the day you bought it make sure to bring it to us for a free complimentary cleaning and inspection at least once a year to maintain its radiance and sparkle. If you go to a local store for cleaning, please warn them about their responsibility to check for loose stones before they hand your jewelry back to you.
Keeping diamond sterile is next to impossible. Diamonds have a curious property called lipophilia (attraction to grease) that causes the oily film to spread over the entire diamond surface. The film traps the dust particles which form a dirt layer. Only consistent maintenance and cleaning at regular intervals will imbue the significance and perceived beauty of the stone.
Regular cleaning prevents the greasy build-up from accumulating and hardening underneath a stone. Once the organic deposits from makeup, lotions, and perspiration are calcified and hardened, removing them becomes a challenge. Even for a jeweler equipped with professional-grade cleaning tools.
Diamonds appear one or two color grades lower when dirty, up to 20% loss of value. Without proper upkeep, they look repulsive instead of dazzling and mystifying. 
You can minimize the exposure to oils, lotions, and cosmetics by applying makeup before putting your jewelry on. 
Regardless of which cleaning method you use, remember that most gemstones can tolerate high heat. However, they will crack from a sudden drop in temperature. Always consult with a specialist or bring it to us for complimentary cleaning and inspection.
Soaking 
Routine cleaning (approximately twice a month) will bring the best results. An irregular cleaning, on the other hand, promotes the dirt's build-up. Soaking your diamond jewelry overnight in water will soften the calcified deposits and make cleaning a breeze. 
Stones other than emeralds and pearls are safe to soak overnight. Emeralds are often impregnated with oil. Soaking will remove the oil so that the stone will lose its transparency. Immersing pearls in a water-based solution can disintegrate the knots and strings. Merely wiping the pearls with a soft cloth will do the trick.
Best cleaning method – using a soft toothbrush 
Dissolve a few drops of dishwashing liquid (any brand) in a cup of warm water. Optionally add a few drops of regular household ammonia. 
Gently brush jewelry using a soft toothbrush. Try to dislodge the dirt accumulated directly under the stones. Rinse with lukewarm water. Pat with a paper towel or use a hairdryer to dry. 
Pressurized air can be used for drying water remains. However, canned air cannot remove the greasy film, so it is unsuitable for cleaning jewelry.
Ultrasonic cleaner
A consumer-grade ultrasonic cleaner is suitable only for special occasions. Using it regularly is not recommended because ultrasound can loosen or even dislodge small stones from the setting. Yet, it is not powerful enough to dissolve the hardened deposits and grime stuck under the stones.
Two pieces should not be cleaned simultaneously – they will scratch each other. Pieces with flexible joints such as bracelets, necklaces, or earrings with hinged parts must be restrained to ensure that separate parts do not touch. 
Emeralds, opals, rare gemstones, heavily included, cracked, and fracture-filled stones should not be cleaned in ultrasonic. The internal integrity of a gemstone is a crucial element of deciding to subject the stone to ultrasound. 
Professional-grade ultrasonic has enough power to eradicate the dirt. However, it is the jeweler's responsibility to check every stone after the cleaning. 
Ionic Cleaner
The ionic cleaner is not well suited to clean platinum and diamond jewelry. However, it is useful for removing tarnish from delicate jewelry with pearls and soft stones such as emeralds and turquoise.  It works by running a mild charge through a piece of jewelry immersed in a liquid cleaner. The process is very similar to electroplating, but the electric current flows in the opposite direction.
Steam
An industrial-strength steamer is a standard piece of equipment for every jeweler. A combination of ultrasound and steam is the best way to clean jewelry in a professional environment.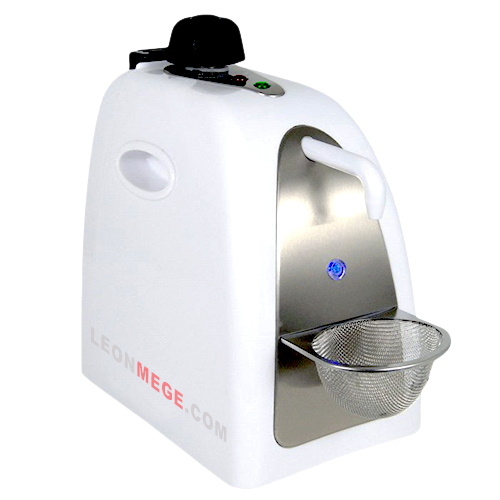 Steamers use water and electric heat to generate pressurized steam. Industrial steamers are expensive, bulky, and require regular maintenance. They are not practical and too dangerous for use at home. Consumer-grade steamer's pressure is usually too low to remove hardened deposits. These toy-like steamers can be used only for freshening up jewelry or drying it after the cleaning.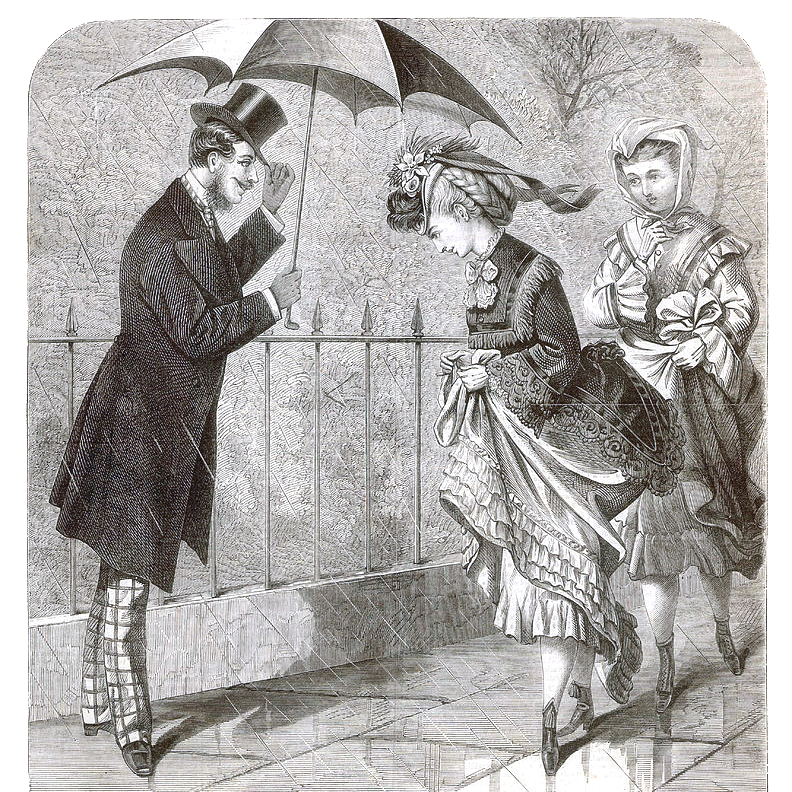 You just got engaged!
Your neighbors are drooling, your best friend is suffering from major depression, and your coworkers are plotting against you. This is because you have the most beautiful ring that makes them all green with envy. Are you ready to take care of your new shiny pebble? Did you take a jewelry safety course or attend a jewelry care seminar? Hopefully, we can shine a light on the subject.
The undeniable elegance and grace of modern micro pavé jewelry are certain to draw the eye of anyone who happens to see it. However, these delicate pieces do require extra care and love on the part of their owner. At times, though the passion for your jewelry might burn with desire, a certain level of neglect might ruin the relationship.
The Clapper
It is the last few minutes of the Super Bowl. Eli is just about to throw the game-winning pass. Your fiancé is screaming and jumping, much like the rest of the stadium. Finally, the ball is thrown, and the whole stadium explodes. You are excited. You are frantically applauding. And your new engagement ring is crying with pain.
Why? Unbeknown to you, it's being bombarded with hundreds of hits by a right-hand ring. When your hands meet during the applause, the right-hand ring extols its revenge on your engagement ring. The back of your ring gets smashed at a rate of 4 hits per second.
It could be 14 hits per second if you are Kent French – the world's fastest clapper. It's like hundreds and hundreds of small hammers beating the back of your ring. Be smart about it – the rule of thumb is: no two rings should meet, except for a bunch of stackable bands.
Wear & Tear or Wear Till Tear?
Except for jewelry containing spring-loaded mechanical parts such as locks, clasps, etc., jewelry is usually one solid piece of metal. It could be a composite if there is any pavé. If there are any hidden defects, they will manifest within a week or two. The defects are usually cracks or stones getting loose. It is the manufacturer's responsibility to reset stones and use a laser welder to fix cracks. Once the ring is worn longer than a month, it is safe to assume that any new problem is related to unkind wear. As upsetting as it sounds, the only person who can be blamed for the damage is the owner.
It is a customer relations nightmare to explain to a customer that his/her jewelry-wearing habits are what is causing the damage. Some people feel embarrassed, and others belligerent. Surprisingly, while still upset, the great majority of people are reasonable and fair in understanding the situation. The usual course of action is to repair or completely re-make the ring, followed by a stern warning to change your wearing habits. Alternatively, you might opt to change the setting completely, usually to solitaire or a three-stone ring.
You should not feel bad about it. In the course of life, there are many events beyond your control. Your jeweler is like a family doctor – you see him no matter how embarrassing or mundane your problem is. Your trusted jeweler will always reward your customer loyalty by performing a repair at little or no cost or assist in filing the insurance claim.
The Knucklehead
Here is a conversation at a jewelry counter repeated in this form or another more than once or twice. Customer: "I expect to wear my ring every day. I am an active person and do a lot of physical activities. I travel, I garden, and I exercise.  Regardless, I do not want to take it off my finger for any reason. This is the way I am. Besides, if I don't have the ring, somebody might assume that I am still single!"
Salesperson: "No problem at all, you can wear it non-stop, it's really well made. It's a quality item, not the cheap knockoff you would buy on 47th Street."
The salesperson just told her a lie. To close the sale, the salesperson will say whatever the customer wants to hear. A reputable salesperson will not hesitate in telling the inconvenient truth: micro pavé jewelry, although not fragile, has to be worn with more care than plain-vanilla non-pavé jewelry.
In your life (ideally), you get only one engagement ring. Choosing its style is difficult because you have to assess your lifestyle many years into the future to ensure that it's appropriate for just about every situation you might find yourself in – casual or formal. Imagine having to wear only one dress for the rest of your life. Which one would you choose: an evening gown or jeans? That is essentially the choice you make when you choose your engagement ring.
An evening dress is the equivalent of a micro pavé ring. It combines feminine elegance with delicate construction. A pair of khakis might stand for a plain solitaire. Do you prefer to show up at work wearing a sheer designer dress or have a romantic dinner at a fancy restaurant sporting sturdy overalls? The answer seems to be simple, but it's not.
Unfortunately, there is no "in-between" option; it's either one or the other. To find a balance between the beauties of a delicate micro pavé ring versus the durability of a shopping mall clunker, we have to walk a fine line.
In our work at Leon Mege, we tend to be drawn to the side of beauty at the expense of strength. Delicate but beautiful micro pavé does require some amount of sacrifice. Choose jewelry that aligns with your lifestyle and comfort zone. Its longevity depends on your care and constant awareness.
It is not an appliance. It is impossible to avoid contact between your ring and hard objects during the course of a day, but this is not what is required. By being alert and conscious, one can wear a micro pavé ring for 20-30 years, and it will look like new. However, if the advice is not heeded, evidence of damage might become noticeable within a few weeks.
Very few people admit to being clumsy or rough with their jewelry. They might not even be aware of it. The damage to jewelry goes beyond the usual dents and scuffs. The ring might get bent, warp, have loose or lost stones, or even break apart. The usual cause – mistreatment, abuse, rough handling, applying excessive force, and/or friction.
The moment you forget the ring is on your finger is the moment that will be the beginning of its demise. By being naturally cautious of your movements and actions, you will avoid many headaches in the future.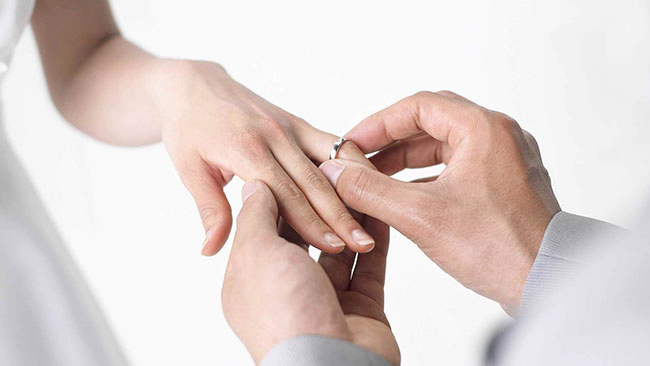 You are free to choose a hand for your wedding band. The same-hand rule is made up.
Most Americans believe that a wedding band should go on the left hand's fourth finger. This belief has existed since at least the fifteenth century and it is based on an outdated mix of ethnic, cultural, and religious traditions that have changed many times throughout history. 
According to Western lore, the left hand's fourth finger is the weakest and cannot be used independently. Male-centric culture still expects women to wear the band on the left hand's fourth finger to show subjugation to their husbands. The awful residue of such chauvinism is upheld with an urban myth: supposedly a skeleton's left hand from a seventh-century burial had a gold ring that closely resembled the contemporary wedding band.