Most people are intuitively attracted to antique diamonds because vintage cuts have a distinctly retro vibe. Unfortunately, lab reports fail to differentiate between modern and antique cuts. Antique cushions are called Old Miners, and the antique rounds are Old Europeans. Other shapes are not as lucky; you must examine them to determine whether they have modern or antique faceting. True antique diamonds are scarce; they come from disassembled old jewelry. Most antique cut diamonds sold today are contemporary replicas. This fact does not diminish their beauty and value. 
The most recognizable antique diamond cuts are: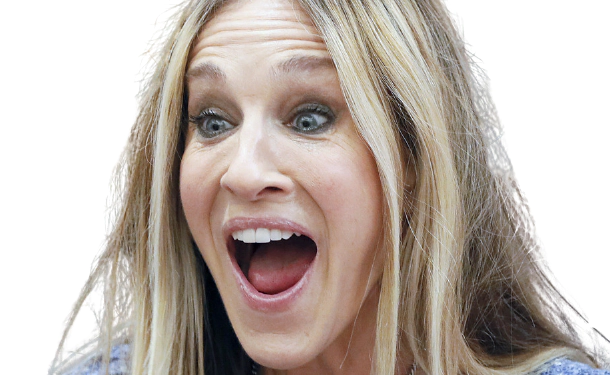 Antique cuts are angelic orphans looking for a new home. They are steeped in fascinating history and charming traditions. Antique diamonds bring us closer to our roots, filling us with a sense of belonging to a bygone era.
Every antique diamond is unique. Their artisanal individuality makes up for mechanical precision. Antique diamonds were designed when candlelight was the primary source of indoor illumination, making them burst with intense fire.
In popular culture, Carrie of "Sex in the city" says yes to Aidan's proposal with a stunning Asscher-cut diamond ring after rejecting a pear-shaped diamond in a gold mounting.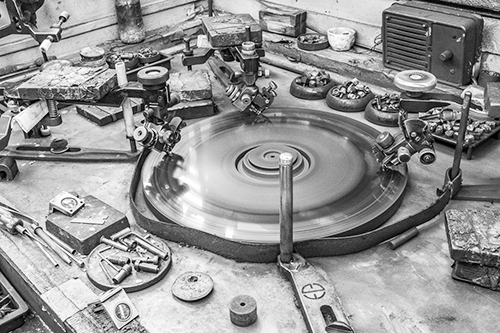 When you compare a vintage diamond to a modern diamond, it's easy to see the difference. Should the charming past radiating from every facet of an heirloom diamond be destroyed to increase the perceived value?
The answer is: No. Old cut stones are genuinely scarce and only get rarer with every passing day.
A recut diamond is identical to a diamond produced from rough yesterday. Without a historical record, it's impossible to tell when the stone has been cut.
Unfortunately, many of the world's most famous and historic diamonds have been recut over the centuries of their lifetimes. Sometimes it was done to improve the appearance of stones, but more often to conceal their identity for criminal gain.
Antique diamonds offer timeless romantic appeal and dazzling fire. Unlike modern cuts, there are very few antique diamonds to choose from. An antique Asscher cut is undeniably the most beautiful of all antique diamonds. It is closely trailed by Antique Cushions and Old European cuts. The classic French cut is the absolute classic among accent stones.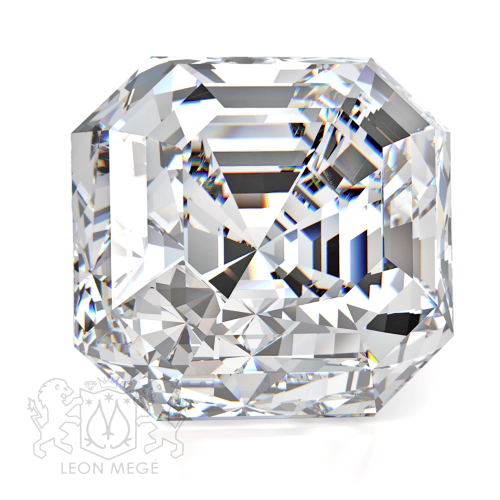 An Asscher cut diamond is designed to bring out the clarity of a diamond. It is a special cut highlighting a diamond's luminous presence and elegance. Its step facets radiate from a culet to the girdle in an X-shaped pattern.
All Asschers, including vintage and antique stones, are classified as cut-corner square step-cuts. A well-executed Asscher rivals a brilliant cut in fire and even in brilliance.
is the number of Asscher facets, however the Royal Asscher has 74 facets.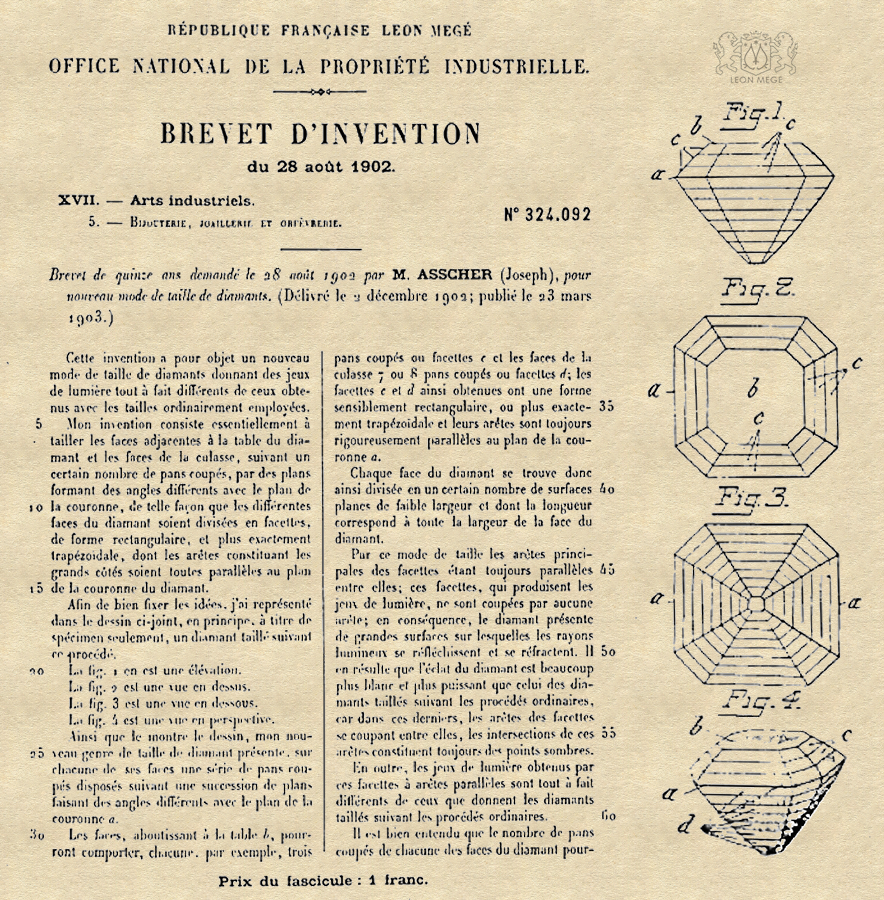 Royal Asscher® is a patented cut with two additional pavilion steps sold at a steep premium. They are laser-inscribed with the brand logo and an identification number. The Royal Asscher® brand name is printed on the certificate.
The traditional classic Asscher is a square cut with a length-to-width ratio of approximately 1.00 to 1.06. The Krupp cut is an elongated Asscher with a ratio longer than 1.1.
The Krupp diamond name comes from the emerald-cut diamond given to Liz Taylor by Richard Burton. Here is the diamond's story.
In the early 50s, German actress Vera Krupp – a trophy wife of a wealthy German industrialist, received a massive emerald-cut diamond with wide corners. Vera divorced her wealthy husband, kept the diamond ring he gave her, and moved to Las Vegas from Germany, breaking bad and partying around the town.
In 1959 the ring was taken from her at gunpoint during a robbery at her ranch. The FBI got involved because there was nothing better to do at the time at taxpayers' expense and found the diamond at (of course, where else) a New Jersey grocery between mounds of mutz and gabagool. After the ring was returned, Vera became paranoid and pinned it to her bra strap at all times. When Mrs. Krupp passed away, the 33.19-carat diamond was sold to Richard Burton for $300k, who presented it to Elizabeth Taylor as a surprise gift.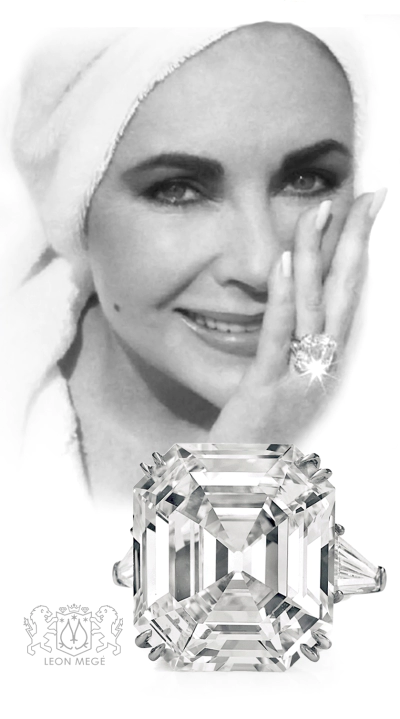 The traditional Antique Cushion cut diamond is a beautiful jewel. It has a pillow-shaped outline, soft, rounded corners, an open culet or a keel, a small table, and a high crown. The Classic Cushion comes with Old World flair and romantic appeal. Antique cushions are not necessarily old. Most Antique Cushions sold today are recently cut.
The Antique Cushion was the dominant diamond cut for centuries until the advent of the modern round brilliant, which is uniform, scalable, and easy to make, sort, and use. Antique Cushions revived and recaptured the magic of the Golden Era.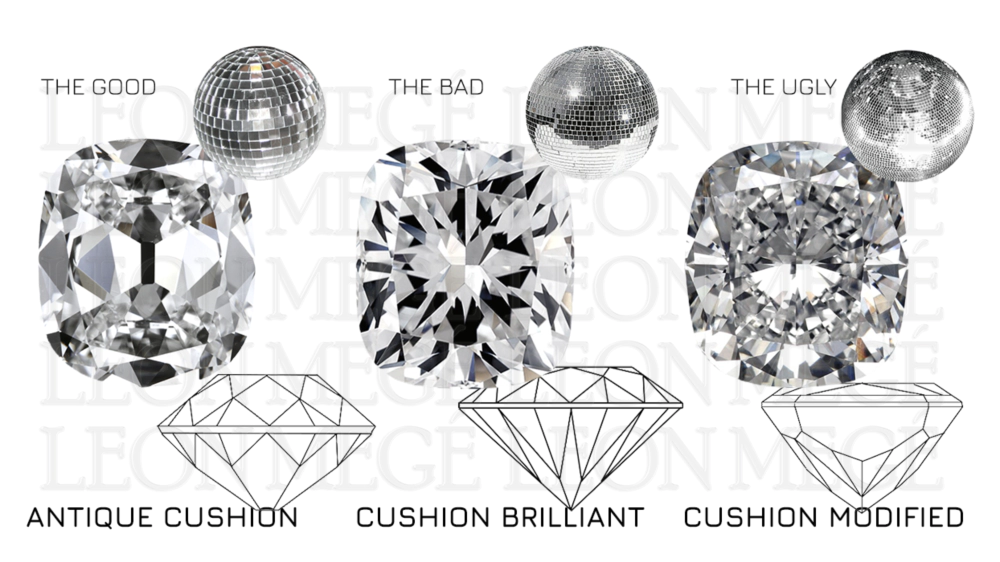 Classic (Antique) Cushions are rare, timeless, and sophisticated jewels. In the trade, they are known as Old Miners. The Antique Cushion's high-contrast faceting mutes color perception, so they look whiter than their modern counterparts. The Antique Cushion's prized mix of fragmented brilliance and extreme dispersion is also unmatched.
Cushion Brilliants are essentially round brilliants with a pillow-like shape. Their pavilion facets originate at the culet and extend to the girdle in a star-like fashion. A stone loses its spot on the top of the cushion's Mount Olympus and becomes Cushion Brilliant when it matches at least three of the following criteria:
– the table is over 53%
– the crown angle is over 40°
– lower halves are 60% or less
– the culet is slightly large
Cushion Modified combines radiant-cut facets with a cushion-shaped outline and soft, rounded corners. Modified Cushions have excessive brilliance without contrast, giving them a "crushed ice" look. Some facets terminate below the girdle. In places where the facets meet, they form bulges that complicate the ring's construction and carry dead weight.
Antique cushion diamonds have superior dispersion, radiating an abundance of fire when lit by flickering candlelight. An Antique cushion has an open culet, a high crown, and large facets – a perfect combination of sophisticated elements for a connoisseur seeking a diamond with character and pedigree.
Antique cushions are closer to step-cut diamonds in how they transform and return light. They don't have the dreaded "crushed ice" look of modern cushions.
GIA classifies Antique cushions as Old Mine brilliant or Cushion brilliant depending on the crown, table, and total depth proportions.
The Old European (or simply European) Cut is a vintage Round Brilliant. It became popular in the late 19th century when its predecessor, the Old Mine Cut, lost its Cushion shape and became round thanks to the invention of the bruting machine. The Old European Cut retained the rest of the Old Miner's charms – the high crown, small table, and open culet.
The Modern Round Brilliant is a direct descendant of the European Cut. Both have the same round shape and 57 facets, not counting the culet. The proportions and angles have, however, changed drastically.
The current proportions of the Modern Brilliant inspired Marcel Tolkowsky, Henry Morse, and others to experiment with angles and facets, searching for the ideal round cut.
Today, Old European Cut diamonds are found in vintage jewelry. They usually have poor symmetry, often confused with old miners.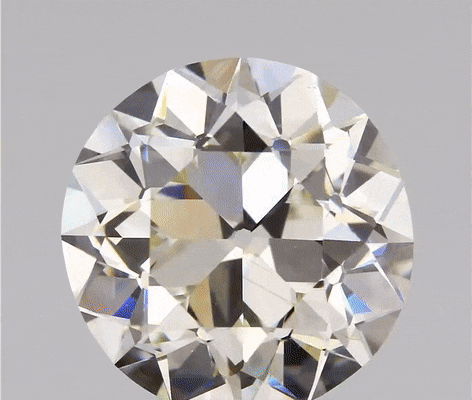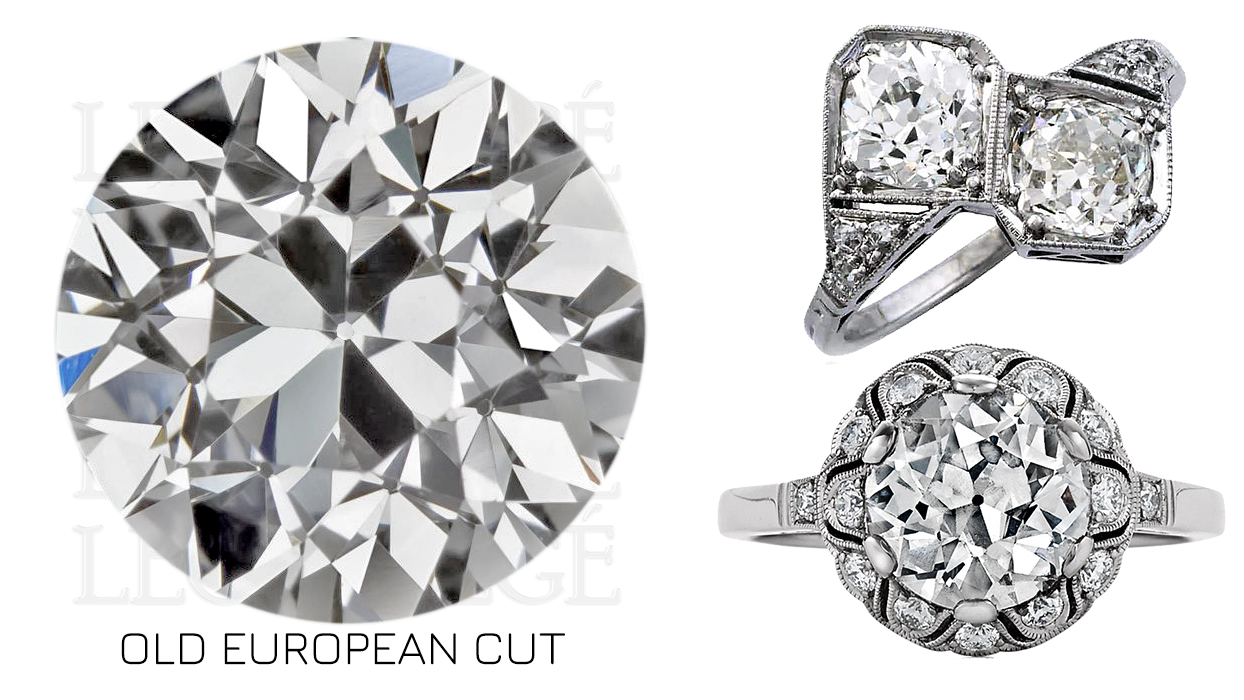 What makes Old European cut special? Like its predecessor, the Old Miner, the OEC features spectacular "inner fire" by design. When warm, flickering candlelight illuminated the 19th-century ballrooms, the Old European's dramatic inner fire was a diamond's most desired property. In later decades, when wearing diamonds outdoors became common, the emphasis shifted to cuts that maximize brilliance rather than fire.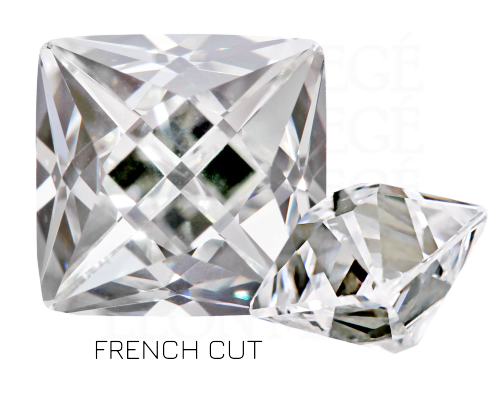 The French cut diamonds originated in the 14th century, named so because of their popularity in France. They evolved from the old Table cut. The Scissors cut is a variety of French cut with a slightly more elaborate faceting.
A French-cut diamond can be easily recognized by a rhomboid table turned 90 degrees to the diamond's outline. The shape is usually square but can be rectangular or even trapezoid. The pavilion of a French-cut diamond is split into four plain facets, sometimes divided in half.
 A French cut has a small table created by slicing one end of a well-formed octahedral crystal, and its edges have smaller facets added for extra brilliance.
French Cuts are a rarity because they are primarily found in antique jewelry. Currently, there is a very limited production, mainly from a rare type of diamond rough – the well-formed octahedral crystals. Unfortunately, the yield is low, which results in a higher per-carat price. Top jewelry houses quickly absorb the small quantities available, making sourcing French-cut diamonds on the open market nearly impossible.
Another factor limiting the broad adoption of French cuts is their lack of uniformity. The French cuts are mainly used as accents in groups called layouts, not individually, but the lack of uniform proportions prevents using them in calibrated layouts.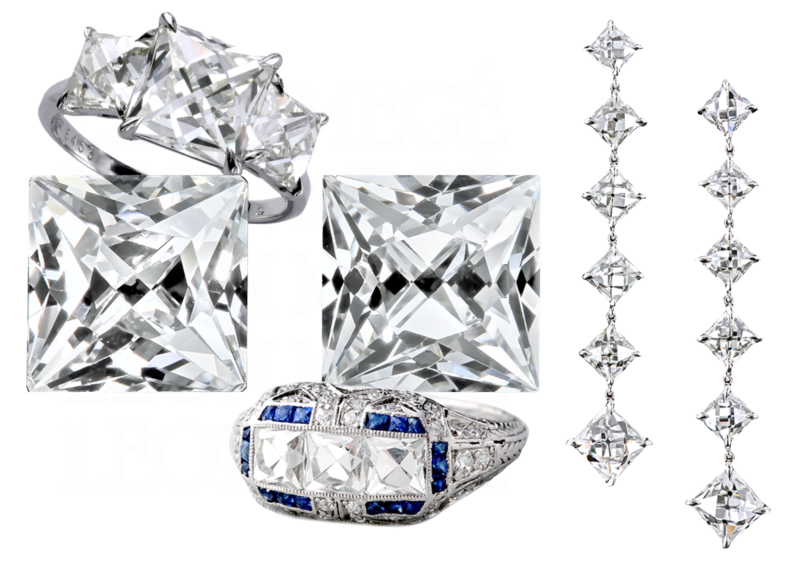 The Rose Cut is one of the oldest diamond cuts. It became widespread in the 1500s and remained popular until the early 1900s when more complicated and precise cuts were developed.
Picture a flat round diamond with a bulging pavilion and a giant table. Flip it upside down, and you've got a Rose Cut diamond. It's equivalent to a cabochon in diamonds.
Owing to their shape, carat-for-carat Rose Cut diamonds face up larger than any other diamond cut. This makes the Rose Cut an attractive purchase for those harboring a beer budget and a taste for vintage wine.
The crown of a Rose Cut is dome-shaped, formed by the facets meeting at the center. The Rose Cut reacts very differently to light than other diamonds because of its flat bottom and shallow depth. The absence of a pavilion results in washed-out luster and dull brilliance.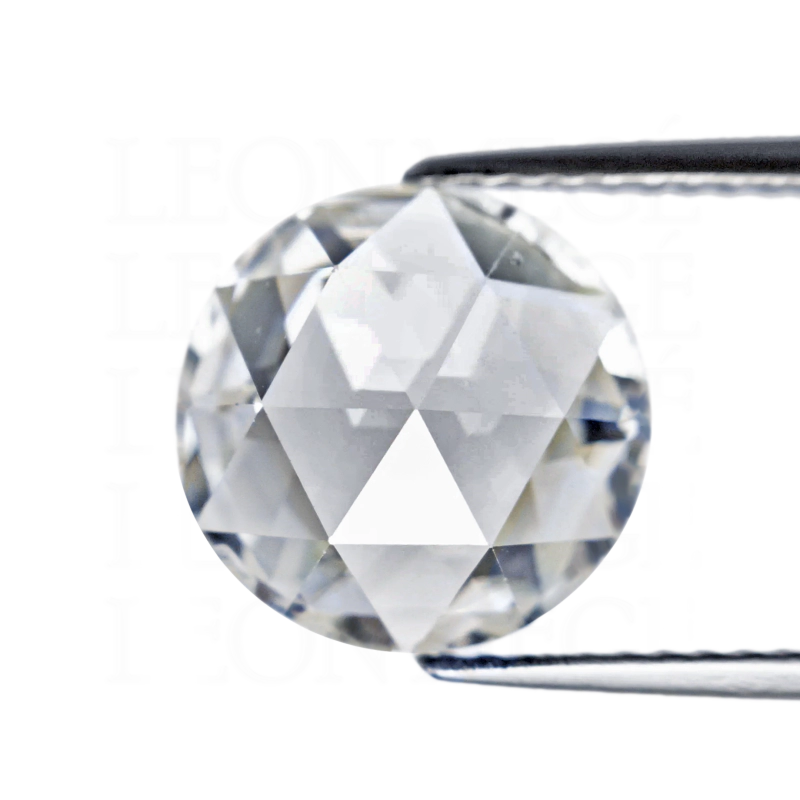 A Rose Cut diamond crown has six triangular facets that resemble the petals of an unfolding rosebud. Perhaps having a drink can help you make the same connection. A conventional Rose Cut diamond crown has six triangular facets arranged in a hexagon and small triangular facets completing the second row. Large stones have as many as seven or eight rows of facets.
Rose Cuts come in many shapes, although the majority are round.
Variations include the Briolette, a hexagonal Antwerp Rose, and a Double Dutch Rose, which resembles two Rose cuts united back-to-back. A Rose with a large table is called a portrait diamond.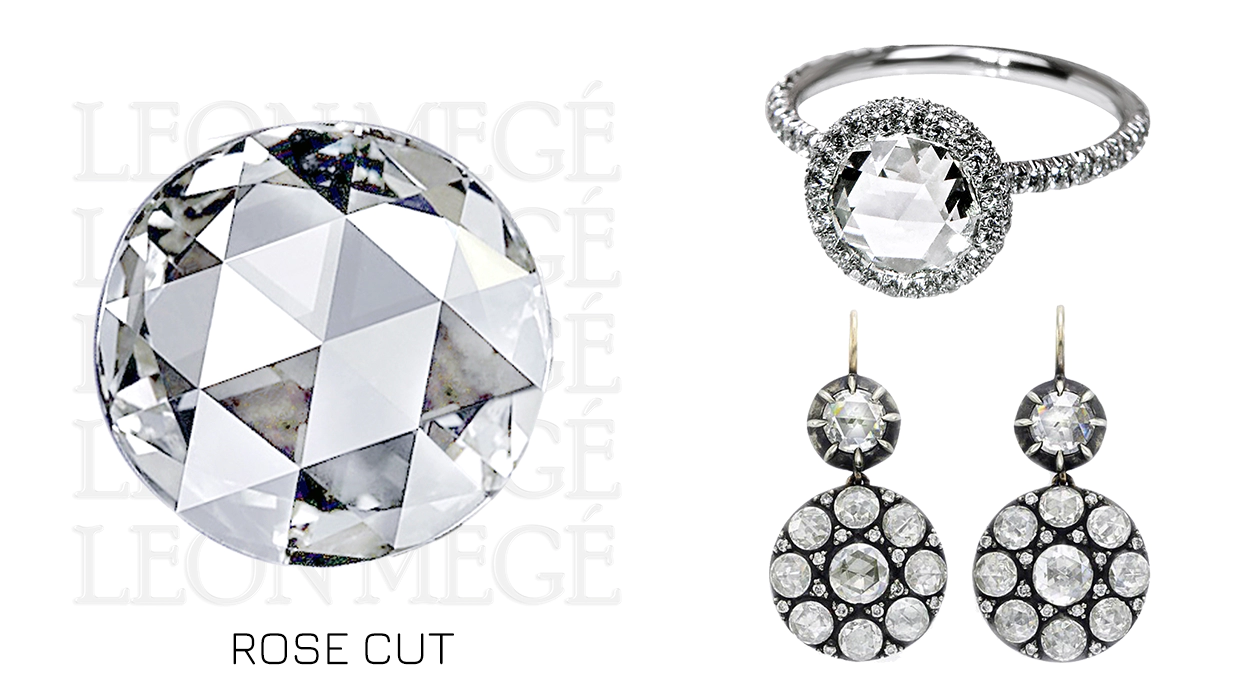 Rose Cut diamonds are timeless – a pretty cut that gives any jewel a unique vintage feel. They can be used in any piece of jewelry and are exceptionally graceful in earrings, pendants, and necklaces.
The Rose Cut enjoyed a resurgence in popularity when Jennifer Anniston received a proposal with an eight-carat rose-cut solitaire, which sparked a short-lived renaissance. It's still trendy and widely used in inexpensive fashion jewelry.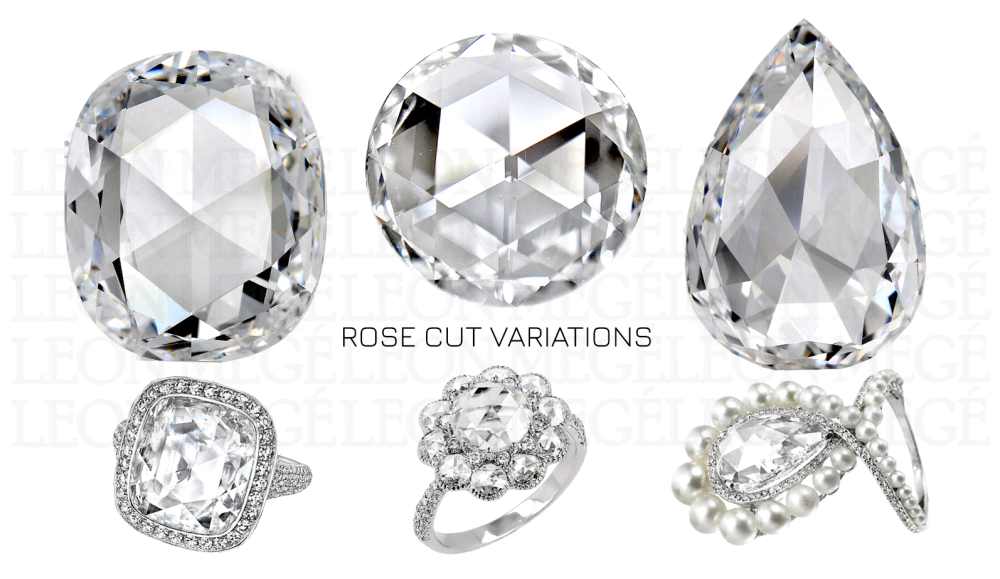 Rose-cut diamonds share proportion and faceting but come in many different shapes. Most common are round rose cuts, but there are pears, cushions, and ovals.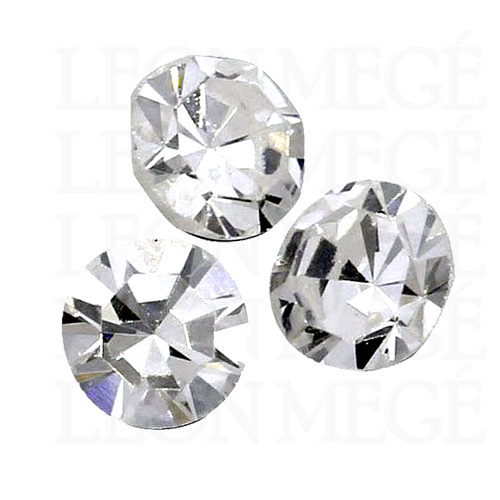 Single-cut diamonds are not worn by single people, just as the Full-cut diamonds are not popular with those full of, well.., you know what.
Single cuts, aka Eight Cuts, are small round diamonds with octagon-shaped tables, usually less than 10 points. There are eight crown facets and eight pavilion facets. Altogether there are 17 facets, or 18 if you count the culet. Early single cuts were octagonal. They became round in the 19th century, thanks to the invention of diamond bruting lathes. In the 1980s, automated cutting made it possible to scale a full-cut diamond to a minuscule size. This automation made Single Cuts obsolete, and the Full Cut Brilliants replaced them.
However, modern precision-cut single cuts are still used in ultra-high-end jewelry and luxury watches, thanks to their superior brilliance.
The Single Cut is one of the oldest diamond cuts. It is a very simple cut, essentially an upgrade from the Table Cut, which the Point Cut preceded. The Point Cut diamond is a naturally formed octahedron crystal polished but not faceted. With the advancement of diamond cutting techniques, the square Table cut gave way to the octagonal Single Cut.
Single Cuts rose to prominence in the 1920s. They were common accent stones in Art Deco pieces that saw extensive use of antique cut diamonds.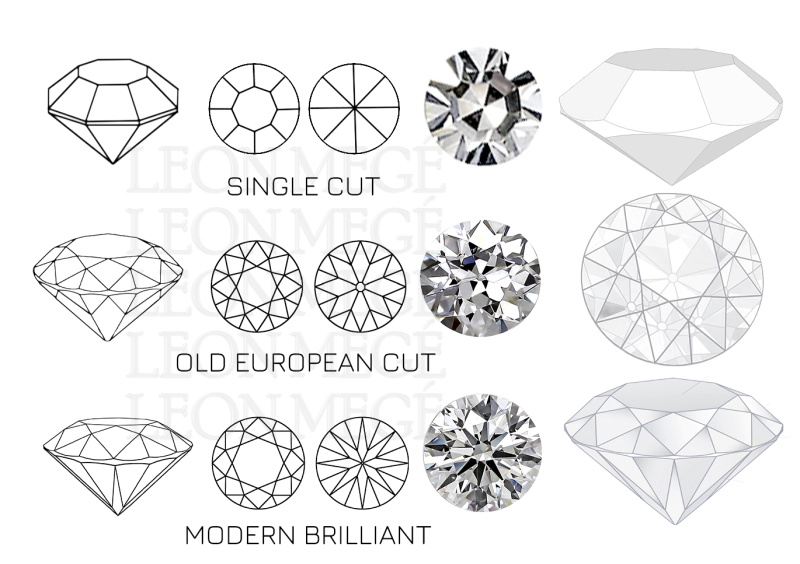 They are easy to tell apart – the Modern Single Cuts do not have open culets.
Antique diamonds were cut by hand under dim light, so they were malformed, ill-proportioned stones with uneven facets and poor symmetry. Some think this was the secret of their charm, but others disagree. Antique Single cuts are mostly used to fill up tight spots in vintage jewelry.
Modern Single Cuts are fashioned using high-precision technology. They have perfect symmetry and command a premium price.
As the diamond's size gets smaller, its facets shrink so much that its reflections blend into a single light point. In other words, they lose their brilliance which is the diamond's ability to blink.
The facets of single cuts are three times larger than those of full cuts and provide a superior brilliance when the stone sizes drop below 1.2 millimeters. Single-cut diamonds are used in luxury watches, pave in ultra-high-end jewelry, and as accents for vintage cut diamonds. 
Single cuts burst with brilliance and fire – they form a repeating pattern of facet reflections giving micro pave a fabric-like texture.
Using single cuts in modern bridal jewelry is unnecessary because they are more expensive and do not match the rest of the diamonds. Full-cut diamonds with 56 facets are a better option.
The first Pear Shape was invented in the mid-15th century by a Flemish cutter, Lodewyk van Bercken. The cut was a variation of a Rose Cut but with a point.
The True Antique Pears are not Briolettes or Rose Cuts. Instead, they have tables, crowns, and pavilions. Their point is usually blunted or rounded, and they have large open culets.
They are hard to come by; if you ever find one, do not let the marvelous stone out of your sight.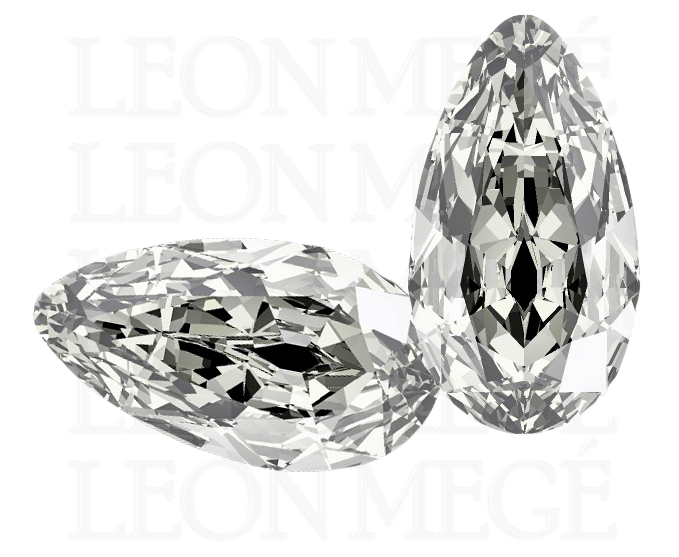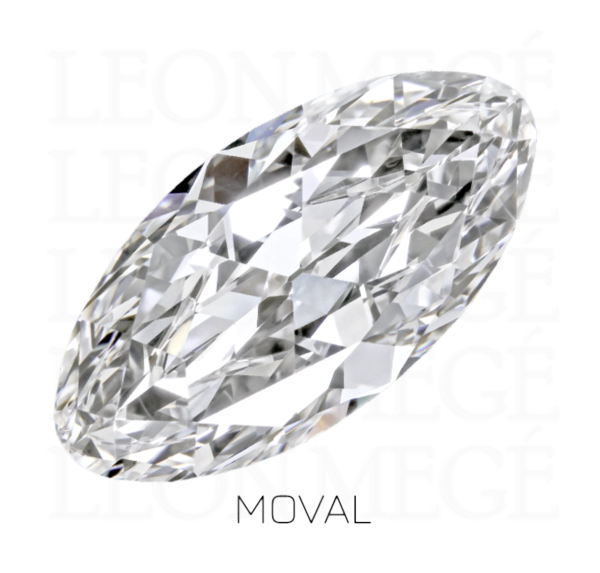 Often creating an illusion of a larger size, the Moval or antique marquise shape is the universal symbol of opulence and glamour. Moval is a gracefully elongated shape that straddles an oval and marquise. This rare and desirable diamond cut is typical of the Art Deco period.
In the 16th century, most diamonds were rose cuts, so Peruzzi was a rare find even then. Peruzzi has 33 facets and is an ancestor of the modern brilliant-cut diamond.
These two obscure diamond cuts are interesting only because they gave birth to the French cut through gradual transformations and improvements.
The early brilliant diamond cut created in 1650 was named after Cardinal Mazarin, who was very fond of diamonds.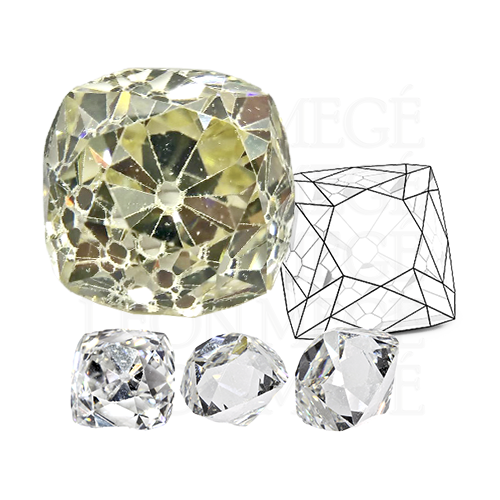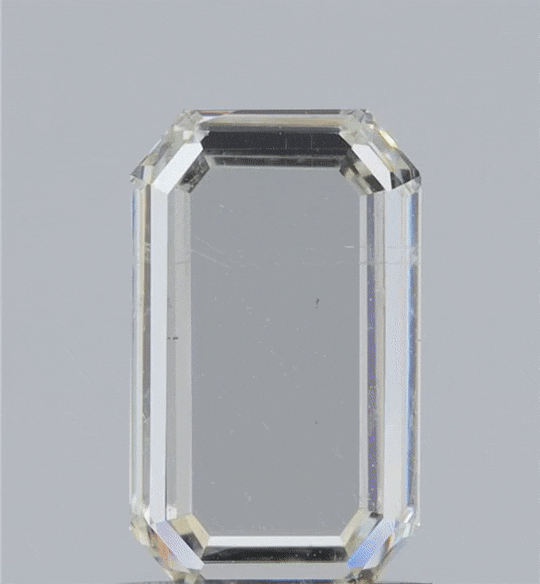 A portrait-cut diamond resembles a thin sheet of ice with step facets surrounding a large, open table. The shallow cut was typically set over miniature portraits and tiled paintings. The portrait cut is similar to the Polki diamonds and has a similar faceting.
Polki diamonds originated in India long before the Jews of Antwerp developed modern diamond cutting. Polkis kept the original rough shape and had an unfaceted, polished surface.
Europeans learned about the existence of briolettes in the 1600s when Jean-Baptiste Tavernier brought some from India to France. Louis IV, Marie Antoinette, Henry Philip Hope, and Persian and English royalty owned and admired diamond briolettes. Unfortunately, briolettes were the first casualties of recutting old stones into modern cuts depriving the world of the ancient art form because the cut was deemed inefficient and wasteful.
It wasn't until the Victorian and Art Deco periods that briolettes rose to prominence again, adhering to modern standards. Briolettes returned to the spotlight with a renewed appreciation for history, used by prominent designers spearheaded by Maestro Mege. Briolettes subtle beauty is proving to be timeless.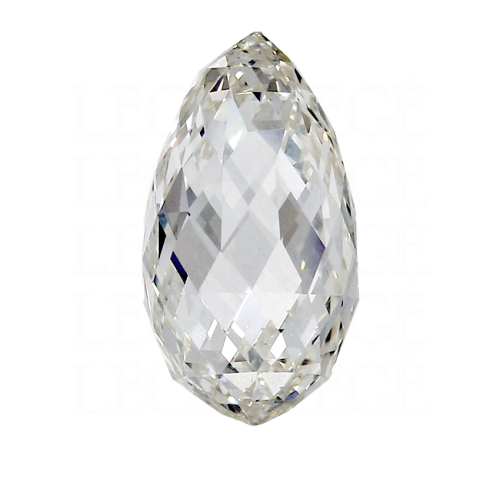 Antique Cushion cut diamond is a classic and timeless jewel. Its pillow-shaped outline, softly rounded corners, small table, high crown, and large open culet are easily distinguished from other diamond cuts. No other diamond cut can replicate the Antique Cushion's prized mix of checkered brilliance and extreme dispersion. 
Antique cushions are extremely rare. At any given moment, there are only a few antique cushions on the market for every thousand modern cushions. An antique cushion is the most desirable diamond cut used in high-end jewelry.
The fire of this precious prism of pure crystallized carbon is stunning during a candlelight dinner. The sparkle and scintillation in pure rays of sunlight leave other diamonds yellow with envy. On an overcast day, it will cradle your finger, permeating a soft glow and reminding you once again that you are loved by someone who knows that you are special.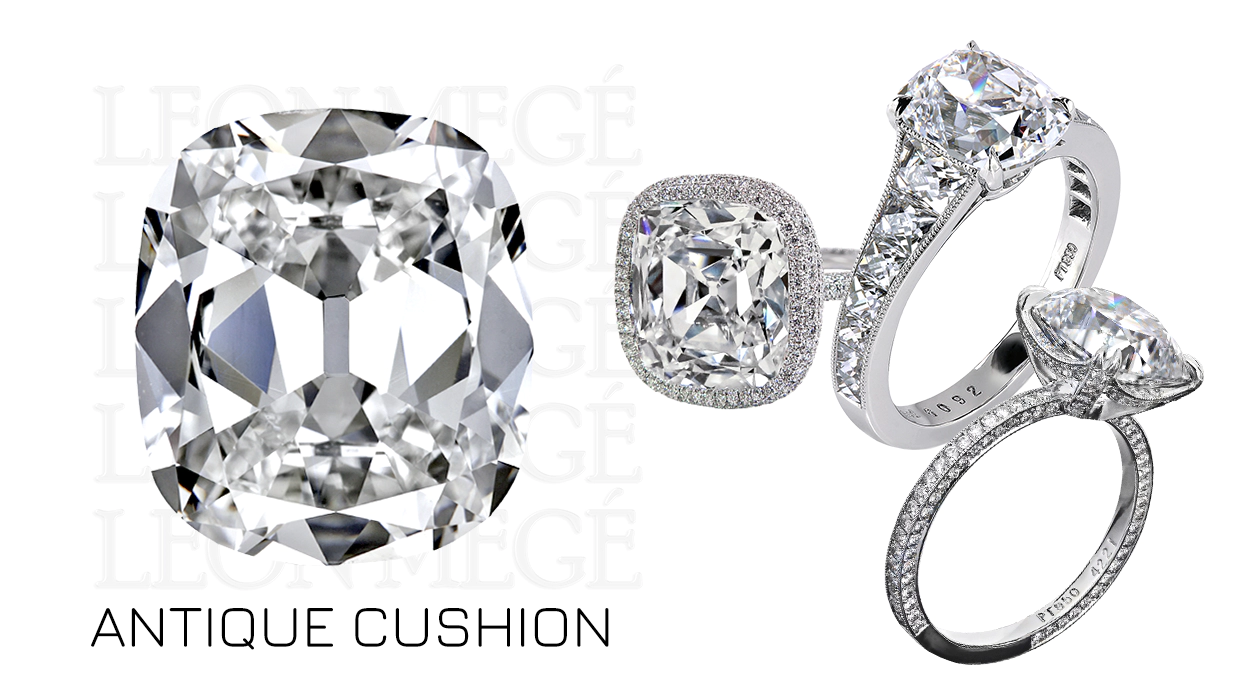 What are the special characteristics of an Antique cushion?
An antique cushion diamond always has an open culet. Most antique cushions have a high crown, a small table, and broad facets that are not as thin and stretched as modern ones. The traditional pillow-shaped outline conveys the appeal of a bygone era when diamonds were cut to burst alive with intense fire under the romantic glow of candlelight. In addition, antique cushions' high-contrast faceting mutes the color perception, expanding the number of stones perceived as white.
What ring style best compliments an Antique cushion?
Antique Cushion Diamonds' proportions seem to be a perfect match for a halo. The antique cushion's high crown braced by a micro pave skirt is stunningly beautiful.
Antique cushions are an excellent choice for solitaires or three-stone rings, especially those where the basket is set with pave. Unlike modern cushion cuts, Antique cushions do not have a bulging pavilion providing ample space for metal to be concealed underneath.
In addition, the shorter prongs block less of the stone's side view because the girdle they grip is lower.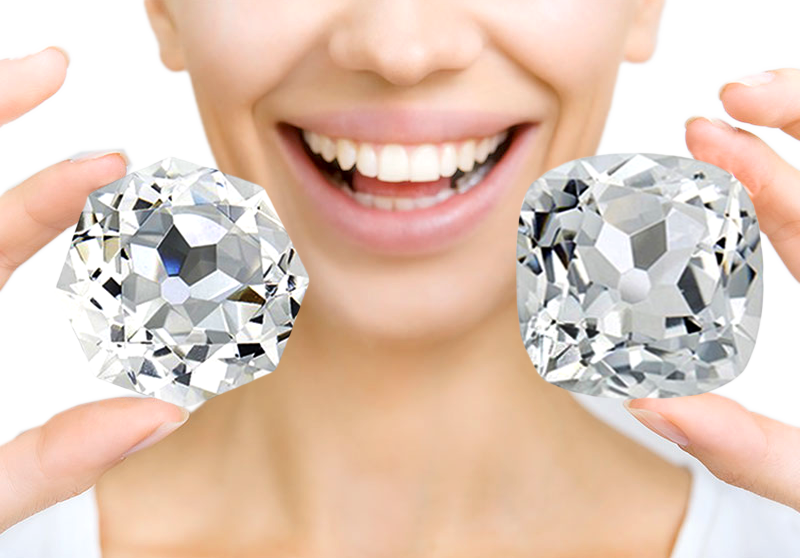 Look closely – almost all famous diamonds, with their ancient pedigree and fascinating history, are classic cushions – the cut people with refined taste find astonishing, enigmatic, and electrifying. Until the modern round brilliant appeared in the early 1900s, most diamonds were cushion-shaped. The Old Miner cut, characterized by a distinct crown, small table, shallow pavilion, large facets, and open culet, was THE diamond cut of its day. The beauty of the antique diamonds is not in perfect symmetry or percentage of light return but in their large facets producing explosive scintillation and intense fire – something that most modern diamonds struggle to attain.
Unearthed in a South Africa mine in 1905, the rough diamond weighing 3,106 carats was named after Thomas Cullinan, the chairman of the mining company, and it holds the title of largest diamond ever found. But despite huge interest from the privileged cast, the diamond remained unsold for two years because no one could figure out how to cut it.
Finally, it was broken up into pieces fashioned into diamonds of various shapes and sizes. The largest stone weighs 530.20 carats and measures  58.9mm x 45.4mm x 27.7mm is a pear shape named Cullinan I. Just as most other valuables in the world, the diamond was appropriated by the British and is occasionally worn by the royals in an obnoxiously large pendant.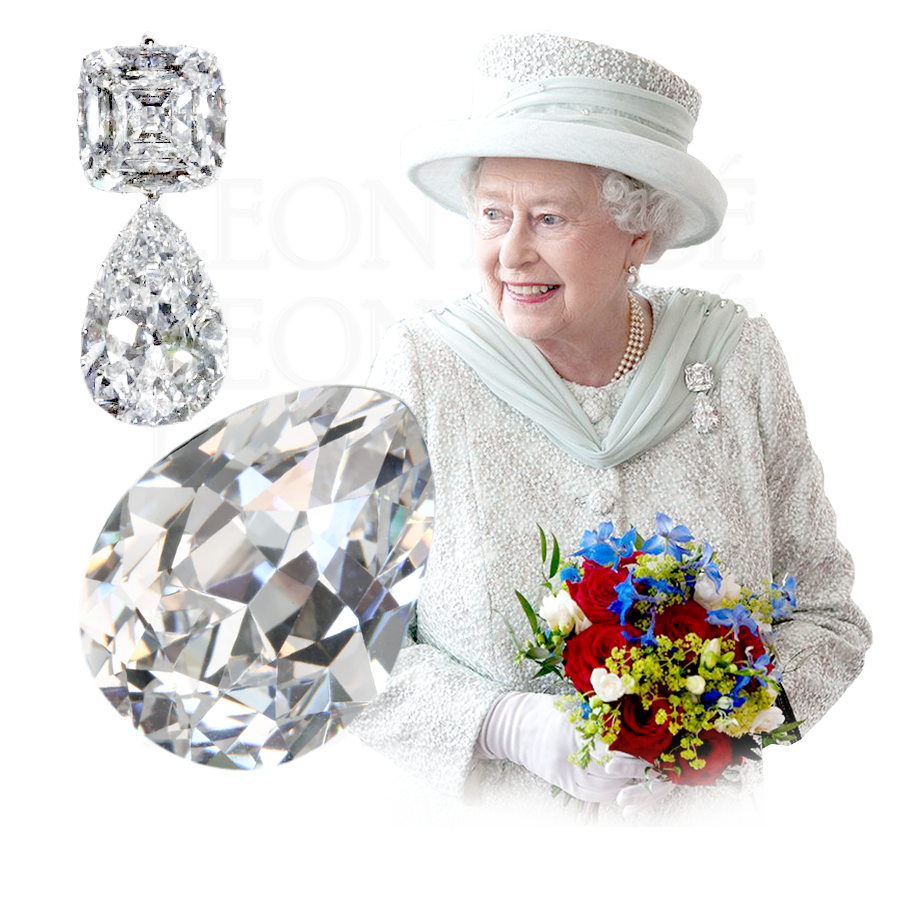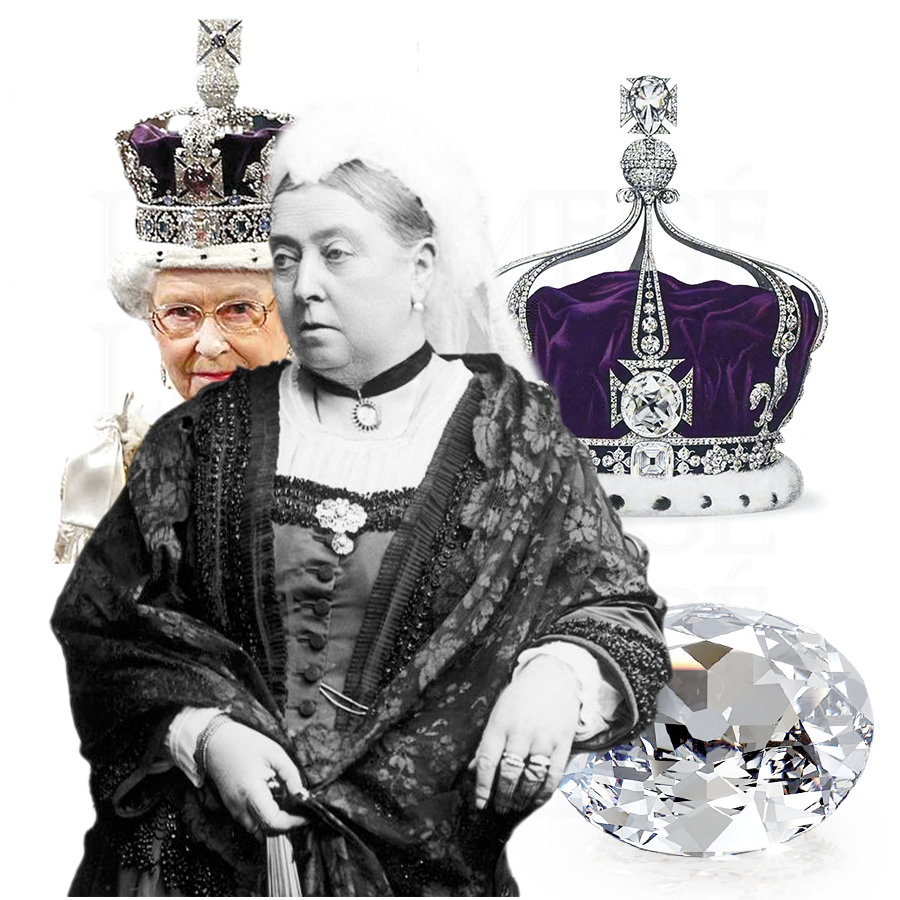 The 105-carat (21.6 g) misshapen cushion diamond was once the largest known diamond in the world. The Koh-i-noor diamond, meaning "Mountain of Light" was found five thousand years ago in the Kollur Mine in the Guntur District of Andhra Pradesh. Called  Syamantaka jewel in the early Sanskrit scriptures. the diamond was owned by the kings of Malwa until 1306 when the Kakatiya Empire of Orugallu forced them to give it up.
The diamond was in the hands of the Delhi Sultanate between 1323 and 1339 when Muhammad bin Tughlaq brought it to Samarkand, where it stayed for the next 300 years. In 1526 the stone went on a trip to Mughal Empire, where it stayed for 200 years. Nader Shah robbed Moguls of their prized possessions in 1739, shipped them to Persia, and renamed it "Koh-i-Noor."
Nader Shah was killed in 1747, and the diamond passed to his general Ahmad Shah Durrani until his descendants brought it to Punjab, India, and presented the diamond to the founder of the Sikh Empire, Maharaja Ranjit Singh.  After conquering Punjab, the British East India Company sent the diamond to Britain to be one of the crown jewels, but on its way from Lahore to Britain, amid excessive drinking and debauchery, the stone was lost and later recovered by a servant. In 1850 it was presented to Queen Victoria. It took 38 days to cut from 186 carats to its present form of 108.93 carats at the cost of 8000 pounds. The stone is currently set into the Maltese Cross in the crown made for the Queen's mother in 1937.
Hope Diamond: The Cursed Gem
The world's most famous diamond has been rumored to bring misfortune to its owners and first appeared on record in 1666. The Paris diamond merchant Jean-Baptiste Tavernier stole the 112-carat uncut diamond from a Hindu temple, cursing anyone who attempted to own the gem. Two years later, Tavernier sold the diamond to King Louis XIV, who had it recut into a 67-carat heart shape and renamed it the French Blue. From now on, the curse of the Indian goddess Sita sprang into action.
In 1749, Louis XV, his great-grandson, had it hang off the Order of the Golden Fleece insignia worn by the French royalty until the French Revolution, during which the crown jewels were stolen. The diamond reappeared in London in 1812 and was reduced to 45 carats to avoid detection.
Thomas Eliason, a diamond merchant, sold it to King George IV, an addict with severe health problems, massive debts, and an estranged marriage.
Prominent British banker Thomas Hope purchased the diamond, naming it the Hope diamond. He passed it down until, in 1894, his grandson, Lord Henry Francis Hope, the Duke of Newcastle, inherited the gem.  The Duke married an American singer, May Yohé, and his fortune on her until May left him for another man. In 1901 he sold the stone to a London jeweler for £29,000.
A New York jeweler, Simon Frankel, paid $250,000 for the diamond but was forced to sell it during the Depression of 1907 due to financial problems to a wealthy Turk, Sem Habib, dealing on behalf of the Turkish Sultan Abdul Hamid II, who was deposed a year later.
In 1910 Pierre Cartier sold the Hope diamond for $300,000 to Evalyn Walsh McLean, a wealthy socialite, and her husband Ned, the publisher of the Washington Post. In 1919, their young son was hit by a car and died. They divorced in 1932. Ned died in 1942 after suffering from mental illness, which seems to be the Washington Post owner's affliction. 
Evelyn died later, in 1947, of pneumonia. Her estate was purchased by Harry Winston in 1949, who toured the cursed diamond around the country, failing to find a buyer. In 1957 he came up with a scheme to donate the Hope Diamond to the Smithsonian. The diamond was mailed to DC from New York in a plain brown paper envelope, allegedly hoping to collect $1 million in insurance if it was stolen. The curse prevented the Postal service from doing what they do best – losing the package, so it was promptly delivered to Winston's great disappointment.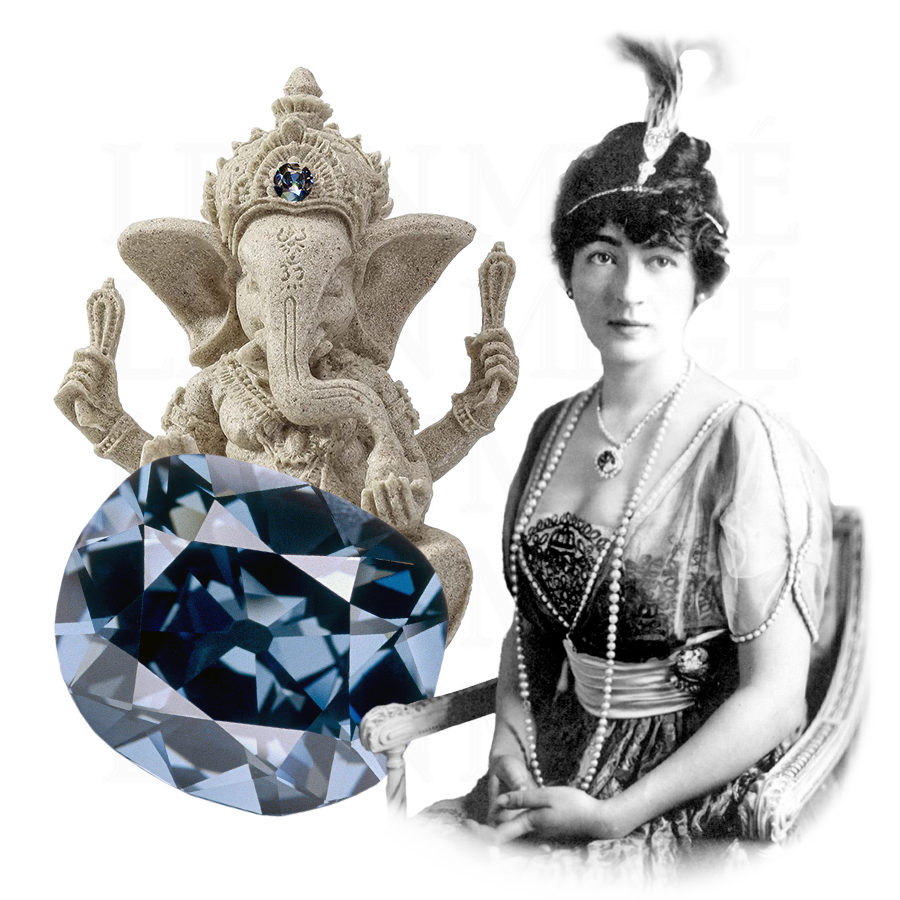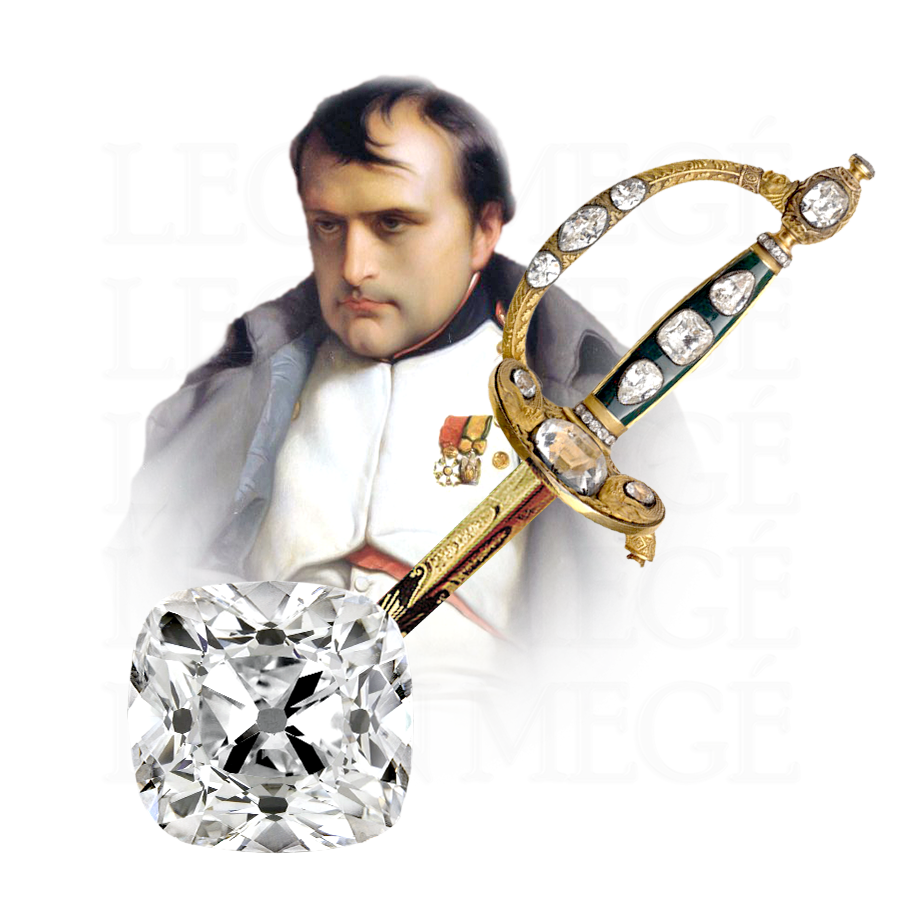 The Regent, a 140.64-carat Old miner with bluish fluorescence, is the 7th largest D-color internally flawless diamond and the 2nd largest cushion-shaped D-color diamond in the world. It was discovered in the 17 century in Golconda and stolen from India like many other famous diamonds. The slave who found the 410-carat  gem concealed it under the bandages of a self-inflicted wound and offered half of the profit to a British captain in exchange for help to escape. The captain promptly murdered the slave and kept the diamond which he sold to an Indian diamond merchant for about £1,000 but hanged himself, feeling guilty for the murder.
In 1702 the diamond was sold to the British Governor of Madras, Thomas Pitt (no relationship to Brad Pitt or his brothers Stu and Arm) under murky circumstances for an estimated £20,000. It took two years and cost £5,000 to cut the rough diamond into Old Miner. The Pitt diamond turned out to be one of the most brilliant and finest diamonds in history. Peter "The Great" of Russia bought the leftovers for about £7,000. 
In 1717, Philippe Il, the Duke of Orleans, appointed Regent, bought the diamond for about £135,000 after King Louis XIV's death. In 1723 Louis XV wore the Regent diamond in his crown during the coronation. In 1775  the diamond was bestowed on another crown specially made for Louis XVI's coronation. The diamond was also used as an adornment on the hat of Marie Antoinette.
The Regent was stolen in 1792  and later recovered hidden under the roof in a Paris garret. Napoleon Bonaparte had it mounted on the hilt of his sword. The Regent was worn in 1825 at the coronation of Charles X and embellished the "Grecian diadem" of Empress Eugenie during the Second Empire. The stone is now on display at the Louvre. The Regent Diamond was named The National Diamond of France.
The Cullinan II Diamond is an iconic Antique Cushion cut weighing 317.4 carats measuring 4.54 cm × 4.08 cm × 2.42 cm (1.79 in × 1.61 in × 0.95 inches). Pilfered by England, it is now set into the British Imperial State Crown. The largest diamond ever to be discovered, Cullinan, weighed 3106 carats in its rough form. The rock was found in 1905 and initially thrown out in the trash, perceived as far too big to be a diamond. Fred Wells, a manager of the Premier Mine in South Africa, recovered the stone from trash, and the rest is history. The stone yielded nine faceted diamonds and plenty of smaller ones. 
Joseph Asscher of Amsterdam – the leading diamond cutter of the time, spent weeks studying the stone. It took four days to groove the stone in preparation for cleaving, and on February 10, 1908, he split the stone, breaking the knife on the first attempt and fainting on the second. Over the next eight months, nine large stones numbered from I to IX, and ninety-seven small brilliants were cut and polished.
The rough Cullinan crystal was split into nine stones that total over a thousand carats of diamonds, not counting a few smaller 1 to 3-carat "chips." The mystery of roughly 1000 missing carats (assuming 1000 carats were lost to cutting)  is well hidden within the walls of Buckingham palace and the criminal family residing there.
Cullinan I is a 530.2-carat pear-shaped diamond named The Star of Africa, currently set at the top of the Sovereign's Scepter of the British Crown but can be removed and worn as a pendant.
Cullinan II is a 317.4-carat antique cushion called the Second Star of Africa set atop the British Imperial State Crown.
Cullinan III is a 94.4-carat pear with the uninspired name Lesser Star of Africa, commonly worn as a brooch with Cullinan IV by the British Queen.
Cullinan IV 63.6-carat square diamond with the same bizarre name, the Lesser Star of Africa, that in 1958 made a trip to Amsterdam on the sweaty neck of Queen Mary to taunt Louis Asscher, whose uncle had cut the diamond almost 50 years prior.
Cullinan V is an 18.8-carat heart shape part of Devant de corsage covering Queen Mary's flabby potbelly she wore to the Delhi Durbar in 1911.
Cullinan VI is 11.5 carats marquise diamond set into the same Devant de corsage as the Cullinan V.
Cullinan VII is an 8.8-carat diamond pendant hanging off Queen's diamond-and-emerald necklace.
Cullinan VIII is a 6.8-carat oval diamond used as a belly marker and the smallest diamond on Queen Mary's Devant de corsage.
Cullinan IX pear-shaped diamond that weighs 4.39-carat is the smallest of the notable diamonds fashioned from the original rough and set in a platinum ring known as the Cullinan IX Ring.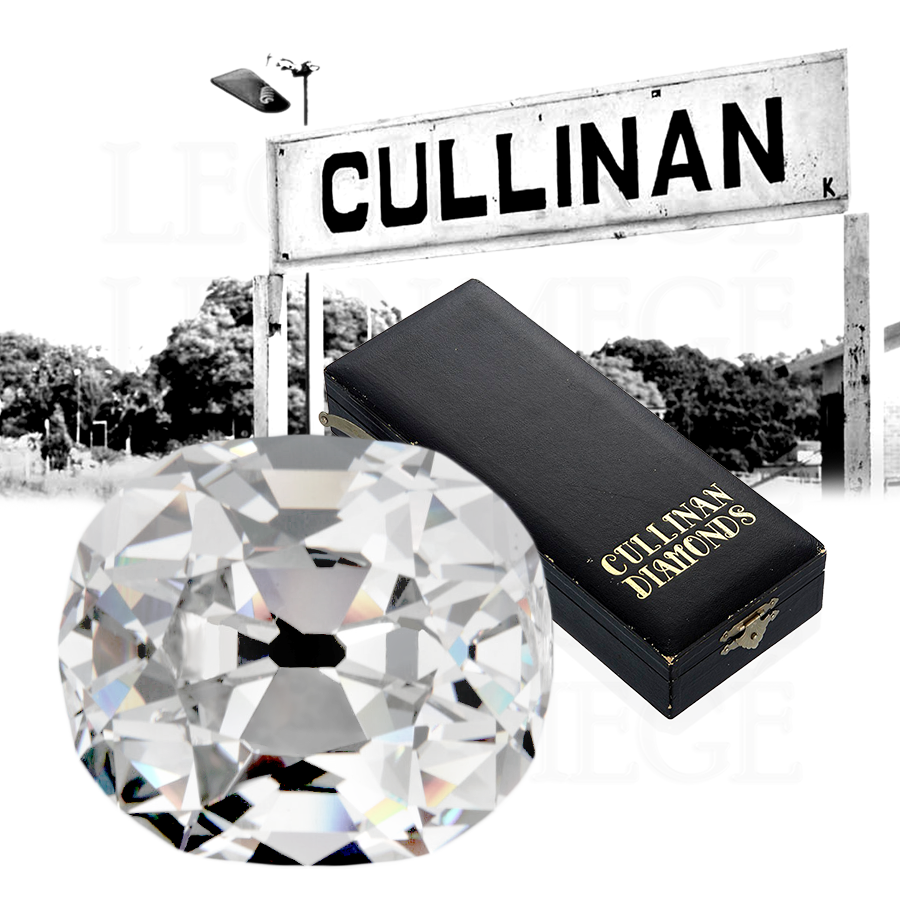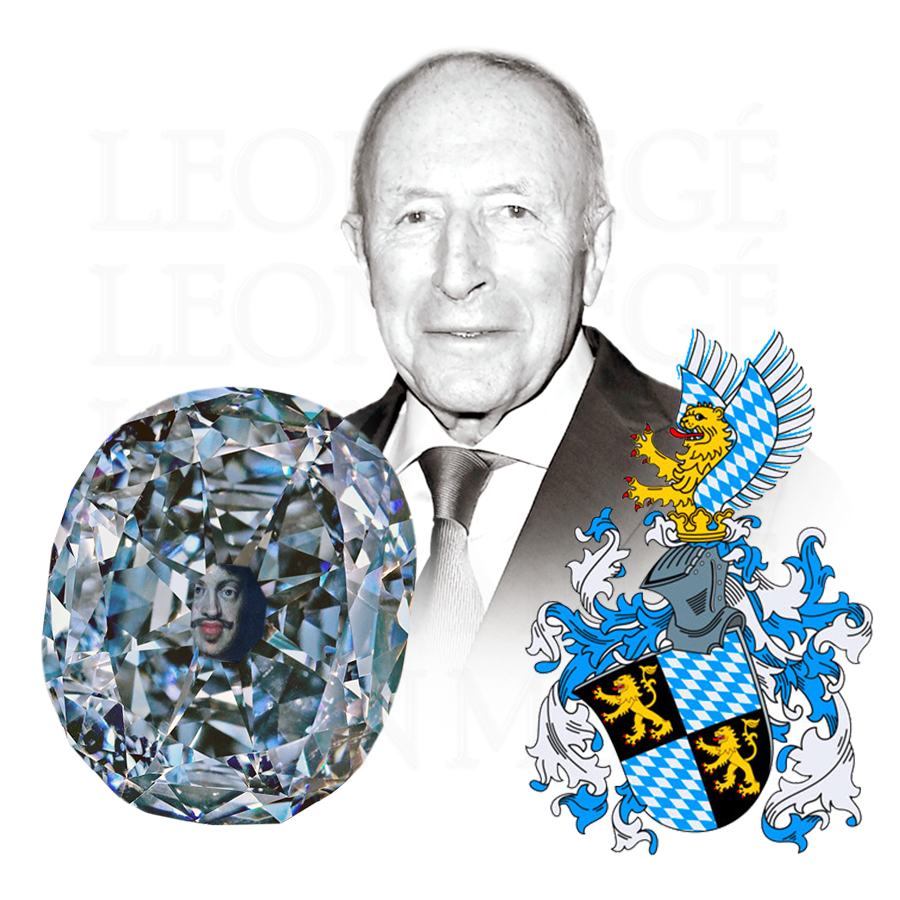 Wittelsbach Blue has mysterious provenance, believed to originate in the Golconda mine, and is famous for circumcising German pride.  The diamond weighing 35.56 carats, has 82 facets arranged in an unusual pattern. The star facets on the crown are vertically split, and the pavilion has eight pairs of extremely narrow facets. Typical of any antique cut stone, The Wittelsbach has a giant culet.
In 1664 King Philip IV of Spain gave it away as a dowry for his daughter, the Infanta Margarita Teresa, on her engagement to Emperor Leopold I of Austria. In 1722 it passed to Bavaria's ruling Wittelsbach family, where it was incorporated into the royal crown and later put up for sale. The diamond reappeared at the 1958 world's fair in Belgium but later vanished, reportedly sold in 1964 to department store magnate Helmut Horten as a wedding present for his wife. London jeweler Laurence Graff bought the diamond at Christie's in December 2008 for £16.4 million and gave the stone a makeover by adding facets to improve its color. The recutting reduced its weight by about four carats to 31.06 and enraged Germans who accused Mr. Graff of vandalism by destroying a piece of Germany's national heritage. Mr. Graff, who is Jewish, hit back at the Krauts by renaming it the Wittelsbach-Graff diamond.
The Ashberg diamond is one of the world's famous yellow diamonds, with more blood than any other diamond in history. The stone was used to finance Stalin's Gulag. The amber-colored diamond once was part of the Russian crown jewels, weighing 102.48 carats. Named after Olof Aschberg, a Swedish banker and communist sympathizer who financed the Bolsheviks' 1917 revolution and made blood money by trading with Lenin during the 1920s. In 1922 he was appointed the head of the Soviet's international bank – the "Ruskombank," and shortly after, in 1934, he bought the diamond, giving Stalin much-needed cash to carry on the murderous Great Terror. In 1959 the diamond was sold to an anonymous private buyer but resurfaced again in 1981 when it came up for sale at Christie's auction in Geneva.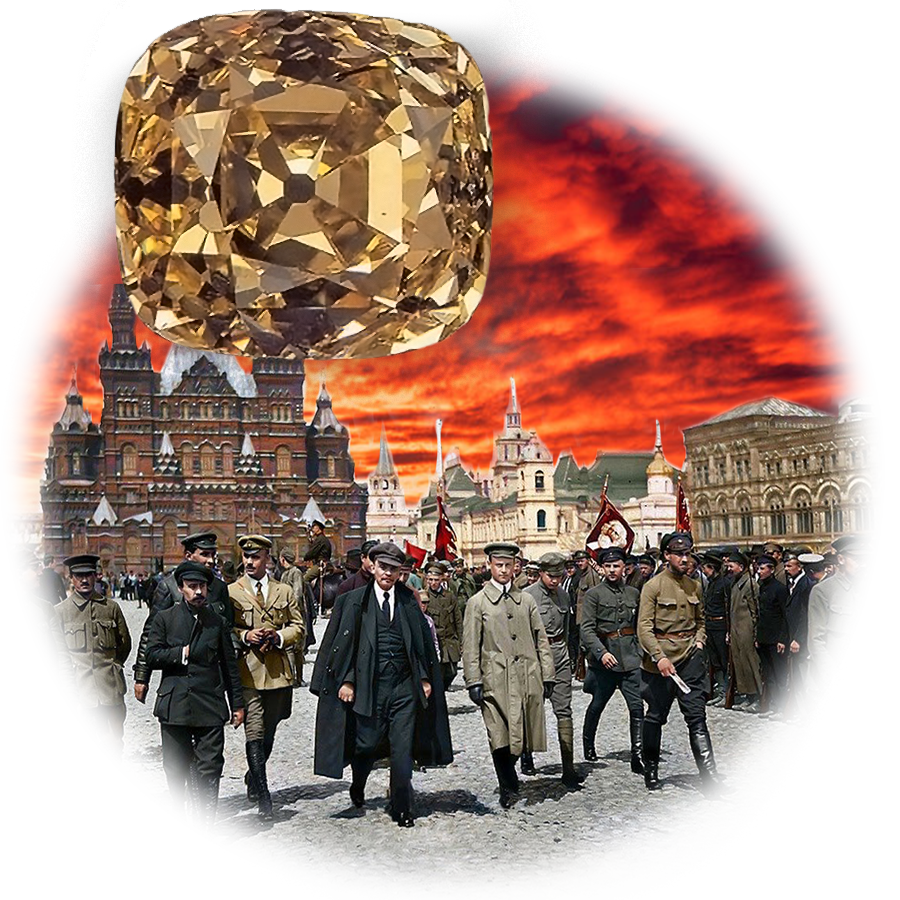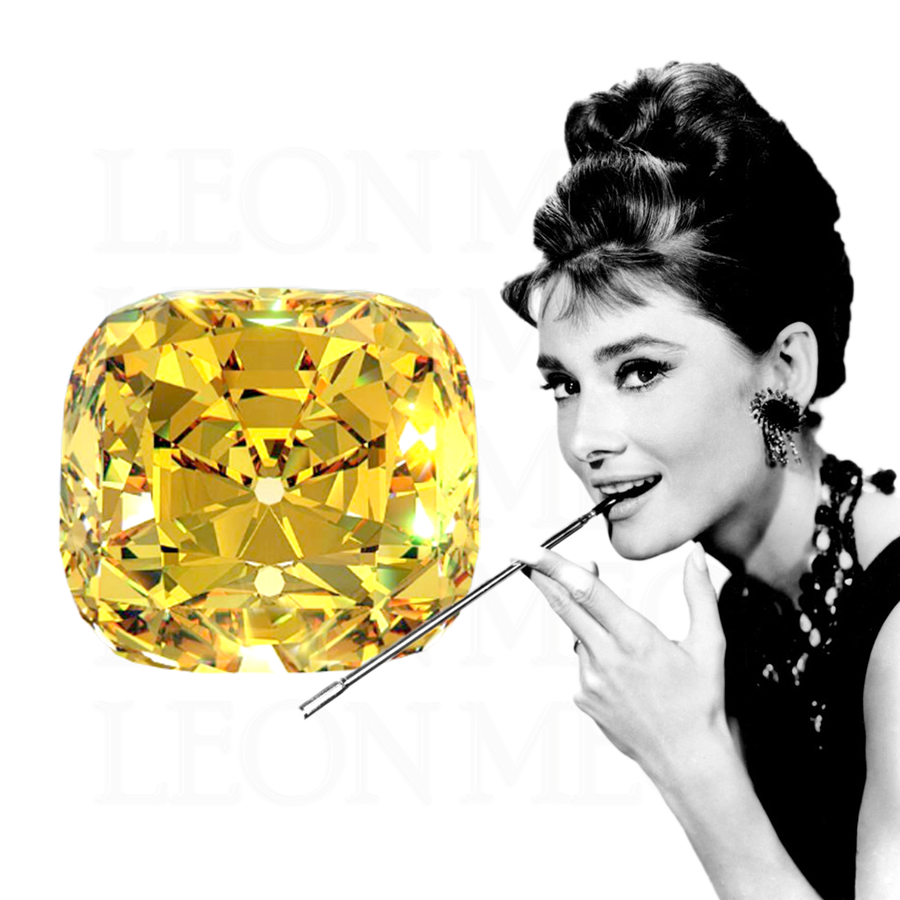 The company's founder, Charles Lewis Tiffany, purchased the still unsold fancy yellow diamond from the South Africa Kimberly mine in 1877. Once polished, the 287.42-carat rough yielded a 128.54-carat classic cushion with 82 brilliant facets. It has been on display since 1896 at Tiffany's in New York. 
Socialite Mary Whitehouse was the only woman to wear the diamond at the 1957 Tiffany Ball in Newport, Rhode Island. In 1961, Audrey Hepburn wore the Tiffany diamond set in a lavish collier designed by Jean Schlumberger during Breakfast at Tiffany's promotional campaign. In 2019 the diamond transitioned from glamour to trash when Lady Gaga, Tiffany's brand ambassador, donned the 30-million dollar diamond for the Oscars. 
The Idol's Eye is a 70.21-carat mildly cursed diamond with a faintly bluish tint, typical for Golconda diamonds. The diamond was rumored to serve as an eye of a venerated Hindu deity statue until the 17th century when someone plucked it from its socket and shipped it to Europe. Around 1607, the stone was owned by a Persian warlord Rahab (not Rehab). After heavy partying, Rahab ran out of money and gave the stone to the East India Company as a portion of his debt.
The stone was not seen for the next 300 years. When it reappeared, it went through severe commotion, such as being a ransom for Princess Rasheetah's release from a Turkish Sultan. In 1865 the Idol's Eye was auctioned in London by Christie's to the last Sultan of the Ottoman Empire, Abdul Hamid II, who was deposed in 1909. On June 24th of that same year, the Idol's Eye reappeared in Paris and was sold to a Spanish nobleman.
After World War II, Harry Winston purchased the Idol's Eye from a Dutch dealer. In 1947 the Idol's Eye was sold to Mrs. May Bonfils Stanton, daughter of Frederick G. Bonfils, the publisher, and co-founder of the Denver Post newspaper. In the early 1980s, Laurence Graff sold the diamond to the controversial President of the Philippines, Ferdinand Marcos, who was deposed in 1986.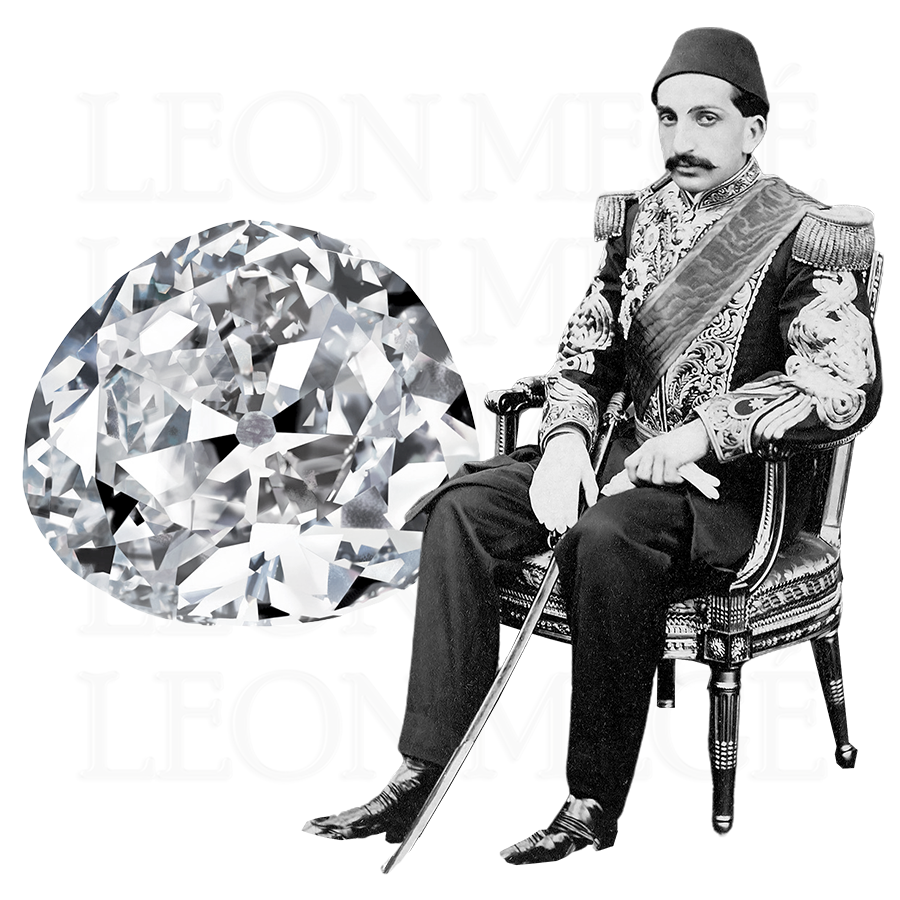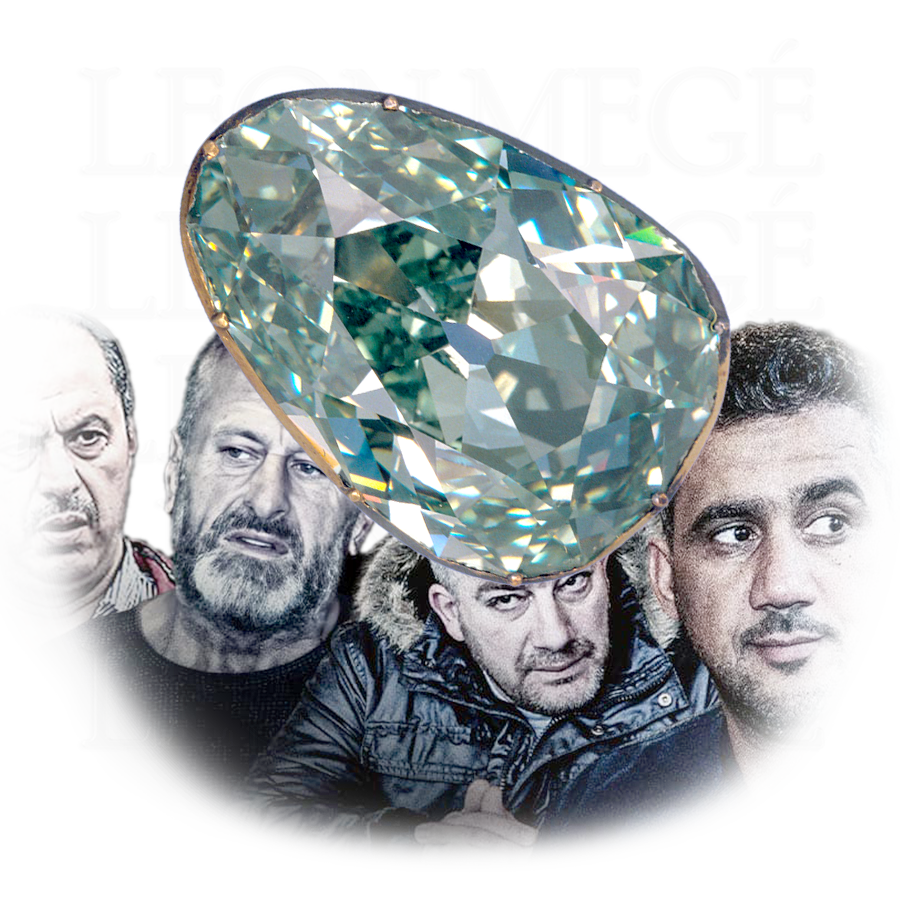 The luckiest diamond in the world
The Dresden Green originated in the Kollur mine in India sometime before 1722. It's the largest and one of the rarest and most valuable diamonds worldwide. At first sight, Dresden Green appears to have a shape of a chubby pear, but under close examination, it becomes apparent that it is an antique cushion with one truncated corner. The diamond weighs approximately 41 carats.
The Dresden Green is a rare Type 11a diamond with VS1 clarity and an evenly distributed color between light mint and apple green. It is the crown jewel of the Green Vault at Dresden Castle, housed in eight ornate rooms in the Residenzschloss. The former royal palace had three rooms destroyed by Allied bombing in World War Two, but the museum was restored to its previous glory after the war. It is called the Green Vault because some rooms were decorated with malachite-green paint. The chemical composition and the highly unusual green color make Dresden Green one of the most extraordinary diamonds in the world. On 25 November 2019, the Green Vault was burglarized, and many priceless artifacts of great cultural value were stolen and never recovered, but the Dresden Green was not among them. The famous stone was in New York at that time on loan to the Metropolitan Museum of Art. The robbers were six German Arabs from the "Remmo clan," an organized crime family notorious for stealing from European museums.
34.98-carat modified "pear double rose cut" diamond of the Prussian crown jewels was in the hands of the House of Hohenzollern for three long centuries, then was passed to the ruling dynasty of Prussia and, after all that time to the German Emperor. The stone was stolen from India by French ambassador Nicolas de Harlay, Lord of Sancy, and given to Queen of France  Marie de Medici. She wore it at her coronation in 1610 and passed it down through the royal families in France, England, and Prussia. The 34.98ct modified pear double rose-cut diamond most likely comes from Golconda in India, the sole source of diamonds until the discoveries in Brazil in the 1720s and later in South Africa.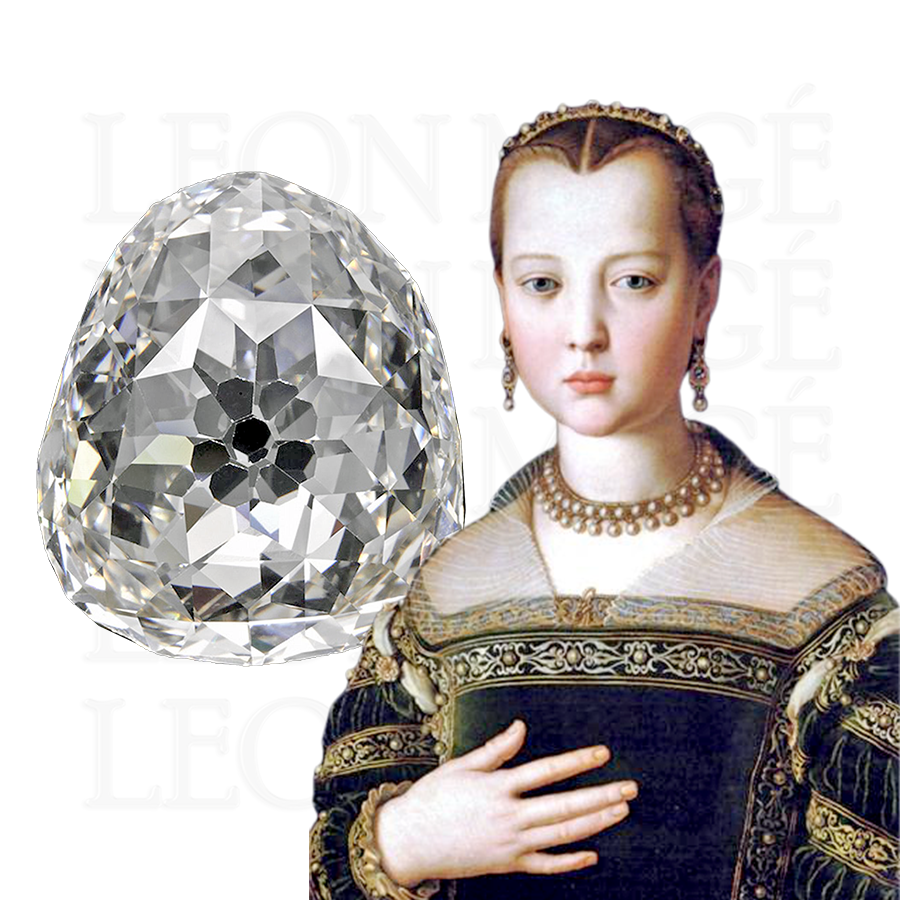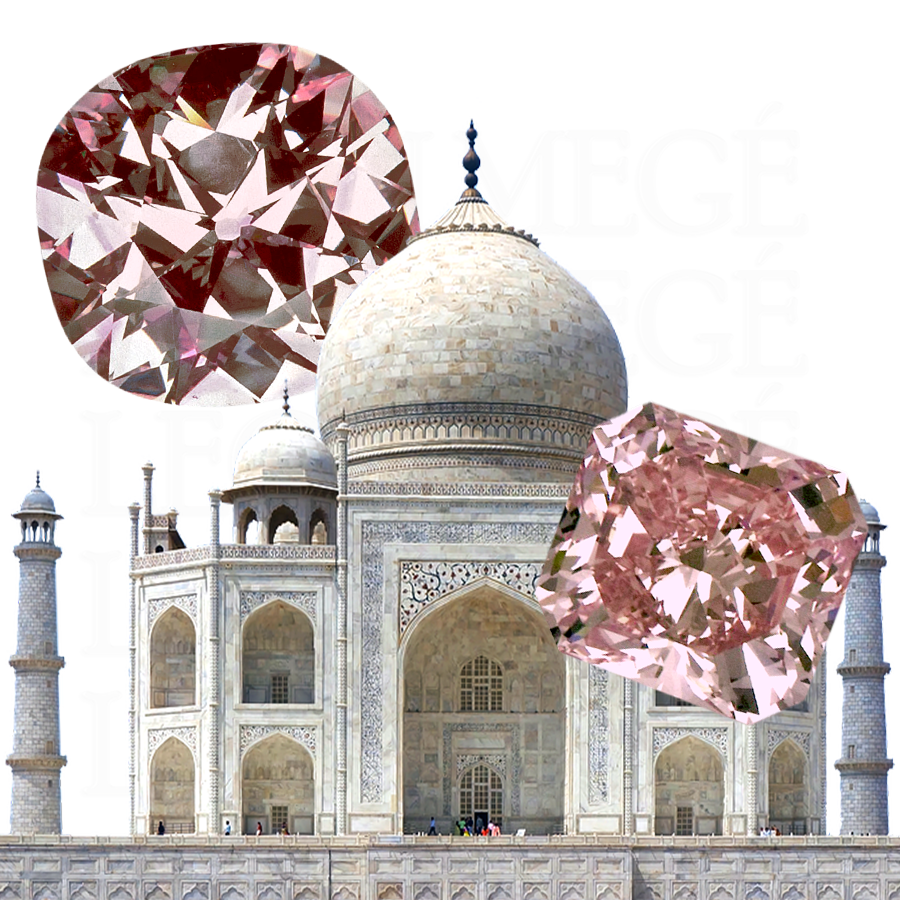 Agra is the site of the Taj Mahal, one of the most beautiful buildings in the world. The Agra was certified as a fancy light pink natural color and sold for £4,070,000, briefly making it the most expensive pink diamond ever. In 1990, the Agra and two other diamonds from the collection were auctioned at Christie's. Since then, the Agra has again been re-cut to a 28.15-carat cut-cornered, rectangular mixed-cut, fancy intense pink diamond.
The Pride of New York – the matching pair of True Antique cushion diamonds 30.01 and 30.08 carats polished circa 2015. Leon Mege diamond cutters fashioned the pair from a single 100-plus carat piece of rough. The prominent cushions exhibiting superior brilliance (scintillation) and dispersion (fire) are set into a pair of bespoke platinum eardrops.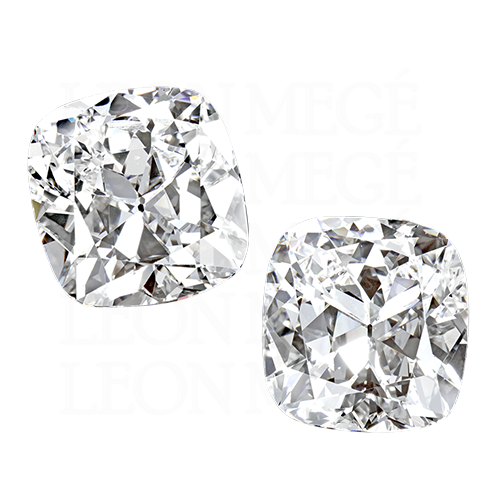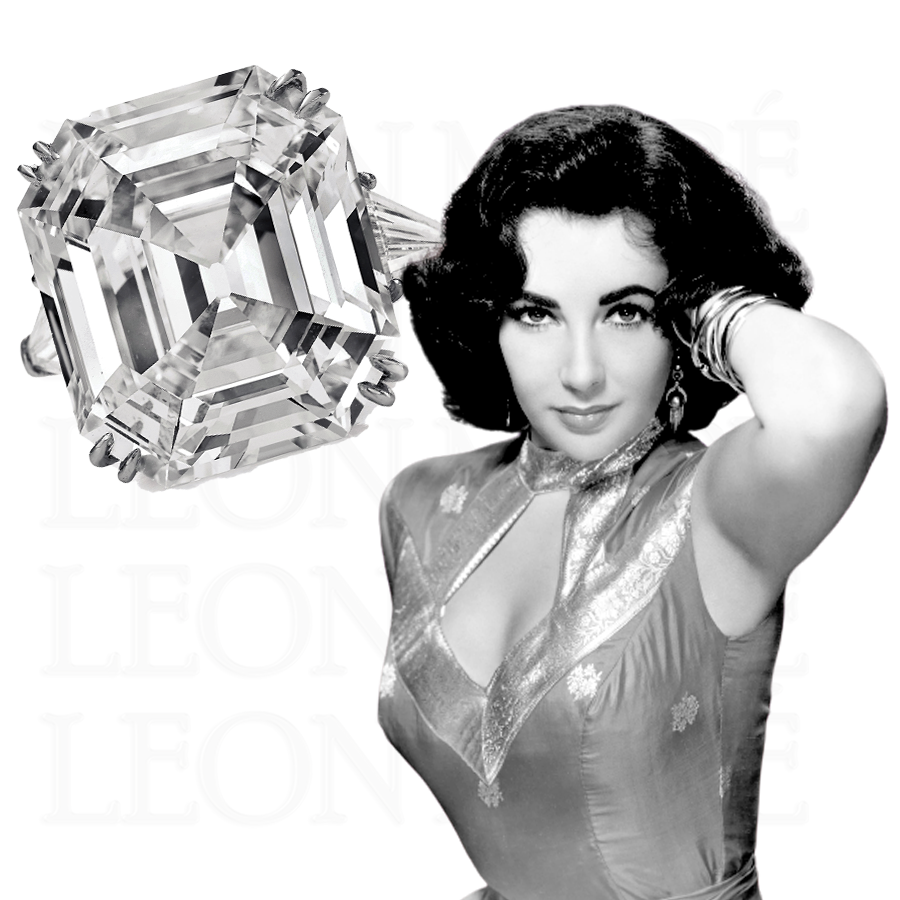 A small price to pay for Liz Taylor's love – one of the most well-known examples of Type IIa diamonds is the 33.19-carat Elizabeth Taylor's "Krupp Diamond." Before the early twentieth century, the Krupp diamond's history and origin are uncertain. Most likely, it originated in India's storied Golconda region, but also there is a possibility that it came from the South African Jagersfontein Mine. 
A German actress Vera Krupp received the brilliant ring set diamond from her wealthy industrialist husband between 1952 and 1956. The diamond was auctioned in 1967 at Parke-Bernet Galleries in New York City when she passed away.
On May 16th, 1968, Richard Burton purchased the diamond ring for $305,000, the highest price paid at auction for a diamond ring at the time. Burton presented it to Elizabeth Taylor as a surprise gift, and after her passing in 2011, the ring was auctioned off at Christie's to a Korean retailer for over $8.8 million.
The famous Krupp theft happened in 1959 when three men forced their way into Krupp's ranch, tore the ring off Vera's finger, and tied her and her boyfriend back to back with a lamp cord. The FBI traced the heist to a fugitive named John William Hagenson as the prime suspect arresting him in Louisiana. 
About six weeks later, a grocer in Newark, New Jersey, caught for trying to sell a large diamond, led the FBI to a hiding place where they found Krupp diamond hidden in a coat lining. Reves, Hagenson, and others were found guilty; however, Hagenson considered a mastermind, eventually won an appeal and walked free. 
The 19-carat diamond plundered by the French sold for 14.4 million Swiss francs (€12.35 million, $14.6 million). The diamond of Louis XIV is the pale pink diamond, dubbed Le Grand Mazarin, a "timeless symbol of beauty" and a "witness to 350 years of European history." The diamond comes from the Golconda mine and bears the name of Cardinal Mazarin, who served as a chief minister under Louis XIII and Louis XIV in France. The Cardinal left the stone to Louis XIV in his will, who passed it to several other kings and queens.
It was set into Louis XVI's crown and remained there until the king was beheaded during the French revolution in 1792. In 1810, Emperor Napoleon ordered jeweler François-Regnault Nitot to create a jewelry set for his wife, Marie-Louise, including a crown, diadem, necklace, comb, earrings, bracelets, belt, and more. The diadem was set with the crown jewels, including Le Grand Mazarin.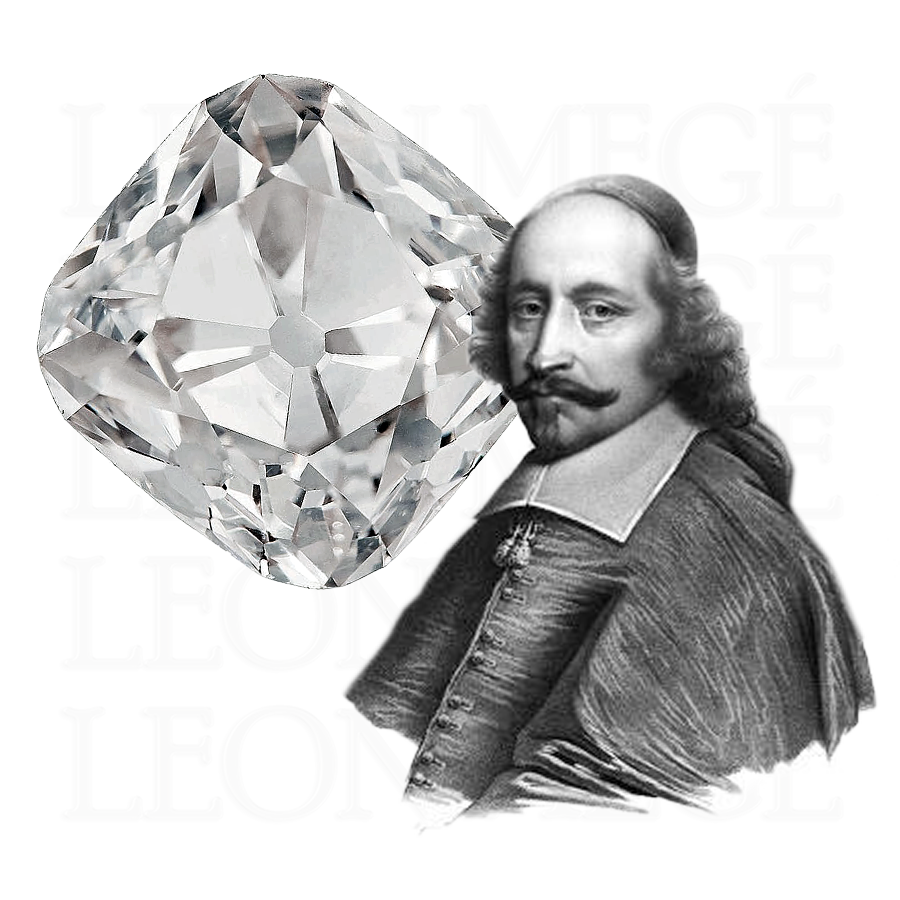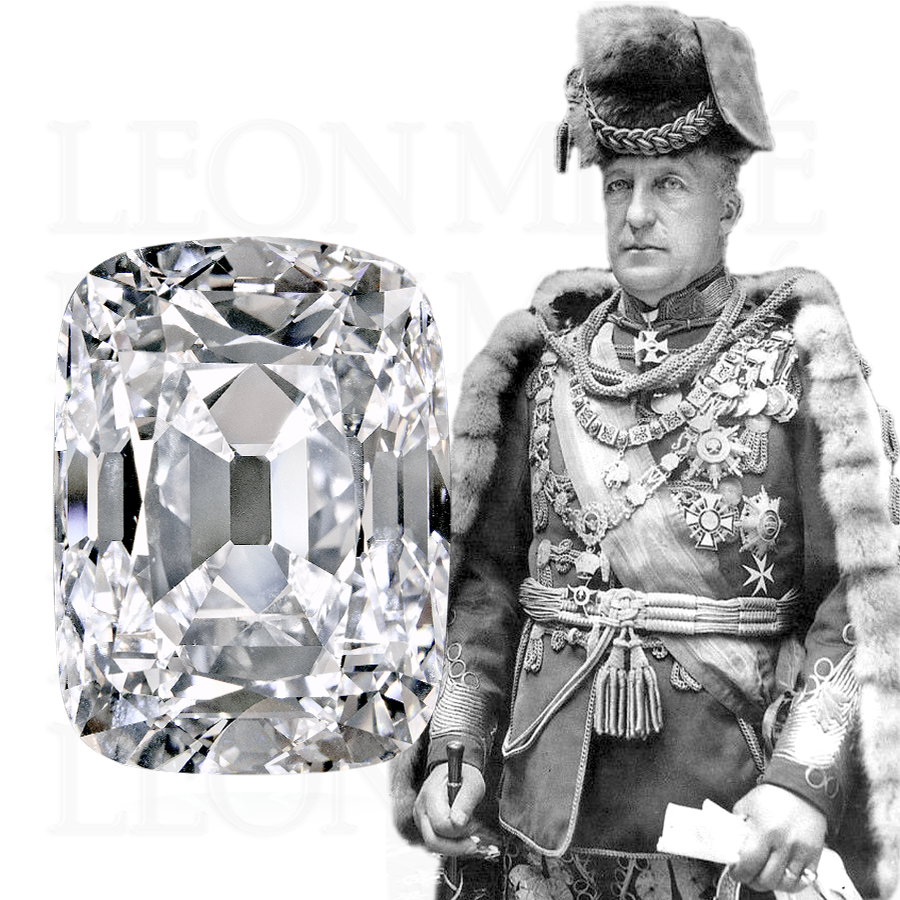 The 78.54-carat D-internally Flawless diamond mined in the Golconda region some 300 years ago gets its name from Archduke Joseph August (1872-1962), the prince of the Hungarian line of the Hapsburg dynasty and the first known owner of the gem.
In 1993 at Christie's Geneva, it sold for $6.5 million to Molina Fine Jewelers of Phoenix, whose owner, Black, Starr & Frost chairman,  recut it down to 76.45 carats. In 2002 Laura Harring wore the diamond at the Oscars while Celine Dion loaned it for her TV special. On November 13, 2012, the stone sold for $21,506,91 at Christie's Geneva.
The 21.25 carats Eureka diamond, British tried to embezzle, was the first diamond discovered in South Africa in 1867 near Hopetown on the Orange River by a 15-year-old boy named Erasmus Stephanus Jacobs. The stone drew the attention of the acting Civil Commissioner Lorenzo Boyes, who identified it as a diamond. The rough gem was bought for £500 by the Governor of the Cape Colony, Sir Philip Wodehouse, and sent to England. The stone was cut into 10.73-carat Old Miner. It was sold for £5,700 on 16 April 1946 at Christie's in London, set in a bangle bracelet. In 1967 the owner of the stone – DeBeers, donated the diamond to South Africa, which is currently on display at the Mine Museum in Kimberley. Its discovery marked the beginning of the diamond rush in South Africa. It is rumored that Eureka'swas not on display at the 1867 Paris Exhibition but a glass replica.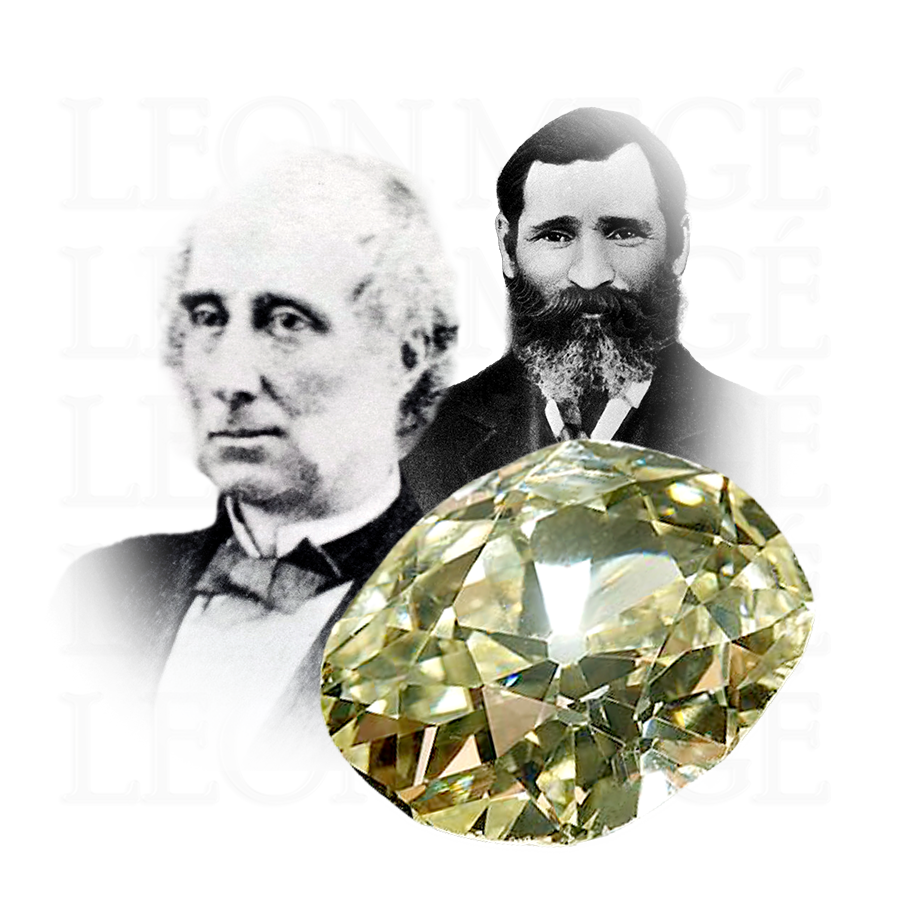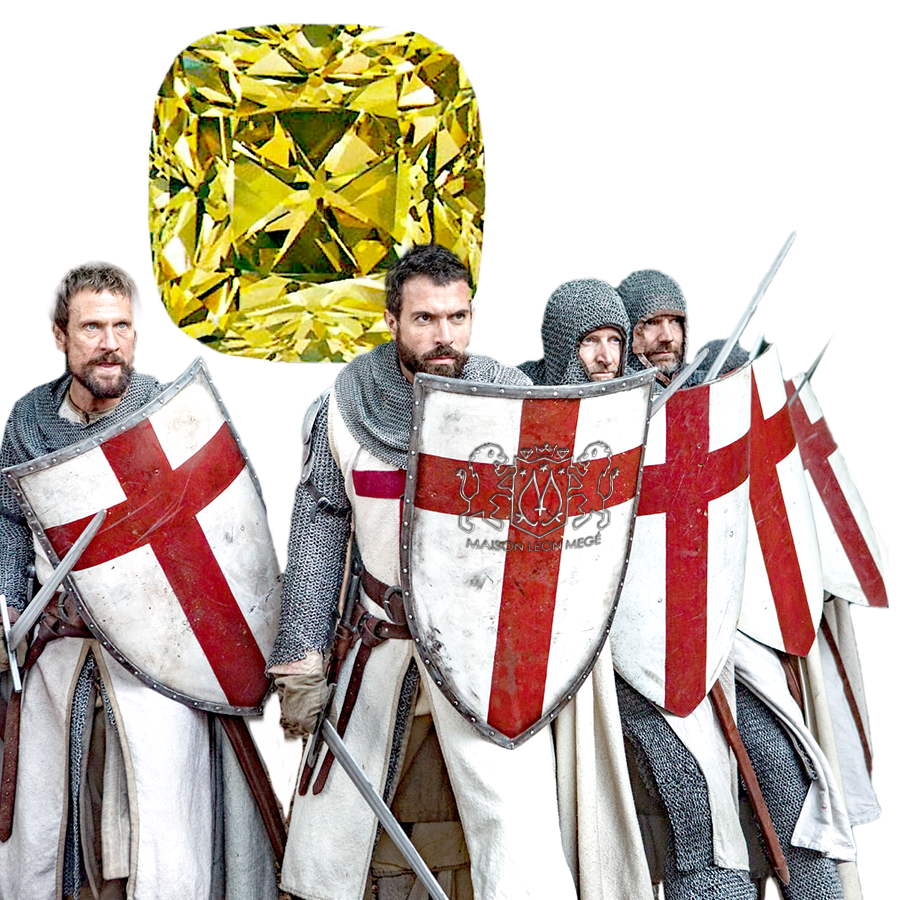 The cushion-shaped, 205.07 carats fancy yellow stone comes from the Kimberly mine in South Africa. Christie's London sold the diamond for a measly £35,575 in 1918 to benefit the British Red Cross Society.
The stone is notable for its Maltese Cross shadow pattern making it attractive to zealous European royal families. In 1973 an anonymous American businessman tried to sell it for £2,000,000 but failed. It was put up for auction again in 1977, but it is not known whether it sold. The identity of its present owner is unknown.
It was discovered in March 1888 in the De Beers mine, weighing 439.86 carats in the rough and 228.5 carats after cutting; it was exhibited at the Paris Exhibition of 1889. It is the 7th largest cut diamond in the world.
In 1925 when Cartier first purchased and set it. Sold again in the 1930s. In 1982 it came up for auction but was withdrawn at $1,750,000, which was below its reserve price.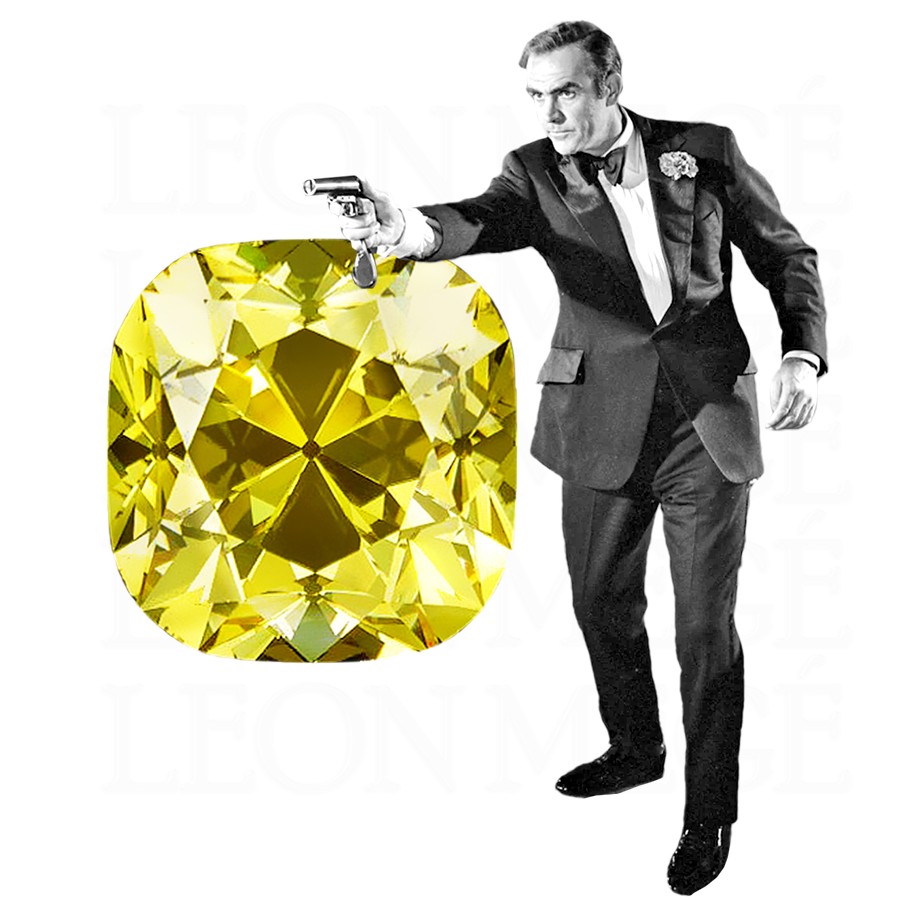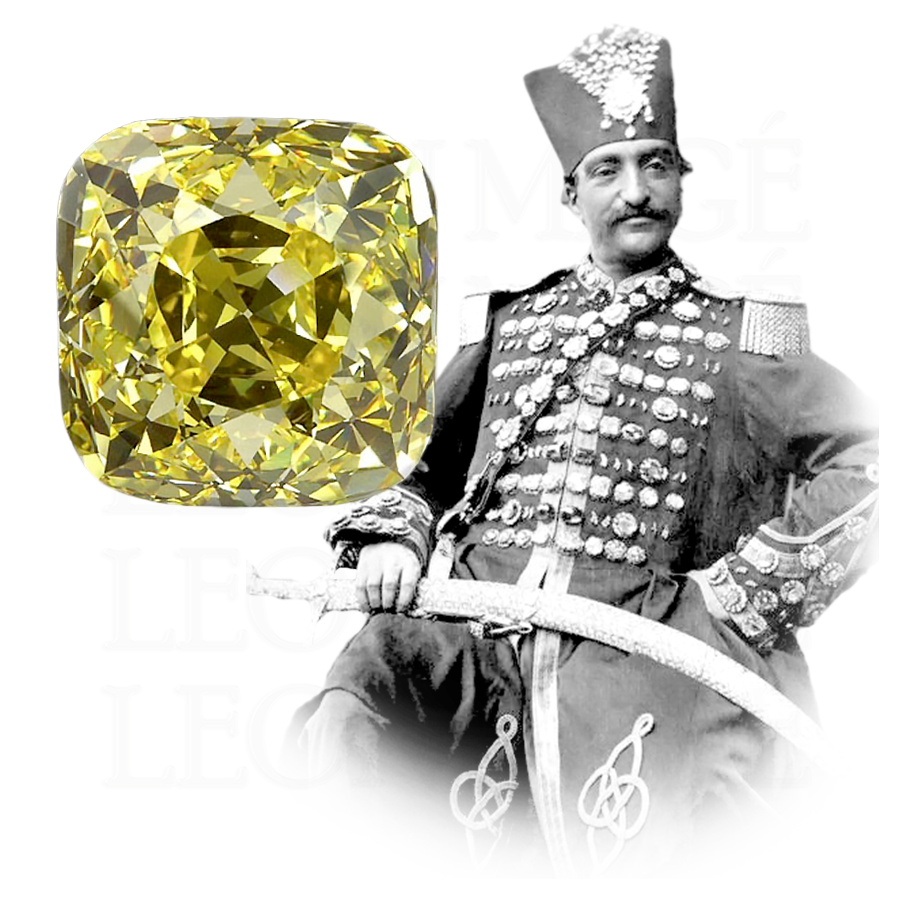 The diamond's origin and its first owners are unknown. The diamond bears all the characteristics of a South African origin. The Shah of Persia, Nasir ud-Din Shah (1848-1860), was one of the first to begin collecting fancy yellow diamonds considered nearly worthless at the time. The 102.07-carat fancy intense yellow cushion Allnatt diamond is named after sportsman and philanthropist Major Alfred Ernest Allnatt, who purchased it in the early 1950s. Soon after purchasing the diamond, Major Allnatt hired Cartier to design a brooch for the Allnatt diamond as its centerpiece. The original weight of 102.07 carats was reduced to 101.29 when it was re-cut to improve its color. In 1996 the Allnatt was auctioned by Christie's for $3,043,496.