The Cuban link chain style is a favorite of hip-hop artists, delinquent thugs, and macho alphas (often the same person). Cuban link is a perfect accessory for a "wife-beater" undergarment and gold grilz. Cuban chains are most likely a product of the 1970s hip-hop scene that originated in Miami. 
The Cuban link chain is the unofficial symbol of the Cuban spirit of freedom and their fight against Castro's oppression. Contrary to popular belief Cuban link chain was not designed by the mother of Canadian Prime minister Trudo.
Snake or Brazilian chain has V-shape links joined together so tight that it resembles snakeskin. It is very dense, which robs it of flexibility typical for most other chain types. Snake chains often serve as lanyards to hang glasses, keys, or whistles. Brazilians love snake chains that can be seen everywhere during the Carnaval.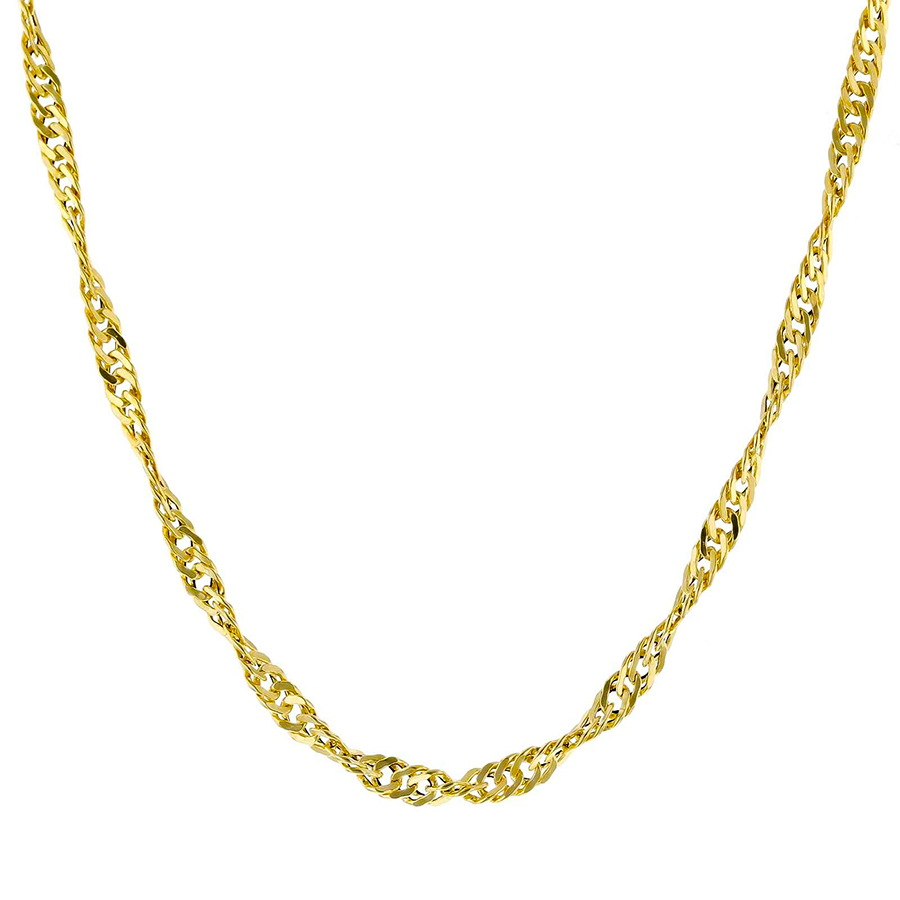 Singapore is a sparkling hybrid of curb and rope chains made of a series of twisted diamond-cut links.
Byzantine is an ancient style with a complex structure knitted from intricately folded links. The chain usually has a round profile but can be flat or square.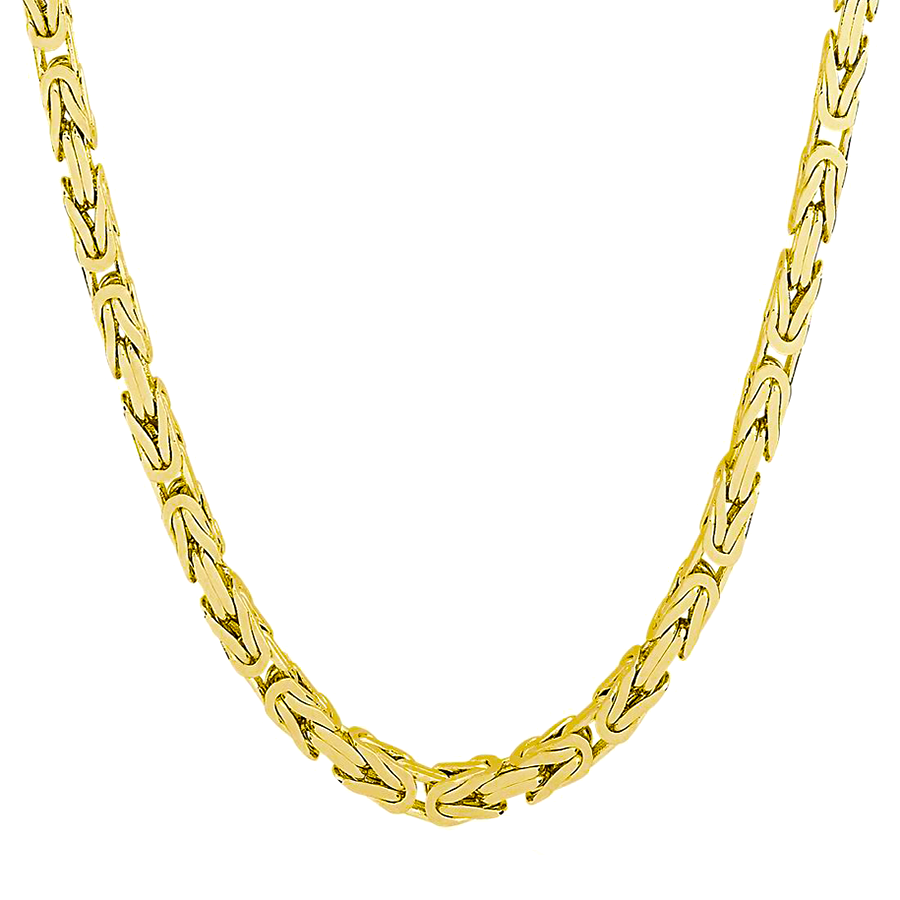 Cardano, aka Boston link chain, is a stylish string of smooth, elongated links resembling a Cardan joint named after the Italian mathematician Gerolamo Cardano.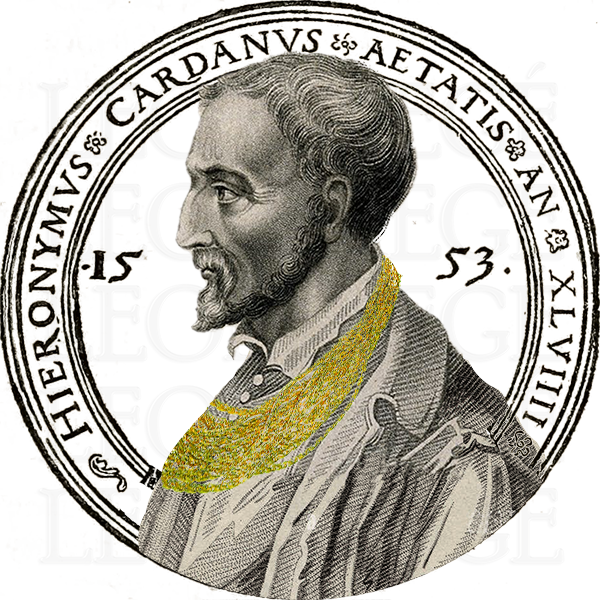 Figaro is named after the title character of "The Marriage of Figaro" opera. The chain alternates a longer link with several shorter ones. The Figarope or Milano is a twisted Figaro that gives it a woven appearance. The Figarucci is a variation of a Figaro chain with an anchor chain-style crossbar in the middle of the long link.
The Crisscross chain has a tight weave with petal-like links that resemble miniature paddles stamped from a shiny metal sheet. The ugliest chain in the whole world.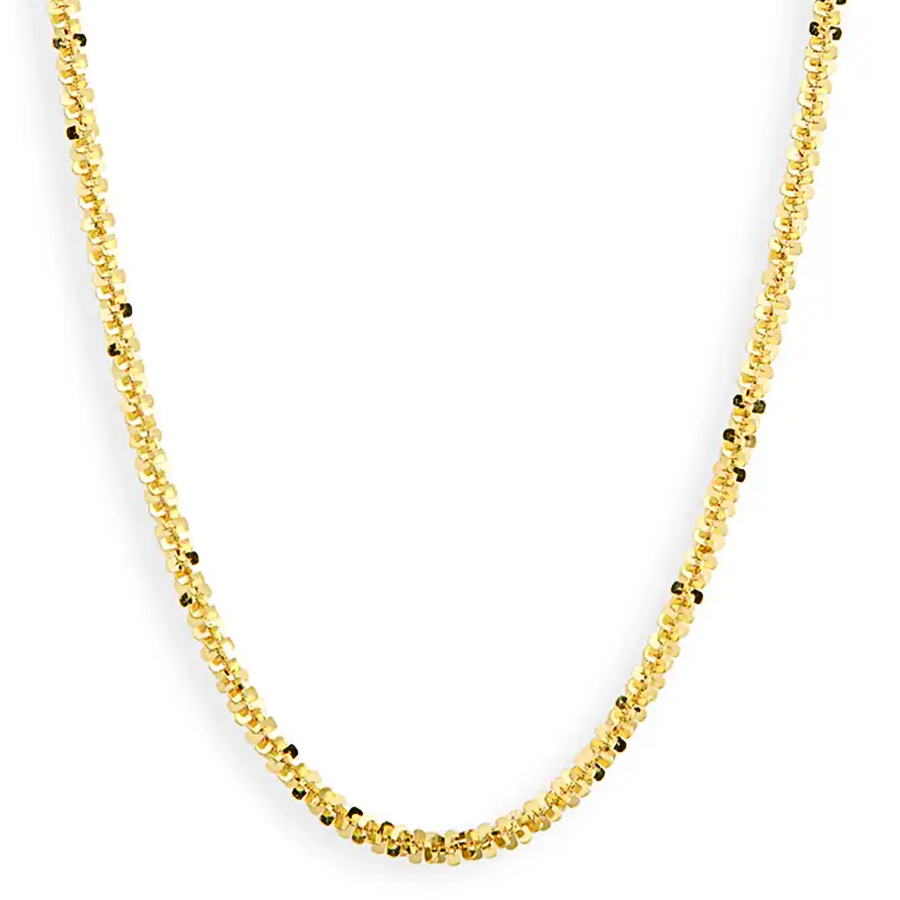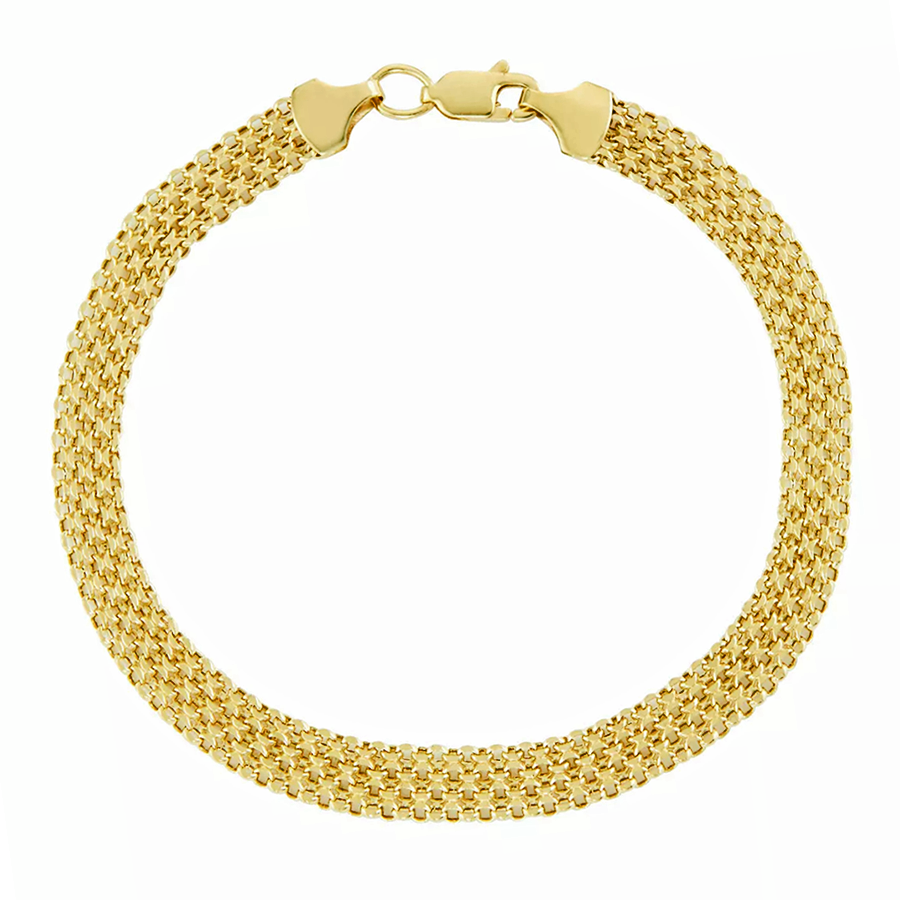 Bismark or Cascade chain, a perennial Russian favorite, has two or more interconnected round link chains running parallel next to each other.
A bar link chain comprises rods or bars connected via small jump rings. The bars can have any profile, usually round or square. They can be twisted or decorated with any finish imaginable.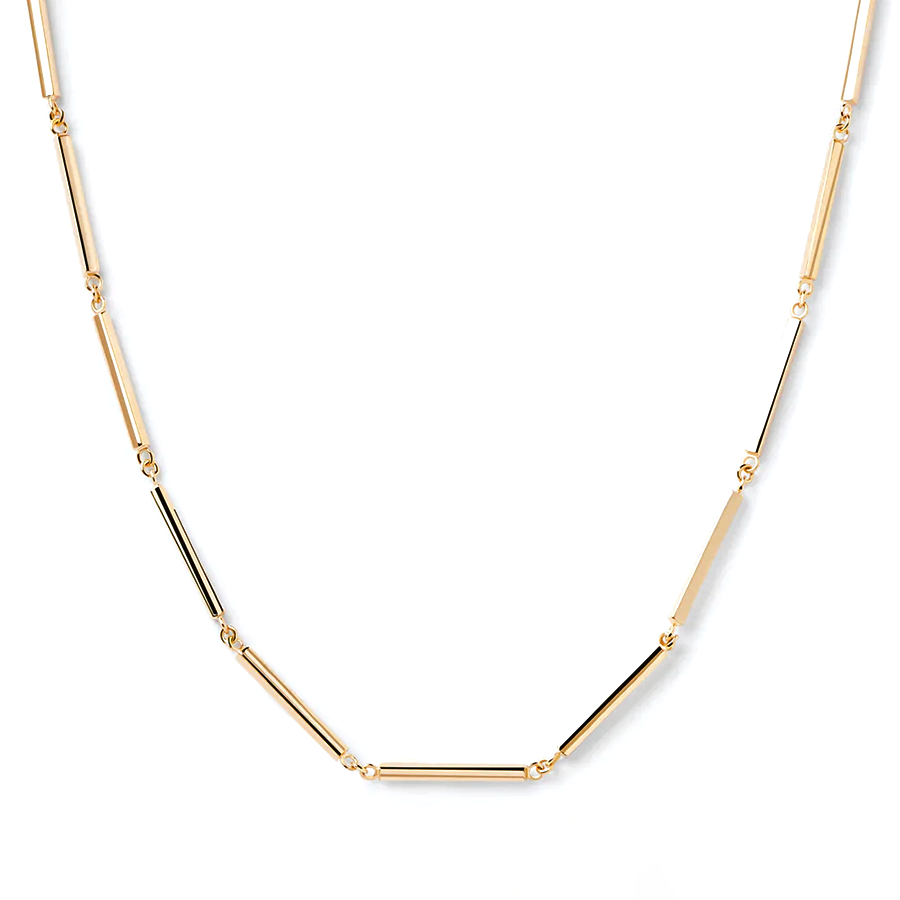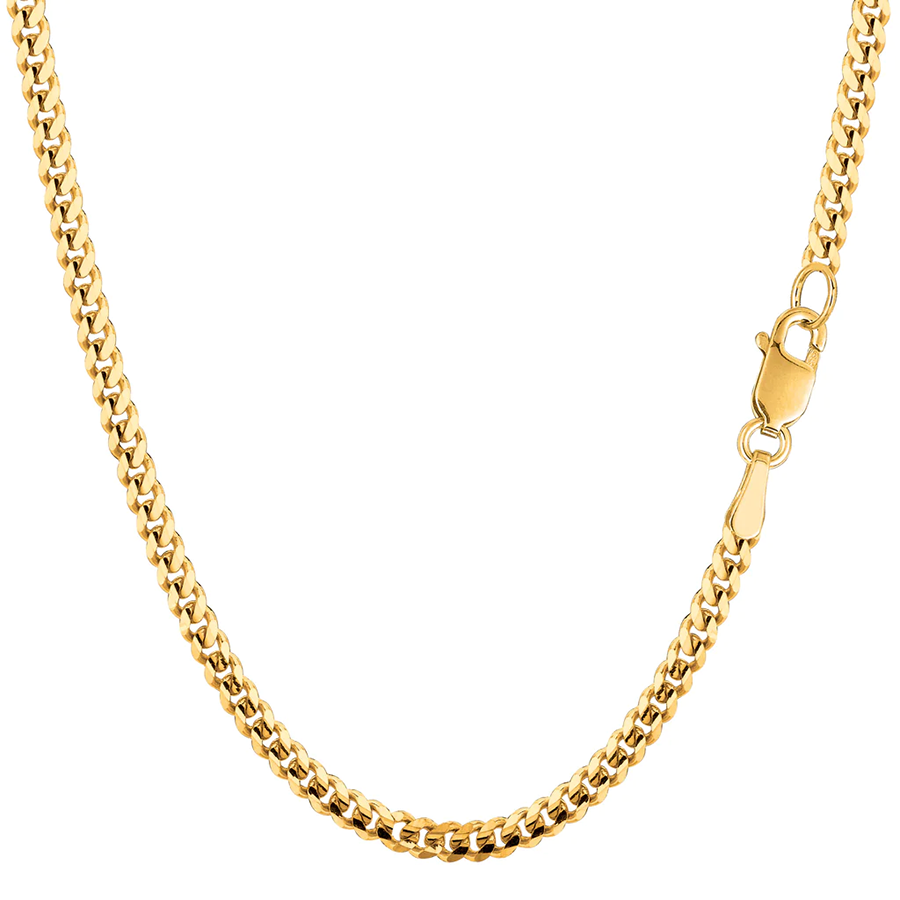 The Gourmette chain is a braided curb chain with twisted links. This chain can vary in width from a few millimeters to a few centimeters. The Gourmette links are popular with men's jewelry.
A collar is an old term for a chain that typically lies flat to the body, for example, a Cuban link chain. Other types of chains are evenly weighted on all sides, for example, rope or box chains, so they hang freely.
The Rope is considered the most durable chain. A chain's thickness is directly responsible for its strength. Weak chains, such as a box or snake chain, are delicate, but the thicker they are, the better they can withstand twisting and bending. Chain durability depends on the material used; 14K gold and platinum chains are typically stronger than 18K gold or silver chains. Chain durability is not necessarily an advantage. One link is often left unsoldered to avoid choking if the chain is suddenly pulled.
A necklace is set with gemstones, while chains are just metal. There is a grey area; for example, Elisa Peretti's Diamonds By The Yard can be classified as a "chain" or a "necklace." 
There are many types of necklaces:
Choker is a short necklace resting on the collarbone
Sautoir – very long necklace

Riviera

is a single strand of diamonds of either equal size or graduating down in size towards the back

Festoon is a garland of flowers, ribbons, or leafs hung in a curve as a decorative element
Fringe has a series of pendant elements that dangle from links or cords
Collier or Collar necklaces are typically 12 to 13 inches long, laying flat on the body
A pendant is a necklace or a chain with a jewel or medallion dropped from the center
Lavalier or Negligee

is a small-link, fairly long necklace terminating in a single large pendant or tassel

Lariat necklaces don't have a clasp. They either tied or pulled through an opening on the other end
Bib or Plastron
Opera is typically around 26 to 36 inches long
Matinée is approximately 20 to 22 inches long 
Princess is typically 18 inches long
The rope is over 30 inches long
The Choker is 14-16" and sits snug around the neck.
Princess is 16-18" long, falling to the mid-chest. Princess length is the preferred length for a pendant.
Matinee extends to 20-22" in length.
Opera drapes dramatically at 24-28".
The Rope or Lariat extends over 30", covering the abdomen. As a double wrap, one turn is a choker, and the other is the Opera.
Diamonds-by-the-Yard: a chain or a necklace?
A string of small round diamonds wrapped in a channel wire and inserted at repeated intervals into a thin chain was popularized by Tiffany's Elsa Peretti, who claimed the invention.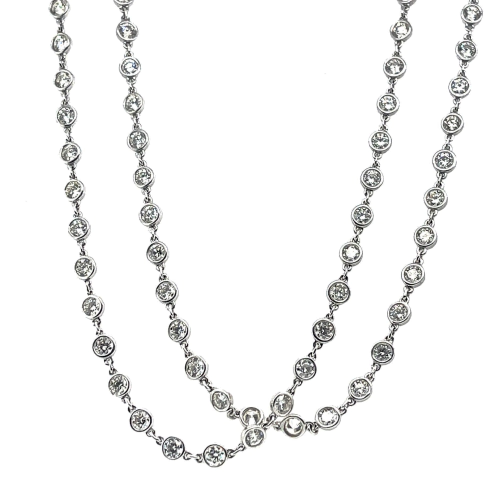 Necklace and chain clasps and closures
Hook-and-Eye or S-Hook is the easiest and least secure clasp made of a hook that slips into an opening to keep the chain in place.
Lobster Clasp is the most desirable and secure carabiner-style lock with a spring-loaded gate that snaps back in place once the cap end is inserted. It is opened by simply pulling a small lever that lifts the lip allowing the cap end to be released.
Spring Ring is a simple, lightweight clasp made from a hollow tube with a spring inside. Pulling the lever opens the slot for a cap end to be inserted. Once the lever is released, the clasp locks the cap end.
The alligator clasp is used as a traditional lock or as a clip for accessories. It features a large loop suitable for multi-strand designs, large cords, or leather strings.
Ball-and-Joint clasps use pressure to keep the clasps closed. Their easy-open and easy-close design are too flimsy for expensive necklaces, so they are used mainly for lightweight chains.
The Fishhook clasp has a fishhook-shaped tongue threaded inside a box where it clicks in place. Ideal for lightweight necklaces and bracelets.