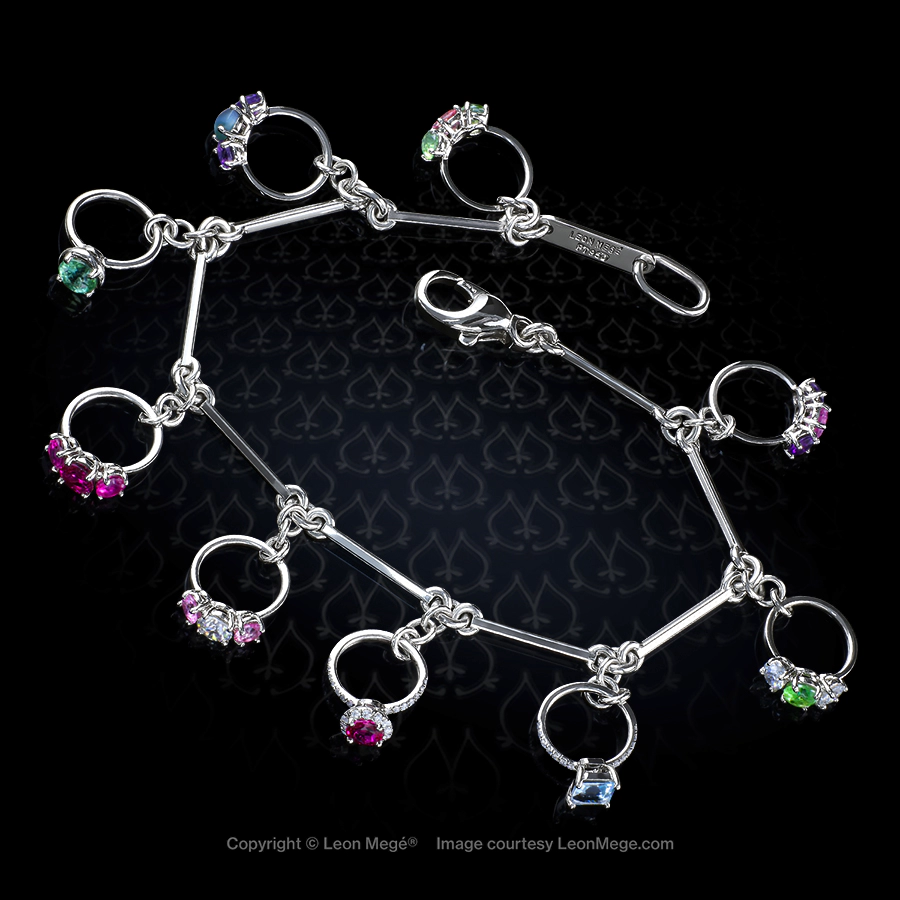 "La Petite" Charm Bracelet b7482
The item is in stock and available for immediate purchase.
Nine charms in all, each a different ring, each set with natural gemstones, the "La Petite" charm bracelet is a lot of sophisticated fun for the affluent jewelry collector – especially those who have a hard time deciding which Leon Megé ring to buy next. Entertain others and amuse yourself with this jazzy piece on your wrist that's full of personality, just like you.
The bracelet is 6.5 inches long and is solid platinum. Each charm is handmade and completely unique. The design was a winner of the 2012 Platinum A'Design Award in Italy.
Hand-forged platinum
Natural gemstones: Diamonds, Amethysts, Demantoid Garnet, Cat's eye Alexandrite, Aquamarines, Rubies, Tourmalines, Spinel
9 unique charms - three stone, halo, and solitaires, just like the real-life ring we make, scaled down to a super cute miniature size.
Approx. 6 1/2 inches
We accept payments by check, wire transfer, or direct deposit. 
The balance must be paid in full before we ship.
There is no sales tax outside of New York.
Shipping is free within Continental US.
The ring comes in a signature leather box with all the necessary paperwork, including certificates and appraisal.