To paraphrase George Orwell: "All diamonds are rare but
some
are more rare than others."
Fancy-colored diamonds are among the rarest and most valuable gemstones that fall outside of the standard D to Z  color scale. As the yellow tint becomes more obvious, the value of a diamond decreases. For fancy diamonds, the opposite happens – the more vibrant and saturated the color, the more expensive and valuable the diamond becomes.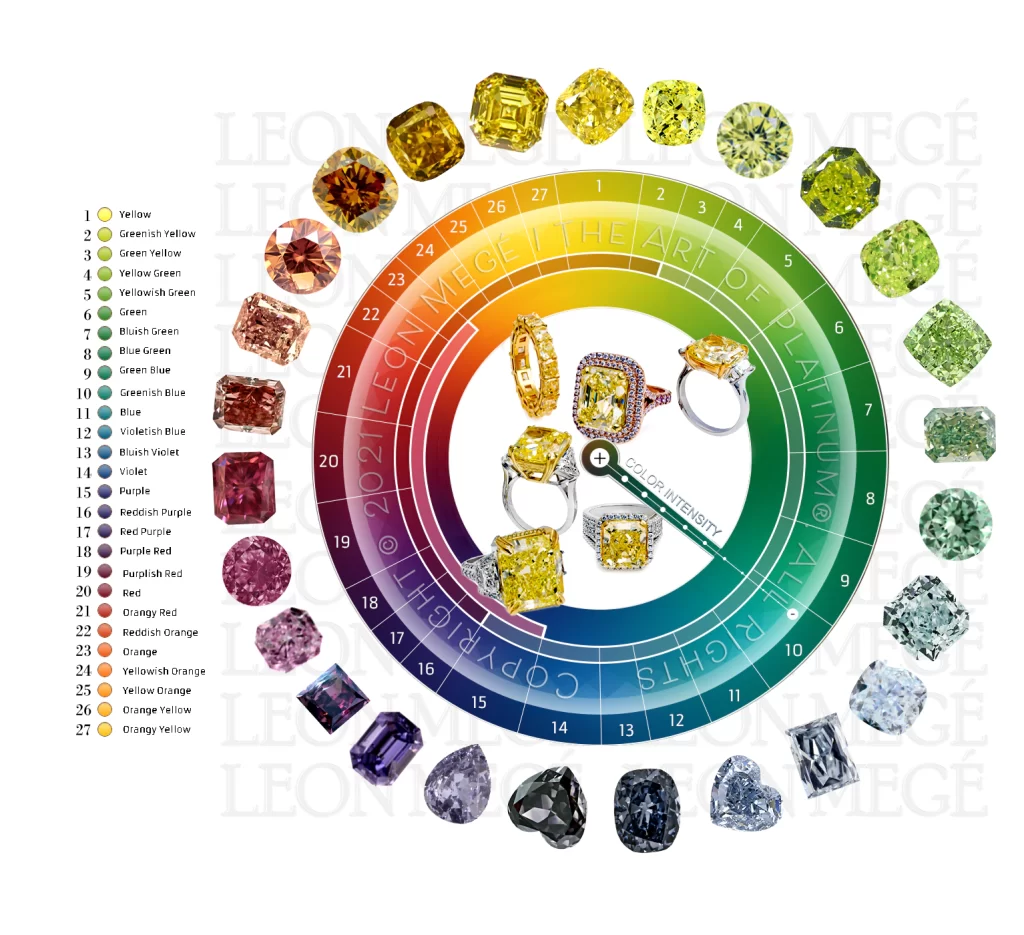 Fancy yellow diamonds fall outside the traditional D-Z color grade scale. GIA has six color grades: Fancy Light (the least desirable), Fancy Yellow, Fancy Dark, Fancy Deep, Fancy Intense, and Fancy Vivid (the most desirable). These grades indicate how intense the color is. Stones with high saturation and color depth are the most valuable.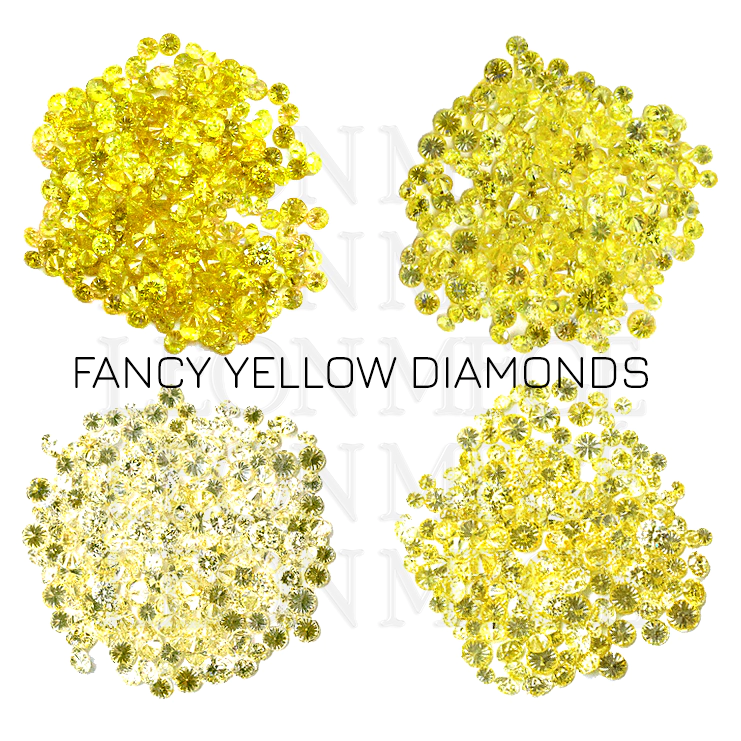 ---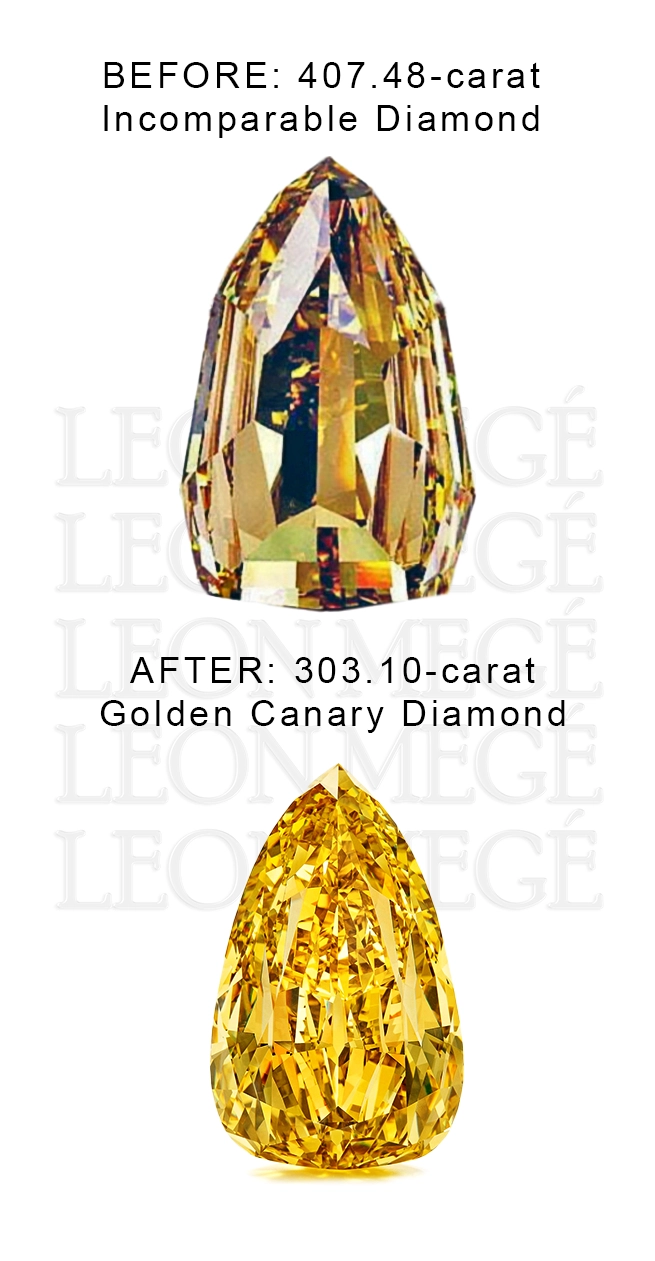 In the fall of 2022, a flawless Fancy-Deep-Brownish-Yellow 303.10-carat diamond called "Golden Canary" was poised to fetch $15 million at Sotheby's. The pear-shaped diamond was re-cut from a 407-carat shield-shaped Incomparable Diamond, which was one of fifteen pieces of 890-carat rough discovered in the town of Mbuji Mayi in the Democratic Republic of Congo by a girl playing in a pile of rubble.
Previously, Sotheby's sold a 100-carat cushion-shaped fancy vivid yellow diamond, Graff Vivid Yellow, in Geneva in 2014 for US$16.3 million, a world auction record for a yellow diamond. 
Traditionally orange is the sixth rarest color in diamonds, just after green, red, violet, pink and blue.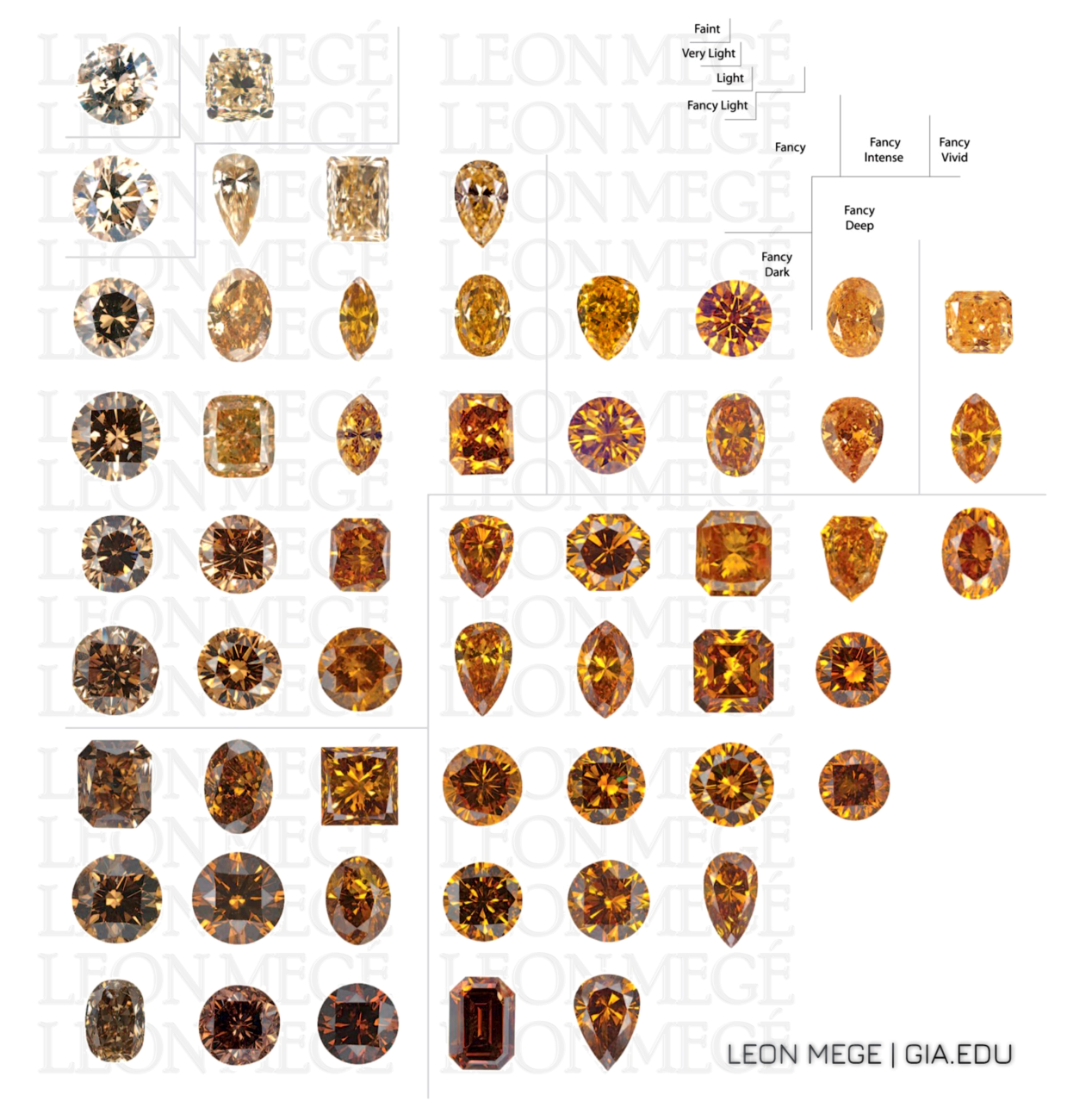 Revered for their incredible beauty and mythical origins, Argyle pink diamonds are highly coveted as one of the rarest stones in the world. Argyle pink diamonds are precious and rare, steeped in history, and stunningly beautiful. The mine is the world's only consistent source of pink diamonds, accounting for more than 90% of the global supply.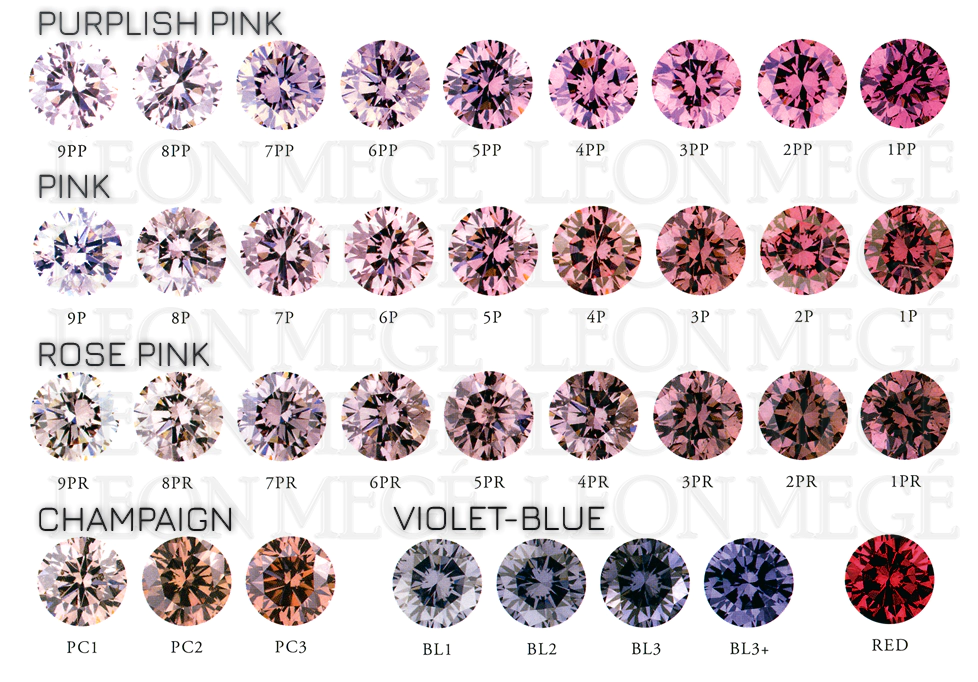 Leon Mege handpicks each Argyle diamond in our collection. Maestro Mege graduated from the internationally renowned Gemological Institute of America (GIA) in New York and has over 40 years of experience assisting his clients in selecting the most desirable Argyle stones. 
Our exclusive partnership with Argyle-affiliated diamantaires gives us unprecedented access to the treasures of the Argyle diamond mine.
Why buy a pink diamond?
Pink diamonds are not only exquisite stones that look stunning in a Leon Mege setting, but they also make a substantial investment thanks to their scarcity. The price of Argyle pinks has increased dramatically since the mine was closed in 2021, so every unearthed stone is an irreplaceable treasure.
Are pink diamonds expensive?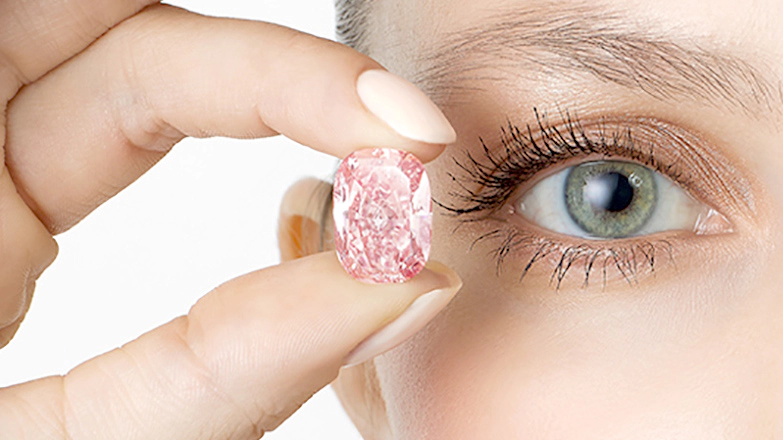 It depends on the diamond's size, color, hue, saturation, overtone, clarity, and cut. For example, in September 2022 – an exceptional 11.15-carat internally flawless pink diamond, "Williamson Pink Star," one of only two fancy vivid pink diamonds of over 10 carats ever to come to auction, is expected to sell for $21 million at Sotheby's.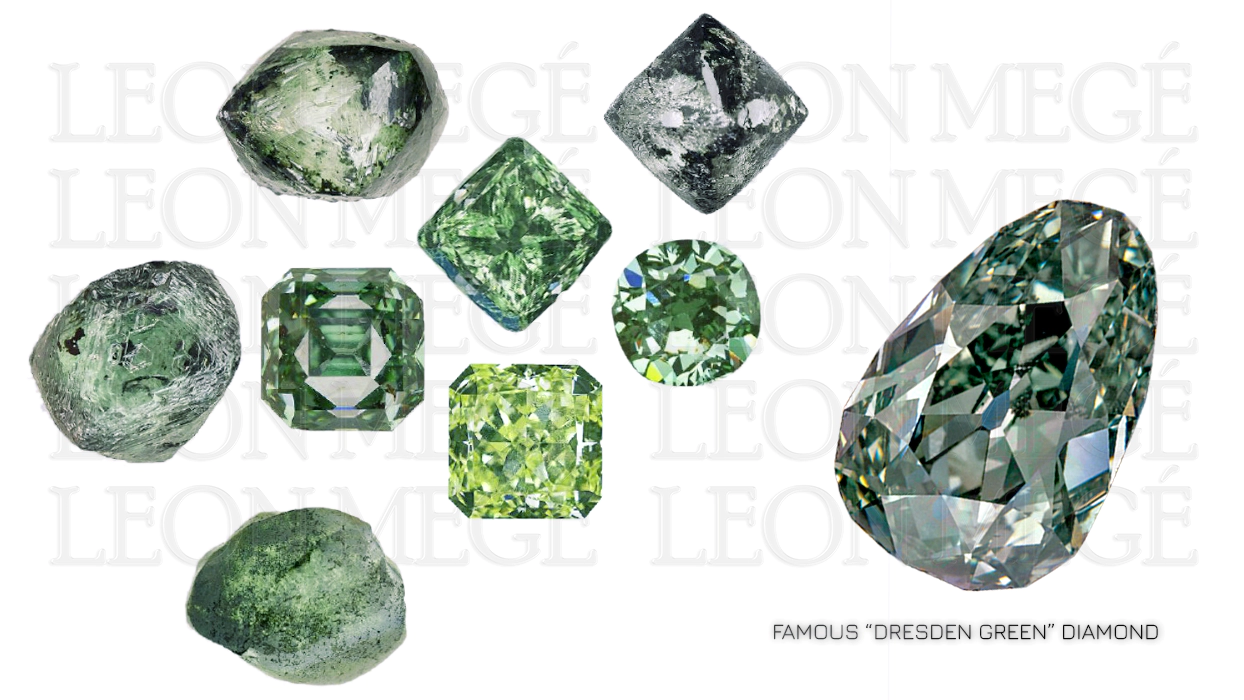 Naturally green diamonds with saturated hues are some of the rarest and most sought after. They are colored either by structural defects induced by natural radiation or nitrogen, hydrogen, or nickel impurities. Today, extremely rare natural green diamonds are found in South America or Africa.
Artificial irradiation has been used since the late 1940s to produce green diamonds making gemological identification nearly impossible since the process mimics the effects of natural exposure. The only positive source of the color origin is a historical record of the diamond color pre-dating nuclear technology.
A "Black Diamond" is a natural polycrystalline aggregate of minute graphite and carbon crystals grown together at different angles which causes them to absorb the light. They are 4 billion years old, formed in a supernova explosion long before our Solar System was born, and found only in a few places on Earth, notably Central Africa and Brazil.
Are black diamonds real? Yes, they are real. Real crap.
A black diamond, called carbonado, is a natural aggregate of tiny graphite and carbon crystals grown together. They are essentially clumps of diamond dirt.
The tiny crystals are stuck together at different angles, absorbing the light and making the stone opaque. Most black diamonds are grey, but they have a porous surface that allows liquid dyes to penetrate. Boiling carbonados in spent motor oil turn them black. Without dyeing, they are often mistaken for marcasite – polished iron pyrite commonly used in costume jewelry.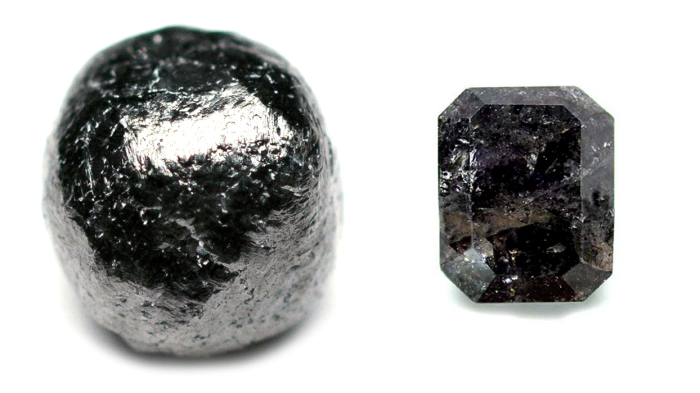 Carbonados can be irradiated and/or heated to darken their color. Irradiated carbonados are jet black resembling onyx or black spinel.
Black diamonds are industrial stones used for manufacturing abrasives and drill bits. Until recently, they were considered worthless and not suited for use in jewelry. Even today, black diamonds are cheap by diamond standards costing very little compared to white diamonds.
Carbonados are 4 billion years old. They were formed in a supernova explosion long before our solar system was born. Their unique chemistry suggests extraterrestrial origins, which plays well to the consumers' ears. Most carbonados have strong luminescence. They emit light in the darkness, which is always fun. Carbonados are found in Central Africa and Brazil. Along with petrified dinosaur dung and wall-mounted singing fish, carbonados are treasured collectible novelties.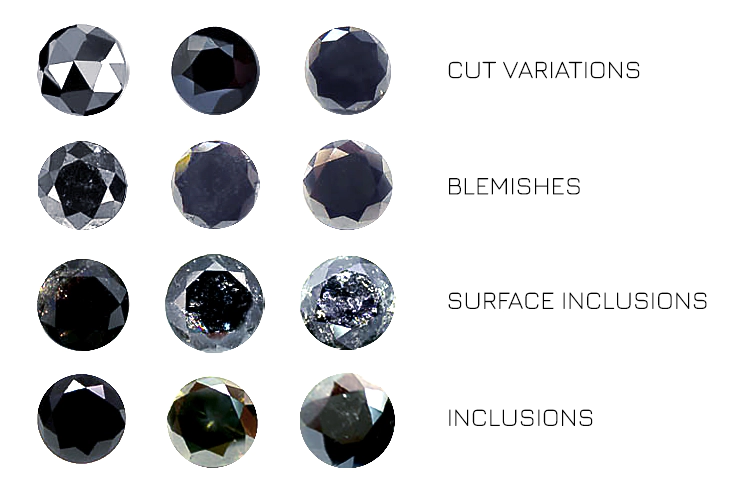 Famous black diamonds
The 489.07-carat black diamond is yet to be named and rumored to be priced at just under two million US dollars.
The 312.24-carat Spirit of de Grisogono Diamond is the world's largest black diamond.
202-carat Black Star of Africa was last seen in Tokyo in 1971. Did anyone investigate Godzilla?
The 160.18-carat, "The Table of Islam" emerald-cut black diamond, comes from Central Africa.
The Gruosi Diamond is a 115.34-carat heart-shaped black diamond cut by the famous Swiss jeweler Fawaz Gruosi.
Orloff Noir (the cursed one) is a 67.50-carat cushion-cut diamond of very dark gun-metal color. It is also known as the Eye of Brahma Diamond.
The Amsterdam Diamond is a 33.74-carat stone sold in 2001 for $352,000.
The curse of the Black Orlov
The 67.50-carat cushion-cut diamond plucked from the eye of Brahma idol at a small Indian shrine was brought to New York by a diamond dealer J.W. Paris. Displeased, the god of creation Brahma, put a magic spell upon all future owners of his eye. Indeed, three owners jumped to their death shortly after that. In 1932 J.W. Paris fell from the roof of a New York skyscraper. In 1947 Russian princess Nadia Vyegin-Orlov jumped from a building in Rome. Her sister Lionila Baryatinskaya followed her shortly after that. The curse fizzled when the stone finally got into the hands of a New York dealer Charles F. Winson. He mounted the stone in a diamond-and-platinum necklace valued at $150,000 at the time. Nobody has jumped since.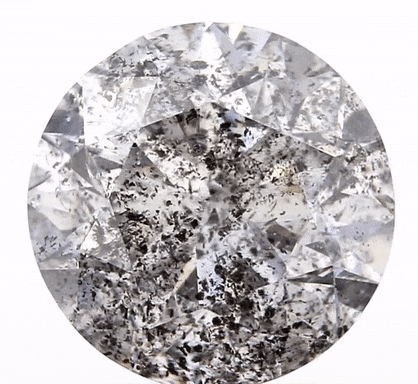 So-called "salt and pepper diamonds" have a mottled white and black pattern of inclusions generously sprinkled inside the crystal. No two salt and pepper diamonds ever look the same; their personalities are defined by the dirt and crystals trapped inside.
Historically these diamonds were called "bort," a term used for stones pushed to the edge of a sorting tray to be discarded into a pile of industrial-grade trash. In a triumph of marketing, the worthless junk was given a cute name and became a darling of pretentious and usually talentless "jewelry artists." Just like a traditional diamond, salt and pepper stones can be of any shape and size.