Lauren D.
"I am beyond the happiest newly engaged woman in the world and positively over the moon about this beautiful ring on my hand. Leon Mege and his staff created an amazing work of art that is by far and above the most beautiful piece of jewelry I have ever seen in person. I shopped endlessly for rings and diamonds all over the Dallas area. Dallas has plenty of jewelry stores but I continuously read about Leon Mege and the amazing quality work he could produce.
After reading nearly every review on the internet about the various ring designers (Pricescope was particularly helpful) I decided to go with Leon Mege. Who wouldn't want an award-winning jewelry designer to make their engagement ring? I got far too obsessed with the ring selection process to the point where I'd stressed myself out over every last detail. In working with Leon, I felt comfortable that I could "let go" of the reins and simply let an artist work his magic.
With local designers, it seemed that I would have to review designs along the way and fret over every last angle and measurement…but let's be honest ladies…WE aren't jewelry designers. We should leave that to the professionals. I had a few phone conversations with Leon and even a PowerPoint presentation (yes, I'm that level of crazy) of things that I liked and things that I didn't like so that I could convey the style of what I wanted.
Leon worked with me to determine which aspects would work for my ring and we came up with a design plan. After that conversation, it was completely in their hands! I read some reviews about how Leon might be difficult to work with and honestly never felt that way at all. The man is an artist and a true professional and was never anything other than extremely helpful and patient with me, even as I made him sift through dozens and dozens of stone possibilities.
Once or twice I asked for things that weren't realistic and he let me know. That's not arrogance or rudeness…that's someone who is an EXPERT in the field correcting a misconception. Leon was never once anything but wonderful to work with. He prefers to talk over the phone versus working through email which was fine. He and his staff sent plenty of pictures and videos to satisfy my questions. As far as timeline goes, I was initially quoted 4-6 weeks plus an additional week due to the sourcing of stones that I'd requested.
The estimate was pretty much spot on, including the fact that we ordered right before Valentine's day so I'm sure the place had a super long line of requests ahead of ours. My fiance did ask for an update at some point during the long wait and the shop happily obliged. And of course, I need to talk about the ring. It is AMAZING. Showstopping amazing. It has delicate double claw prongs, a beautifully embellished belt, and it is positively the most perfect piece of jewelry ever.
I've been to Harry Winston and I've been to Tiffany's and this ring defeats them all. I'm so ridiculously spoiled by the craftsmanship of this ring that I can't even imagine how other stores charge such ridiculous prices for subpar pieces of metal. Like I said earlier, I've never seen another ring like it or anything that comes close to this level of workmanship. Leon, thank you so very much for creating such a stunning work of art for me. You have absolutely re-defined how I see jewelry."
Dayna F.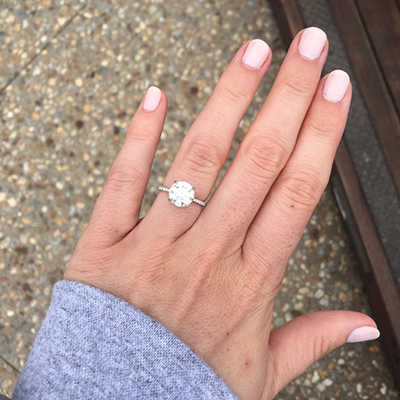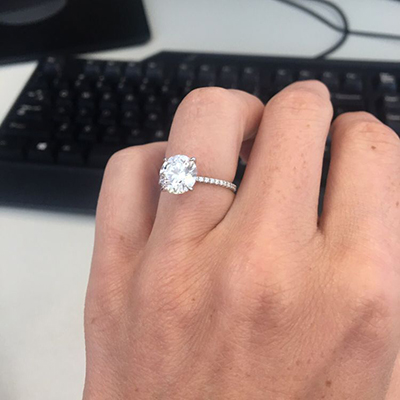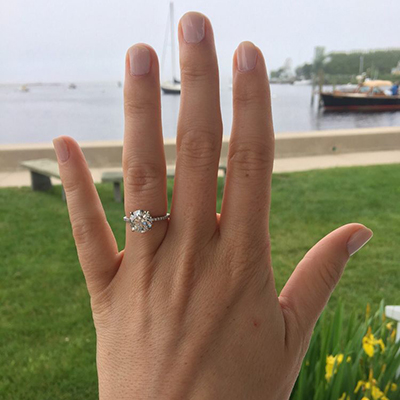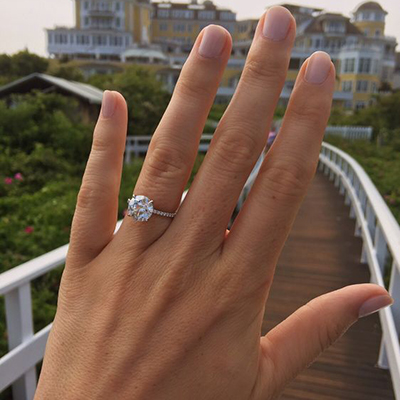 "If you are considering having Leon design your ring, I am here to tell you that it was the best decision my fiancé and I made! His work truly exceeded my (already high) expectations and I can honestly say that Leon created the ring of my dreams. Him and his team were such a pleasure to work with. We considered a few other designers and I can tell you first hand, Leon's prices are very fair. He is truly an artist and I will be forever grateful that I had him design my ring. Thank you Leon!!!"
Jeanna L.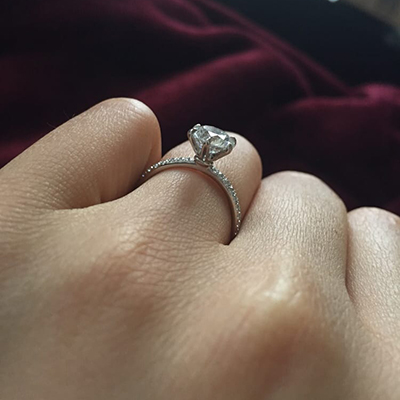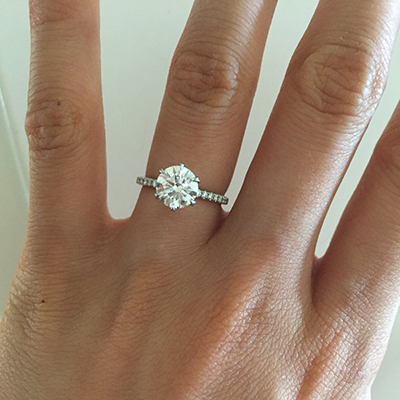 "We are recently engaged and I received my dream ring made by Leon Megé! My fiancé and I live in Seattle so the entire process was done through email communication. We chose LM despite never having seen their work in person solely by all the rave reviews and good reputation on various online forums.
They made it really easy for my fiancé to order the ring and select the diamond sight unseen. It took 4 weeks to be made and was delivered overnight just in time! My ring is stunning! Of course, I am biased, but I really do think it is the most beautiful and sparkliest ring I've ever seen! I always wanted a 6 prong round solitaire with a thin micropavé shank.
I don't think I could have received a more perfect version of exactly that. The prongs are so delicate and they pretty much disappear when viewed from less than an arm's length. The diamond really gets to shine and looks like it's floating! Even the tiny micropavé diamonds sparkle nonstop and it's truly beautiful work. I can't believe an actual person set everything, it's so precise! (I've added a couple of pictures of my ring.)
The level of craftsmanship and beauty exceeds anything I've seen in the luxury jewelry chains we visited when we were trying on rings. And all at a very reasonable price! LM will definitely be our jeweler for any and all future occasions! We couldn't be happier with everything! Thank you so much!!!"
Jennifer M.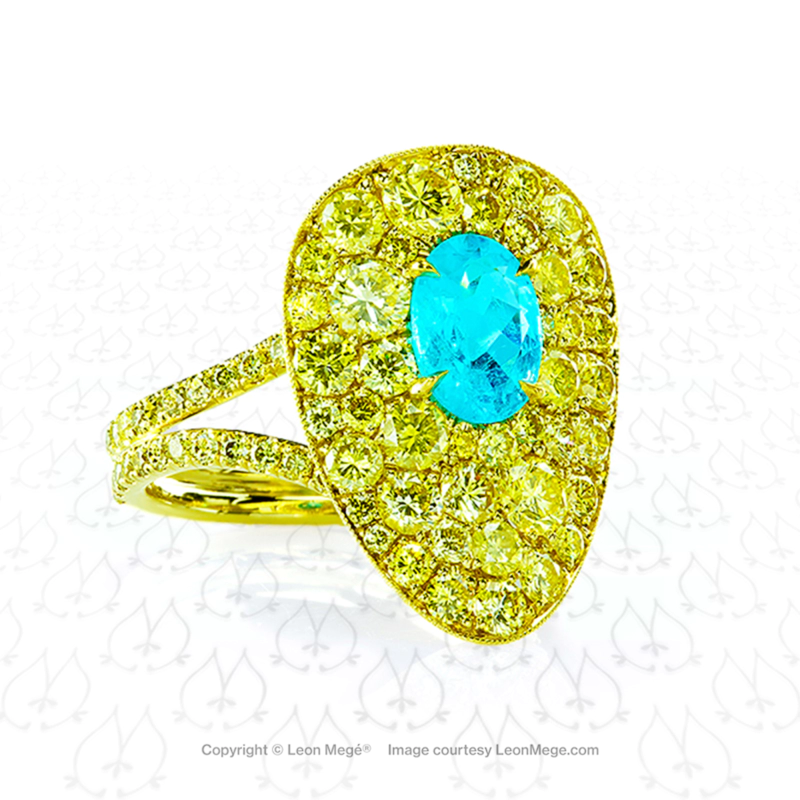 "Leon is a true artist. His work is beautiful and one of a kind, and he really takes the time to listen to you throughout the process. We could not have asked for a better experience or a more beautiful ring." 
Chris D.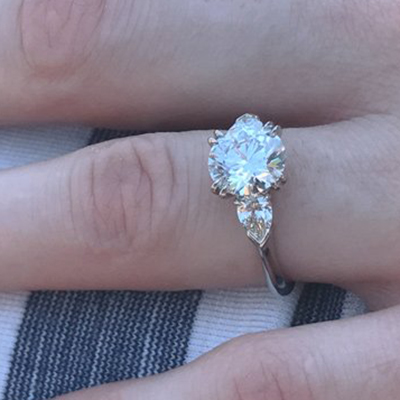 "I don't really know where to start, but I'd like to share my experience with Leon. Some may say I tend to go a little overboard with research when I don't know about a topic… I researched diamonds and jewelers every night from about 11pm until 5-6am for weeks. When I found Leon's website and the photos and video of a beautiful three-stone ring with pear side diamonds, I was immediately positive that is what I wanted for my (now) fiancée.
I called Leon the next day and was able to speak with him directly. He was very straightforward and honest with me, I appreciated it. I spoke with him several more times and, since my fiancée was aware that I was up all night up to something, he encouraged us to visit his office in NYC and see the same style that he had in stock. We made a weekend of it and he patiently spent hours of his weekend with us. He had arranged for several diamonds to be ready for us to see in addition to the stock piece.
I didn't even know we had been there that long and I felt bad once I did. I make slow decisions and this was a very permanent decision. Leon was also kind enough, by my request, to be careful keeping prices and timelines a secret. Leon even recommended a nice restaurant (unfortunately they were booked-up by the time we got there). We then finished off our weekend at a Broadway show and had a great trip overall.
I eventually made up my mind and a beautiful custom version of the ring I first saw was made and delivered on time. On my life, if it wasn't every day, it was nearly every day I took the ring out of its hiding spot and I would stare at it for a few minutes. It's a gorgeous ring. I couldn't wait to give it to her. Spoiler alert, she said yes. She receives constant compliments on her ring, which I take as a clear sign that I made the right choice in choosing Leon as our jeweler and I look forward to working with him again."
Danielle P.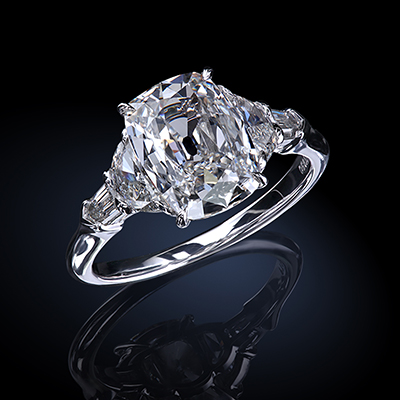 "I highly recommend Leon and this team. I worked with him to create a custom ring and he went above and beyond to make me happy and to find the right ring for me. I am a pretty decisive person but he helped guide me (without being pushy) in the right direction (a more sophisticated and elegant look than I first thought I may like) which I ended up being really thankful for. I found him to be really upfront and honest and fair on pricing. Very reliable and great communication. Overall the ring is beautiful, unique and a great value."
Julia B.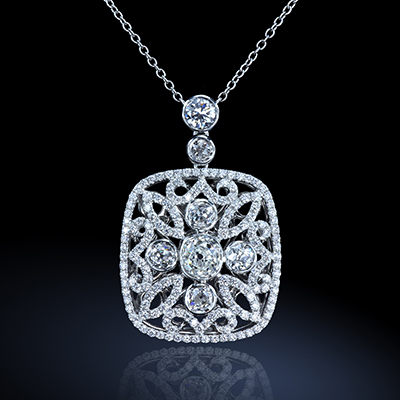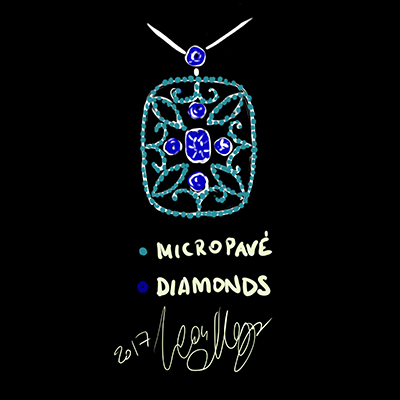 "Unbelievably beautiful and delicate designs!! Leon's pieces are little works of art, backed up by his extensive knowledge of design and gemstones – unique, well-crafted, with surprising little marvelous details in many of his items. I've been a client of Leon's for a few years, now, and was so impressed by the setting he designed for a small diamond that I had, I've been a fan, ever since. The first setting had to be all about the diamond, and Leon created the most marvelous ring that absolutely highlighted my little stone, while being incredibly beautiful in its own right – lots of little details that continue to surprise and delight me, every time I wear the ring! Since that time, I have purchased three more of Leon's pieces (again, his attention to detail and delicacy is, for me, always a great pleasure). The most recent purchase required that he find the perfect stone (no easy feat, it turned out) and find it, he did, after an extensive search! He is wonderfully attentive to work with, answered all of my questions, listened to my thoughts and suggestions on what I wanted (sometimes, going so far as to explain why an idea wouldn't work with what was being created – a structural issue, in one case, or modifying the design, if another idea was feasible).
..If you're serious about wanting a jeweler whose designs are inspired, and who holds himself and his staff to the highest levels of workmanship, then Leon Mege is the jeweler to contact. Thank you, Leon!"
Dong S.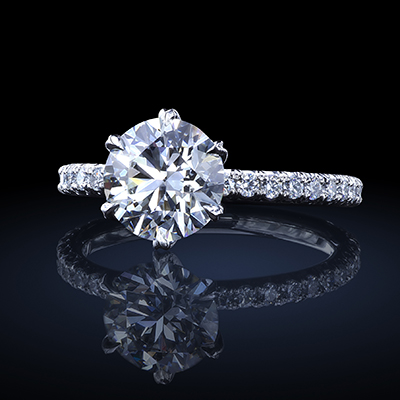 "My (now) finance is a gemologist at GIA, and works with a microscope everyday. She also formerly worked at Tiffany's as a diamond grader and in quality control and has viewed thousands of rings, gems and other sorts of jewelry during the course of her career, including quite a few with pricetags in the millions. Needless to say, there was a little bit of pressure on me to get her engagement ring right even though I wanted to do it on my own and without a mogul's budget.
So you can imagine how relieved and happy I was that she was so happy with her Leon solitaire with micropave. She (and her colleagues) have examined her ring literally under a microscope, and were universally impressed with the workmanship and the delicacy of the pave. Needless to say, I'd recommend him if your budget allows. I'll be returning to him if my fiancé decides on a pave wedding band."
Cathleen G.
"My fiancé and I had the pleasure of working with Leon to design my engagement ring. Both of my fiancé's brothers had used Leon to design their wives' engagement rings, so he had been highly recommended by family before we even started the process. Neither of us had experience in purchasing diamonds, and we were very appreciative of Leon's patience and expertise.
He sent us a number of videos of the diamonds we were looking at and was also able to provide his personal opinions on these diamonds. His willingness to help us through the whole process and attention to detail made us feel confident that we had chosen the right jeweler. We were extremely pleased with the ring and plan to use him for my wedding band! Thank you Leon!"
Harriet L.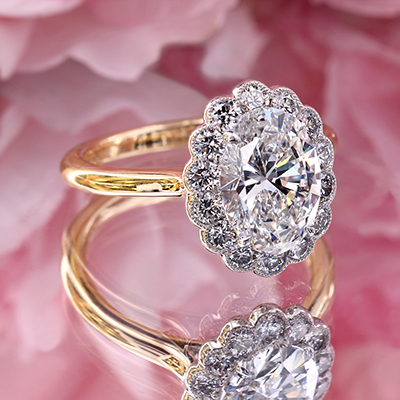 "We couldn't recommend Leon highly enough – his work exceeded our (very high expectations) and he will, without a doubt, be our "go to" jeweller from now on. Leon offers superb service, competitive pricing and truly wonderful, bespoke pieces – we wouldn't dream of going anywhere else now,"off the shelf" jewellery and run of the mill service just won't cut it.
Leon created a custom engagement ring for us – we were very specific on certain elements but were keen for guidance in other areas – he was supportive and worked with us to achieve a stunning result, with beautiful stones (all sourced by him, at remarkable prices) and absolutely flawless, breath-taking workmanship. Not only did Leon produce a "one of a kind" ring that continues to blow us away with its elegance, Leon offered a stellar service. Leon was extremely responsive (day and night, even over the holidays – email and telephone), patient and professional – this, for us, was the sort of reassurance that we were looking for when buying from the UK (having never met Leon or seen the stones in person). Working with Leon has been an absolute pleasure. Leon knows his stuff – you'd be a fool not to embrace his wisdom, knowledge and judgement.
Leon will only put his name to perfection and, as customers, that's exactly what we wanted – a jeweller with pride in his work and clear, legitimate advice – and we're confident that no other jeweller (NB: we spoke to many) could've mastered the ring in the way that Leon did – he is utterly remarkable. If you are considering working with Leon, we'd suggest that you do so (and pay the retainer without hesitation) – it's the best decision we've ever made and we're thrilled to have the opportunity to build a lifelong relationship with Leon as our "family jeweller".
We're also thrilled to have a beautiful and unique item of jewellery to pass down to future generations – a worthwhile investment indeed."
Ian B.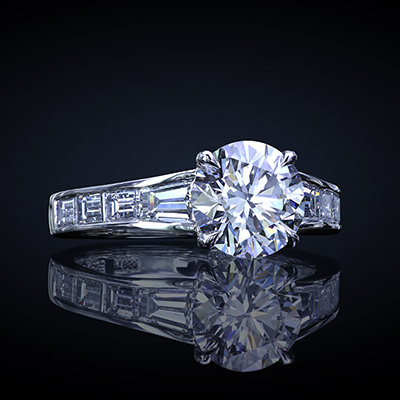 "We searched all over and found someone that does hand forging… and high quality, detailed work…. his name is Leon Mege. We visited Leon in his store in New York in November of 2015… and he was the real deal.
We gave him the lay of the land – told him about what we wanted – and needed – and expectations were very high. He delivered. I want to recommend Leon – if your the type of guy that has a girl that demands perfection – Leon can handle her. If your the type of guy that has a girl that loves the best of everything but you want to stay out of the famous brands and get something custom… this is the solution.
My girl looks at her ring 900 times a day… its the most important investment I could have made… and Leon made it right. I want to thank Leon and his team for managing things so well… and for delivering at every level. We are about as difficult a customer as you can have, demanding quality, demanding detail, demanding value… and Leon was the right answer for us. The craftsmanship is enduring, durable, detailed, perfect…This is a small team, and Leon is hands on… go in with your ideas, your vision and do your homework – I doubt there is anyone better for your crafted jewelry needs."
B E.
"When researching for an engagement ring online, you'll see the name "Leon" pop up more than you'd expect. Typically you'll find several comments saying the craftsmanship is second to none. Before meeting Leon, I had already visited at least two dozen places between big-name stores and the top rated spots in the diamond district. Leon is in a league above everyone else I met. I can't tell you how much of a difference it is to work with a jeweler as opposed to a sales rep. Think of it as buying a car from a mechanic as opposed to a slimeball dealership. He's knowledgeable, opinionated, and most importantly talented. Going into Leon's shop, I already had a very good idea about the design I wanted and had learned everything I could online about the specific cut. I learned things nobody else had taught me about the the cut and he took the time to explain why he though certain alterations to the design could be better.
The diamonds he had were the best selection any jeweler had been able to show — emerald cut diamonds are much less common and it was difficult to find a jeweler that could show several good options within a broad range (e.g. Tiffany's only had a half-dozen in the US). When it came down to the final nitty-gritty design decisions, he ultimately left it up to me with strong suggestions for certain things. (Going against his advice would be most comparable to a mechanic or doctor recommending a certain course of action based on their expertise and then you saying no thanks). Ultimately, a few design elements changed (for the better) after working together and the ring came out absolutely beautifully.
My fiancee has received countless compliments over the past few months from total strangers. The more I look at it, the more I appreciate some of the more subtle things about the workmanship. Leon, thank you again for everything and I look forward to working together again."
Cristina D.
"Leon Mege I hope you read your reviews because the first thing I want to say is thank you! I absolutely LOVE my engagement ring and I cannot tell you how many compliments I receive about it! I discovered Leon Mege after looking at wedding photos online and being moved by an engagement ring I saw which I learned was made by Leon Mege. From there I went to his website, read reviews about his work and fell in love with the cosmo setting so I mentioned this to my now fiancé Deric. Deric ended up calling the store and personally spoke to Leon Mege. My fiancé lives in Virginia so unfortunately we did not have the luxury of being able to visit the shop in person. Leon really worked with us and sent many pictures and videos of stones along with GIA reports until we narrowed it down to two stones that would work best in the setting. From there Deric made the final selection, ordered the ring and surprised me with it a few weeks later.
A few things I learned along the way: – Initially I was almost embarrassed to mention a custom made ring from NYC thinking it would be much more expensive than larger retailers in our area. Leon Mege's settings are truly a work of art and worth the little extra they cost as as his pave settings are the prettiest I have ever seen. On the flip side I think his diamond stone pricing is more competitive than most and he truly scrutinizes the dimensions of the stone, origin of the stone, etc to determine if it is appropriate for the desired setting. Leon really went above and beyond helping us to find stones meeting our criteria. – Leon is very honest. I read some reviews stating they found him to be arrogant or rude. I only spoke to Leon once and Deric spoke to him many times.
He is the expert of what he does, not us, and both Deric and I really appreciated that he was direct and straight forward. Again, I could not be any happier with my ring. This is such a happy time for so many reasons and the ring makes me smile every time I look at it. I cannot wait to work with Leon Mege again on wedding bands in the months ahead."
Christina M.
"This is a delayed and extremely long review. We got engaged on 6/24/17 and my now husband got both my engagement ring and matching wedding band from Leon Mege.
The backstory is before we got engaged, while we were discussing rings, I fell in love with "claw prongs". My dream ring was a round brilliant solitaire on a thin pave band with 6 claw prongs. My husband just starts googling and researching claw prongs. Since they are somewhat of a specialty, he narrowed it down to 3 reputable jewelers: David in California, Brian in Texas and Leon in NY.
Since I'm originally from NY, he went with Leon to make it a little more special and he had felt it was more authentic going with Leon. He had read reviews and checked pricescope and ran the numbers before he contacted Leon. He was extremely pleased with his entire experience – both with Leon and his assistant (I am so sorry, I don't remember her name)! Despite some so-so reviews, Leon was extremely courteous, responsive and helpful.
It's important to note that my husband had found the exact ring on Leon's website so he didn't request any modifications or changes to the design. It was just a matter of picking a center stone and letting Leon work his magic. It was an extremely easy transaction from what I hear. Again, there were no special requests and he was sourcing the stone via Leon. Once the ring & stone were all bought & paid for, there was little conversation or updates on the ring.
No micromanaging on my husband's part, no CADS or anything. The ring took approximately 3-4 weeks from initial contact to delivery. I love everything about the ring, it's absolutely gorgeous. And ironically, I had bookmarked Leon's website on my phone but never showed it to anyone and it was the exact ring my husband gave me 🙂 Now, once we were engaged, my husband suggested getting a matching wedding band from Leon since I was so happy with the engagement ring.
I was a simple, wanted a matching pave band – nothing over the top. Since we were going to be in NYC, my husband made an appointment with Leon to discuss wedding bands. Although it could have easily been done over email. Leon and his team are so courteous and nice! I was a little bit of a star stuck because I've followed him on Instagram and read a lot about his designs. He offered 2 options for the wedding band, one was a little more "safe" but didn't match exactly, and then the matching band.
He was really nice about letting me choose the matching band, even though technically it might be more prone to damage after years of wear. He took time to educate us about the rings (the good & bad of thin pave) and he even gave us recommendations on some wedding jewelry/earrings, which looked absolutely lovely! Unfortunately not in our budget but certainly reasonable. Not only is he an amazing designer but an excellent salesman as well.
We received the wedding band a few weeks later, which is exactly when he promised it and it matches the ring perfectly. As for Leon's office location, I found absolutely nothing dirty or unsafe about the street his office is on. I actually was impressed with it, it was very secure and sterile, which is probably what I want in a jeweler. If you're expecting a storefront on 5th avenue or in the Diamond District, then yes, you may be disappointed but I appreciate that his overhead is lower… maybe it's because I lived in NYC, but I find it to be a smart and business savvy decision.
It also goes to show that he isn't interested in taking on walk in clients for volume's sake, his demand is clearly not in jeopardy. Overall, I would absolutely 100% recommend Leon Mege to anyone looking for engagement rings. Particularly if you're looking for more handmade work. While my husband was shopping for engagement rings, several friends and family offered up their "family jeweler" and we joked how we were out of the loop since we didn't have our own jeweler. Well, NOW we do! I've never been much of a jewelry girl, but I think Leon has changed my mind on that. Can't wait to work with him again in the future!"
Anonymous
"After searching in our area and failing to find anyone good who could make our ring, we decided to go to New York and see about getting our ring made with Leon Mege.
Like many others, we had heard that Leon was among the best in the business for expertly crafted handmade rings. We were nervous and didn't know what to expect, but in the end we are so happy with our choice because the quality and craftsmanship is the best. What people have been saying is true, no one puts as much attention to fine detail as Leon Mege. He is a real artist who hand forges his rings the traditional way, a technique that makes them stronger, more durable and finer so that they are true heirloom pieces.
When you consider the level of quality, which I think is on par with Harry Winston and makes Tiffany's look like amateurs, you're getting way more than what you pay for. When I searched before in other local, respected jewelry stores for a ring, their mass produced, cast settings were surprisingly not hugely less expensive than Leon Mege's work yet the cast settings' quality was hugely lacking. I think some people don't know the sea of a difference in quality, having only seen mass produced stock settings, but after seeing a handforged Leon Mege ring in person there's no going back.
They look even better in real life than they do in pictures! My ring turned out more beautiful than I could have hoped and it is just exquisite."
T. M.
"Leon Mege and his team recently completed a difficult project for my family. We had taken seven diamonds that had been in the family for generations and which had last been remounted in the 1950s out of those dated settings. The project posed particular challenges, because the diamonds were all different weights, a mix of Old Mine, Old European, and Round Brilliant cuts, and different colors.
We requested Leon to come up with a pendant design incorporating all seven stones and additional pave work. Leon's design was perfectly proportioned and elegantly positioned these various stones. Leon and his team executed the design with the beauty and precision that I expected. The pave work is all evenly set and the metal invisible. I do not know of any jeweler in our city that is capable of this type of execution. When it comes to jewelry, millimeters matter in the final appearance of the design and Leon Mege's work is the most delicate possible. I highly recommend Leon Mege to those who are looking for the absolute finest craftsmanship and quality available."
Lisa P.
"My husband and I both fell in love with one of Leon's beautiful designs when we were researching for my anniversary (34!) engagement ring upgrade. I had done so much research that I was almost speechless when I called and Leon picked up the phone himself because I was so star struck! Leon was kind and gracious and helped us pick out a beautiful antique emerald cut stone of unusual proportions and beauty.
My husband had so many questions about the diamond — he is very analytical — and Leon was unfailingly patient and sent high resolution photos and information to help us feel comfortable with our long distance decision. Leon's team was courteous and helpful and when the ring arrived it was everything we could have hoped for and more. The workmanship and proportions of this ring are just perfect and I can imagine myself wearing this with great pleasure for the rest of our lives together. This was a wonderful experience from A to Z!"
Scott B.
"My fiance had heard about Leon Mege through extensive online searches and being led to Leon Mege's site. When we first spoke about getting engaged – she told me that her DREAM RING was from Leon Mege and was pretty specific about what she wanted. We live in Canada, so I was a little skeptical about buying something I had never seen in person – but the professionalism, expertise, and trustworthiness of the Leon Mege Team eased my worries. The ring we selected was a True Antique cushion cut and double prongs and a very delicate pave band.
It it stunningly beautiful. Everyone comments that it is the most beautiful ring they have every seen – and very unique and flattering. At first I was surprised we were able to speak to Leon personally – and how helpful he was along the way. Leon's support team is also amazing and I was thoroughly impressed. I am now ordering my Fiance's wedding band from Leon Mege as well. I just wanted to say thank you Leon for making my Fiance's dreams come true and we are truly happy with the entire experience."
Jennifer C.
"Leon's team crafted my engagement ring, wedding band and my husband's wedding band over the last few years. I chose him after reading about a trillion posts on the Pricescope forums. I had initially wanted a Tiffany's engagement ring and I am so happy that I found Leon and ended up with something so much better!
He is a character – be prepared for that! – but he and his team are also artists and craftsman of the highest order and I have no hesitation in adding my recommendation here. Such beautiful rings! Thank you Leon and Co."
Alex C.
"I highly recommend Leon Mege to anyone shopping for an engagement ring. When my fiancé and I were looking for a jeweler to make my engagement ring, we immediately thought of Leon Mege because they had recently made a beautiful ring for a close friend and her fiancé. The first time I called I was clueless – I had no idea what I wanted or how the process worked.
Leon spoke with me and walked me through all of the steps (explaining that step (1) was shopping around to figure out the basics of what I wanted, step (2) was working with their in-house diamond guru Perry to pick a stone and step (3) was working with Leon to design the ring. Once we had done enough research to know what type of stone and approximately what size range we wanted, we reached out Perry who was able (on very short notice) to bring in a variety of different diamonds for us to view within the parameters we had established.
Perry was very knowledgeable about the diamonds. He was also very accommodating and did not pressure us at all. After we viewed the initial batch of stones (and found one that we LOVED), we took some time to do additional research with a few other jewelers. Not only did Perry have a better selection of diamonds (I was looking for a rectangular cushion cut within specific proportions which were apparently pretty rate) but he also had prices that were very fair. Once we choose the stone, we met with Leon.
We emphasized that consistent with his style, we were looking for an elegant, understated look. The diamond we ended up choosing was beautiful and rather large so we wanted to emphasize the beauty of the diamond and only use a very delicate halo as a frame (as opposed to having larger stones to make the diamond appear bigger). Leon said that he completely understood our vision and that he would take care of the details to make it a reality. I was a bit nervous waiting for the ring as it is VERY difficult to tell what the ring will look like once it was complete.
I was speechless when I finally saw the ring sitting in the box. The ring that Leon and his team designed was more beautiful than anything that I had even imagined and matched 100% the look that I was going for. It honestly was (and is) unlike any ring I had seen before and, in my mind, more beautiful and elegant than the Harry Winston rings I had tried on when I was originally shopping for the ring. I cannot recommend Leon, Perry and his team enough."