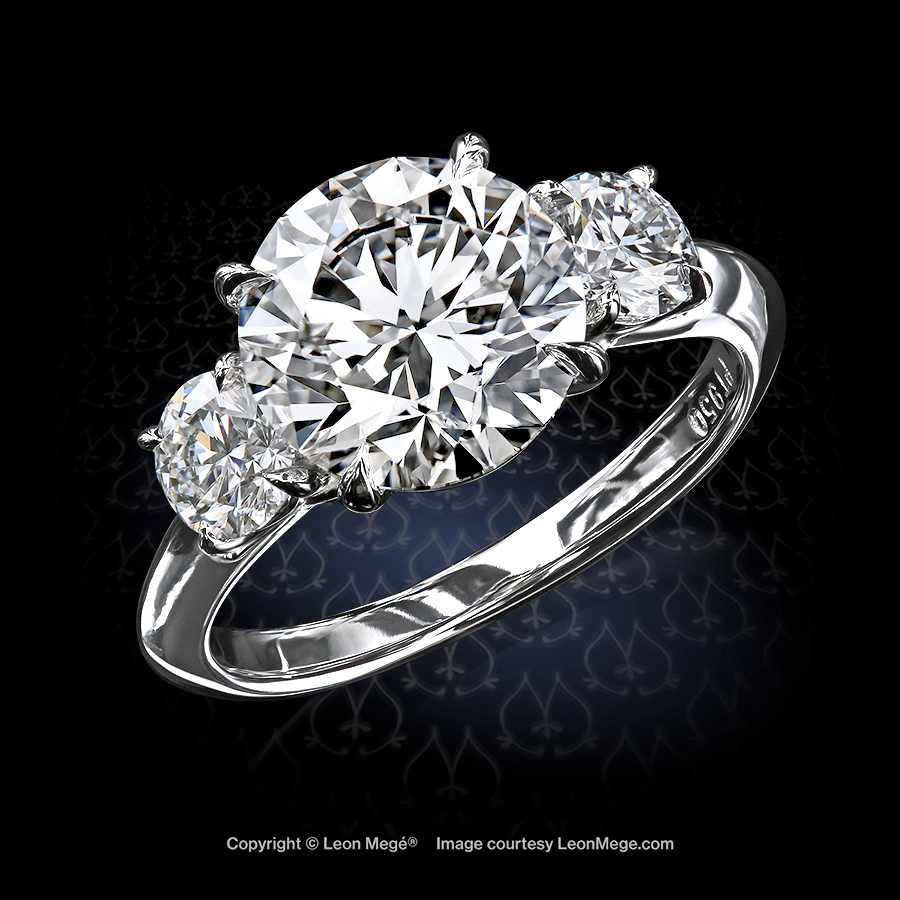 Simplicity is fully achieved in the traditional Trinity ring with three round diamonds, including a fabulous 2.91-carat round sparkler in the center.
Hand-forged platinum
Single claw prongs
Wholesale diamonds prices
Integrity and social responsibility are at the core of our sourcing practices. We cut our own diamonds. In addition, we ethically source stones directly from cutters worldwide.
Designer's direction - Do not overlook the importance of the ring's artistry while searching for a center stone. We care about the finished look of the piece as much as we care about getting you the lowest price on a stone. Getting a design-appropriate stone will result in a better-looking piece and ultimately a better return on your investment.
Pricing - If you found a stone elsewhere, most likely, we can get that exact stone at the same or even lower price. Regardless of where you found it, we know the stone's real owner and will be able to source it without intermediaries or brokers.
Exclusivity - Thanks to our long-lasting partnerships with elite diamond houses, we also have special access to stones not listed anywhere.
We work with any budget - Don't get intimidated by the size of the stones we display. We do plenty of work with stones of any size or value, including lab-grown diamonds.
How the custom process works
We do only top-quality jewelry that is guaranteed to meet the highest standards of beauty and precision.
We create new, original designs every day for the US and international clients. Leon Mege is a master jeweler and award-winning designer who specializes in knowing what's possible and suggesting innovative custom options - the best fit for your unique design.
To start your quest for brilliance consider one of our past designs as a base of your own. We can modify or change any aspect of the design to make it uniquely yours. Our quality can be compared to luxury brands such as Harry Winston, Graff, and others.
Custom work starts with selecting an appropriate center stone, then designing the piece in close consultation with the client.
Most custom work takes three to six weeks.
We are fully insured.
Custom work is our focus and passion.  We are very proud that most of our clients are referrals.
Custom work requires a deposit. In most cases, it is 50% of the total.
Pay with check, wire transfer, or direct deposit. 
Credit cards are accepted for retainers or stock purchases only.
The balance must be fully paid before we ship.
There is no sales tax outside of New York.
Shipping is free within Continental US.
The ring comes in a signature leather box with all the necessary paperwork, including certificates and appraisal.
How to stretch your budget
We have many ways to make each design fit a proposed budget. We recommend spending the most of your money on a higher grade, modestly sized center stone set in a simple ring. In the future, you can upgrade it into a more elaborate mounting, but starting with a simple solitaire puts your money to better use.
Do not borrow money to buy jewelry, including an engagement ring. Instead, consider using:
a smaller stone
lower color or clarity diamond
fancy shape instead of a round diamond
a lab-grown diamond
fewer accent stones and pave