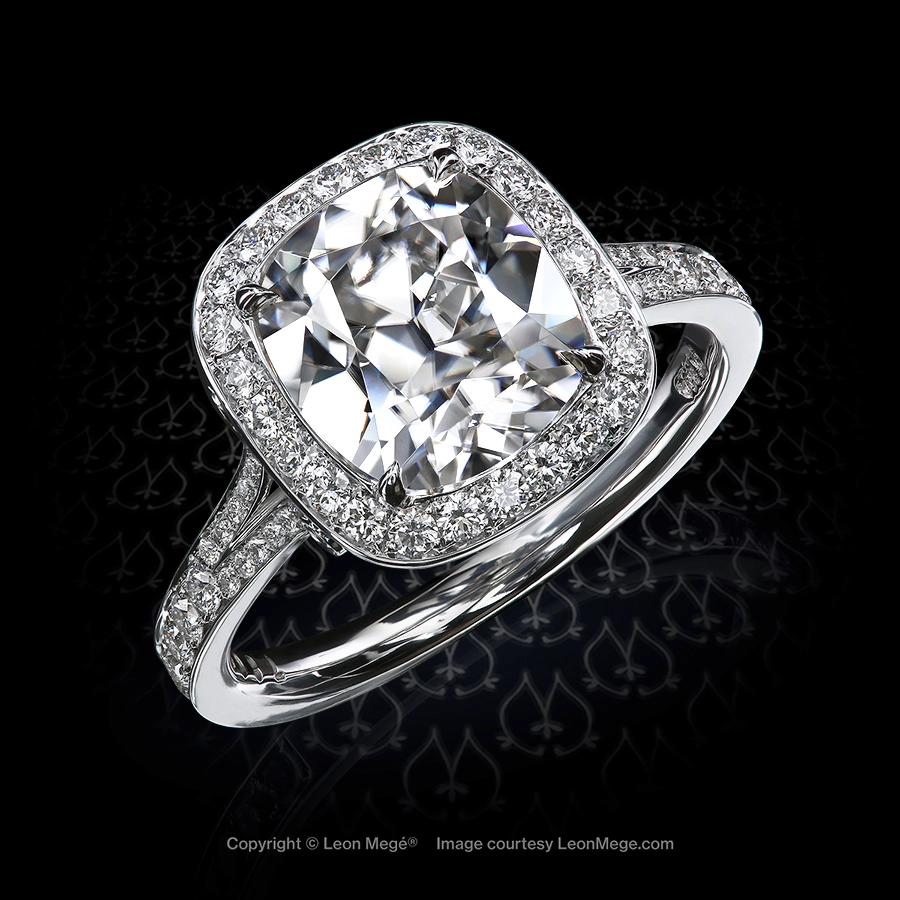 Cold Fusion™ Halo Ring r7805
The item is in stock and available for immediate purchase.
Leon Megé spectacular Cold Fusion™ engagement ring with a True Antique™ cushion center stone surrounded by an exquisite diamond halo.
Traditional style bright-cut pave
Ideal-cut natural diamonds
Hand-forged platinum
Exclusive Blonde™ Moissanite 8×6 mm
Exclusive
Black Label
Diamond Collection
The millgrain (miniature beaded pattern) can be added to the edges at no additional cost. Cold Fusion™ style is Leon Mege exclusive design available only with center stones purchased directly from Leon Mege. As always, we guarantee the lowest price for any stone.
Finger size can be easily adjusted.
Antique cushion Blonde™ moissanite 8x6 mm
86 F/VS full-cut diamonds 0.70 carat total
Hand-forged in superhard 95% platinum/ruthenium alloy
Finger size:
US - 5 3/4
Français - 52
But of course! - L 1/4
Deutsche - 16 1/4
日本語 - 11
We accept payments by check, wire transfer, or direct deposit. 
The balance must be paid in full before we ship.
There is no sales tax outside of New York.
Shipping is free within Continental US.
The ring comes in a signature leather box with all the necessary paperwork, including certificates and appraisal.