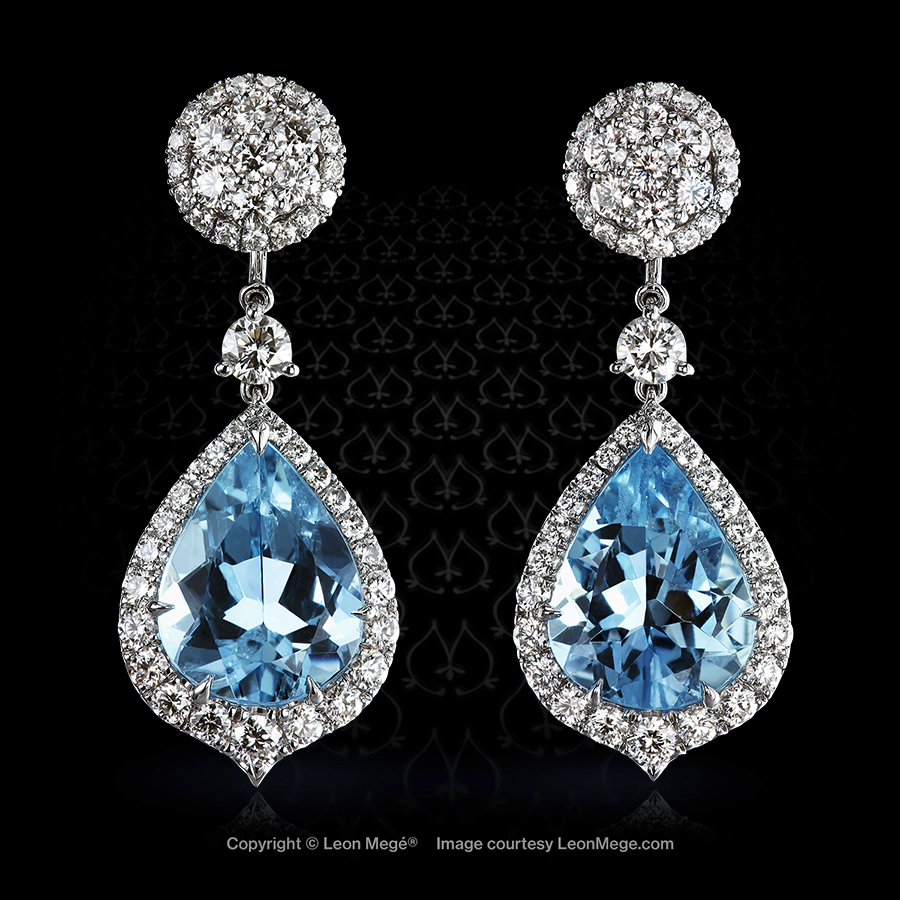 The item is in stock and available for immediate purchase.
Gorgeous chandeliers are specifically designed to make you look like an absolute goddess on your wedding day and later convert to a casual pair of everyday studs. The drops have a total of 7.75-carats of aquamarines and 2.23 carats of F/VS diamonds. If the price of all-diamond earrings makes you cringe, consider aquamarines – emeralds' cousins. You can easily turn the earrings into a pair of studs by sliding the aquamarine pendants off the post and later slide them back for a dressed-up affair.
e8245 Detachable Aquamarine

Four natural unheated aquamarines 8.13 ctw Ideal cut..

Drop Earrings e7604

2 pear shape aquamarines 7.75 carats total weight..
2 pear shape aquamarines 7.75 carats total weight
Aquamarines are approx. 14 x10 mm
96 full-cut diamonds 2.23 carats total weight
Platinum Push back ears nuts
The earrings will hang approximately 25 mm below the earlobe.
Studs are approx. 9 mm in diameter
Complete earrings are approx. 34 mm long x 14 mm wide
Pay with check, wire transfer, or direct deposit. 
The balance must be paid in full before we ship.
There is no sales tax outside of New York.
Shipping is free within Continental US.
The ring comes in a signature leather box with all the necessary paperwork, including certificates and appraisal.