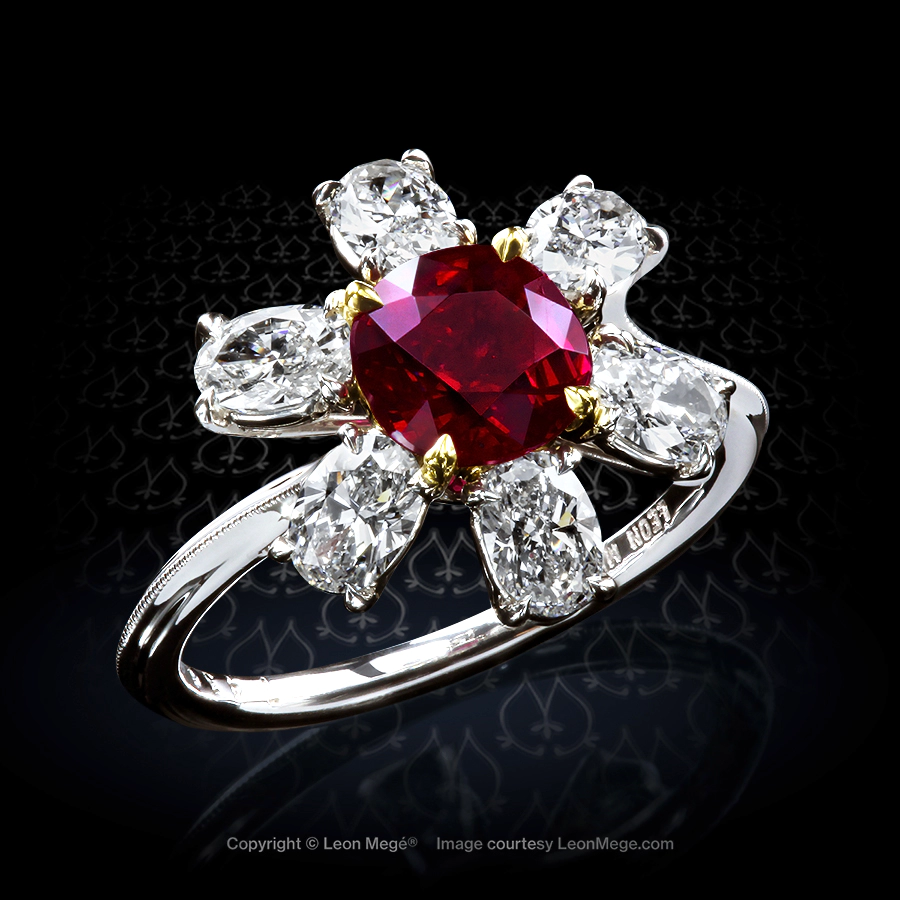 This delicious 1.61-carat eye candy of the certified pigeon-blood Burmese ruby is a gem's world royalty; its mysterious red glow is eternal. The ruby is set into a Florette-style setting surrounded by six elongated antique oval diamond petals.
The leading authority on colored gemstone testing, grading, and identification – the Swiss-based Gübelin Gem Lab gave this stone the rarest top color grade -"pigeon blood red."
The term pigeon-blood has been used for centuries by the jewelry trade to describe only the finest quality rubies. Aside from their distinct colors, invariably are stones of superior quality and are the most coveted gems.
For a ruby to qualify for the term "pigeon blood red," the color must be an intense, saturated, and homogeneous red.
Any treatment (heating, fissure filling, etc.) disqualifies a stone from being described as "pigeon blood red." The stone must be relatively free of eye-visible or dark inclusions. In addition, it must show a homogeneous color distribution with vivid internal reflections.
1.61 carats natural unheated Burmese Pigeon-blood ruby
Six antique oval diamonds
Platinum with 18K gold prongs

Customize your commitment
What you see on this page is a fine example of our craftsmanship and style to tickle your imagination. Some pieces are impossible to clone exactly because their gemstones are so unique. A custom piece starts with a personal consultation. Please call us at (212) 768-3868 for a friendly, obligation-free chat. Together we will turn your dream into a reality.
Benefits of purchasing diamonds directly from Leon Mege
Designer's direction - People tend to overlook this one while shopping for diamonds. At Leon Mege we care a great deal for aesthetic look of your future jewelry and would gladly help you to find the best available option based on your preferences.
Pricing - If you found a stone already, we will beat the price and get you the exact one as all the stones come from the same source. We provide absolute transparency in every step. Clearly a win here.
Exclusivity -  Not only that we price match any stone you possible can find we also provide a special access to some stones that are not listed elsewhere - thanks to our long lasting partnerships with wholesale suppliers.
We work with any budget - Don't get intimidated by the large center stones that worth hundreds of thousands dollars, we still work with smaller stones and always happy to offer the best suitable option for you. 
Our custom process and what to expect
We create only high-quality jewelry, with no exceptions. Nothing leaves our premises until it's guaranteed to meet the highest jewelry standards.
We recommend considering one of our past designs as a base of your own. We can modify or change any aspect of the design to make it uniquely yours. Our quality and style are superior to other luxury brands such as Harry Winston, Graff, and others. 
Custom work starts with selecting an appropriate center stone, then designing the piece in close consultation with the client.
Most custom work takes three to six weeks.
We are fully insured.
Custom work requires a deposit. In most cases, it is 50% of the total.
Pay with check, wire transfer, or direct deposit. 
Credit cards are accepted for retainers or stock purchases only.
The balance must be paid in full before we ship.
There is no sales tax outside of New York.
Shipping is free within Continental US.
The ring comes in a signature leather box with all the necessary paperwork, including certificates and appraisal.