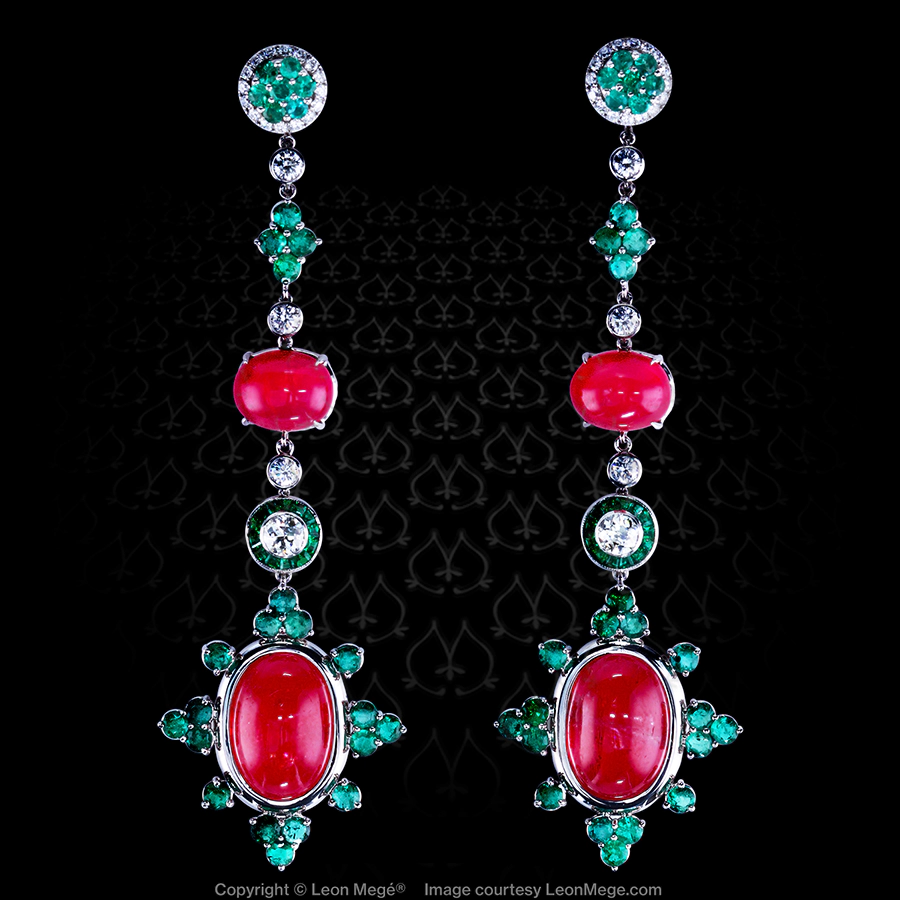 The item is in stock and available for immediate purchase.
The Arcata's design has made its way into many Maestro Mege pieces. Its inspiration comes from the wrought-iron voussoir at the entrance to an unassuming archway in Barcelona, home to some of the world's most beautiful architecture. The long drops consist of alternating red and green elements culminating with the centerpieces of collector-grade gem Rhodonites.  The earrings feature Colombian emeralds and old-cut diamonds. The total length is 82 mm (3 1/4 inches). The studs can be detached to be worn with or without the long pendents.
Two largest diamonds 0.48 carat TW
Calibre - custom cut 26 emeralds - 0.36 carat total
Links - 6 round diamonds 0.35 carat total
Four oval cabochon gem Rhodonites 24.54 carats total
54 round emeralds, total weight 3.29 carat
32 full-cut diamonds 0.40 carat total
Hand-forged platinum
Total of 1.19 carats of white diamonds and 3.65 carats of Colombian emeralds. Four Rhodonite cabs total 24.54 carats.
We accept payments by check, wire transfer, or direct deposit. 
The balance must be paid in full before we ship.
There is no sales tax outside of New York.
Shipping is free within Continental US.
The ring comes in a signature leather box with all the necessary paperwork, including certificates and appraisal.