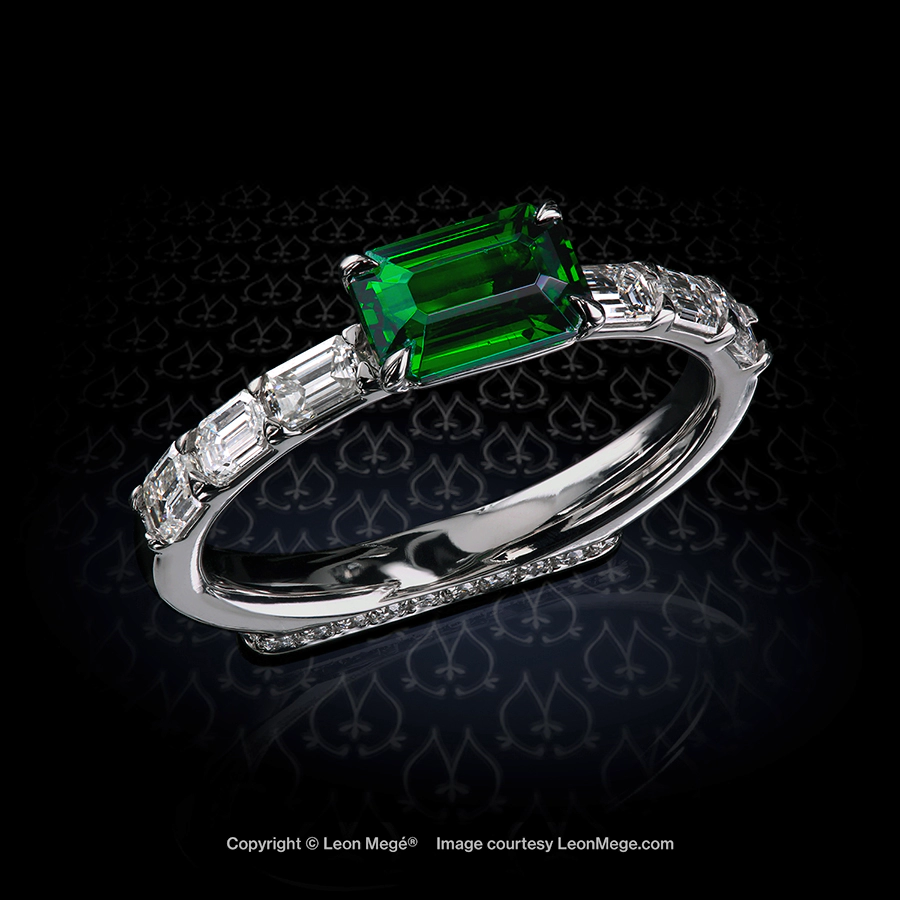 East-West Tsavorite Flamingo r8251
The item is in stock and available for immediate purchase.
Beauty comes in diverse shapes and sizes. So do Leon Mege's colorful right-hand rings set with a rainbow of colorful natural gemstones. This beautiful combination of a natural tsavorite and emerald-cut diamonds in a reversible East-West Flamingo mounting is a sure hit for those who appreciate the healing power of green. The one-carat natural tsavorite garnet is measuring 7.1×4.7 mm can be spanned around the finger to reveal the beautiful ring base set with pave diamonds and bearing hallmarks or a personal message.
Natural vivid-green emerald-cut 1.00-carat tsavorite garnet
Natural emerald-cut commercial-grade diamonds 0.66 carats total weight
22 full-cut round diamonds 0.11carats total weight
Platinum
Finger size:
US - 6
Français - 52
But of course! - L 1/2
Deutsche - 16 1/2
日本語 - 12
We accept payments by check, wire transfer, or direct deposit. 
The balance must be paid in full before we ship.
There is no sales tax outside of New York.
Shipping is free within Continental US.
The ring comes in a signature leather box with all the necessary paperwork, including certificates and appraisal.