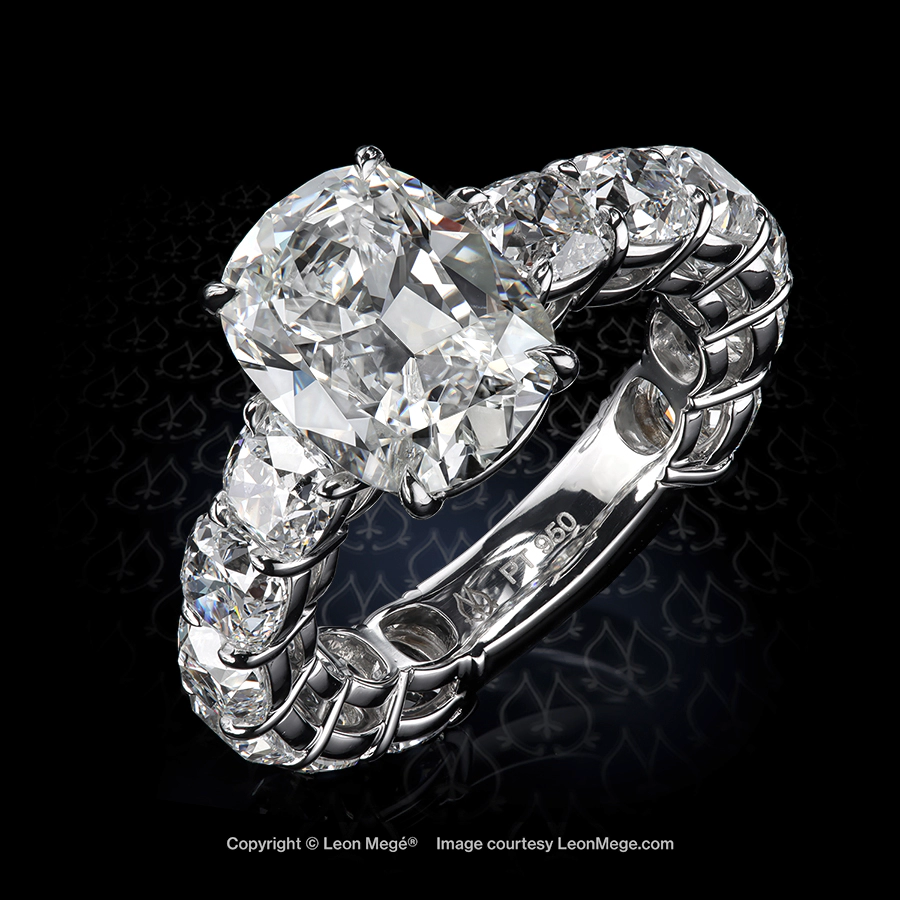 Design is an expression of taste, while craftsmanship is an art. The bespoke engagement ring with a delicious 4.04-carat True Antique cushion diamond crowning the band of exquisitely matching diamonds is custom made in New York by special order.

Benefits of purchasing diamonds directly from Leon Mege
Designer's direction - People tend to overlook this one while shopping for diamonds. At Leon Mege we care a great deal for aesthetic look of your future jewelry and would gladly help you to find the best available option based on your preferences.
Pricing - If you found a stone already, we will beat the price and get you the exact one as all the stones come from the same source. We provide absolute transparency in every step. Clearly a win here.
Exclusivity -  Not only that we price match any stone you possible can find we also provide a special access to some stones that are not listed elsewhere - thanks to our long lasting partnerships with wholesale suppliers.
We work with any budget - Don't get intimidated by the large center stones that worth hundreds of thousands dollars, we still work with smaller stones and always happy to offer the best suitable option for you. 
How to stretch your budget
 To save on the costs, consider using:
a smaller stone
lower color or clarity diamond
fancy shape instead of a round diamond
a lab-grown diamond
a less elaborate design
fewer accent stones and pave
Do not:
Borrow money to buy an engagement ring
Consider clarity below I1
Our custom process and what to expect
We create only high-quality jewelry, with no exceptions. Nothing leaves our premises until it's guaranteed to meet the highest jewelry standards.
We recommend considering one of our past designs as a base of your own. We can modify or change any aspect of the design to make it uniquely yours. Our quality can be compared to luxury brands such as Harry Winston, Graff, and others.
Custom work starts with selecting an appropriate center stone, then designing the piece in close consultation with the client.
Most custom work takes three to six weeks.
We are fully insured.
Custom work requires a deposit. In most cases, it is 50% of the total.
Pay with check, wire transfer, or direct deposit. 
Credit cards are accepted for retainers or stock purchases only.
The balance must be paid in full before we ship.
There is no sales tax outside of New York.
Shipping is free within Continental US.
The ring comes in a signature leather box with all the necessary paperwork, including certificates and appraisal.