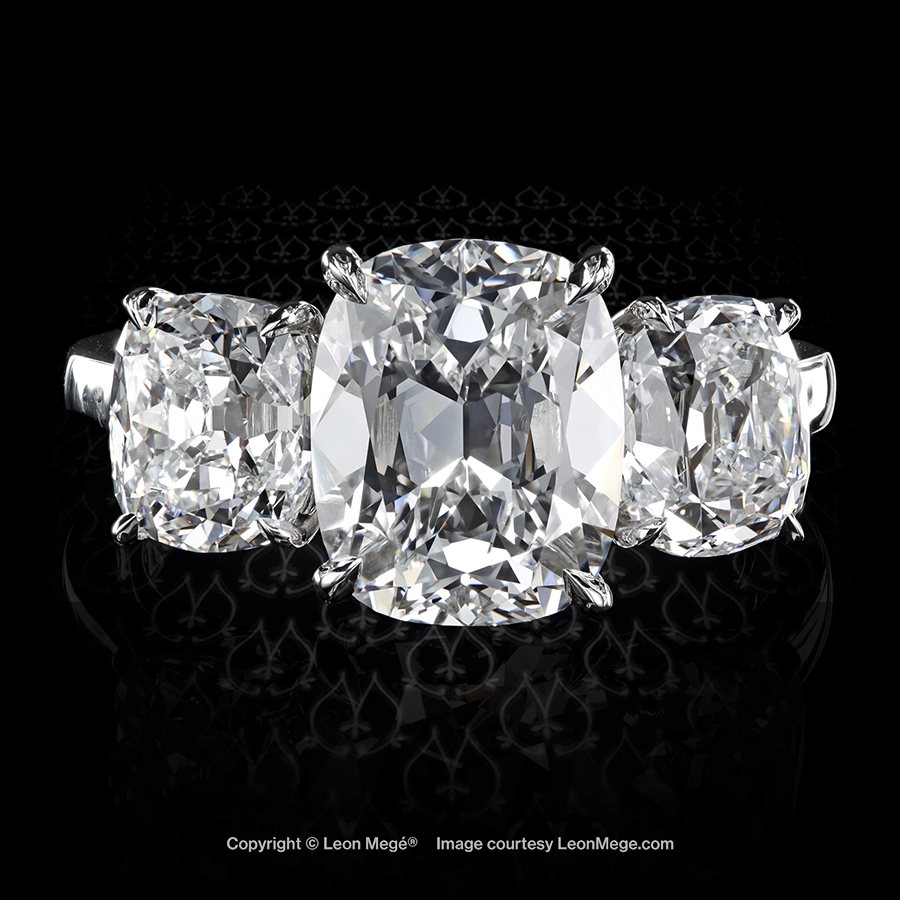 "Charles III" engagement ring r8571
The item is in stock and available for immediate purchase.
Maestro Megé's passionate dedication transforms the stunning True Antique™ cushion diamonds into a gorgeous three-stone ring of superior quality and precision to be enjoyed by anyone regardless of race, gender, political views, or wealth.
GIA-certified 5.09-carat E/VVS2 natural diamond # 6224143679
Matching pair of True Antique™ cushion diamonds 4.02 carats in total
Rolex-grade platinum
Hand-forged in New York
US finger size 10 with 18K white gold spring
Exclusive
Black Label
Diamond Collection
Center stone: - 5.09-carat E/VVS2 GIA# 6224143679 11.77 mm x 9.53 mm x 6.05 mm Side stones: - 2.01-carat D/VS2 GIA# 6224146239 7.97 mm x 6.67 mm x 4.62 mm - 2.01-carat E/VS2 GIA# 17214551 7.87 mm x 6.58 mm x 4.56 mm Finger size 10 US
We accept payments by check, wire transfer, or direct deposit. 
The balance must be paid in full before we ship.
There is no sales tax outside of New York.
Shipping is free within Continental US.
The ring comes in a signature leather box with all the necessary paperwork, including certificates and appraisal.