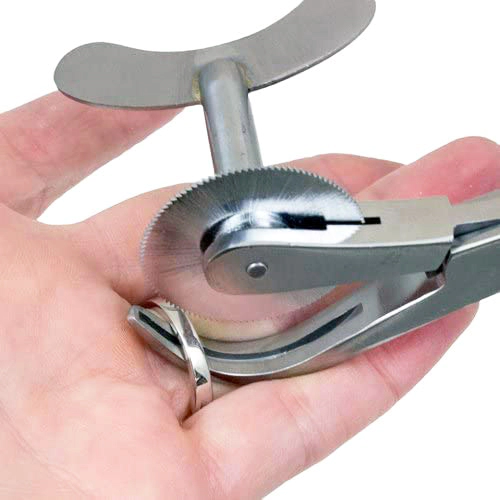 There are three ways to adjust ring size:
Cutting or adding a section to change the circumference
Rimming out the excess of metal from the inside (Size increase only)
Stretching or compressing the band (only plain bands)
Adding fillers such as balls, shots, bullets, liners, springs, or other "speed bumps" to fill the extra space inside.
Plain wedding bands can be re-sized. 
Pave-set wedding bands cannot be re-sized. The excess of metal inside the band can be reamed out in rare cases, but the size increase is minimal, usually less than 1/8 of a full size.
Eternity bands cannot be sized. Moreover, an eternity band size can be increased or decreased in large increments when set with large stones. Adding or taking out a single stone can change the size dramatically. 
Each case is different, please get in touch with us with questions, and in most cases, we can find a reasonable solution.
We offer a one-time complimentary sizing within a year from the purchase date. The free sizing is not offered for:
extremely large or tiny sizes
set with gemstones other than diamonds
purchased during a clearance sale 
showing signs of excessive damage not consistent with normal wear-and-tear
featuring a prosthetic mechanism for opening and closing
The cost of sizing custom-made rings is the client's responsibility. In most cases, the ring sizing costs less than $200.
Additional charges apply for sizing beads, bullets, balls, and shots. Eternity-set wedding bands cannot be sized. Minor sizing does not void the warranty. The minor sizing is considered: 
| | | | | |
| --- | --- | --- | --- | --- |
|   | Size 0 to 3 | Size 3 to 5 | Size 5 to 7 | Size over 7 |
| Plain shanks | ½ size down or ½ size up | ¾ size down or ¾ size up | size down or a full-size up | full size down or 1½ size up |
| Shanks with diamonds | ⅛ size down or ¼ size up | ¼ size down or ½ size up | ½ size down or 3/4 size up | ½ size down or a full size up |