We offer a one-time complimentary sizing within three months from the purchase date, except for rings:
extremely large or very small finger sizes
set with gemstones other than diamonds
purchased during a clearance sale
channel-set rings
showing signs of excessive damage not consistent with normal wear-and-tear
with a prosthetic mechanism for opening and closing
Additional charges apply for sizing beads, bullets, balls, and shots. Minor sizing for large-size plain shanks is one size up or down. Smaller plain shanks can be sized half-size up or down without voiding the warranty. Minor sizing of diamond set shanks is typically a quarter of a  size.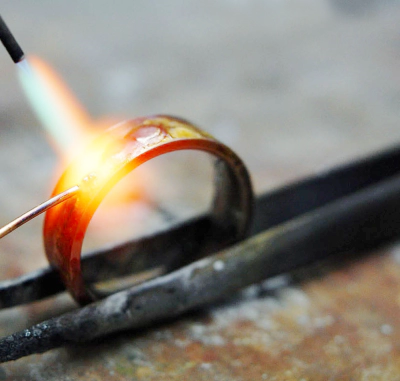 Plain wedding bands are relatively easy to size. Pave- or channel-set bands cannot be re-sized.
Sometimes we can ream metal from inside the band, but the increase is usually minimal, less than 1/8 of a size.
Eternity bands set with diamonds or gemstones cannot be sized. Each case is different; please get in touch with us. In most cases, we can find a reasonable solution.