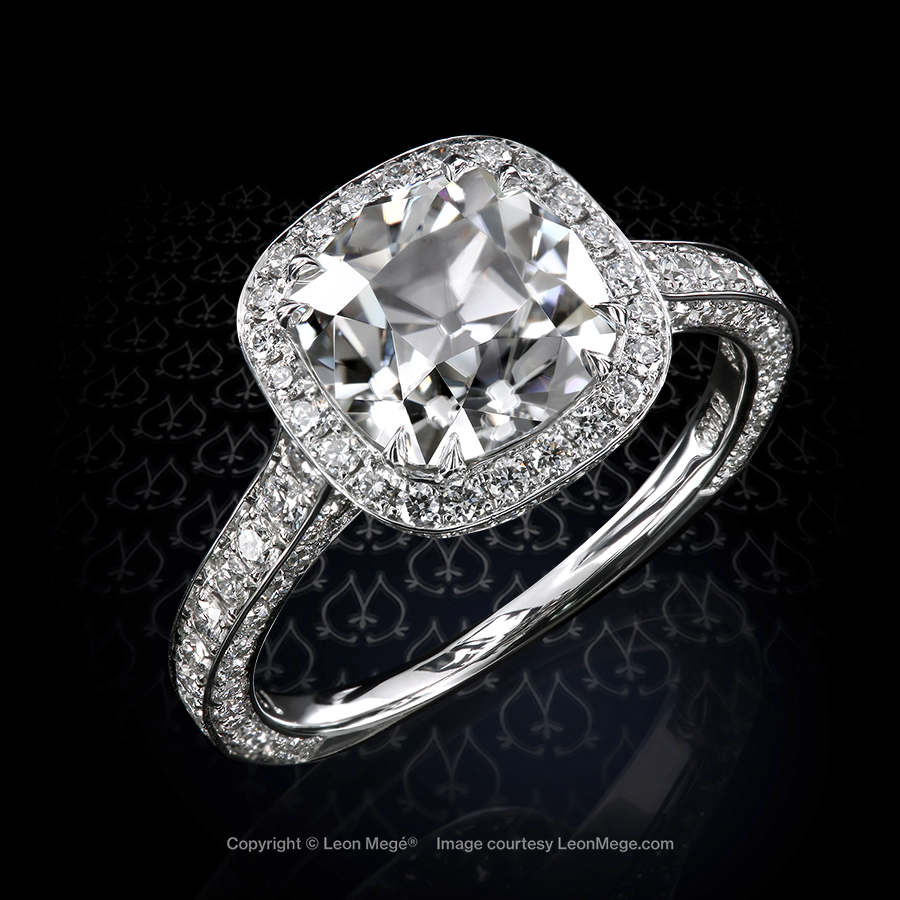 The True Antique cushion Blonde Moissanite set in the exclusive Leon Mege Heidy™ ring. It is a rough equivalent to a 3-carats E/VVS diamond. The enchanting Tulle Godets two-sided halo is supported by the diamond "bubbles" set into a V-shaped scrolling lace pattern forming the basket.  The shank is set with bright-cut pave on all three sides.
All pave diamonds are ideal cut round brilliants
Bright-cut pave
Cathedral shank
Eagle claw prongs
Our True Antique Blonde moissanites are cut to the exact specifications
The Blonde moissanite is cut from a solid slab of crystal-clear E-color silicon carbide at our secret Asian facility. Our True Antique cushion Blonde moissanites retain the  Old World flair at a fraction of the cost. It is impossible to distinguish between a natural diamond and the Blonde moissanite without close examination by an expert. The realistic look is due to our proprietary cutting process explicitly designed to mimic the optical properties of a diamond.
To ensure the privacy of our clients, we cannot disclose the sale price. Sold pieces are presented here for your inspiration. However, we can provide an estimate of a custom version based on your unique specifications. 
Bespoke custom work
There is no other jewel as meaningful and special as a one-of-a-kind, created just for you. We are artisans who can create a truly timeless custom-made treasure. Our hand-forged work offers the best quality at a reasonable price.