"Logic will get you from A to B. Imagination will take you everywhere."  Albert Einstein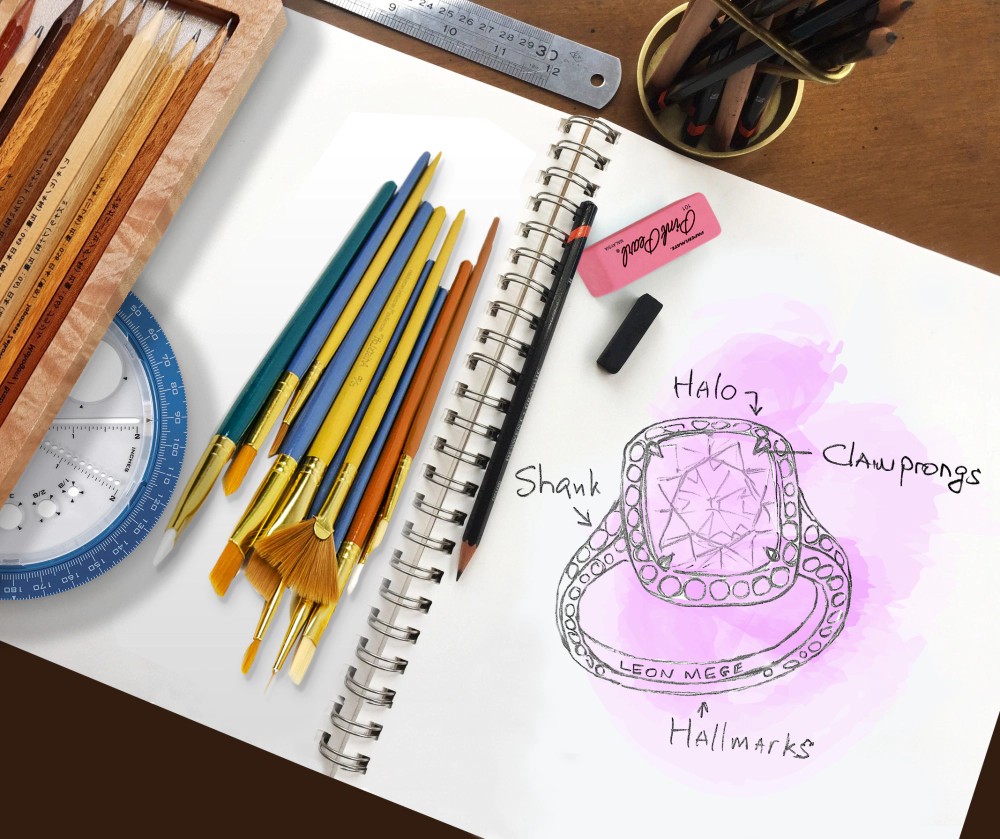 Leon Mege is a legend of the bespoke American jewelry design. The Diamond District darling, ever since his arrival in New York, Leon Mege developed an elegant, inventive, and exquisitely understated aesthetic in fine jewelry. Working out of a bustling studio in Midtown Manhattan, Maestro Mege is involved in the production of each piece, from conception to completion. He uses only the finest natural diamonds and gemstones in his hand-forged jewelry. While his European roots heavily influence his artistic style, Leon Mege jewelry has become an unmistakable part of the classic style in modern American jewelry.
Hand-forged difference
All of our bespoke jewelry is hand-forged from platinum or gold stock. We do not use casting in our bespoke production. Why? Because making jewelry by casting is inferior to hand-forging. Cold-forging is the highest level of jewelry craftsmanship. We forge our jewelry from raw platinum or gold stock; no CAD/CAM is involved. Every piece we create has many individual elements – each handmade, perfectly finished, and assembled.
Affordable Prices
You might be surprised at how competitive our prices are. We work directly with a client without the burden of paying commission to salespeople, consultants, or store managers. We enjoy having low overhead, and we do not have a costly inventory. This spells low prices for the consumer.
One of our specialties is curating and sourcing loose diamonds directly from cutters. When it comes to buying a diamond, we match or beat any price you see elsewhere. How can we do it? Very simple – we source diamonds directly from cutters without any middleman. We charge less commission than anyone else, including resellers such as BlueNile or JamesAllen.
We combine the low cost of the diamond with a bespoke mounting better than those you see at Harry Winston or Tiffany's. You will not find such a level of craftsmanship from any other jeweler. Yet, we do not charge an exorbitant "designer" price when it comes to sourcing a diamond. At Leon Mege, we guarantee the price you pay for any diamond is the absolute lowest.
Lifetime warranty
The Leon Megé brand and reputation is your best assurance of impeccable quality and aesthetic perfection. Each piece complies with the highest manufacturing standards and is guaranteed to be free from any manufacturing defects for life.
Concierge Service
Ordering a bespoke engagement ring from Leon Mege is straightforward and surprisingly affordable. The reward is an heirloom-quality piece flawlessly exhibiting your center stone with minimum metal distraction. Personalized service is at the core of Leon Mege. We treat our customers the way we would want to be treated. Our goal is to build lifelong customer relationships.
GIA diamonds only
Honest jewelers do not sell AGS or EGL stones. These (and some other) labs do not adhere to the strict standards set by the Gemological Institute of America.
AGS and EGL routinely assign inflated grades to diamonds they certify, so consumers are getting overcharged for an inferior product. With your interests in mind, Leon Mege sells only diamonds certified by the GIA.
CAD/CAM-free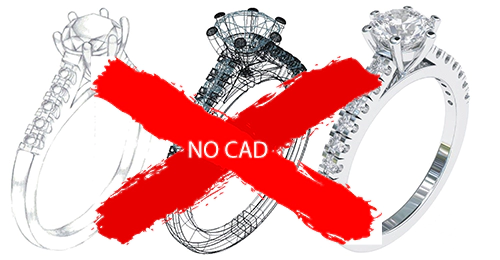 CAD is a useful tool for jewelers who are not capable to build an entire piece by hand. In fine jewelry, CAD is used to produce blank parts, not a finished product.
 The clarity of joints and sharpness of each detail is lost during the casting and subsequent polishing. A shiny prototype presented on a screen to a client comes out as pitted, uneven and dull. Jewelry made with CAD will leave those who appreciate superior quality, craftsmanship, and style greatly disappointed. 
Unmatched Craftsmanship
Quality and craftsmanship are what sets Leon Mege apart from other jewelers. Maestro Mege has an excellent eye for every little detail and will stop at nothing short of pure perfection. Impeccable style, combined with a degree of precision that even Sheldon Lee Cooper Ph.D., Sc.D. can appreciate, is the essence of our service.
Your personal designer 
Leon Mege has created thousands of jewelry pieces during his career. The multitude of jewelry awards and a few patents are testaments to his skills and artistic abilities.
The chances are that you know great things about Maestro Mege by reading reviews online or talking to your friends who referred you to us. Leon Mege is a master jeweler and designer with decades of experience who will gladly share his artistic opinion on any jewelry-related subject. The thrill of buying jewelry at a retail store is long gone. A consumer needs space and time to contemplate the decision without a pushy salesperson hovering over their shoulder.
Worldwide service
We'll work with you closely, whether in New York or elsewhere, to design your piece for that special occasion. No matter where you are physically located, we can comfortably work together without meeting face to face. We discretely meet with each client in the comfort of our New York showroom or collaborate through correspondence by email, text, or phone.
Resizing and alterations
All sizing and alterations are done promptly and without delay. Initial size adjustment of the newly made rings is complimentary (some restrictions do apply based on the sizing and the ring style).
Free Cleaning
We offer cleaning and inspection free of charge for all our clients. The professional cleaning is done in-house, typically while you wait (an appointment is needed).
Professional Jewelry Services
Whether you need an engagement ring, a wedding band, a pair of studs, a necklace, or any other type of jewelry to add to your collection, we have you covered. We strive to provide clients with a unique bespoke experience; we are your jewelers for life.